Convincing people to use a certain product or service is never easy. But when you run a bank, it's even harder than usual. It's one thing for a company to persuade someone to buy a hairbrush. It's another thing entirely to persuade someone to store their life's savings with you.
That's why it's so important to ensure that your bank's potential account holders get a good impression of you from the start. With 94% of first impressions stemming from web design, your banking website needs to be stellar.
But what constitutes good web design for banks? What can you do to optimize your website for the best user experience? If you're not sure how to answer that question, don't worry. Below, we'll cover five great bank website ideas to get you on the right track.
Read on to learn more, and then consider partnering with WebFX — the web design agency with over 1020 client testimonials — for even more help optimizing your website! Just call us at 888-601-5359 or contact us online today!
5 ways to improve your bank's web design
Looking for ways to make your bank's web design stand out? Check out our top tips for bank web design.
1. Use easy navigation
One of the first things to get right on your website is to make sure users can find their way around it. All your content pages and online deposit forms won't do you much good if people can't figure out where they are.
You can start by creating a clearly organized navigation bar or hamburger menu that displays the different sections of your site. A good way to think about the navigation bar is as a map of your website.
If you want to make your site even more navigable, consider using breadcrumb navigation to show users where they are on your website at any given point.
One banking website that does a great job of this is Goldman Sachs.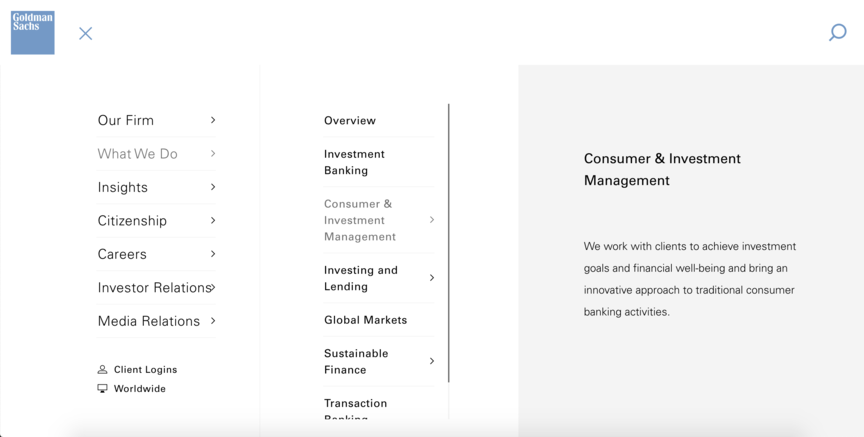 Their site features a hamburger menu that, when clicked, expands to fill the whole screen. Within the menu, you can click through each section of the site to see the subsections beneath it, as well as a short overview of what that section is about.

To top it all off, each page on the site uses breadcrumb navigation to show you where you are.
2. Include video elements
The key to persuading users to come to your bank is to be compelling and engaging. No matter how good your bank is, you won't be able to succeed at drawing users in if you can't find a way to capture their attention quickly.
Enter video marketing. While users might scroll blindly past still images or blocks of text, a video — particularly one that plays automatically — will make many people stop to watch. It's hard not to be entranced by the moving visuals of a well-made video.
What format these videos take is up to you. They can be instructions about a process, a presentation of your brand, or a direct advertisement for your services. Either way, you don't want to miss out on what they can do for your bank website development.
A great example of this can be found on Truist's website.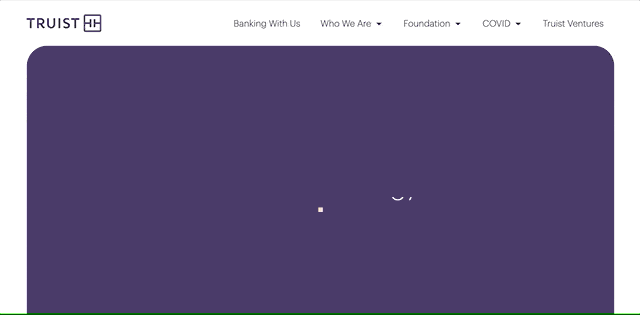 When you arrive at their homepage, the first thing you're shown is a video that starts playing automatically, taking up all the space above the fold. It serves as a brief presentation of the Truist brand, and even matches the color scheme of the rest of the website.
3. Ensure quick load speeds
As good as all these bank website ideas are, none of them will do you any good if users don't stick around to see them. Unfortunately, without the help of one crucial element, that might just be the case.
At least 53% of users will abandon a website page if it takes more than three seconds to load. As short as three seconds might sound, it's a long time in the world of page load speeds. You don't want to lose out to your competitors just because your website took a second too long to load.
You can do a few different things to shorten your load times, including compressing images and caching your website pages. Ultimately, you want to keep your load times at one or two seconds.
A fantastic example of good load speed is the homepage for ServisFirst Bank, which is capable of loading in one or two seconds each time it's pulled up.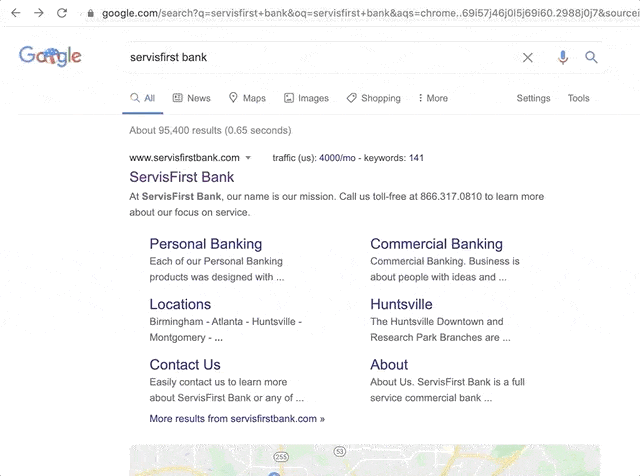 4. Implement responsive design
You want your website to rank in Google search results where people can see it. But even if you craft the best site in the world, it might still not rank. Why? Because Google ranks websites based on their mobile, not desktop, format.
For your website to have any chance at ranking, you need to ensure that you use responsive design. In other words, your website needs to be optimized for both desktop and mobile.
BBVA's website does this very well.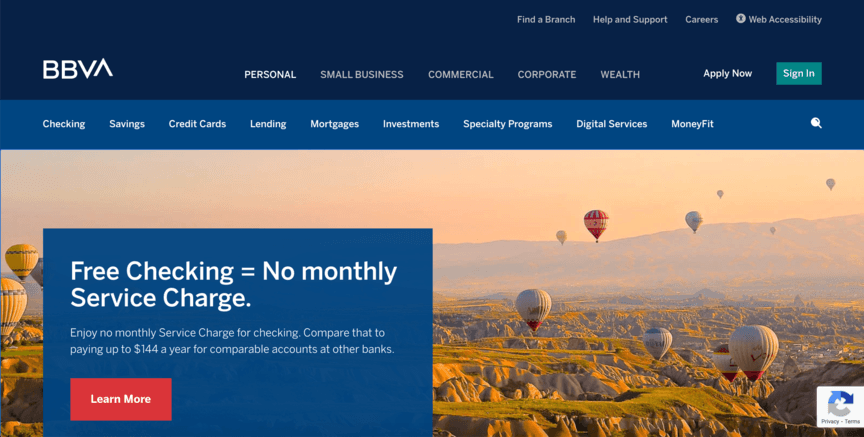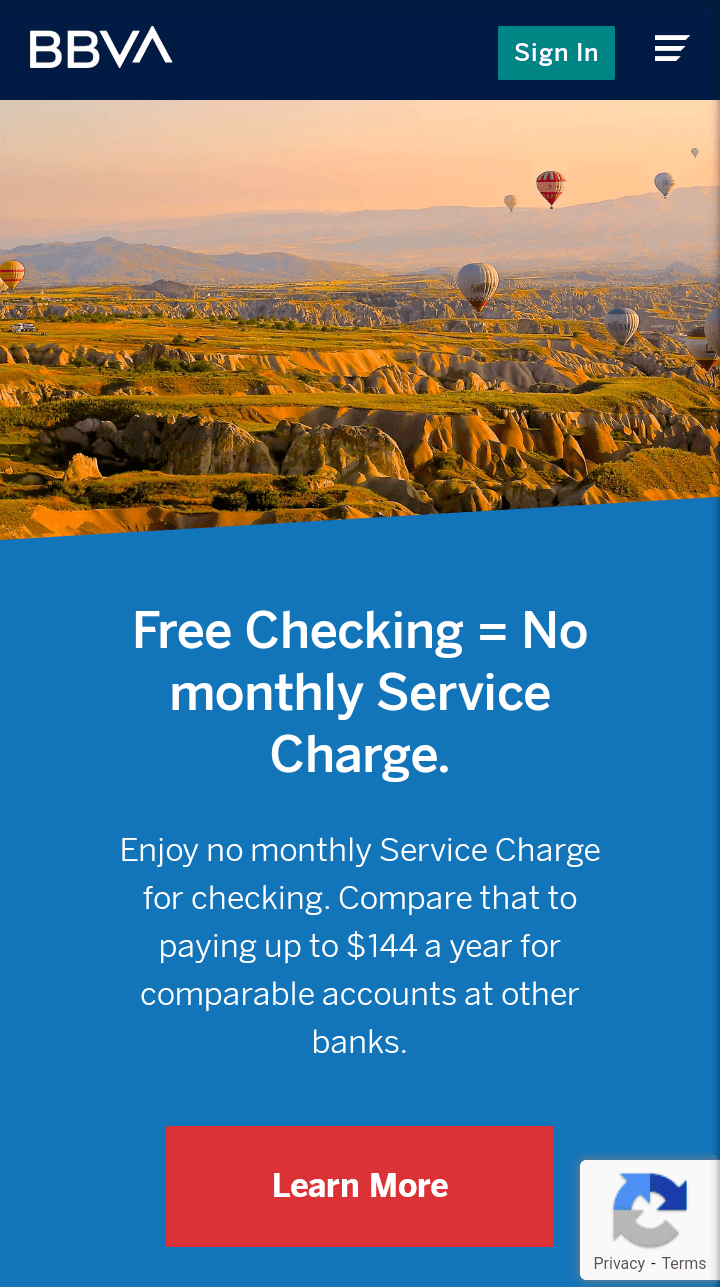 It keeps the same content for both formats, but rearranges it to fit the screen for each one. Nothing looks awkward or out of place on either device — you can tell that the website was designed with both in mind.
5. Keep everything clean
While the previous four bank website ideas have focused on practical and technical issues, user experience is still one of the most critical aspects of your website. For that reason, you'll want to spend just as much time creating a site that your potential account holders will love.
When users arrive at your site, visual appeal is the first thing they'll notice. If your website looks unappealing or unprofessional, it won't matter how good your bank is — people probably won't want to stick around.
You can enhance your website's appearance by keeping it clean and organized. Make sure you integrate your brand's colors and style into your design, too.
A website page that has multiple things happening on it at once will overwhelm users and create a negative impression of your bank. You want to limit the amount of information displayed at once and make use of white space to make it easier for people to get information from your site.
State Street's website does a great job of this.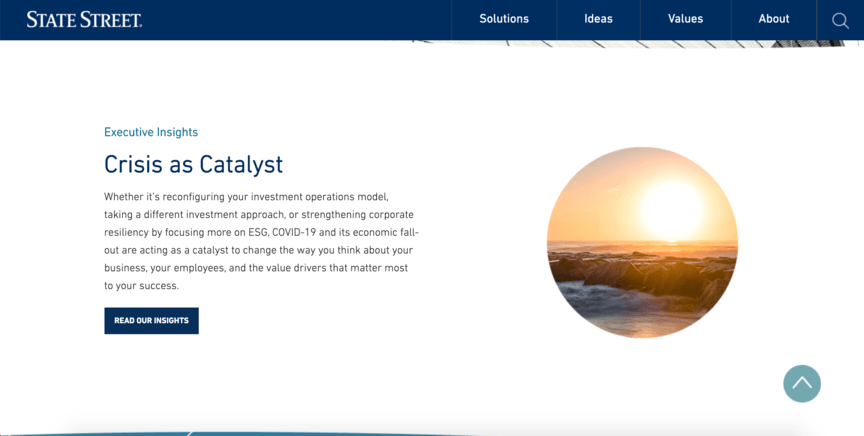 As you scroll down their homepage, there's never more than one item in view at a time, and each one leaves plenty of empty space around the text and foreground image. From that alone, the site feels calm and easy to navigate.
Hear What It's Like to Work With WebFX!

"WebFX's collaboration and success of working on a complete re-design with our website vendor and our Bank to ensure the absolute best site and SEO out of the gate has been such a positive experience."
Bank
Get help with your bank website development from WebFX
Still unsure how to fully optimize the design of your banking website? No worries — WebFX has your back. With over 25 years of digital marketing experience, we know web design for banks, and we have the commitment to make that knowledge work for your website.
We'll work with you to maximize page speed, optimize for mobile, and craft a visual design that aligns with your company's brand — along with so much else!
Just give us a call at 888-601-5359 or contact us online today to learn more about our web development services!
Earn a 20% greater ROI with WebFX