Top 6 2023 Construction Industry Trends to Watch
Since the construction industry is about building new things, it makes sense that it's constantly changing. Each year, contractors encounter new trends and innovations. Given that, you may be wondering what you can expect in the way of 2023 construction industry trends.
2023 has brought a variety of new construction trends, and on this page, we'll go over some of the most important ones to know. Tracking these trends allows you to keep up with the competition and not fall behind in the industry.
Keep reading for six of the biggest 2023 construction industry trends, including:
3D printing

Virtual design

Drone technology

Green building

Modular construction

Search for skilled labor
Then, for help managing your construction company marketing, partner with WebFX by calling us at 888-601-5359 or contacting us online.
Our digital marketing campaigns impact the metrics that improve your bottom line.
See More Results

WebFX has driven the following results for clients:

$3 billion
In client revenue

7.8 million
Leads for our clients

5.2 million
Client phone calls
1. 3D printing
One of the biggest contracting trends in 2023 is 3D printing. That's not unique to the construction industry — other industries, like manufacturing, are also realizing the benefits of 3D printing.
Construction companies have found that they can 3D print many of the materials they need for their work. One of the best things about construction 3D printing is that you can do it using a variety of materials, including concrete and fiber.
3D printing also requires less time and less labor than with more traditional tools. You don't have to hire as many people to do the job, and you can get your parts ready for use much faster.
2. Virtual design
Virtual design is another contracting industry trend that's expected to grow over the course of 2023. What is virtual design? It's a process where you use software to simulate the structures you want to build, verifying how everything will fit together and how stable it will be.
This useful trend can significantly decrease the chances that you'll miscalculate something and build an unstable structure. If there are any instabilities in the design, a simulation tool like FlexSim or MATLAB can identify them, allowing you to correct them before you even start to build.
You can even hook simulators up to virtual reality software that lets you view the digital structure from an up-close, first-person perspective. That makes virtual design one of the most valued contracting trends.
3. Drone technology
Drones have certainly made the rounds in recent years as a multi-industry trend, with companies using them to deliver packages and perform surveillance. And in 2023, construction companies are finding a use for them, too — they're a big construction trend this year.
Contractors are using drones to survey construction sites and measure materials. When it comes to surveying sites, a drone can give you a better perspective than someone walking around on the ground. It can also provide faster, more accurate material measurements.
As a final bonus, using drones for tasks that human workers would otherwise perform can help you minimize on-site injuries.
4. Green building
With environmental issues being the focus of so many conversations in recent years, it's no surprise that green building makes the list of 2023 contracting trends. Green building is the practice of designing and constructing buildings in a more environmentally sustainable way.
There are lots of different ways to make buildings more environmentally sustainable, so this trend isn't as specific as some of the others on this list. That said, one example of a green building practice is energy efficiency — finding ways of constructing buildings that minimize carbon emissions.
5. Modular construction
Modular construction, also called prefabrication, is one of the biggest construction trends in 2023. If you're not familiar with it, modular construction is where contractors assemble large pieces of a building offsite and bring them to the construction site afterward.
One of the main benefits of modular construction is that it minimizes clutter and chaos on construction sites since most of the small-scale work occurs elsewhere. On the site itself, you're simply connecting the larger pieces you've already built. That can help improve site safety.
On top of that, prefabrication can help minimize waste and save you money. That makes it a very efficient construction method, so it's no surprise that it's such a big contracting industry trend.
6. Search for skilled labor
The final construction trend on this list is the prioritization of skilled labor. Like plenty of other industries, many contractors have experienced labor shortages in the past few years, in part thanks to the aftermath of the COVID-19 pandemic. This global event led many construction companies to make finding skilled labor their top priority.
The struggle to find workers to fill positions has led to many companies falling behind schedule and missing project deadlines. That's not ideal for anyone involved, so companies are going out of their way to seek out new talent that can keep up with labor demand.
WebFX is a partner businesses trust.
Hear from HydroWorx, who saw a 236% increase in organic sessions with WebFX services.
Watch the Video Testimonial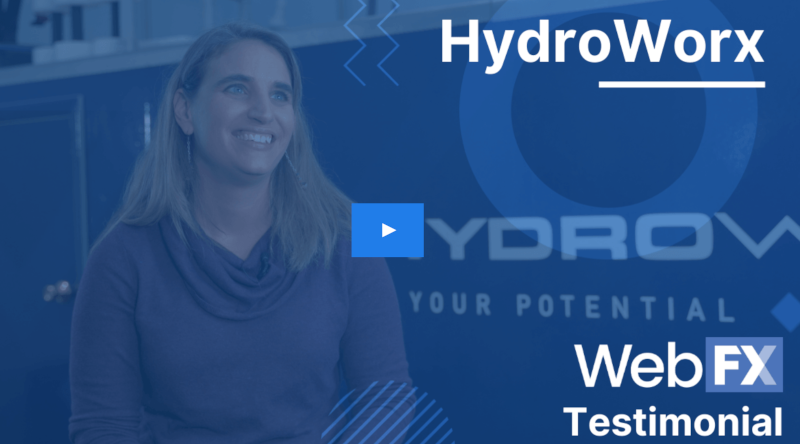 Learn how to upgrade your construction trends with WebFX
Following 2023 construction industry trends listed above can help you keep up with your competitors and drive more revenue. But bear in mind that there's no better revenue driver than a good marketing campaign — that's why you should consider partnering with WebFX.
While you're managing other areas of your business and implementing the contracting industry trends listed above, we can handle your digital marketing and get your company in front of the right prospects. Our digital marketing services will drive more clients and more revenue for you.
To get started with us, call 888-601-5359 or contact us online today!
Increase your leads, sales, and revenue with digital marketing