7 Advantages of Using Video In Your Marketing Plan
Video marketing is quickly becoming an effective way to reach your target audience. The development of sites like YouTube gives users a platform to search, share, and engage with videos.
Social media sites are becoming video friendly too. Facebook, Twitter, and Instagram created features that give people the ability to upload and share videos.
As videos continue to gain more popularity, it is important to integrate them into your marketing plan. On this page, we'll take a look at seven advantages of video marketing and how video marketing plans from WebFX can help grow your business.
Keep reading if you want to learn more, and contact us today to speak with a video marketing expert.
We post videos every Monday. Yup. Every Monday.
Join the 12,000 marketers who get their marketing knowledge from WebFX videos.
Subscribe Now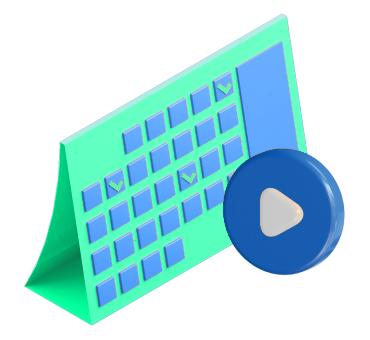 1. People love videos
People love watching videos on social media, YouTube, and company websites.
In fact, one-third of all online activity is attributed to watching videos. That means that users spend a good chunk of time watching videos online.
Why do people love videos?
Some experts chalk it up to the variety of content. Video platforms offer such a diverse selection of content that TV does not offer. You can find videos on nearly anything on YouTube.
People also love the authenticity. Users have the ability to make their own videos and upload them to YouTube. Viewers love to see content that people just like them post online.
Video is appealing to all kinds of audiences. If you create videos on your website, users will be drawn to them. This is a great marketing tactic to get visitors engaged with your brand.
2. Videos keep people on your pages longer
People spend more time on your page when there are videos. Videos keep users engaged. When you keep users on your page, you reap many benefits, such as:
Increased Retention
Videos increase the amount of time a person stays on a page. Instead of skimming through an article of text, people are watching videos and absorbing the information.
Statistics show that 65% of viewers will watch a video more than 75% of the way. More than half of the people watching your video will watch it nearly to the end.
The length of video also keeps people on the page. If a video is only two minutes (or less), users are more likely to watch the entirety of the video. In fact, fewer than 60% of viewers will remain watching a video that is 4-5 minutes long, as opposed to 75% that remain for a 1-2 minute video.
This also compares to taking 30 seconds to scroll through a page of text (or turning back completely). Videos are better at keeping users on the page.
Higher SEO rankings
Videos can also help increase your SEO rankings. When you add videos to your website, you are 53x more likely to increase your chances of ranking on the first page of Google results.
Why does this happen? Google sees that people are engaging on your site longer. When people engage longer, your site is seen as more valuable to visitors.
Therefore, Google will rank your website higher because they believe your website is more beneficial to users.
Higher engagement rates
If you want people to learn about your brand and ultimately become customers, you need to provide them with helpful, engaging information. Videos help people learn more about your products and services, and they get them excited about your offerings.
Consumers are 10x more likely to interact with a video than read text. Users like video because it saves them time. They can get the same amount of information in a two-minute video that they could by reading an article for 10 minutes.
Engagement is key to getting people to convert. By including videos on your pages, you can increase user engagement and encourage more people to become customers.
3. Videos increase conversions
When content is compelling and interesting, users are more likely to convert. Videos allow you to create content that users can engage with and digest quicker than reading.
Video marketing has the ability to increase conversion rates by 80%. This is because users are obtaining information through a desired method of advertising.
Marketers are already noticing the conversion benefits of video marketing. In fact, 71% of marketers noted that video conversion rates perform better than other content marketing.
Are certain kinds of videos more likely to convert than others? Maybe. There are numerous types of videos you can create to engage users, but the most compelling ones are videos about products.
People like to see videos about products and how they work. This is especially true of expensive products. After all, if you're going to spend a lot of money, you want to know the product works.
Posting videos of your products in action can help encourage people to buy, and 90% of people say that videos help them decide if they're going to purchase a product.
Videos are a great way to give consumers the inside scoop about your product and services. And when consumers feel informed, they are more likely to convert.
4. Videos boost brand recognition
Videos can help increase your brand recognition. Visitors may not immediately convert upon watching a video. They will, however, remember your video and the content you shared.
Video has been proven to have a positive effect on people recognizing your business. In fact, brand recognition increases 139% after visitors watch your videos.
This increase is indicative of future conversions. When people are ready to make a purchase, they will remember your business and your video. This will ultimately lead people to convert further down the line because they remember your brand.
5. Video marketing has a great ROI
Businesses love videos because they have a good ROI. If you invest in video production services, it will cost you some money to get started. The profit you make in return, however, is much greater than the cost.
Many companies are already experiencing the benefits of video, and 76% of business owners say that videos have a good ROI.
When you create your marketing plan, it is always important to know the potential ROI. You want to choose strategies that will have a good ROI. Video marketing is an essential and effective method of advertising that should be included in any marketing plan.
6. Videos are easy to share
When you have great content, you want people to share it. You want your visitors to show their friends, families, and colleagues your content, so you can generate more buzz for your business. Videos are great because people can easily share them online.
Social media sites make it easy for people to share videos. People like doing it too. When people see funny or cool videos, they'll share it with people in their lives.
People are 10x more likely to engage, share, and comment on videos than blogs and other social media posts.
Videos marketing can help you increase brand awareness and spread the word about your products and services.
7. Video marketing builds trust
Consumers need to know your business is good at what it does. You want them to believe in the quality of your products or services. Videos are a great way to build trust with consumers.
When a consumer sees a product working, it builds trust. They trust that the product will do what it is supposed to do because they see it.
If you take the time to create a video, consumers will know that you are serious about the quality of your products and services. You can build a better relationship with your consumers when they know they can trust you.
Video marketing is a great tactic for building trust with your consumers. When you build trust, you can make your consumers feel more comfortable about converting. This will benefit your business greatly.
Video marketing services from WebFX
At WebFX, we offer video production services to fit every business. With our custom plans, we'll help you create content that will keep your visitors engaged.
We use professional lighting, experienced actors, and quality production equipment to create professional videos for your business. And we deliver high resolution videos that have flawless audio and original script content.
Not only do we create the videos, but we'll help you market them too. We want you to get the most out of the money you spend in video marketing.
Our team knows what it takes to get your video content working effectively across all platforms. We will help you optimize your content, so you can start getting credible leads.
Lights, Camera, Video Marketing!
Video marketing is a great addition to your marketing plan. There are so many things you can do with videos that will benefit your business.
If you're ready to start using video marketing, checking out our free guide on how to use YouTube in your marketing plan.
If you prefer to speak with a specialist, call 888-601-5359, and we'll help you figure out how to create videos that will engage your visitors!