Local SEO will help you optimize your online presence to drive local leads to your store and help you earn more sales and revenue.
Did you know that 50% of users visit a store within a day of making a local search? If you want to get people into your business's door, you must optimize for local search engine optimization (SEO).
In this post, we'll discuss what is local SEO vs. traditional SEO and six ways to optimize your strategy to drive better results. If you want to learn more about local SEO, from the latest updates to the newest approaches, sign up for our free newsletter now!
What is local SEO and why is local SEO important?
Local SEO helps you optimize your website to rank better in search results and reach your local audience. By optimizing for your city and address, you help people find your business online and get them to visit it offline. Local SEO importance is that is an effective way to market your company online when you're looking to bring more people in your area to your store.
Find Out!
What does a local search look like?
If you're asking, "What is local SEO?" you're probably wondering what a local search looks like on a search engine like Google. Local search uses specific keywords tied to locations or local businesses. The most common phrases people use when searching locally include:
Both phrases generate search results focused on a specific regional location. When a user conducts a search using one of these local phrases, it generates a local SEO 3-pack. A local SEO 3-pack is a list of three local businesses that fit the user's search and are in the nearby area or the area specified.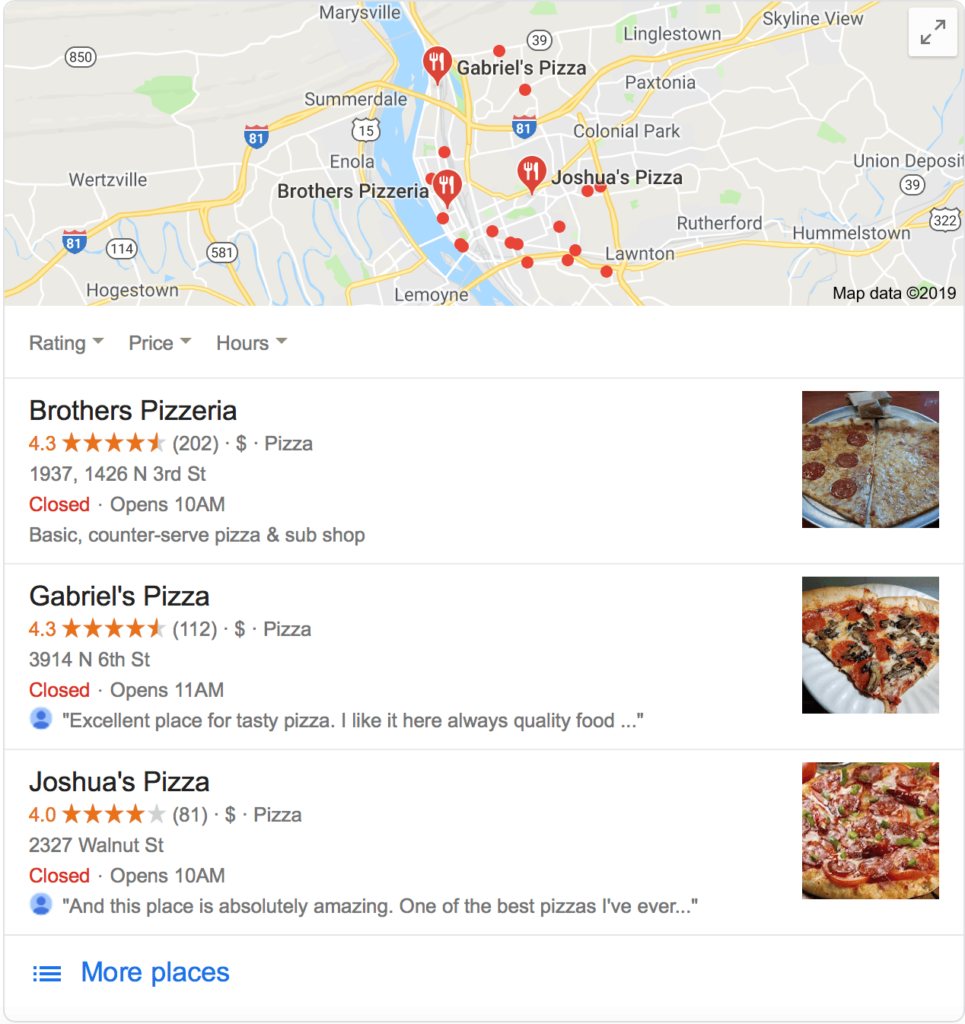 For example, let's say you just moved to a new area and want to find a pizza place.
When you type in a search query on your phone, you use search phrases like "pizza place near me" or "pizza place in [city]." From this search, you will generate your local SEO 3-pack with three pizza places in proximity to your location. These listings are the top three businesses that fit your search. If you search anywhere else, like a different city, your 3-pack will feature a whole new set of companies.
The listings you see in the local SEO 3-pack are Google Business Profile listings.
We'll dive more into these listings later, but your Google Business Profile helps you appear in more local search results.
What factors influence local search?
Whether you're a contractor, dentist, plumber, real estate agent, or any other local business— it is important to understand what is local SEO to understand how and why your local business will appear to searchers. As you're building your local SEO strategy and learning what local SEO is, it's essential to understand the factors that influence local search. Three main factors influence which businesses appear in local search results:
1. Proximity
Proximity is how close your business is to the searcher. Google tends to generate listings that are closest to the user. This factor isn't something you can control, but it's essential to take into consideration when optimizing your Google Business Profile for local search.
Listing your service area in your Google Business Profile is a great way to ensure you show up local searches in your proximity.
2. Relevance
Google also generates results based on relevancy. Your relevancy depends on the search query and the products or services you offer. If someone searches for a pizza place, Google compiles a list of businesses that offer pizza.
3. Prominence
Prominence focuses on what other customers say about your products or services. On the Google listing, this comes in the form of one- to five-star ratings, plus user comments or reviews. Google wants to show places with excellent ratings to help people find the best business for their needs.
When creating your local SEO strategy, you must keep these three factors in mind. Your local SEO influences your business's position in local search results. It's also important to know these factors so you can better optimize your local SEO plan to drive more foot traffic to your company.
6 local SEO optimizations that you should do to improve your local online presence!
Now that you know exactly what is local SEO and also local SEO importance, it's time to dive into optimizing your strategy and deciding if you need local SEO services.
Let's take a look at six local SEO optimizations you can do to help improve your local presence.
1. Claim and optimize your Google Business Profile listing
The first and most crucial step of your local SEO strategy is to claim your Google Business Profile listing. Your Google Business Profile listing is the heart of your local strategy. If you want to drive local customers to your location, you must claim and optimize your listing.
Once you claim your Google Business Profile listing, you can start filling out your profile.
Let's look at a few features you'll want to complete to have a top-notch local listing:
NAP (name, address, phone number) information
When you claim your local listing, you'll want to verify that the most critical data is correct. This information includes your company's:
Name
Address
Phone number
First, start with your business's name. You want to verify that it is your company's official and full name. Even if your business has a shorter name, you'll want to use the full name in your local listing.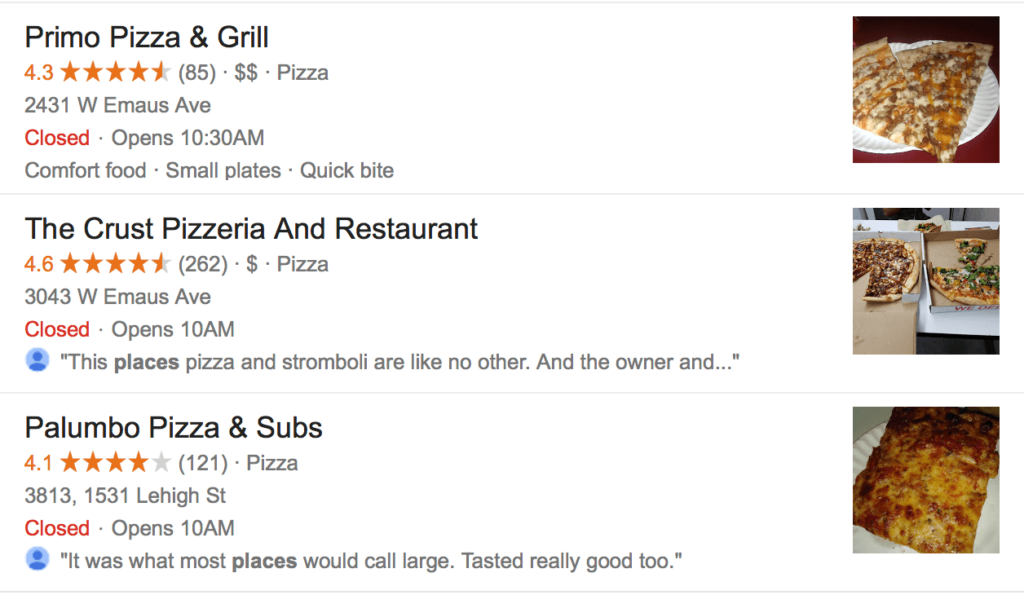 In this example, many people shorten the names of these pizza places. Instead of "The Crust Pizzeria and Restaurant," many people call it "The Crust." Either way, you want to have your full business name in the listing. Next, verify your address.
You want to ensure that local leads are going to the right place! Finally, you'll want to confirm your phone number for your business. You must have a way for people to contact you.
You can also add an email address to your listing to provide users another way to reach your team.
Add photos to your listing
Once you've completed the necessary information on your listing, you'll want to add pictures. Many people look at photos on Google Business Profile to get insight into your company, products, or services. These images are an excellent opportunity for you to showcase your business.
You want to use authentic photos to highlight your company. Don't use stock photos, as people won't get a sense of what your business is like. You can upload pictures of your store (both inside and out), your staff, and your products.
In some cases, user may leave a review including an image of your service/product.
This is especially useful for restaurants, service and repair business, or a business with a customizable business model as it shows other potential customers how great your products/services are.
Write your introduction
Your introduction is a small section where you can tell your audience what you have to offer them. This section is an excellent place for you to highlight what makes your business unique. You can also describe your company or specify the types of products or services you offer.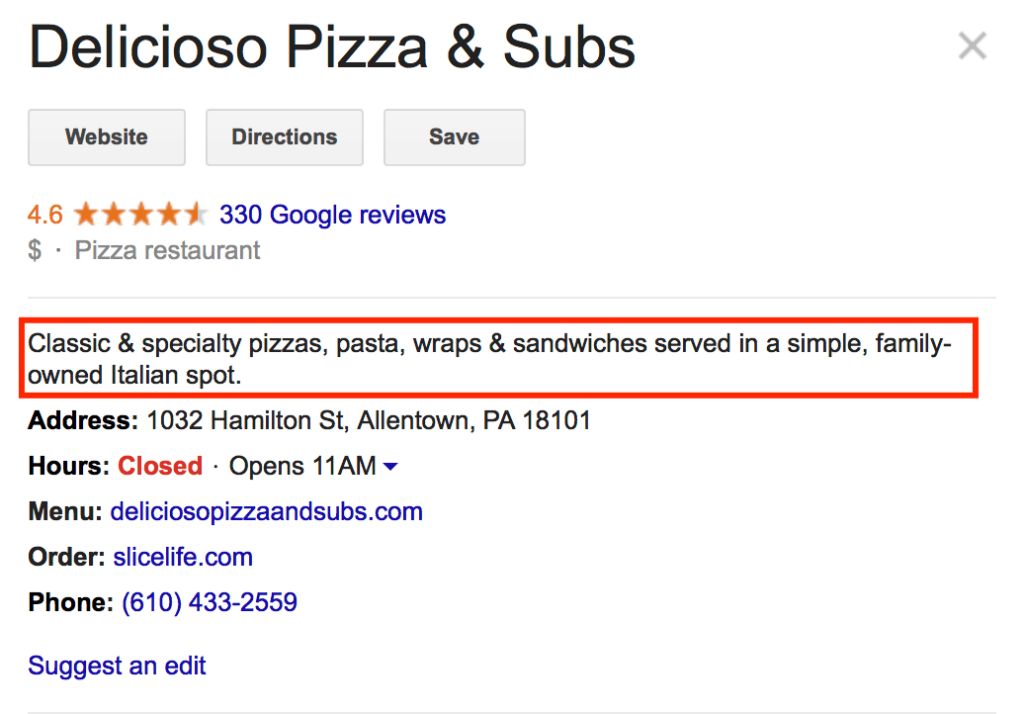 In this example, the description focuses on telling the audience about the food offered by the business and highlighting being a family business. Your introduction is a great place to include local keywords to help more people find your company too.
2. Localize your site content
When optimizing for local SEO, focus on more than your Google Business Profile listing. While your Google Business Profile listing plays a crucial role in helping you reach local customers, your website can do that too. So, how do you localize your website?
The best way to localize your website is to include your city, county, or region name throughout your site. This practice will help you reach more local customers and appear in those high-value search results. Another way to localize your website is to get involved with local community events.
When you get involved with these events, you feature those events on your website. You can integrate locally-relevant keywords when you post about the event on your site, for example. When involved in an event, you can also write articles about it on your site.
Local SEO content is a great way to generate local traffic on your website. Not only does it generate exposure for the event, but it also helps people become familiar with your business. By localizing your website, you'll help more people find your company.
It's an excellent way for you to create local SEO content and drive valuable traffic to your site. With the right Local SEO strategy you can turn your localized traffic into qualified leads in your service area.
3. Choose the right keywords
Keywords are a vital component of local SEO. If you want to appear in local search results, you must optimize your Google Business Profile listing and website. To find local keywords, conduct keyword research.
Keyword research will help you find the right keywords to integrate into your listing and website. When you conduct research, focus on long-tail keywords. Long-tail keywords contain three or more words.
An example of a long-tail keyword is "pizza place in Harrisburg, PA." These keywords are specific, so they help drive the most interested leads to your page. When users conduct local searches, they will use long-tail keywords to find the right business. If you integrate the proper local long-tail keywords, you'll attract more foot traffic for your store.
Looking for an all-in-one SEO audit tool? You've found it.
SEO Checker provides data on key metrics to give you:
Complete SEO score

Content Grade

Site Speed Analysis

and more.
4. Manage your reviews
Reviews play a fundamental role in local leads choosing your business. When someone doesn't have experience with your company, they turn to others' experiences to help them decide if your business is a good fit. Your Google Business Profile listing includes reviews.
When someone conducts a local search, they will look at the reviews on your profile to see if you meet their needs. Reviews can also influence your listing's placement. Google tends to give top spots to businesses that have a higher star rating and a more significant number of reviews.
This process doesn't mean that having the best review score will automatically give you top placement. It does, however, help you rank better in local search results. When you get reviews for your business, it's okay to have both positive and negative ones.
If you only have five-star reviews, people will be suspicious as to the authenticity of them. It's good to have a variety of reviews on your page. If you get positive reviews, thank people for sharing their thoughts.
When users leave negative reviews, you'll want to address their issues to try and make the experience better for them. People expect to see negative reviews. It matters to people how you handle those reviews.
If your audience sees you addressing issues, they will feel confident that you will address any issues that may arise for them. It's essential to manage your reviews to show your audience that you value them as customers and care about their experience. It's a great local SEO strategy to help you build your brand.
If you don't have time to manage your reviews, you can always invest in review management services.
5. Optimize for voice search
Did you know that more than 55% of consumers use voice search to find a local business? With the surge in popularity of voice search devices, you must optimize your local search strategy for voice. The way people search through devices is different than the way they search verbally.
Users are more likely to use slang and pose their queries as questions. For example, someone may type "pizza places near me," but when they conduct a verbal search, they say, "Where can I find a pizza place near me?" It's essential to account for the way people phrase their searches through voice. When you create local SEO content, you'll want to include keywords that users use verbally to find your business.
Voice search optimization will help you reach more local leads for your company and get them to visit your organization.
6. Optimize your website
When a user finds your Google Business Profile listing, they can learn more about you by clicking on the tab that directs them to your site.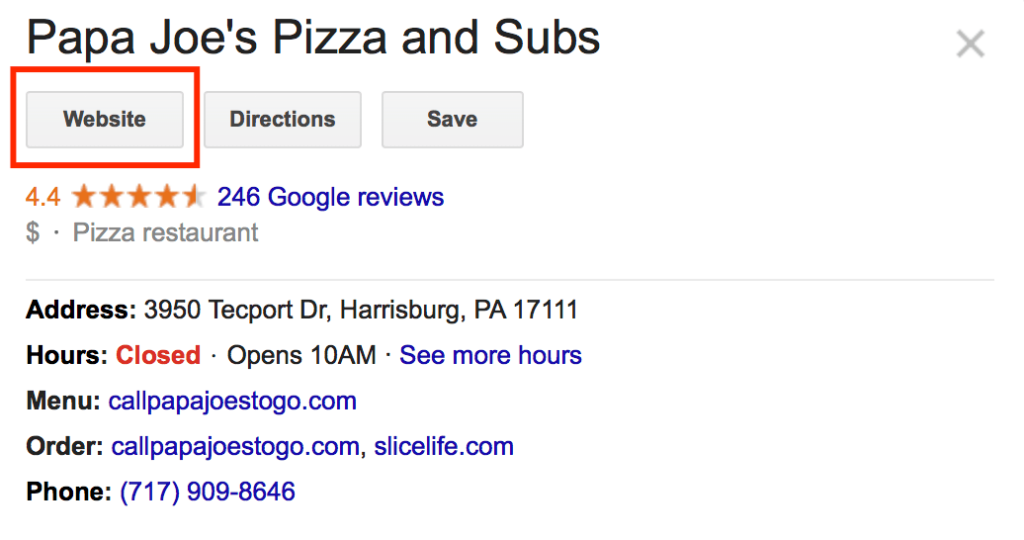 Even if your audience skips past the local SEO 3-pack, there's still potential for them to find you in the organic search results.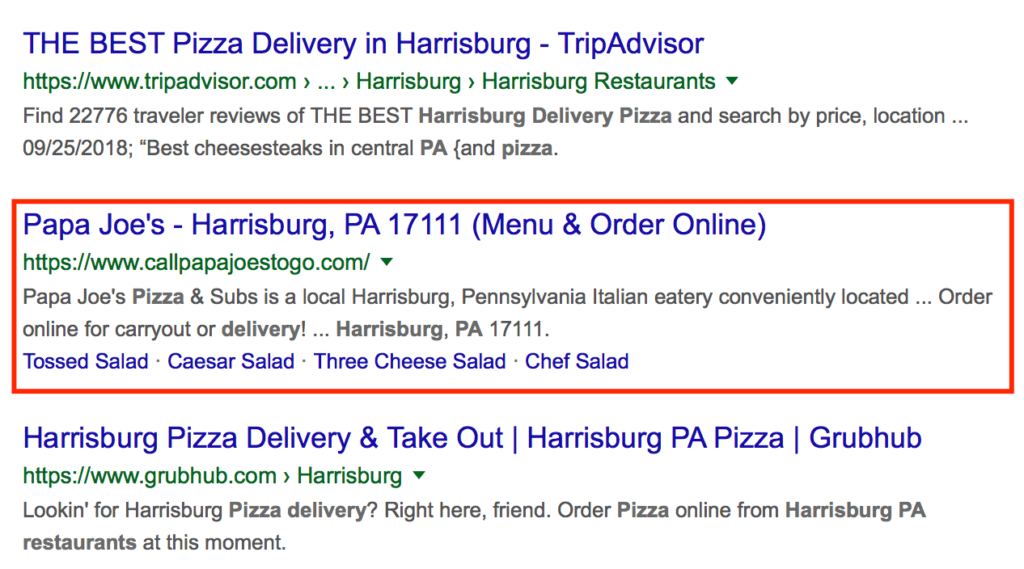 You must have a well-optimized website, whether your audience finds your local listing or your website in search results.
If you want to see success with your local SEO strategy, you must have a well-optimized website. Here are a few ways you can improve your website to make it more user-friendly:
Have an updated design: Your audience will lose interest if your website looks outdated or old. You'll want to give your site a fresh and new look by investing in your website's design.
Ensure your site loads quickly: Users hate to wait for pages to load. By using Google PageSpeed Insights, you can see where your site needs improvements. If you don't know how to do these optimizations, you can invest in page speed optimization services.
Make navigation simple: If users can't find information on your site, they will get discouraged fast. Having simple and easy-to-use navigation will help them find the information they need. Use broad categories and organized subcategories.
If you want to see better results with local SEO, optimize your website.
Our digital marketing campaigns impact the metrics that improve your bottom line.
See More Results

WebFX has driven the following results for clients:

$3 billion
In client revenue

7.8 million
Leads for our clients

5.2 million
Client phone calls
Stay busy through the slow season with local SEO services
Now that you know what is local SEO, why is local SEO important and how you can optimize for it, you may find yourself feeling overwhelmed. SEO is a technical process, and it can take time to learn and implement it into your business strategy.
If you don't have the time or expertise to do local SEO in-house, our team at WebFX can help since we deeply know what is local SEO and we're a full-service SEO agency. With over 500+ local SEO experts, we'll help you create a local SEO campaign that drives more traffic into your business.
In the last five years alone, our custom strategies have helped our clients' companies earn more than $3 billion in revenue and more than 7.8 million leads. We have our software, MarketingCloudFX, that will help you manage your SEO campaign.
Our software uses a combination of artificial intelligence and machine learning that allows us to provide data-backed recommendations for your business. We'll always suggest that you hire a top machine learning consulting agency, and if you need help, WebFX is here for you!
If you're ready to see how WebFX can help you create a better local SEO campaign, contact us online or call us today at 888-601-5359 to find out how WebFX can help you drive more traffic and revenue for your organization. You can also feel free to contact us with SEO questions!
WebFX Careers
Join our mission to provide industry-leading digital marketing services to businesses around the globe - all while building your personal knowledge and growing as an individual.