The success of your roofing business depends not only on the quality work you do, but the quality customers you attract.
As a business owner, it's important that you have lead generation strategies in place so you're never short of work.
On this page, we'll explore what lead generation is and why it's important to the success of your business, as well as five strategies for lead generation for roofing companies like yours.
WebFX offers lead generation services that have generated over 7.8 million leads for our clients. You can be next when you give us a call at 888-601-5359 to get started or contact us online!
37% of marketers say that generating high-quality leads was one of their biggest challenges.
We want to decrease that percentage.
WebFX can help you generate high-quality leads with a customized marketing strategy.
Learn More About Lead Generation Services
What is lead generation and why is it important?
Lead generation is about identifying, attracting, and retaining customers through online channels like social media, your website, and search engines. Your leads are the people you turn into prospects through these channels.
As we mentioned earlier, lead generation is important because it's what keeps your business afloat. You've got to keep prospective customers coming in so you can continue to provide your roofing services.
With effective lead generation strategies in place, you can not only attract new leads, but remain top of mind with prospective customers so that when they do eventually need your services, you're one of their first choices for help.
5 strategies for lead generation for roofing companies
Roof issues are a big deal — whether you're a homeowner or a business owner looking to protect the inside of your home or business from the elements, you want to be able to fix problems fast.
As a roofing company, you want to be easy to reach so you can help solve your customers' problems quickly. With these lead generation strategies for roofing companies, you can make buyers' decisions on choosing a roofing company to fix their leaky roof an easy one.
Take a look at these five strategies for generating leads for roofing companies and how you can implement them into your existing digital marketing strategy.
1. PPC advertising
First on our list of strategies for roofing lead generation is pay-per-click (PPC) advertising. PPC ads are a paid advertising method where you pay a set amount every time a user clicks on your ad.
With PPC ads, you have the opportunity to compete with other businesses for top ad spots in SERPs. These spots offer more visibility for your brand and can increase your brand awareness by up to 80%!
PPC ads work on a bidding system, meaning those top ad spots aren't guaranteed, and you need to have a set spending limit in mind, so you don't blow a hole in your marketing budget.
But don't let that scare you — sometimes you've got to spend money to get those positive results! Site visitors who discovered your site via PPC ads are 50% more likely to make a purchase.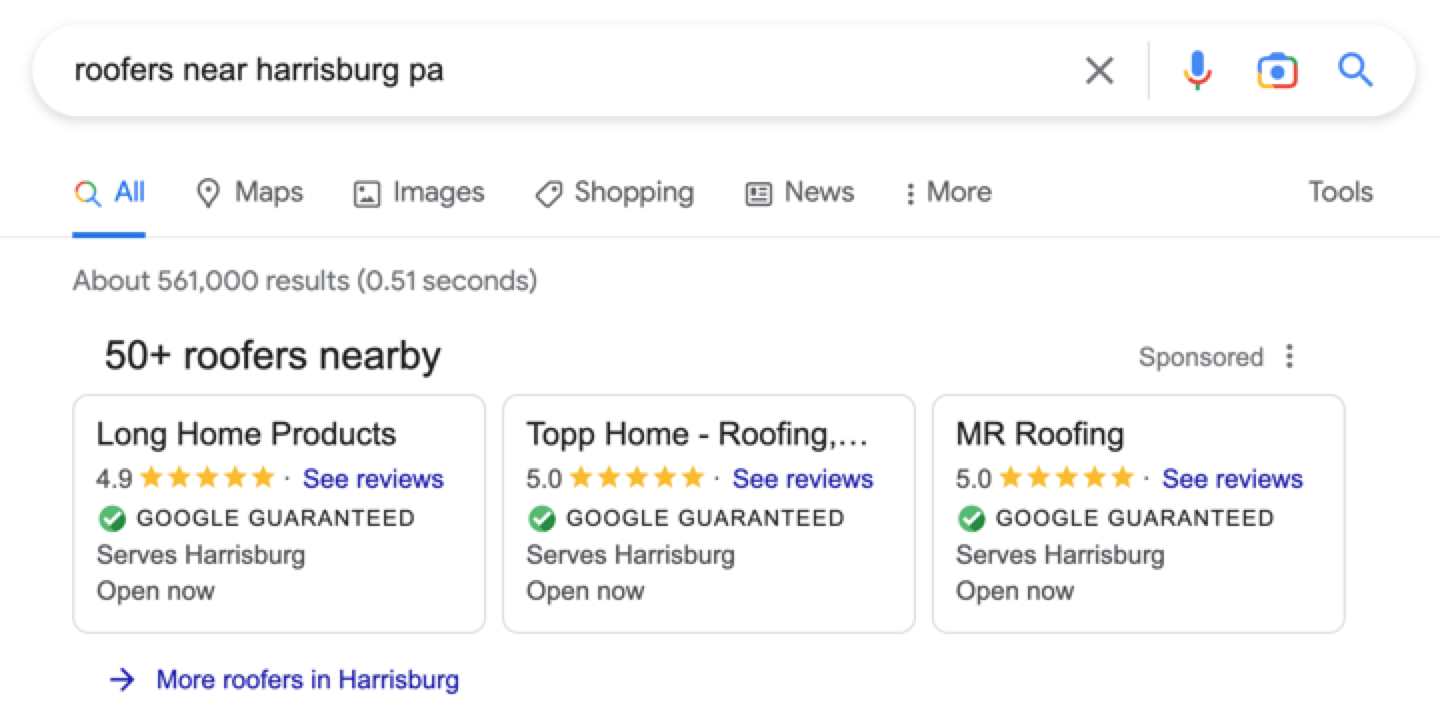 Google offers a Local Services Ads option for advertisers looking to connect with people who are searching for the services their business offers. With Google Local Services Ads, you only pay when a user messages, books, or calls through the ad itself.
Increased visibility coupled with the increased chance of customer purchases can spell more high-quality leads in your company's future.
2. SEO
While your paid advertising strategies work to get your roofing company in front of the eyes of valuable leads, search engine optimization (SEO) can help your business show up in search engine results pages (SERPs) organically.
SEO is the process of optimizing elements of your website and integrating related keywords into your site's written content so search engines can easily read your site and rank it on SERPs.
The better you optimize your website, the higher it can rank in search results. That way, when users enter keywords related to your business into search engines, your website is one of the first links they see. That means more visibility for your roofing company (and more potential leads!).
A few different ways you can optimize your website for SEO include:
3. Social media marketing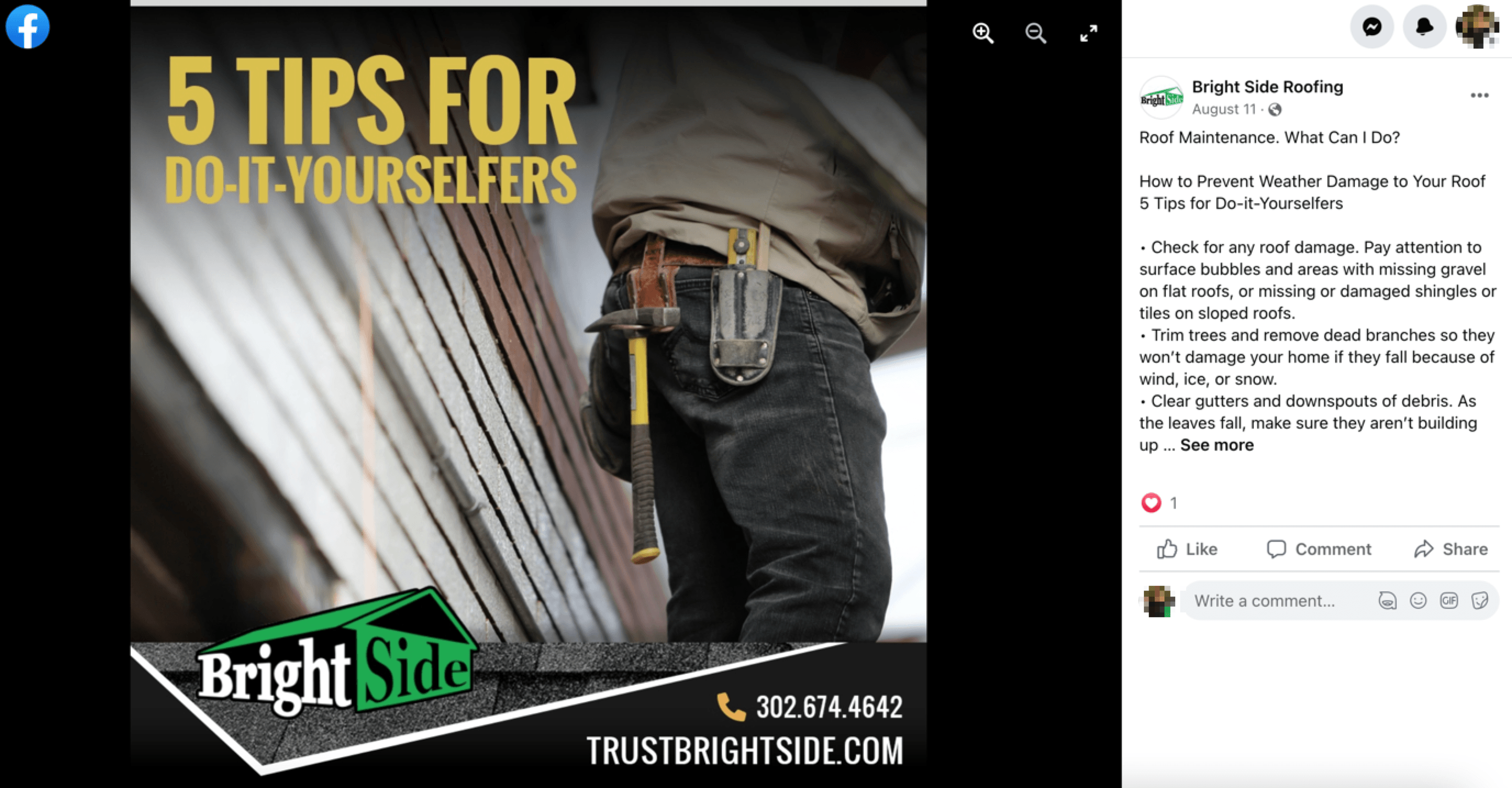 Social media marketing is a valuable tool that shouldn't be overlooked. In fact, over 59% of marketers rely on social media for generating leads and sales.
Lead generation aside, it's a great way to connect with your customers in a more personable (but still professional) manner.
Social media marketing is great for roofing lead generation because it exposes your company to a much larger audience than traditional marketing methods. There are over 5 billion active users on social media — that's a lot of potential leads to connect with!
While you can't connect with every active user, you've got quite a pool of potential leads to dive into.
Whether you're posting regularly about your roofing company and the services you offer to your followers or decide to take it up a notch by investing in paid social media ads, marketing your roofing company on social media can expand your reach to generate more leads for your business.
4. Email marketing
Email marketing is a great way to nurture new leads and encourage conversions. Once you've put together an email subscriber list, you can send out emails about new roofing content you added to your site, special limited-time pricing on your roofing services, and any other information you think your audience should know.
Email marketing is important because the people you send these emails to are leads who chose to sign up for them.
This means they're already interested in your services, so all you have to do is keep them interested and work on getting them to cross the threshold from potential customers to paying customers.
5. Content marketing
Finally, lead generation for roofing companies is possible with content marketing. Content marketing involves creating audience-centered content that provides value to users who read it, whether it's informative, entertaining, or provides valuable insight.
Content marketing can come in the form of things like:
Blog posts about DIY roof fixes
Videos showcasing recent roofing projects
Informative articles on the importance of roof maintenance
Case studies on past customers' experiences
How-to guides
Not only that, but content marketing can help improve your search engine rankings too!
You can create content centered around keywords and phrases that your audience frequently searches, so your site becomes one of the first links they see when they enter a query.
Our digital marketing campaigns impact the metrics that improve your bottom line.
See More Results

WebFX has driven the following results for clients:

$3 billion
In client revenue

7.8 million
Leads for our clients

5.2 million
Client phone calls
Generate high-quality leads with the help of WebFX's lead generation services for roofing companies
Take the first step in attracting new leads to your roofing company and team up with WebFX! Our lead generation services are top-notch, generating over 7.8 million leads and $3 billion in revenue for our clients. Will you be next? We sure hope so!
Don't wait — give us a call at 888-601-5359 or contact us online now to get started!
Earn a 20% greater ROI with WebFX