In today's world, people spend a lot of time on their mobile devices. The average person spends almost five hours a day on their mobile phone. That makes SMS marketing, or text marketing, an excellent option for reaching prospects where they spend their time.
On this page, we'll cover everything you need to know about SMS marketing, including:
Keep reading to find out how you can text your way to increased revenue for your business!
P.S. If you want tips and tricks for marketing your business through other strategies, subscribe to Revenue Weekly. You'll get insight from a team of marketers with over 25 years of experience in digital marketing!
What is SMS marketing?
Marketing by SMS involves sending text messages to users that promote your products or services. It's an opt-in form of marketing that requires people to choose to subscribe to your messages.
What are the benefits of SMS text marketing?
Now that we've answered, "What is SMS marketing," you may wonder why you should do it. What benefits does SMS marketing offer for your business?
Here are a few reasons you'll want to start creating your text marketing strategy:
1. People already regularly use their smartphones
The biggest reason to create an SMS marketing strategy is that people already use their smartphones daily.
In 2020 alone, people in the United States sent over 2.2 trillion SMS and MMS messages. Texting is a highly integral part of everyday life, making it the perfect medium for your business to reach prospects.
You can promote your business through a function that people already actively use by harnessing SMS marketing. Need help figuring out where to start? Check out these SMS marketing examples to get the ball rolling.
2. SMS marketing works with other marketing strategies
SMS text marketing is a strategy that works great with different marketing strategies. You can use your text marketing strategy to help emphasize messages from other campaigns.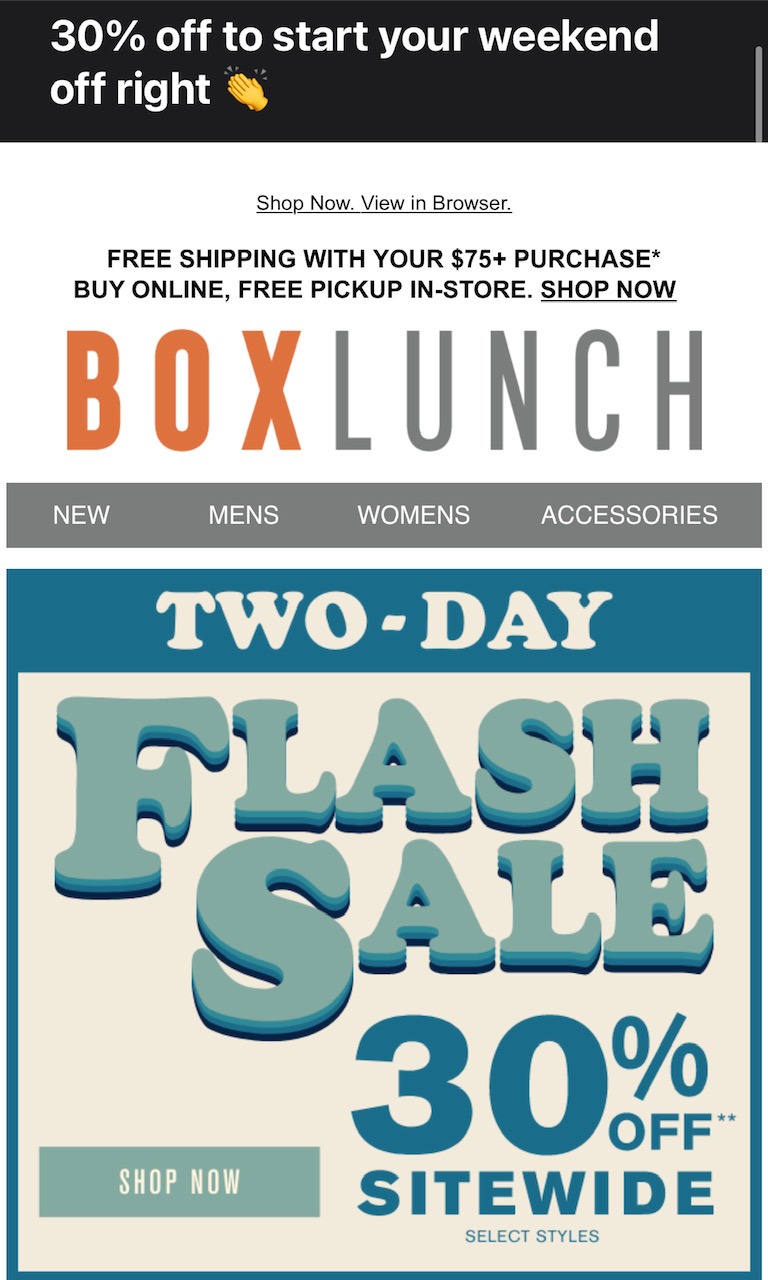 SMS and email marketing work great together to help your marketing message hit home. If you want prospects to purchase a product, take advantage of a sale, or something similar, you can use a one-two power punch with SMS and email.
Text marketing is an excellent way to emphasize your message to your audience and convince them to complete your desired action.
3. SMS marketing reaches prospects more directly
One of the most significant benefits of marketing by SMS is that you reach prospects more directly, which helps boost engagement.
Strategies like email marketing and social media marketing allow you to connect with your audience directly, but they require the users to open an app to engage with that content.
And unless someone has their notifications set up to let them know when they receive emails, they likely won't see your emails until they open their inbox.
With text messages, though, people will see the message on their lock screen and open it to read it. Even if someone misses your text, they'll still see it in their messages if they go to read a text from someone or send one. It makes your audience more likely to see the message and engage with it.
4. SMS marketing encourages prospects to act faster
A significant benefit of having a text marketing strategy is getting prospects to act faster. You want prospects to take advantage of your sales or special promotions, and SMS marketing is excellent for helping you accomplish that goal.
One of the most significant benefits of SMS marketing is focus and clarity. When you send a text to your subscribers, you're focused on making them complete one task or achieve one goal. They don't get distracted by anything else.

As a result, it can help you get people to act faster and purchase your business.
SMS marketing: 6 tips for marketing by SMS
Interested in developing an SMS text marketing strategy? Here are six tips to help you create a successful SMS marketing strategy:
1. Create an explicit opt-in
A key component of your SMS marketing is that you need to have a clear opt-in. You may collect phone numbers from your customers, but that doesn't mean you can use that information to start texting them. They must opt-in to subscribe to messages.
You can invite people to subscribe to your text messages by asking on your website, through emails, or through other online channels.
Even if someone chooses to sign up for your text messages, you want to confirm and make sure they want to do it. Before sending any promotional text messages, send a message to confirm they want to receive texts from you.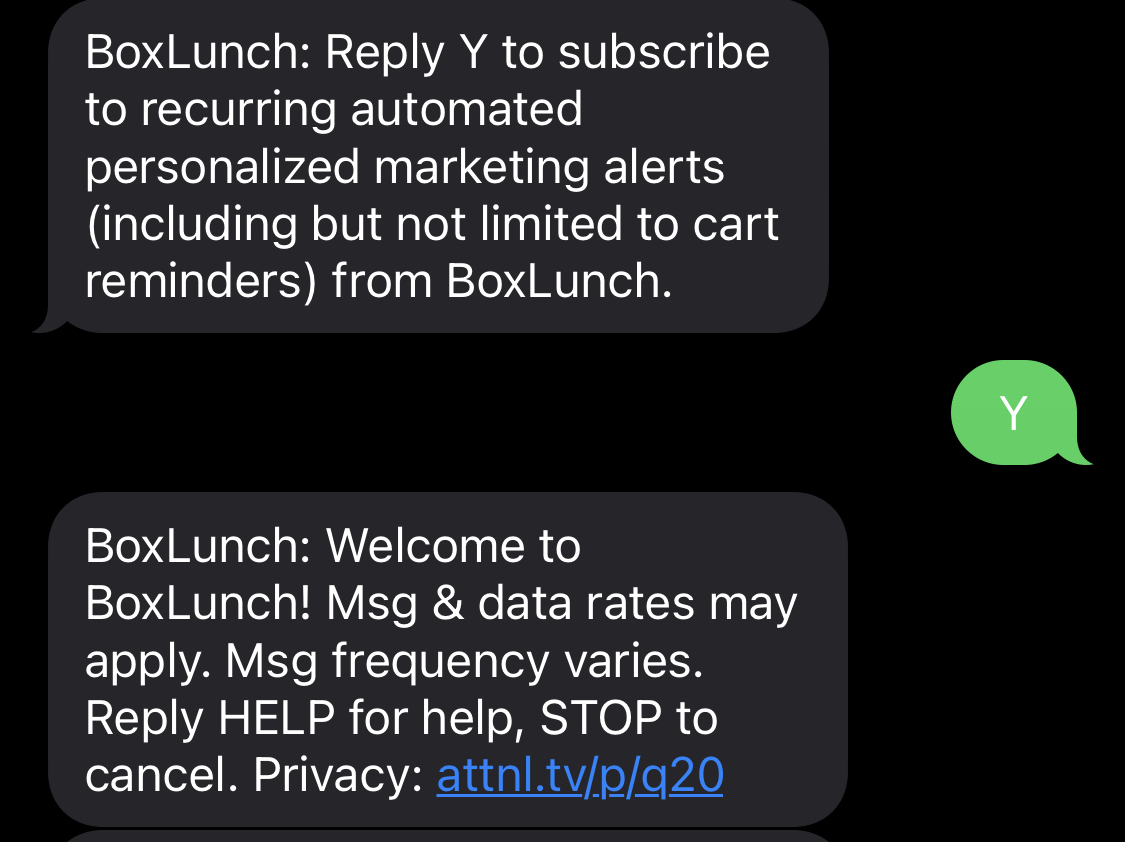 Sending that text ensures that you only get subscribers who want to hear from your business.
Learn More About SMS Compliance
2. Identify your brand in your texts
Whenever you send text messages to your subscribers, make sure you identify your business every time you send a text. Your subscribers may not save your number in their contacts and may delete your messages after reading them. To ensure they know it's you, always identify yourself in your texts.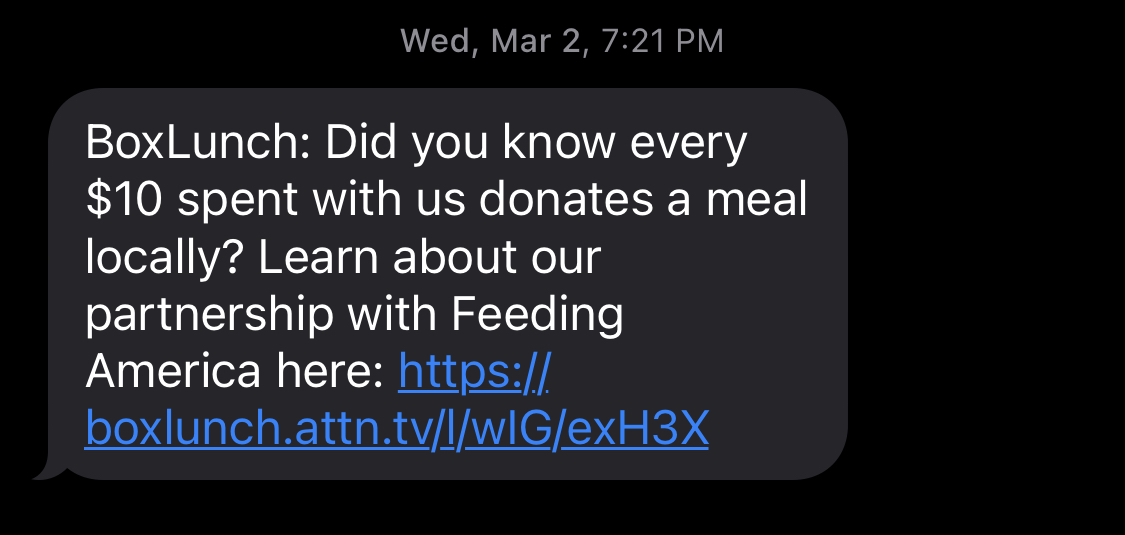 You can put your name right at the beginning of the message, so your subscribers know who's sending the message.
This practice also helps you continually build brand association. People will see your name at the front of your texts, which keeps your brand top of mind.
3. Share instructions on how to opt-in
Almost as crucial as opting in is giving notice on how to opt out of texts. People may not want to receive your texts anymore, and you need to provide them with the opportunity to stop receiving those texts.
You should always inform your subscribers at the beginning of how they can stop receiving messages from your business. Most businesses allow users to send "STOP" to cancel receiving texts.

And as always, if someone unsubscribes from your texts, don't keep sending them.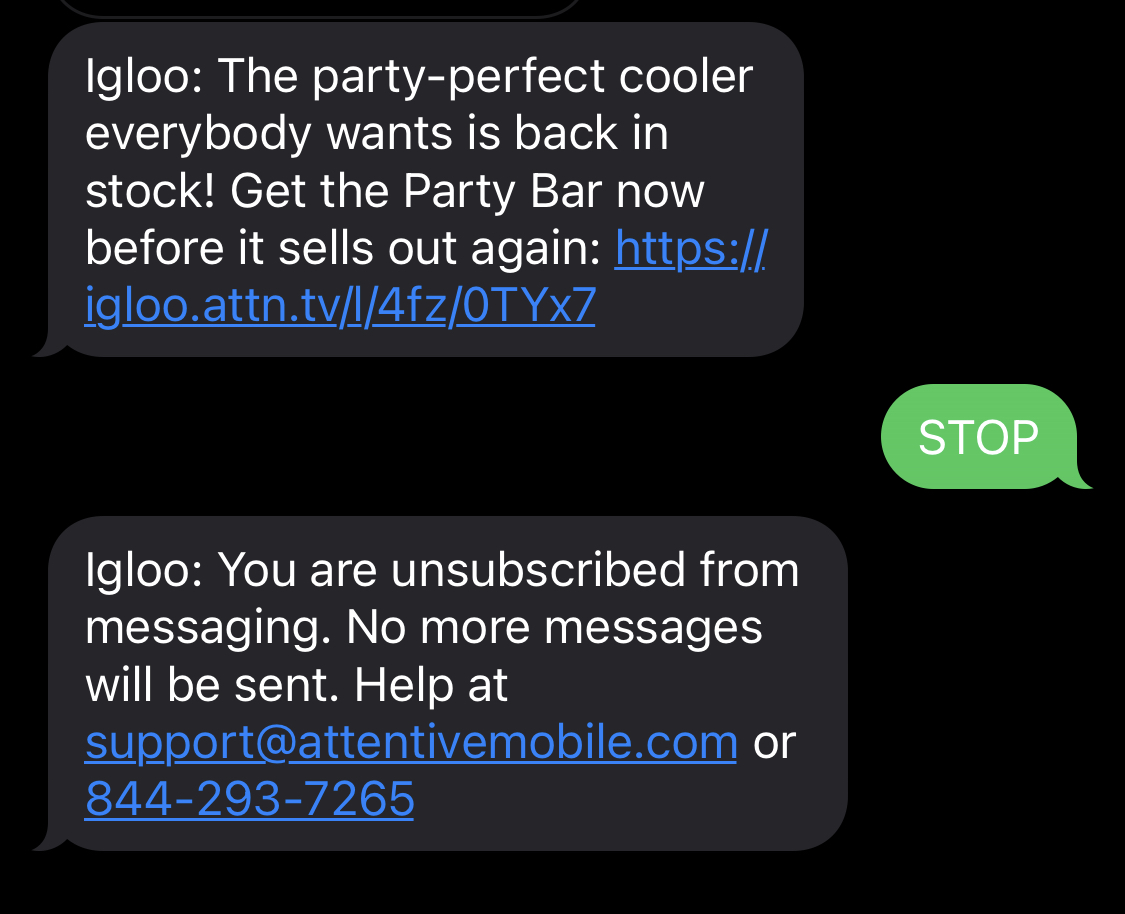 4. Send more than promotions
Your SMS marketing strategy doesn't have to solely focus on sending promotional codes or discounts. You can use your text marketing strategy to inform your audience about other aspects of your business.
Box Lunch, for example, sends messages to subscribers inviting them to join their free Lunch Specials club.
You can use your SMS text marketing to promote your loyalty programs, charity events, and more. It's an excellent opportunity for you to reach people and let them know what else your business offers.
5. Use your text marketing strategy to bring customers back
Marketing by SMS allows you to re-engage customers who haven't bought from you in a while. You can send them text messages with a custom discount code and invite them to shop with you.

SMS enables you to reach these prospects directly and send them a personalized message to get them to come back. It's an excellent way to retain loyal customers for your business.
6. Make sure your website is mobile-friendly
If you opt to do text marketing, make sure your website is mobile-friendly. If someone reads your message and is interested in buying, you don't want to send them to your website only to have a poor mobile experience.
You must integrate responsive design into your website to deliver an excellent experience for those users. Responsive design enables your website to adapt to users' mobile device screens to provide the best experience.
Do you have a basic understanding of sms marketing? Here are over 10 text marketing platforms to help you start your campaign and learn about their features, pricing, and client ratings.
Ready to launch your SMS marketing strategy?
Creating an SMS marketing strategy is a great way to promote your business to interested prospects and get them to convert. If you aren't sure how to launch a successful SMS strategy, WebFX can help.
With our mobile advertising services, we can help you promote your business to mobile users with ease. Our team of over 500 digital experts knows how to promote small-to-midsized businesses (SMBs) to help them earn more sales and revenue.
Ready to ramp up your revenue? Contact us online or call us today at 888-601-5359 to speak with a strategist!
How is your website's SEO?
Use our free tool to get your score calculated in under 60 seconds.
Get posts by email
Join 200,000 marketing managers and subscribe to Revenue Weekly!
"*" indicates required fields
WebFX Careers
Join our mission to provide industry-leading digital marketing services to businesses around the globe - all while building your personal knowledge and growing as an individual.