When you use email marketing, you have a direct connection to credible leads that are most likely to convert. Email marketing is one of the best methods to engage leads, but the hardest part of using it is figuring out the best time to send emails. When you create an email campaign, you want to send them at a time when your audience is most likely to engage.
Your goal is to encourage leads to click on your messages, open them, and make a purchase. So, what is the best time to send emails to ensure they're opened? When is the best time to send an email campaign that ensures engagement?
On this page, we'll share the best time to send email campaigns, plus discuss the importance of getting the timing right and cover tips to create a successfully timed email marketing campaign. Let's get started!
Time to Level Up Your Sales
Our long list of services helps you grow every aspect of your business with marketing strategies that are proven to increase bottom-line metrics like revenue and conversions.
In the past 5 years, we've managed more than 12.9 MILLION transactions across our client base.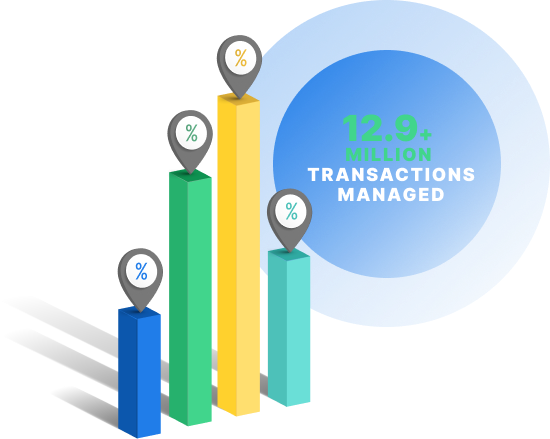 Sending emails: why does the time of day matter?
Why is it important to pinpoint an exact time to send emails if people constantly check their inboxes throughout the day? They'll get the message eventually, right?
Actually, the time of day you send emails is significant because it maximizes email marketing engagement. If you send them at the right time, your leads are more likely to open it and engage with your message. For example, let's say you send an email about an online sale.
If you send the email at 10 p.m., half of your audience won't engage because they are either asleep or in bed. They don't want to have to get out of bed and grab their wallet to make a purchase, so you could risk losing quality business during this period. By understanding the importance of email timing, you can earn more opens, clicks, and responses from your audience.
Send your emails at the best time to boost your engagement rate and maximize business opportunities.
So, what is the best time to send emails?
If you conduct some research, you'll find that many companies suggest that Tuesday through Thursday between 8 a.m. and 10 a.m. is the best time to send emails.
This stems from the idea that many people will check their email before they start working. The truth of the matter, however, is that there is no standard time. There may be an increase in email engagement on those days and at those times, but this isn't the case for everyone.
Your audience determines the optimal time to send emails. Each audience is unique and may not fit into that standard 8-10 a.m. block.
You may have nurses, doctors, or laborers in your target audience that work third shift, so their optimal email time is at 10 p.m. instead of 10 a.m. There is no one right time to send email blasts to your subscribers.
You may think it appears challenging to find the right time to email, but it's not that difficult at all! There are a few steps you can take to make your campaign successful.
Our digital marketing campaigns impact the metrics that improve your bottom line.
See More Results

WebFX has driven the following results for clients:

$3 billion
In client revenue

7.8 million
Leads for our clients

5.2 million
Client phone calls
6 tips for finding the best time to send email campaigns
There are numerous steps you can take to make sure you're using the best time to send your email campaigns. Here are six you can use to better your emailing strategy.
1. Analyze your audience
First and foremost, you need to analyze your audience. You'll want to look at your target audience to get a better understanding of who you are emailing. It will help you create a better email marketing campaign.
The best time to send emails is dependent on your audience, so doing this is the best way for you to have a successful email marketing campaign. By researching your audience, you will create a campaign that is effective for them. Look at your target audience.
Then, determine their location, age, and occupation. How do these factors influence when they check their email? You may have a large chunk of your audience that work the night shift, so it is ideal to send your emails at the start of the night.
If you have younger people in your audience, like college students, it may be more effective to send your emails in the late morning or early afternoon. These are all factors that influence when your target audience is most likely to check their email. When you look in-depth at these factors, you can figure out the best time to send an email campaign.
2. Consider sending emails on the weekend
Many businesses stick to sending emails on weekdays. There are far fewer emails sent on the weekend, so this is an opportunity for you to consider sending emails during this time. Sending emails over the weekend is beneficial if your business is having a sale or an event.
By sending your email between Friday and Sunday, your audience will remember it more because they aren't receiving additional emails. It will help your email stand out because it won't get lost in the crowd of other emails. It's a great opportunity for you to engage your audience and get them to check out your content.
3. Test out your content
You need to make sure that your email content is appealing to your audience. If your message content isn't interesting or engaging, the time that you send it won't matter because your leads will not be interested in reading it. Therefore, testing is vital.
You can run A/B testing to determine which emails are more likely to pique your audience's interest. This helps you build an email marketing campaign that appeals to your potential leads. People subscribe to your emails because they want to see relevant information.
So, it's important that you create emails that contain valuable content. You don't want to waste their time by sending them irrelevant or boring emails. Testing will help you focus on relevant emails that will increase clicks and conversions.
You can focus more on getting the timing right after you know the style of email that appeals to your audience.
4. Make your emails mobile-friendly
More people open emails on mobile devices than ever because it is quickly accessible. To ensure your emails are performing successfully, adapt your email campaigns to these devices, so users have a positive experience. It is important to provide your leads with a positive experience, so they will want to make a purchase from your business.
The mobile experience is far different from the desktop experience. If you want to make your subscribers happy, you need to adapt your emails to all devices. A person may even use a specific device depending on what time of the day it is.
For instance, when people get ready for work or taking a lunch break, they are more likely to check their email on a cell phone. Once people are home from work, they are more likely to check their email on a tablet or laptop. So, once you figure out your email timing, you need to consider which device is most likely to be in use.
This will help you create a better experience for your audience. It is crucial that your emails look great and perform well on every device.
5. Review your email list
You may feel as though you keep trying different times of day, but don't see an increase in engagement. If this is happening with your email campaign, you need to review your email list. It isn't that the timing is wrong, but rather your audience is no longer engaging.
It is good practice to go through your email list occasionally, to see if people are still active. If they haven't engaged with your emails in a while, it may be best to remove them from your list. Once you clean out your lists, it's a great opportunity to regrow your list.
You can use different tactics, such as email sign-ups on your website or digital marketing services, to help you regrow it. This will help you gain a more active email list. With a fresh list, you can determine the best time to send email blasts based on your new audience.
6. Monitor the frequency
Once you find the best time to send email campaigns, you need to be mindful of the frequency. You may find that the best time to send emails to your audience is between 12-2 p.m. on Monday and Wednesday.
However, this doesn't mean that you should jam-pack all your emails into those time frames. You need to be mindful of the frequency, so you don't overwhelm your audience. If you send them too many emails, you may lose subscribers.
You must create a balance for the number of emails you send to your audience's inboxes. This will require some testing. You can test to see how your audience reacts to different frequencies of email.
By doing this, you will figure out the right amount of emails to send overtime to your subscribers.
Get your email timing right with WebFX
When you know the right time to send emails, you will create an impactful email marketing campaign that earns new subscribers, increases engagements, and entices leads to covert. By strategically timing your emails, you will produce a better email marketing campaign that promotes business growth and brand exposure. At WebFX, we know how to create successful email marketing campaigns.
We have a team of 500+ experts that will help you create your customized email marketing plan. Our team will help your business earn more leads and conversions. If you want to start reaching more leads with your emails, contact us online or call us today at 888-601-5359 to speak with a strategist!
We look forward to hearing from you!
How is your website's SEO?
Use our free tool to get your score calculated in under 60 seconds.
Get posts by email
Join 200,000 marketing managers and subscribe to Revenue Weekly!
"*" indicates required fields
WebFX Careers
Join our mission to provide industry-leading digital marketing services to businesses around the globe - all while building your personal knowledge and growing as an individual.