You're no stranger to visuals. In fact, as the leader of a sign company, you know that providing the right design experience can significantly influence how your customers think about your brand, which is why you're searching for web design services for your sign company.
While you know that your web design can have a significant impact on your company's online performance — 94 percent of first impressions are related to a website's design — you may not know how to create an original, well-design website for your business.
Fortunately, we're here to help. At WebFX, our award-winning design team can help you transform your company's online presence. There's a reason why our client recommendation score is 488% higher than the industry average.
Learn more about our web design services for sign companies below. Or, contact us online or call us at 888-601-5359 for more information — you can also use our web design quote calculator to receive a free quote instantly!
We'll help you create a website that stands out.
"WebFX has been instrumental in helping us develop a new website, allowing us to be a leader in our industry."
Learn More About Our Web Design Services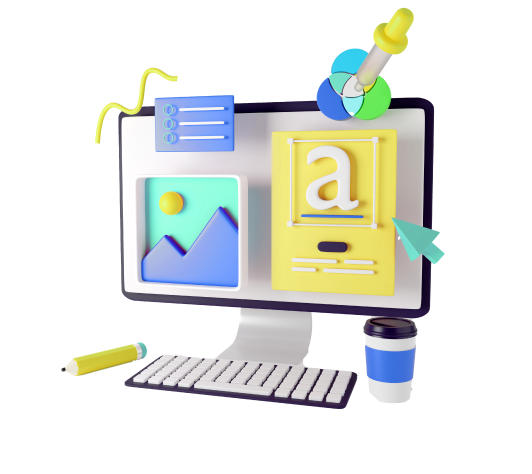 3 reasons web design matters to sign companies
Making quality signs that help other businesses get noticed is your priority. But, who helps ensure that you receive the recognition you need? Not only does professional web design help you build a better website, but it also helps fulfill the following marketing goals:
1. Functionality
If your prospective clients visit your site, and it doesn't work, they're likely to go elsewhere to meet their sign production needs. Put yourself in your potential customers' shoes. Does a slow-loading or non-responsive website shed a positive light on any business?
You've put tremendous effort into building the reputation of your brand — so don't let a faulty website undermine your hard work. Effective web design ensures that your site can meet your customer requests, as well as provide an intuitive experience when it comes to navigation.
2. Credibility
No matter your target audience, your company wants to build trust — not discontent — with your audience. A website can serve as a critical platform for establishing your credibility with users, which is why professional web design for sign companies is becoming a priority.
A study researching the impact of web design, for example, found that nearly 94 percent of negative user experiences related to design errors or issues. How can you expect your audience to choose your sign company if your site has flaws or problems?
For example, if a user can't complete your contact form, that's a massive issue. It's an error that not only costs you that lead but likely dozens more, which impacts your bottom line and goals for growth.
That's why putting effort into the functionality and appearance of your company's page is a surefire way to put your organization's best foot forward and to develop trust with your audience. Your web design speaks for itself — so make sure it has something positive to say.
3. User-Friendly navigation
Your website serves as the backbone of your company's digital presence. It's also critical when it comes to developing a digital marketing campaign, which is another reason why professional web design is a must in today's competitive market.
One way to maximize the use of your website in your campaign focuses on the functionality and navigation of your site. You want to provide users with such a seamless experience that it's easy for them to convert from consumers to clients.
Developing a website hierarchy is a challenge, however. It requires extensive planning, which is why collaborating with a web design agency can help move the project forward. With a faster turnaround time for your website, you can start benefiting from your design sooner.
Hear What It's Like to Work With WebFX!

"I am very happy with the service and the rate we are climbing the ratings. This is a company that understands the SEO game enough to give you the competitive edge you need against your competitors."
Full Service Sign Company
What does professional web design for sign companies include?
You know your web design is a top priority. But now, you want to develop a better understanding of how design services can benefit your sign company specifically. When you invest in the design of your website, you'll enjoy the following benefits:
Customized design
Think of your website as the virtual representation of your sign company's office. Because your audience isn't stepping foot into your actual location, you want to make your page as strong of a representation of your business as possible.
What color scheme best suits your company? Does your sign business market itself as edgy? Or do you tend to stick to a classic and more refined design? Who is your target audience, and what do they expect to find when browsing your site?
How you answer the questions posed above plays a role in the formation of your site.
With a personalized web design plan, you can choose various images, color schemes, content, and text that best suits your company. When you opt for a customized design, you define your brand and attract more users to your website.
Calls to action
In a service-oriented industry, you need to provide clear calls to action (CTAs) throughout your page. Those who visit your site may already have an interest in hiring a sign company and need more information about your business before they finalize their decision.
With performance-driven web design, you receive compelling CTAs that encourage users to contact your company, join your email newsletter list, follow your business on social media, or another conversion you're looking to achieve.
Navigation
When consumers visit your website, they don't want to spend countless hours searching for the information they need to contact your company. Investing in web design provides visitors with a straightforward and easy experience when exploring your site.
Web designers will lay out all your site's vital information in the most user-friendly ways.
Navigation is a critical element because users demand accessible, easy-to-use websites. If yours isn't, they will leave your site, visit a competitor, and do business with them — which doesn't benefit your company at all.
That's why web design matters, though, it is the difference between a sale and a loss.
3 benefits of professional web design for sign companies
Professional web design for sign companies offers a lot of benefits, including these three:
1. Stand apart from your competition
Your sign business isn't like your competitors — which means you need a website design that matches and represents your brand. Fortunately, web design services make it easy for you to show your prospective audience how your business stands apart.
With results-driven web design, you distinguish your business from competitors and position yourself as the ideal option for clients. When you craft a visually appealing and mobile-friendly website, you'll take the lead against others in your industry with dated or non-responsive pages.
2. Enhance your SEO efforts
When it comes to search engine optimization (SEO), you'll find that effective web design and higher rankings on search engine results pages go hand-in-hand. If you invest in a top-tier site, it's easy for prospective clients to find your business when searching on the Internet.
Even when you put in the added work to direct consumers to your site via SEO, the design of your page plays a deciding factor in whether they decide to stay, learn more about your business, and convert.
3. Earn more sales
When you're shopping online, how important is a website's design when it comes to your purchase decision? While you may not consciously pay attention to a page's design, its functionality, usefulness, and appearance all play a pivotal role in your shopping experience.
A performance-driven design for your website can make an impact on your bottom line. By improving your site functions and usefulness, it becomes easier for consumers to purchase your products and services, as well as call your company for more information.
Create a better website for your sign company
Every day, your target market turns to the Internet to find the best company to craft their signs. Make sure your business is their number one choice by investing in the web design services that you deserve.
At WebFX, we can help you renovate your website with the attention to detail and results-driven tactics that you want. For more information about our web design services, feel free to reach out to our team online or to call us at 888-601-5359 today!
Earn a 20% greater ROI with WebFX