Every second of every day, people are searching for information about products to buy or services to use. If you don't have a search engine optimization (SEO) plan in place, you'll miss out on the users who search for telecom-related information.
Investing in SEO for telecommunications companies can help you rank higher in search results and outrank your competition. A telecom SEO company, like WebFX, can help you launch your campaign.
On this page, we'll tell you what to expect from a telecom SEO company and show you why WebFX is the best company for all your marketing needs.
P.S. Curious to see where your SEO currently stands? Use our free SEO checker to get insight into your SEO campaign!
What to expect from telecom SEO services
As you look for the best telecom SEO agency, you want to ensure that the agency you choose can provide you with everything you need to have a successful SEO campaign. Here's what you should expect to see from the right SEO company:
Keyword optimization and integration
When you look for SEO for telecommunications companies, ensure that your company offers keyword optimization and integration. Keyword selection is a critical component of SEO because it determines where your business shows up in search results.
So, for example, if you wanted to show up in search results for "telecommunications company in San Francisco," you'd have to integrate that keyword into your pages to rank for it.
The right telecom SEO company will help you conduct keyword research, find relevant terms, and optimize your pages for them.
Title tag and meta description optimization
An important part of SEO for telecommunications companies is optimizing your title tags and meta descriptions. These two components are the first things your audience sees when they find your business's listing in search results.

Your title tag and meta description are critical to helping you rank in search results. Both users and search engines use these two pieces of information to determine the context of your page and if it's relevant to the search query.
When you choose the best telecom SEO company, your company will help you optimize these tags to compel more people to click on your organic listing.
Mobile site optimization
Google operates on a mobile-first indexing algorithm. It means that Google takes your site's mobile version into account when ranking your business in search results. Considering over 50% of Internet traffic comes from mobile, Google wants to ensure that businesses are providing a great mobile experience, too.
So, when you're looking at SEO for telecommunication companies, you want to ensure that the companies you're considering offer mobile site optimization. You'll want to look for responsive design services.
Responsive design ensures that your website adapts to whatever device a user uses. Your site will adjust to the user's screen to provide them with an optimal experience.
A good telecom SEO agency will help you integrate responsive design to ensure you deliver a positive experience for mobile users.
Google Business Profile optimization
When you partner with a telecom SEO company, make sure they offer Google Business Profile optimization as part of their SEO package. Your Google Business Profile listing is the local listing that helps you attract customers that are already in your area.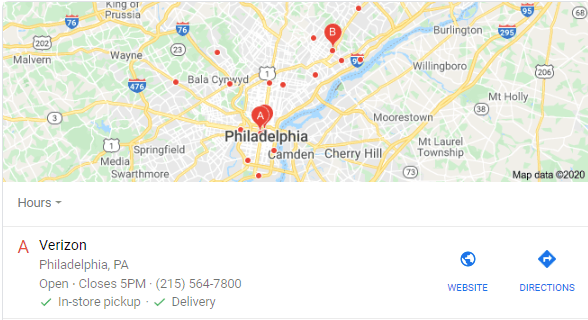 The right telecom SEO agency will help you claim your listing and fill it out completely. They will also help you verify that all the information on your listing is correct and ensure that you include essential components, like your hours of operation and photos attached to your listing.
Robots.txt optimization
One of the most critical components of SEO for telecommunications companies is the optimization of your robots.txt file. Your robots.txt file tells search engines which pages it can or can't crawl.
While this component doesn't keep search engines off a page, it does keep your site from getting overloaded with requests. An overload of requests can slow down your site, which negatively impacts your audience's experience on your website and negatively impacts your rankings.
Your telecom SEO company should help you optimize this text to ensure search engines are requesting the right pages.
Page speed optimization
Site load time is critical to helping you rank in search results. If your site loads too slowly, users will bounce from your pages. This behavior sends a negative signal to Google, which ultimately impacts your site's ranking in search results.
To help you rank better, your telecom SEO agency should offer page speed optimization services. The right company will look at your site's current load time and find out how they can improve it so that you can keep leads engaged on your site longer.
Our digital marketing campaigns impact the metrics that improve your bottom line.
See More Results

WebFX has driven the following results for clients:

$3 billion
In client revenue

7.8 million
Leads for our clients

5.2 million
Client phone calls
Hear What It's Like to Work With WebFX!

"I've trusted WebFX with our SEO and SEM management as I've moved through several companies, each time they've done an outstanding job. Highly recommended (just not to our competitors)."
Technology Services
Why choose WebFX for your telecom SEO services
If you're going to invest in SEO for telecommunications companies, you want to get services from an SEO agency that's going to help your business boost your ranking and earn more traffic.
At WebFX, we offer everything you need to run a successful SEO campaign. Here's why you'll want to choose us as your telecom SEO company:
1. We're transparent
When it comes to choosing a telecom SEO company, you want to know if they fit your budget. As you research different companies, you'll find that it's challenging to find pricing information. Many SEO companies hide their prices, making it difficult for you to decide on the right company.
At WebFX, we believe in transparency. We publish all our pricing and packages online to make it easy for you to know how much our services cost. You can browse our pricing at your leisure and use that information to make the best decision for your business.
2. We have a team of experts
At WebFX, we have a team of over 500 experts that are ready to help you create and optimize your SEO campaign. We've been doing this for over 25 years and know how to create SEO campaigns that drive positive results.
We have 1.6 million hours of expertise. You can feel confident that we have the knowledge and experience to help you launch your SEO campaign.
3. We know how to drive results
When you choose a telecom SEO company, you want to partner with one that knows how to drive results.
At WebFX, we've driven these results for our clients in the past five years:
$3 billion in sales
7.8 million leads
5.2 million phone calls
12.9 million transactions managed
When you partner with us, you can feel confident that we'll drive results for your business.
Partner with a top telecom SEO agency today
If you want to help your business grow, it's time to invest in telecom SEO services. In the long term, SEO will help more of your pages rank in search results and enable you to provide a better user experience, which will help you continually drive new traffic and valuable leads for your business.
At WebFX, we have over 25 years of experience in creating SEO campaigns. We develop campaigns our clients love. Check out our 1,020+ client testimonials that attest to the remarkable work we do!
Ready to dive into SEO? Contact us online or call us today at 888-601-5359 to speak with a strategist about our SEO services!