If you aren't marketing your business and communicating your services to your audience, you miss out on valuable leads for your company.
With digital marketing for telecommunications companies, you can use strategies like search engine optimization (SEO), pay-per-click advertising (PPC), and more to help more people find your company and learn about your services.
On this page, we'll provide you with four strategies for marketing your telecom business. Keep reading to learn more!
P.S. Want to get the latest tips and tricks for marketing? Join 200,000 marketers by subscribing to Revenue Weekly!
1. Use search engine optimization (SEO) to rank higher in search results
Search engine optimization (SEO) is a critical component of digital marketing for telecom companies. SEO is the process of boosting your website's ranking in the search results to help you reach more traffic and leads.
You can launch a successful SEO campaign by following these best practices:
Find relevant keywords and integrating them into your site
Build links
Make your site mobile-friendly
Let's dive into these best practices more:
Find relevant keywords and integrate them
The first step to SEO is finding relevant keywords. When users conduct searches, they use keywords to explain to Google what it is they want to find. If you want to drive relevant traffic to your site, you need to optimize your website for key terms that you know your target audience searches for.
You can find relevant keywords by conducting keyword research using a tool like KeywordsFX. Keyword research will help you find terms your audience searches concerning your business.
So, for example, if you type in the keyword "telecommunications companies" in a keyword research tool, you'll generate a list of relevant keywords related to that term.
When you generate a list of relevant keywords, you want to focus on long-tail keywords. Long-tail keywords are keywords that contain three or more words. These key terms are better for your business because they're specific, so they drive traffic that's more interested in your company.
Once you find your keywords, you'll want to integrate them into your site pages. It will help your page rank in searches when people search with that key term. However, keep in mind that overstuffing your pages with target keywords can actually result in lower rankings.
Build links
If you use SEO as part of Internet marketing for telecommunications, you must build links for your strategy to be successful.
There are two types of links you'll focus on for improving ranking:
Backlinks: These are links to your site from other authority sites.
Internal links: These are links on your site to different pages on your website.
First, let's look at backlinks.
Backlinks impact your site's authority and trustworthiness. Think of it as an endorsement — if someone links to your business, they're telling their audience that your information is valuable and credible.
So, why are backlinks critical?
If you're a smaller telecommunications company, people may not know who you are or if they can trust you. A telecommunications company like AT&T is a more well-known business and trusted by millions.
Having backlinks can help you build that trust and authority, so people will take an interest in your business and engage with your website. It also sends a signal to Google that your information is accurate and valuable to your audience.
You can earn backlinks by creating in-depth and informative content. We'll dive into this more later, but content is an excellent way for you to generate linking opportunities for your company. It can help you increase backlinks and improve your ranking.
Second, let's look at internal links.
Internal links are links from one page of your site to another relevant page on your website. Internal linking is critical for two big reasons:
It keeps people on your site longer
It helps Google find pages that it may not have indexed previously
Internal links keep users on your site for longer since they can click on related links and learn more about a topic. It keeps them engaged and helps them find more relevant information on your website.
Additionally, internal links help Google index pages on your site so you can appear in search results. Google can't find every page on your website, so internal linking helps Google discover pages it hadn't discovered previously.
With internal links, you'll want to focus on linking to relevant content on your page.
So, let's say you're writing an article about the pros and cons of 5G networks. Within this article, you could link to your other content page titled "What is a 5G Network and How Does It Work?" This page is relevant to the topic and could serve as a great internal link, especially if a reader isn't entirely sure what a 5G network is.
Make sure your site is mobile-friendly
When it comes to digital marketing for telecommunications, you need to have a mobile-friendly site. Google operates on a mobile-first indexing system, where your site's mobile version comes into consideration when ranking your website.
If you don't have a mobile-friendly site, your ranking will suffer, and other telecommunications companies will outrank you in search.
So, how do you create a mobile-friendly site?
The best way to make your site mobile-friendly is to integrate responsive design. Responsive design ensures your website adapts to whatever device a user uses. Whether it's a tablet or mobile phone, your audience will get the best experience on their devices.
As a result, your audience will engage on your site longer. It sends positive signals to Google that your website provides a great user experience, and therefore, will keep more leads engaged.

Hear What It's Like to Work With WebFX!

"I've trusted WebFX with our SEO and SEM management as I've moved through several companies, each time they've done an outstanding job. Highly recommended (just not to our competitors)."
Technology Services
2. Invest in pay-per-click (PPC) ads to reach more qualified leads
When you opt for a digital marketing campaign in the telecom industry, you'll want to include pay-per-click (PPC) advertising as part of your plan. PPC ads are paid advertisements that appear at the top of the search results above organic listings.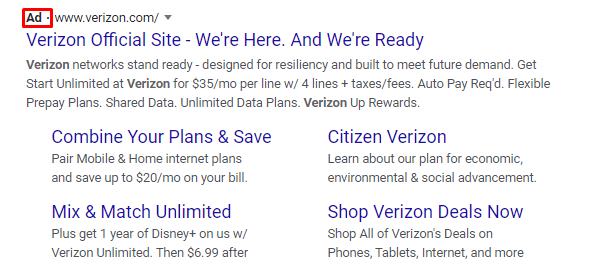 PPC ads are an excellent way for your business to increase brand exposure and attract leads more likely to convert.
To get started with PPC ads, you need to find relevant keywords. You'll want to focus on long-tail keywords for your telecommunications PPC ads because it will keep your costs low and help you attract more qualified leads. Long-tail keywords are more specific, which means less people bid on them.
Once you figure out your core keyword, you will bid for your ad's placement. You'll set a maximum bid, which is the most you're willing to pay if someone clicks on your ad. You will never pay more for a click than what you set as your maximum bid.
Your maximum bid and quality score will determine your ad's placement. Having a high quality score can help you earn better placement for your ad. You can increase your quality score by creating a more relevant ad that people will want to engage within search results.
When someone searches your term, an ad auction will occur to determine your ad's placement. This auction only lasts milliseconds — the searcher doesn't even know it's happening.
PPC ads are an excellent way for you to get your business at the top of the search results and outrank larger telecommunications companies.
3. Use content marketing to inform your audience about telecommunications
We can't talk about online marketing for telecommunications companies without mentioning content marketing. Content marketing is the process of sharing your knowledge with your audience to build your business's trust and authority.
Content comes in numerous formats, including:
Guides
Ebooks
Podcasts
And more
When you create content, you focus on topics related to your industry. It ensures that you're driving relevant leads to your page who are interested in telecommunications.
To keep your content strategy fresh, you'll want to use a combination of these content formats. It will also help you appeal to different people in your audience. You may have people that prefer watching videos over reading a blog and vice versa.
Your content can cover numerous topics related to telecommunications. You could talk about the use of Artificial Intelligence (AI) in telecommunications to telecommunication security. Try to cover a wide variety of relevant topics to attract different leads. You'll want to make sure that you do keyword research for each topic so that you integrate appropriate keywords into each piece of content.
As you come up with topics, you need to plan when to create, review, and publish your content. You can use a content calendar to help you stay organized. A content calendar will keep you on top of deadlines and ensure you're publishing content often.
You need to publish content often for your strategy to be effective, since the more you publish content, the more opportunities you'll have to rank in search results.
4. Advertise your services through social media ads
Last on our list of digital marketing for telecommunications is social media ads. Social media advertising is a great channel for you to reach people interested in your business.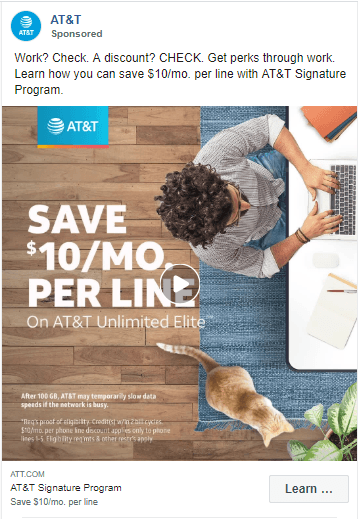 To get started with social media advertising, you need to figure out which platforms are best for your business. You can choose from numerous social media platforms, including:
Once you choose your platforms, you'll decide what type of ad you want to create. These social platforms each offer different types of ads you can run. You'll need to investigate your platforms to figure out what kind of ads you can choose.
So, how can you make the most of your social media ads?
Target the right audience
Social media platforms offer some of the most advanced targeting options. You can target people more precisely, which helps you allocate your funds towards leads more likely to be interested in your business.
With social media advertising, you can target users based on:
Demographics (age, gender)
Occupation
Location
Interests
Buying habits
And more
You must know who's in your target audience so you can set the appropriate parameters. So, if your target audience consists of women between the ages of 35-50 who are married and live in Dallas, you can set that specific audience to help you reach the right people.
Make sure your ad is visually appealing
Social media ads appear in users' newsfeeds, along with posts from their family, friends, and other businesses they follow. It's paramount that you create an ad that stands out from other posts in a user's newsfeed and catches their attention.
If you're creating a photo ad, make sure that the photo pops off the page. You can make your photo stand out by having bright colors or interesting visuals that catch your audience's attention. In this example from AT&T, you can see that their blue background pops off the page.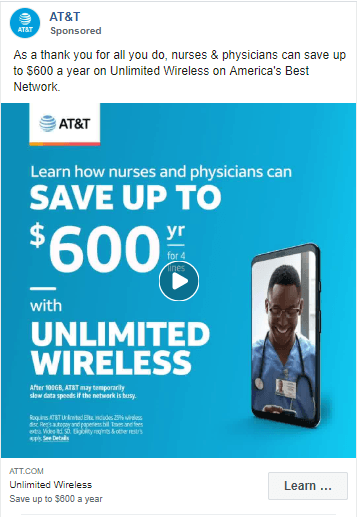 As for video ads, you'll want to hook viewers in and make it enjoyable, so they'll want to keep watching the ad. In this ad from AT&T, they peak their audience's interest by using a cat in their ad.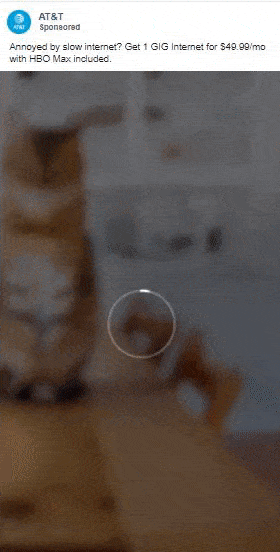 Be aware of ad fatigue
When you run social media ads, you'll find that, after a while, your audience will get less responsive to your ads. If your audience engages less with your ads, it may mean they're experiencing ad fatigue.
Ad fatigue is when your audience sees your ad so often that they lose interest in your ad. Your clickthrough rate (CTR) drops as your frequency increases. When this happens, it's time to change up your ads.
Create multiple versions of your ad before your launch your campaign. So, if your audience gets burned out by your ad, you can replace it with another version that feels fresh and new. It will help you stay on top of ad fatigue and nip it in the bud before your audience loses interest in your company.
Our digital marketing campaigns impact the metrics that improve your bottom line.
See More Results

WebFX has driven the following results for clients:

$3 billion
In client revenue

7.8 million
Leads for our clients

5.2 million
Client phone calls
Invest in online marketing for telecommunications today
If you want to help your business grow online, you need to invest in Internet marketing for telecommunications. A strong digital strategy will help you expand your business's reach and obtain more valuable customers.
Don't know how to get started? WebFX is here to help.
We have over a decade of experience in creating and maintaining digital marketing campaigns. As a full-service digital marketing company, we offer everything you need to launch an online marketing campaign for your telecommunications business.
We're good at what we do — we've driven over $3 billion in sales and over 7.8 million leads for our clients in the past five years. You can feel confident that we'll help you create a digital marketing campaign that drives results.
Ready to get started with digital marketing for telecom companies? Contact us for a free quote or call us today at 888-601-5359 to speak with a strategist!