Did you know that 53% of Twitter users are more likely to buy a new product first? That makes Twitter one of the most valuable platforms for boosting sales and revenue for your business.
But how do you get started with Twitter for business? Follow these seven steps:
Keep reading to learn more!
P.S. Want to get the most from your Twitter strategy and beyond? Join 200,000 marketers by subscribing to Revenue Weekly for the latest insight on how to market your business more effectively!
Why should I use Twitter for my business?
Twitter is an excellent platform for helping you market your business to interested prospects. Here are just a few reasons to invest in Twitter for business:
Reach a new audience: Marketing your business through Twitter enables you to reach a new audience of people who haven't discovered your company yet. It's a great platform to help you expand your reach and obtain qualified leads interested in what you offer.
Cost-effective: Twitter is a cost-effective platform that enables you to stay on budget. Even if you choose to invest in Twitter advertising services, the cost of getting help from experts is less compared to other strategies.
Boosted engagement: Twitter is an excellent place for your business to connect with interested prospects and get them to engage with your company. It's a great way to build a relationship with your audience that leads to them becoming customers.
These are just a few of the many benefits you'll reap by investing in Twitter for business.
What to do before using Twitter for your business
When you develop your Twitter business strategy, you must complete a few tasks before you start posting.
Here are four tasks you need to complete when doing Twitter for business:
1. Determine who you're targeting
If you want to start using Twitter for business successfully, you must know who you're targeting. Determining your target audience will impact how you develop your Twitter business strategy.
To determine your target audience, look at who buys your products or uses your services most often. You'll want to define characteristics like their:
Age
Gender
Occupation
Buying habits
Interests
Hobbies
Knowing this information will help you better grasp who you're trying to reach with your tweets.
2. Identify your competitors
In addition to knowing who you're targeting, establish who you're competing against on the platform. Your competition may already have an established profile on the platform, so it's essential that you know who else is attracting your audience's attention.
First, start by listing any companies you know are direct competitors. For example, if you own a coffee shop, companies like Starbucks and Dunkin' are competitors. You'd also want to list any coffee shops in your area.
You can find competition by searching for hashtags related to your business. If you had a coffee shop in Seattle, a tag like #SeattleCoffeeShop might turn up some competitors people post about in the area.
By determining your competition, you can develop your Twitter business strategy to outperform these businesses.
3. Set up your Twitter profile
To start marketing on Twitter, you need to create your profile. When you create your profile, you want to ensure you add all the critical information, like your:
Username/handle (make it relevant to your business)
Short bio
Link to your website
Profile photo
Cover photo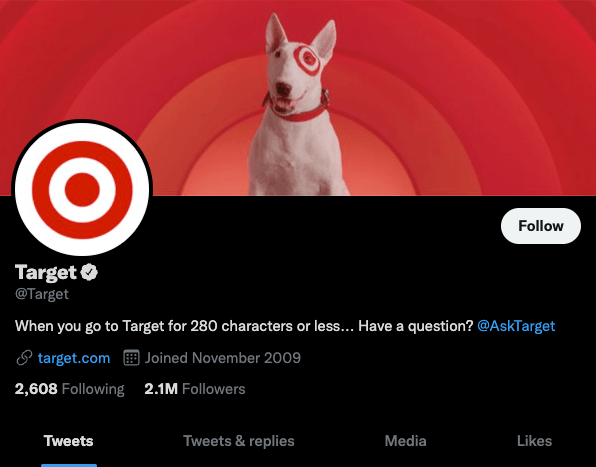 Having a polished and professional-looking profile is the first step to attracting new followers to check out your business.
4. Follow people in your niche
When you have your profile set up, you'll want to start following people. Following influencers and companies is a great way to start getting your brand's profile out there.
Take Target, for example. They follow profiles for Starburst, Klondike, and Lays. Target sells all these products in their stores.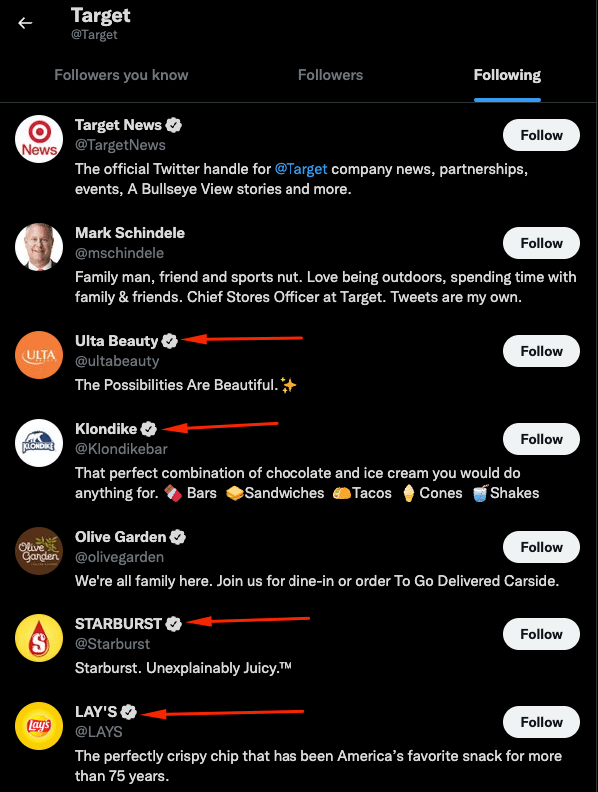 You want to follow profiles of relevant people to keep tabs on what's happening in your industry.
How to use Twitter for business in 7 steps
Ready to start using Twitter for your business? Check out these seven steps and learn how to tweet effectively for your business!
1. Create a brand voice
If you want to know how to use Twitter for business, start by establishing your brand voice. Your brand voice is a critical component of your company's identity because it helps people understand your brand better.
Take Wendy's, for example. Their brand voice is full of sass and sarcasm, which appeals to their demographic. People who follow the brand continually see their snarky tweets and expect this kind of branding from their posts.

Their brand voice is part of the appeal of Wendy's and why people follow them. So, it's critical to establish your tone when you share content for your business –– and stick to it! Your brand can take any tone, from serious to playful to witty to humorous.
2. Post content with value
When using Twitter for your business, make sure the content you post has value. Your audience will follow your brand on Twitter because they want to get information from you. As a result, you don't want to post just anything on your profile.
How you define value depends upon your brand. You can provide value by:
Sharing an insightful idea that provokes thought
Sharing educational materials that help your audience learn
Sharing entertaining information that causes joy
Sharing humor that makes your audience laugh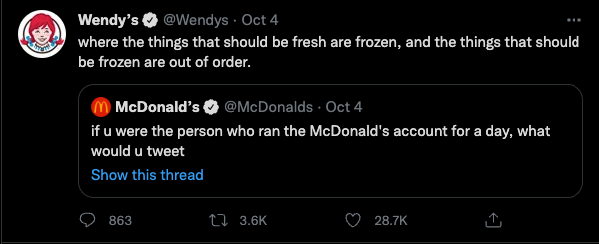 You'll want to think about what you're providing for your audience as you share content on your profile to ensure you're always providing followers with some value.
3. Post content often
If you want to know how to tweet effectively for your business, there's one thing you'll repeatedly see: Post content often. Twitter is one of the few social media platforms where you can post a dozen times a day, and no one bats an eye.
The nature and flow of Twitter's newsfeed structure make it easy for you to actively post content throughout the day that engages your audience.
You want to ensure you're frequently posting so you keep your brand top of mind. Considering your followers follow other companies and people — who also post multiple times a day — it can be easy for you to get lost in the mix if you only share a tweet a day.
To figure out your posting frequency, test it out. See how well your audience responds as you continually post more each day. It will help you figure out the right amount of posts to share each day.
4. Use hashtags
When you develop your Twitter business strategy, don't forget to use hashtags on your posts! Hashtags are an excellent way for people to discover your relevant content when they search for it through Twitter.
Generally, your hashtags are relevant to the content you post. If you're sharing a post about a new sneaker you're releasing, you want to share hashtags pertinent to it.
Additionally, make sure you don't overuse hashtags. Using too many hashtags can clog up your post and make it difficult for people to read it. Only use hashtags when relevant and helpful to your post.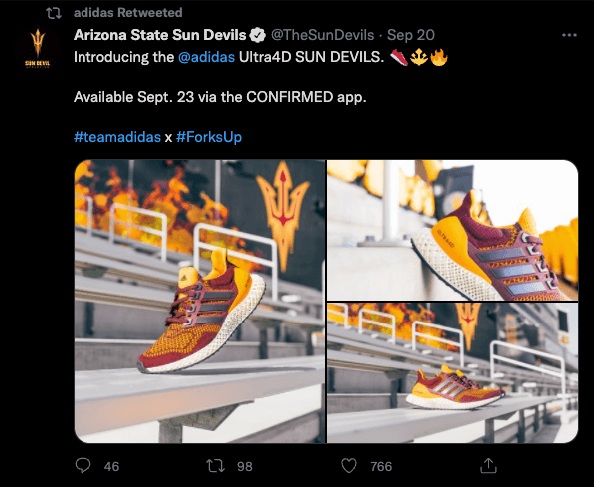 5. Interact with your audience
One of the critical elements of social media is that it allows you to interact with your followers directly. When you develop your Twitter business strategy, make sure you take time to engage with your followers.
When people comment on your tweets, take time to comment back. This engagement and interaction help you foster relationships with these leads and encourage future engagements with your brand.

6. Practice social listening
When you're using Twitter for your business, you want to practice social listening. Social listening involves tracking any mentions or conversations about your brand, products, or services.
This practice is critical for ensuring your brand hits the mark with your audience. Social listening helps you understand how people feel about your brand to make improvements to deliver a better experience for your audience.
For example, you may find that people have a negative experience with one of your products and post about it on social media. By engaging in social listening, you identify this problem and generate solutions to solve it.
To effectively use Twitter for your business, make sure you're listening to what your audience says about your brand.
7. Run paid ads
If you want to know how to use Twitter for your business successfully, consider running paid ads. Paid ads help you put your brand in the newsfeed of people most interested in what you offer.
With Twitter, you can run Promoted Tweets to help reach people interested in your business. These tweets come from your profile but are run as ads in other users' feeds to get them to check out your business. You'll see these ads with the tag "promoted" to indicate sponsored content.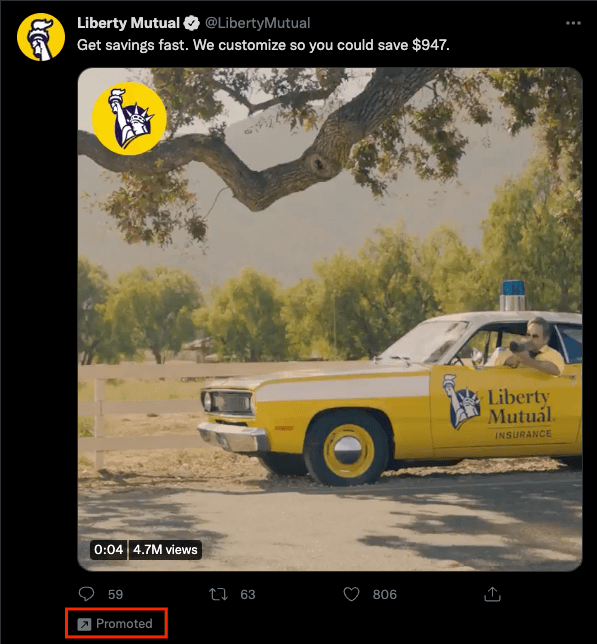 You can choose some of your top tweets to promote to other people to get them to follow your business and engage with your content.
Invest in Twitter for business today
Twitter is one of the best social media platforms for helping you reach people interested in what you offer and making connections with interested prospects. If you're looking for a social media marketing company that can help you use Twitter for your business, look no further than WebFX.
Our team of over 500 marketing experts knows how to drive results with your Twitter campaigns. In the past five years, we've driven over $3 billion in revenue and over 7.8 million leads for our clients. You can feel confident we'll grow your business through social media.
If you're ready to earn more leads and revenue through Twitter, contact us online or call us today at 888-601-5359 to speak with a strategist a
How is your website's SEO?
Use our free tool to get your score calculated in under 60 seconds.
Get posts by email
Join 200,000 marketing managers and subscribe to Revenue Weekly!
"*" indicates required fields
WebFX Careers
Join our mission to provide industry-leading digital marketing services to businesses around the globe - all while building your personal knowledge and growing as an individual.