Did you know that the market size for the HVAC industry in 2019 was $240.8 billion? With such a large market, HVAC specialists have no shortage of potential customers.
But competition can be fierce, and sometimes, those who need your services don't know you exist. So, how do you combat this issue?
Ultimately, it comes down to good marketing. When your marketing succeeds, you'll see an increase in customers and revenue. Below, we'll dive deeper into how to get more HVAC work.
Read on to learn more, and then partner with WebFX's team of over 500 experts to get help bringing your marketing to life. Just call us at 888-601-5359 or contact us online to get started!
Our digital marketing campaigns impact the metrics that improve your bottom line.
See More Results

WebFX has driven the following results for clients:

$3 billion
In client revenue

7.8 million
Leads for our clients

5.2 million
Client phone calls
4 stellar strategies to help you find HVAC work
Your ability to find HVAC work relies primarily on your digital marketing, but what makes for a good marketing plan? While there are a variety of potential strategies you could use, four of them stand out from the crowd.
Here are four top-notch tips for how to get more HVAC jobs!
1. Search engine optimization (SEO)
Search engine optimization (SEO) is one of the best strategies available for getting HVAC work.
With 93% of all online experiences beginning with a search engine, SEO allows you to rank highly in Google search results where people are most likely to see it.
To boost your rankings, you must optimize the content on your website to rank in Google.
Google's search algorithms rank pages based on various factors, and you need to optimize your content for all of them. If it's not, your competitors will outrank you.
One of the primary SEO tactics is integrating relevant keywords — terms people search for — into your content. When done properly, it can help you rank for those keywords — but only if you include them in content that satisfies user search intent.
Other SEO tactics include:
When your content ranks high in relevant search results, it makes users more likely to click on it, improving your traffic and leading to more conversions.
2. Pay-per-click (PPC) advertising
Another way to market through Google is to launch a pay-per-click (PPC) advertising campaign.
Most often run through Google Ads, PPC ads display above organic Google search results. They look like organic results, except for the "Ad" label in the top corner.

To launch a PPC campaign, you first must select a list of keywords in Google Ads that you want to target. Then you bid on each of those keywords, inputting the maximum amount that you're willing to pay to display ads for them.
From there, you'll create your ads and their corresponding landing pages. Each time someone searches for one of the keywords you target, Google will select ads to display from amongst that keyword's bidders based on two factors:
Bid amount (how much the company bid)
Quality score (Google's assessment of the ad's overall quality)
The best part is, you only pay for your ads when users click them, making this a cost-effective answer to the question of how to get more HVAC work.
3. Social media marketing
Getting HVAC work often requires meeting people where they are, making social media a prime advertising opportunity. The average user spends 28% of their Internet time on social media, so it's a great place to find a large audience.
To start, you can create an account for your business on the platforms of your choice. From that account, you can post engaging content to draw interest to your company, from infographics about HVAC repair to videos introducing your team members.
For a more direct advertising option, though, you can also set up a paid ad campaign on your chosen social media platform. The most effective social media ads are in-feed ads, which appear in users' social media feeds.
However you choose to manage it, social media is a fantastic tool for generating new leads and getting HVAC work. The bigger an audience you build, the more potential customers you have.
4. Email marketing
A final strategy for how to get more HVAC jobs is to employ an email marketing campaign. With email marketing, you can send marketing content straight to your audience's inbox. This makes email one of the most personable, and therefore most effective, digital marketing strategies.
Before you can start sending out emails, you first must know who you're going to send them to. That means creating an email list, which you can do by setting up email capture forms on your website. These forms allow people to submit their email addresses voluntarily.
Email capture forms can appear in a few different ways. You might create one as a popup, while you insert another into the middle of a blog post. However they appear, they should consist of an email submission box accompanied by a call to action (CTA).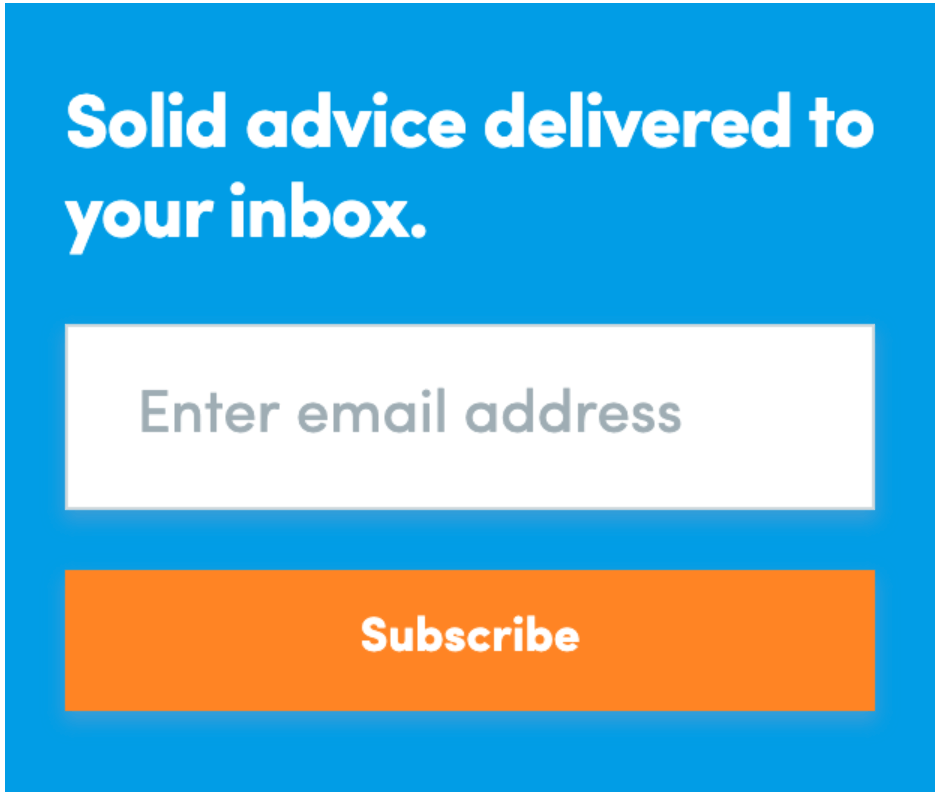 Be sure to give people a reason to submit their email, like signing up for special discounts or blog updates. Providing an incentive to make users more likely to sign up.
Once you start building up an email list, you can begin marketing to your subscriber list with content that encourages them to convert. Before long, you'll have a much easier time figuring out how to get more HVAC work!
Hear What It's Like to Work With WebFX!

"WebFX is always quick to respond to a question or request even if they do not have the answer right away. Their expertise on increasing our domain authority over the years has been significant and has had a positive impact on our website. They keep their offerings updated and monthly reporting is always on time."
Hvac Company
Let WebFX help you find HVAC work
Now that you know how to get more HVAC jobs, are you ready to get started optimizing your digital marketing? Let WebFX give you a hand!
We've been driving results through online advertising for over 25 years, so we know what it takes to create a successful campaign.
When you partner with us, you'll have access to a broad range of services spanning each of the strategies above and more. You'll also receive a dedicated account representative who will work closely with you throughout the entire optimization process.
To get started with us, call 888-601-5359 or contact us online today!