Customer relationship management (CRM) systems help businesses manage their leads and drive sales by storing customer information, like their buying history.
As an industrial company, you know that standing out in your industry is everything. A CRM platform can help your business build a loyal, solid customer base and differentiate itself from the competition.
Continue reading for the breakdown of CRM for industrial companies, and call 888-601-5359 to speak with our team directly!
Don't miss our Marketing Manager Insider emails!
Join 200,000 smart marketers and get the month's hottest marketing news and insights delivered straight to your inbox!
Enter your email below:
Inline Subscription Form – CTA 72
"*" indicates required fields
(Don't worry, we'll never share your information!)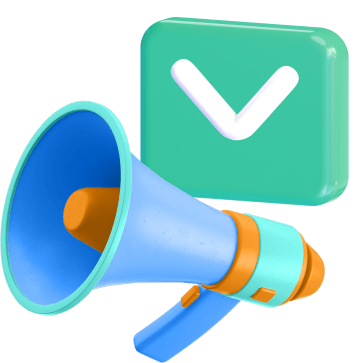 CRMs 101
We'll cover the basics of CRMs before you see some options.
What is a CRM?
A CRM software is a tool to help you manage all customer-facing interactions and information. This process can include anything from handling customer questions to managing demographic data.
Your CRM can be a totally separate system, but most integrate with other business software.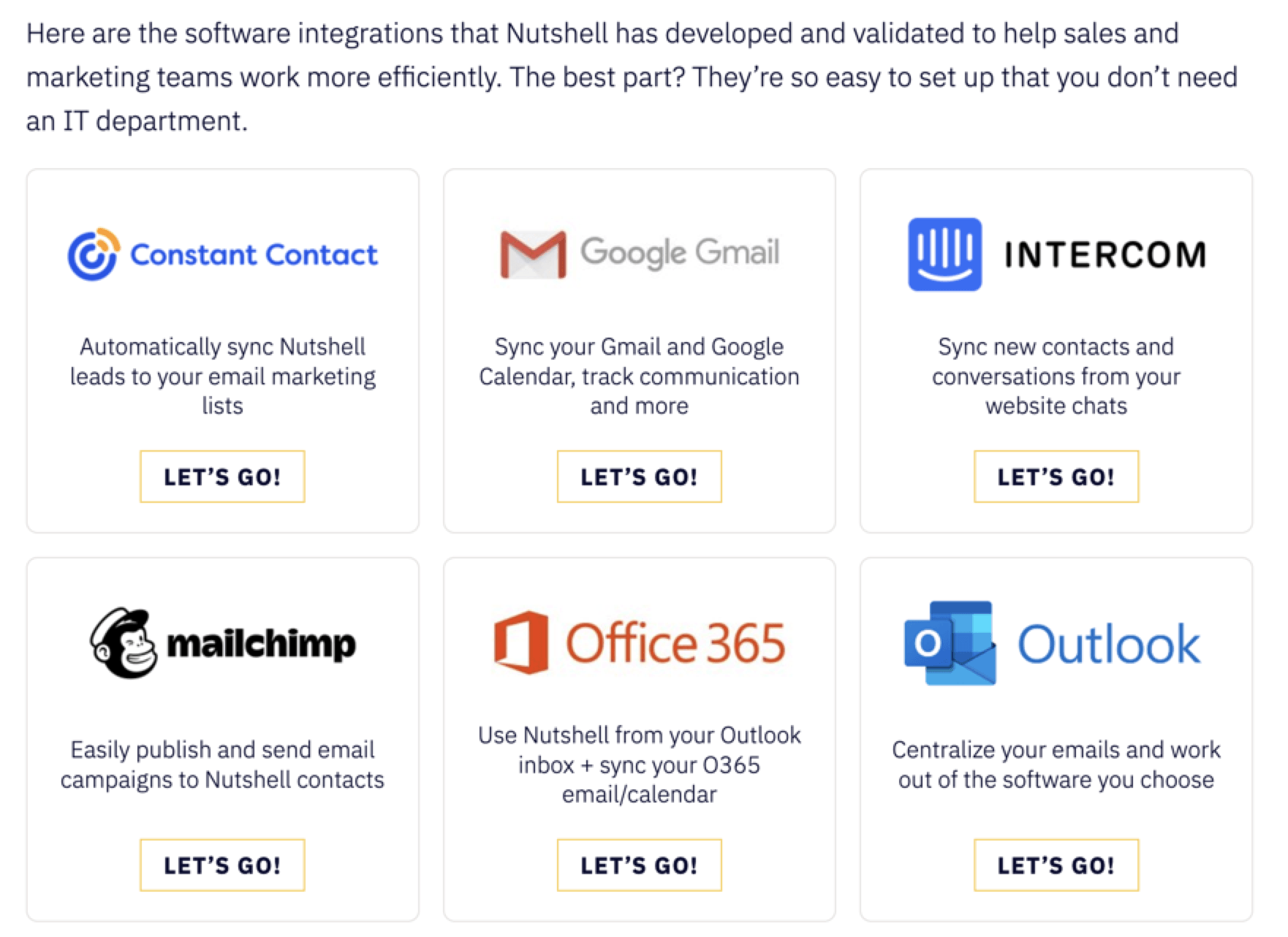 Why do industrial companies need a CRM?
There are many benefits of investing in CRM for industrial companies. A CRM service can:
Outline your audience: With CRM, you can keep track of data that helps you get to know your customers better. When you know your clients, you can reach and engage them better.
Improve collaboration within your sales team: Everyone on your sales team should be on the same page. A data-collecting CRM ensures you and your sales team are looking at the same numbers and analytics.
Save time and streamline processes: Manually tracking your customer's habits and identifying factors takes time and leaves room for error. Save time and streamline your sales process by investing in a CRM service.
Track how leads contact you: Leads might contact you via phone, email, online contact form, or social media. CRM platforms can track how leads contact you, showing which methods work the best and which you can improve.
Manage large lead quantities: You may gain more leads than you feel capable of handling, which is where a CRM platform can help. All your data will be stored in one place, so you always have access.
Functions of a CRM platform
A CRM service offers several tools and functions that can benefit your industrial company, such as:
Lead management
Marketing automation
Sales tools
Workflow enhancement
Sales and marketing analysis
Data organization
Your CRM can also track and store helpful customer data, including:
Identity data: Names, physical addresses, emails, phone numbers, and social media accounts.
Descriptive data: Company names, job titles, interests, and education.
Quantitative data: How often they visit your website or make purchases.
Qualitative data: What made them choose your company and what problems they hope your business solves.
Most CRMs will organize your data in condensed charts, like this example: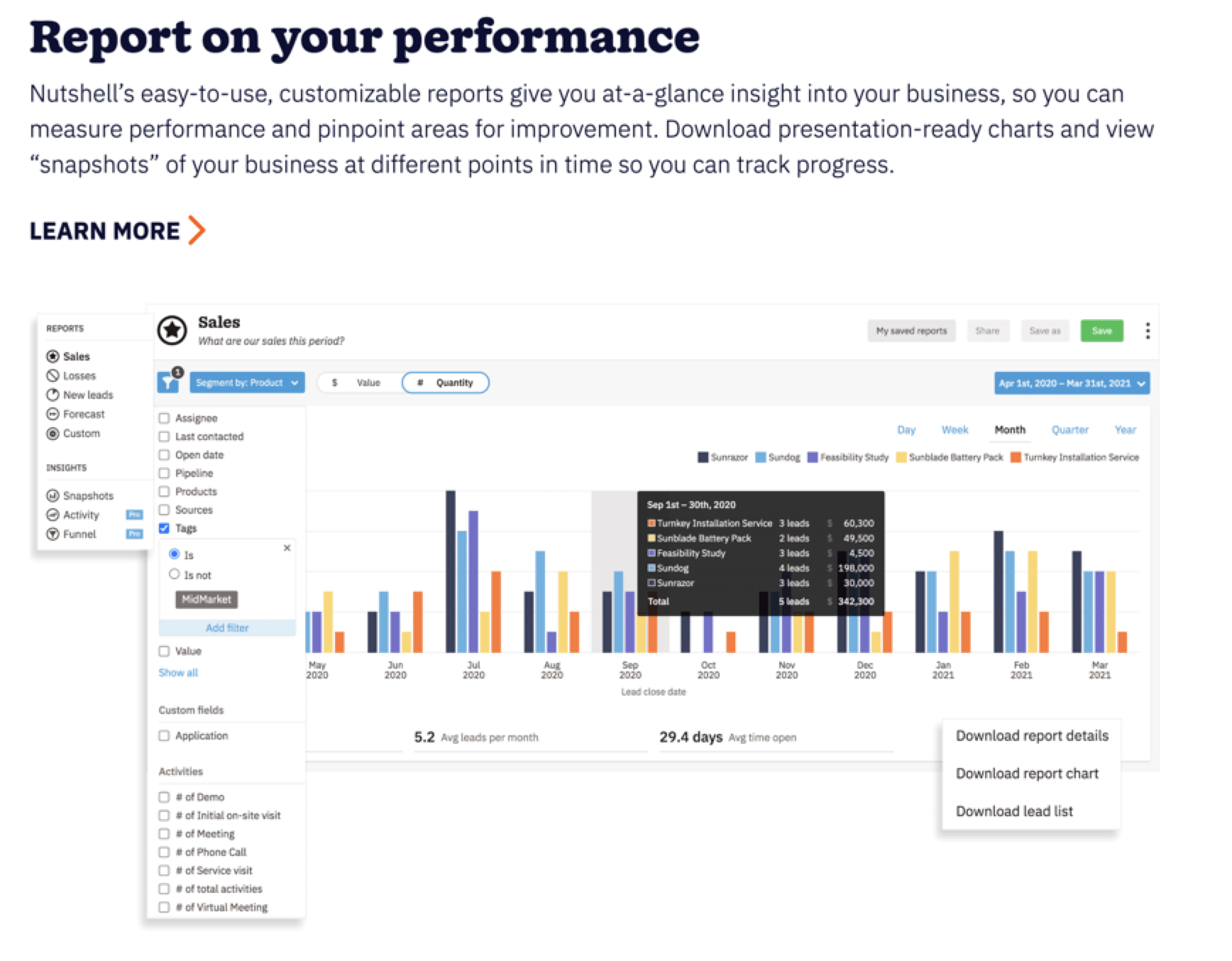 How to know if you need a CRM
Analyzing and outlining your needs can help you decide if you need a CRM. If you are considering a CRM tool for your industrial company but still aren't convinced, consider these questions. If you answer yes, CRM could be the logical next step:
Am I having trouble tracking my leads?
Are my leads coming from multiple sources?
Is it difficult for me to see which lead generation strategies are most successful?
Is there room for improvement in my customer service processes?
Could my picture of my customers be clearer?
8 CRM platforms for industrial companies
Check out these eight CRM platforms that can help your industrial company manage its leads and customers:
1. HubSpot CRM
The tools from HubSpot track customer interactions automatically, no matter where they come from. While not designed specifically for industrial companies or the manufacturing industry, HubSpot's CRM tools are easy to use and intuitive, making them an option for businesses looking for an introduction to customer management.
2. Monday Sales CRM
Monday Sales CRM automates repetitive work so you can focus on your business and on making more sales. Their platform is scalable and offers management services for:
Sales pipeline
Contact and lead management
Lead capturing
Customer projects
Marketing activities
Monday also allows you to manage multiple sales pipelines at once, which is helpful if you're taking on several large manufacturing projects simultaneously.
3. Pipeliner CRM
Pipeliner understands that manufacturing and industrial businesses have their specific requirements for CRM. Their manufacturing CRM software supports every function of the industry and helps ensure data accuracy, which is essential for manufacturing especially.
4. EngageBay
EngageBay's CRM tools help your company eliminate miscommunication between your sales and marketing teams. With features like marketing automation, sales workflows, a landing page builder, and deal management, your industrial company can build customer and client relationships to increase loyalty and grow revenue.
5. Salesforce
Salesforce is one of the most popular CRM platforms out there. With their CRM tools for manufacturing, you can rebuild your customer service center, extend self-service experiences for customers, and increase revenue by offering more maintenance services.
6. Zoho CRM
Zoho is an excellent CRM platform for small businesses. As a small business owner, your customers should be your top priority, but you may not have as much time as you'd like to dedicate to building relationships with them, especially as business starts booming.
7. Zendesk
When you're in the manufacturing and industrial industry, you cultivate relationships with customers, suppliers, and distributors. Zendesk's customer service tools improve collaboration between everyone involved in the sales funnel — especially customers. Open communication makes it easy to resolve issues and give customers the best service possible.
8. Nutshell
Nutshell is WebFX's CRM, which is part of our MarketingCloudFX propriety software. Our software is designed to adapt to any industry and need, meaning you get a custom experience and solution with us.
When you invest in Nutshell for your industrial company, you'll receive:
An all-in-one location for your data
Pipeline management equipped with drag-and-drop technology
Scoring that shows which leads are most likely to turn into sales
Easy and simple contact management
Call and email tracking
Our CRM platform is the perfect solution for any small to midsized business. You also gain access to MarketingCloudFX features that capture more leads, traffic, and sales.
Meet MarketingCloudFX:
One platform tracking countless metrics and driving stellar results.
Learn More About Our Proprietary Software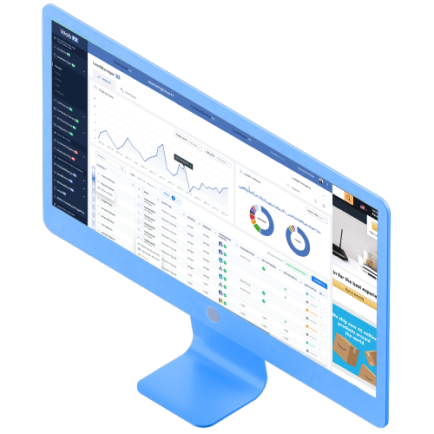 Get started with a CRM for industrial companies
At WebFX, we know what it takes to manage customer service in any industry. If you want to streamline your customer management and start seeing real, tangible results, you've come to the right place.
Want to learn more about Nutshell from WebFX? Contact us online or call 888-601-5359 to speak with a strategist today!
Earn a 20% greater ROI with WebFX
Increase your leads, sales, and revenue with digital marketing