5 Tips for Using Artificial Intelligence (AI) Marketing
As you shape your digital marketing plan, you're always looking for ways to make it more efficient and better for your audience. Artificial intelligence (AI) marketing is one of the newest ways to create a better experience for your customers.
What is AI Marketing?
AI marketing leverages artificial intelligence to help streamline your marketing plan to reach your goals and enhance customer experience.
Many big-name companies already use AI in their products. Services like Netflix, Amazon, and Google use AI technology to predict customers' behaviors. It helps them provide a better experience for their audience because they recommend products or services that fit that consumer best.

A big part of AI marketing is leveraging customer data. This is done to anticipate your customer's next move. It helps you provide a better experience for your audience, which boost your website's performance.
AI marketing involves big sets of data and machine learning platforms. It bridges the gap between data and execution by instantaneously sifting through large data sets to identify trends and commonalities.
Even though AI technology is robotic, it understands the world as humans do. This technology can also predict how your customers will behave and identify concepts and themes in data. This helps you create a better marketing plan that is tailored to your customers.
Why should I use AI marketing?
AI marketing is a valuable way for you to enhance your marketing campaign. There are numerous benefits to investing in AI marketing.
1. It gives you a competitive advantage
AI marketing helps you stay a step ahead of your competition. It can read data sets quicker and more efficient than a human. You can make immediate changes that allow your campaign to run better.
This technology helps you identify key areas to focus on and problem areas. You can see what parts of your campaign need adjusting so you can better reach and convert your audience.
When you improve your campaign, you can perform better than your competitors that aren't using AI marketing. They will take longer to identify problems, which gives you a competitive advantage over them. AI marketing is a great way to get ahead of your competition.
2. Create better ads
When you run an advertising campaign, you use supplemental tools to choose the right keywords and other information for your campaign. You try to make an ad that will appeal to your audience and get them to convert.
So, what happens when that ad doesn't work?
You may go back to the drawing board and try to think of a new ad, but AI marketing can help you streamline that process. AI marketing allows you to create ads with better keywords that appeal to your audience. This technology absorbs more data, which it then uses to formulate better solutions to fix your ads.
Using AI marketing will improve your ads to generate better results. It will help you refine your ads to create a better experience for your audience.
3. Produce better content
Content is a great way for your business to obtain valuable leads. When you use AI marketing, you increase your business's opportunity to reach these leads. AI marketing helps you create a more individualistic experience for your customers.
Since AI marketing looks at individual people and their experiences, using it in your marketing plan is a great way to understand your audience better. It helps you produce content that will enhance more individuals' experience with your business.
AI marketing will help you identify potential clients or customers so you can produce relevant content. You'll get more out of your content and produce content that works for your audience.
4. Create a better experience for your audience
When you market your business, it's all about the audience's experience. With AI marketing, you will improve the customer experience to promote conversions on your site.
AI marketing focuses on improving your campaign for the customer. It takes data from your campaign, processes it, and helps you create a better campaign that appeals to more people in your audience.
The whole basis behind AI marketing is to improve your audience's experience with your business so they will convert. A positive user experience will lead to more conversions for your business.
WebFX is a partner businesses trust.
Hear from HydroWorx, who saw a 236% increase in organic sessions with WebFX services.
Watch the Video Testimonial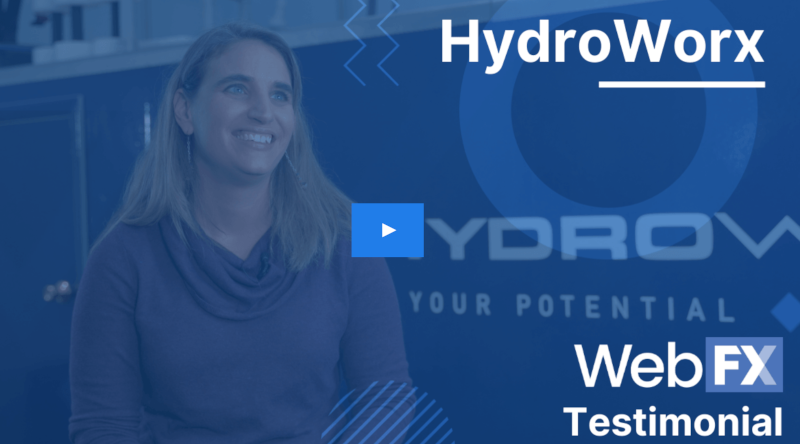 5 tips for integrating AI marketing
Now that you know why you should use AI marketing, it's time to start integrating it into your digital marketing plan. Here are five tips for integrating AI into your marketing plan.
1. Improve your PPC campaigns
AI marketing is great for your pay-per-click (PPC) advertising campaigns. PPC ads are paid ads that appear at the top of the search results when users conduct searches. These ads are extremely effective for attracting valuable leads.

To get more out of your PPC ads, use AI marketing to improve them. AI marketing will help you discover new advertising channels your competition isn't using. It's an opportunity for you to reach customers where your competition isn't and test out different ad platforms.
It can help you with other parts of your PPC campaign, too. AI helps you analyze, manage, and optimize your campaign. Specifically, you can optimize your ad layout, copywriting, your target audience, and bid amount.
AI marketing is a great way to help you improve your PPC campaigns. You'll reach more leads by creating a better campaign for your business.
2. Enhance user experience on your website
User experience affects how your audience perceives your website and your business. You need to provide your leads with a positive user experience to ensure that they have an enjoyable time on your site.
To accomplish this, AI marketing will help you create a more personalized experience for your audience. It can analyze data points of users to display the best offers and content for them. This information is based on demographics, location, devices, and many other factors.
When you invest in AI marketing, you invest in your audience's experience. You customize their experience to help your business earn more conversions.
For example, you can create custom push notifications that reach your audience at the right time. AI can help you recognize issues with your site so you can improve them and improve the user experience.
Pandora is a great example of a company that uses AI marketing to enhance user experience. When a user listens to Pandora, AI technology suggests songs users may like. It helps the audience have a better experience with Pandora and earns them more subscribers.
With AI marketing, you can streamline the user experience and gain more loyal customers.
3. Create chatbots to help your audience
Chatbots are the most widely used form of AI marketing. These chatbots help manage customer service issues for your business. It allows you to put more time and energy into other parts of your business.
Many businesses praise chatbots for their ability to solve problems. In many cases, chatbots create better personalized content than humans. They can obtain data and process it faster to understand problems and provide solutions.
Chatbots are smart enough to detect patterns and problems. They can predict what is causing an issue for users, which allows them to provide a quick response to the issue. It's a great way to provide a better customer experience for your business.
When customers have a better experience with your business, they are more likely to recommend your business to others. Using chatbots creates an opportunity to build your business's reputation and give you a head start in bot marketing.
4. Aid your email marketing campaign
Email marketing benefits immensely from AI technology. It helps you create a more efficient and effective email marketing campaign.
When you run an email marketing campaign, your team takes the time to create and schedule emails to reach different customers. You segment your audience to try and provide a better experience for your subscribers. This is done in hopes to providing a more personalized experience.
AI marketing will help you take personalization further. You can use AI technology to map a subscriber's website experience. It can also leverage email browsing data to understand how users interact with your email content.
The AI algorithm can identify what your audience likes, which emails garner the best response, what content within your email speaks your audience's interest and more. It uses this data to help you create a better campaign for your audience.
With this information, AI technology can create personalized emails that appeal to your subscribers. It can send these personalized emails to every subscriber on your list.
Once it sends these emails, AI technology can analyze reading patterns. It sees how your audience interacts with the emails and see which topics generate interest. This helps you deliver more valuable email content that interests your business's audience.
When you have more valuable email content, you earn more conversions. People will like the content they receive in their inbox and be more inclined to convert.
5. Create better content
Content marketing involves creating blogs, videos, ebooks, and other content to garner your audience's interest. AI marketing will help you create better content for your business.
When you use AI technology, you will be able to generate different types of content. AI technology can even create content like profit and loss summaries, business reports, or stock insights. It's a great tool to help you produce in-depth or difficult content.
When you create your content, you manipulate AI marketing to produce the right content. You can set rules and formats to ensure that your content is consistent across the board. This also makes sure that the style of content is consistent with your brand.
AI marketing helps you develop content that is better for your audience. If you want to produce content that is more appealing to your audience, you'll want to invest in AI marketing.
Meet MarketingCloudFX:
One platform tracking countless metrics and driving stellar results.
Learn More About Our Proprietary Software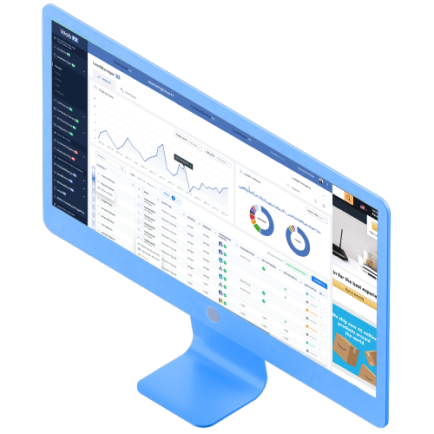 Build a smarter digital marketing plan with WebFX
Artificial intelligence is a great opportunity for your business to create a better digital marketing campaign. It will help you provide a better experience for your audience and allow your team to focus on other tasks. At WebFX, we know how to use artificial intelligence marketing to help you enhance your online marketing strategy.
Our team of 500+ experts have more than 25 years of experience creating digital marketing plans. We know how to incorporate artificial intelligence marketing into your digital plan to help you create a more effective campaign. As a full-service digital marketing company, we integrate artificial intelligence into numerous digital marketing methods.
If you want a AI consulting firm that drives results, look no further. To date, we've driven over $3 billion in sales and over 7.8 million leads for our clients. We focus on creating plans that bring success to our clients' businesses.
Our clients love the work we do for them. In fact, we have1020 testimonials from a variety of industries. Check them out to see what it's like to partner with an artificial intelligence marketing expert like WebFX!
Start building your plan today
Artificial intelligence marketing can help you create a better experience for your audience. When your audience has a good experience, it leads to more conversions. If you want to reap these benefits, contact us online or call us today at 888-601-5359 to speak with a strategist.
We look forward to helping your business grow!