As a tech company, your brand must remain on the cutting edge of all things digital. And maintaining a presence on top social media platforms helps you do just that, while reaching new leads for your business.
With the average user spending 28% of their Internet time on social media platforms, you can't afford to miss out on adding social media to your marketing strategy.
But how do you make the most of social media for tech companies? Here, we'll break down seven simple tech company social media ideas to bolster your online marketing campaign.
Read on to learn more, and then consider partnering with WebFX — the digital marketing agency with over 25 years of experience — to get even more help with your social media marketing. Call us at 888-601-5359 or contact us online to get started!
Our digital marketing campaigns impact the metrics that improve your bottom line.
See More Results

WebFX has driven the following results for clients:

$3 billion
In client revenue

7.8 million
Leads for our clients

5.2 million
Client phone calls
1. Choose the right social media platforms
It's important to start out by knowing which social media platforms you plan to use for your campaign. You'll likely want to use more than one platform, but exactly how many you use depends on the specific needs of your business.
As for which platforms you use, you'll want to assess who your target audience is and which social media platforms they use the most frequently. If you find that your audience has a strong Pinterest presence, you'll obviously want to focus a portion of your marketing on Pinterest.
At any rate, you certainly have no shortage of options to choose from. Here are just a few of the main social media platforms:
Hear What It's Like to Work With WebFX!

"I've trusted WebFX with our SEO and SEM management as I've moved through several companies, each time they've done an outstanding job. Highly recommended (just not to our competitors)."
Technology Services
2. Engage with your audience
The purpose of using social media for tech companies is that it allows you to connect with your audience on a level that no other marketing outlet does. So, if you don't use it for that purpose, all the resources you devote to it are going to waste.
To take advantage of how much social media lets you connect with your audience, you have to engage with them. Interact. Respond to mentions, answer questions, reply to comments. Have conversations with individual followers.
When you talk to people one-on-one in such a public forum, it helps them feel heard and encourages positive feelings toward your business from everyone looking on.
3. Share blog posts
Another social media strategy for tech companies is to point users toward your other marketing outlets. Not only can you market through social media itself, but you can also use it to send users to the marketing you're doing elsewhere.
One example of this comes in the form of content marketing. If you run a blog on your website, you probably rely on strategies like search engine optimization (SEO) to help people find it. But when you have social media, you can make the job much easier for yourself.
Whenever you publish a new blog post, you can simply post it on your social media. Rather than having to wait for people to find it organically through Google, you can present it to a ready-made audience that can start driving up traffic to your page immediately.
4. Post educational infographics
While many people may purchase and use your products, there are bound to be a number of them who wouldn't consider themselves "tech-savvy." Even most of the people more familiar with digital technology probably aren't experts on how it works.
You, however, are very much the expert, and you can use that status in your marketing. Many of your customers would probably be interested to learn more about how your products work and what goes into the technology design process.
For that reason, infographics are a great social media strategy for tech companies. Rather than relying on large blocks of text, they compress interesting information into a succinct and visually pleasing format that will keep users engaged.
5. Produce stunning videos
When people scroll through their social media feeds, they tend to skim over a lot of posts. If something doesn't immediately catch their interest, they'll scroll past it in a heartbeat. That means you need to have something highly capable of grabbing people's attention.
Enter video content. When done right, videos have the potential to seize people's interest within the short time it's on their screen, making them pause their scroll to watch. Something about the motion and the colorful graphics makes it hard to look away.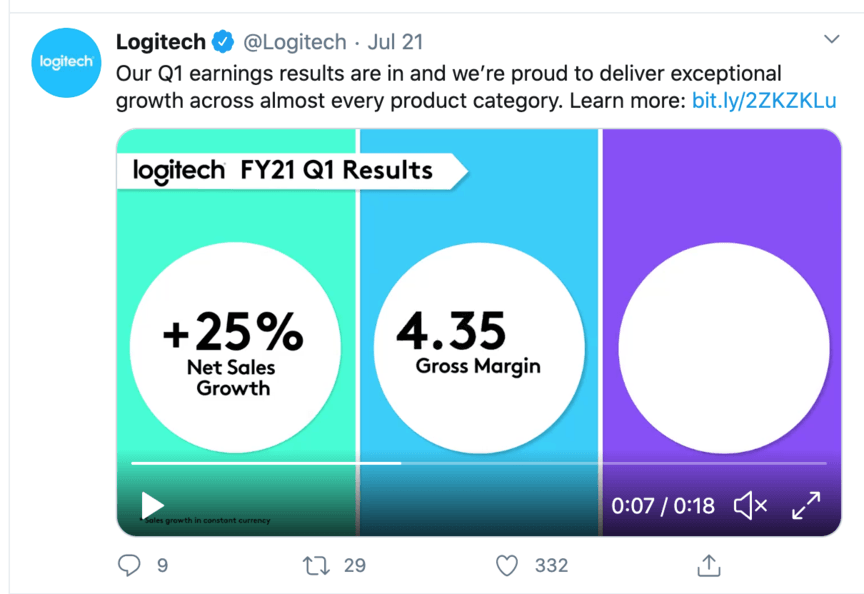 Your videos can be about a lot of things, from product tutorials to team member introductions. Whatever you do, make sure the content is engaging enough to keep people around.
6. Respond to reviews
General comments and questions aren't the only things you should respond to on social media. Sometimes people will use Facebook or Twitter as a platform for talking about their experience with your business, and you'll want to be ready when they do.
In many cases, the reviews will be good. When they are, make sure you take the time to thank the user for their positive words. But that won't always be true. Particularly with how readily digital technology can malfunction, you'll probably see your share of bad reviews as well.
It's especially important to respond to negative reviews. As soon as you see one, respond publicly with an offer to help fix the issue, and then message the user privately to see your offer through. With any luck, you can turn most of your unhappy customers into happy ones.
7. Create polls and surveys
One thing you have to get right with your marketing is to give your audience what they're looking for. You can pump out content all day long, but if it isn't what users are interested in, none of them will engage with you.
A good way to keep this problem in check is to use social media to run polls and surveys. Whether you set up a Twitter poll or simply post an open-ended question that people respond to in the comments, social media can be a great tool for gauging people's interests.
You can ask users what they want to learn about on your blog, what improvements they want to see in your products, and more. Not only can this help you generate fresh tech company social media ideas, it can help users feel heard and invested in.
Time to Level Up Your Sales
Our long list of services helps you grow every aspect of your business with marketing strategies that are proven to increase bottom-line metrics like revenue and conversions.
In the past 5 years, we've managed more than 12.9 MILLION transactions across our client base.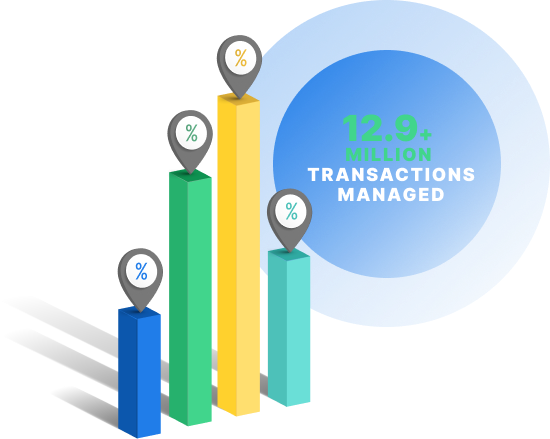 Get more help with your tech company social media from WebFX
Formulating an effective social media strategy for tech companies isn't always easy. Even when you know to implement the tips above, it can be hard to figure out all the intricacies of generating new leads and creating brand awareness.
Thankfully, WebFX is here to help. Our more than 1020 client testimonials speak to the quality of our social media services and the dedication we bring to every campaign. We can optimize every aspect of social media for tech companies, from your posting schedule to your paid ads.
To get started with us, call 888-601-5359 or contact us online today!
Earn a 20% greater ROI with WebFX