Benefits of PPC Advertising
Are you looking for a type of advertising that won't kill your budget but will produce excellent results?
The answer is pay-per-click advertising (PPC). It's a staple of Internet marketing, and it's one of the most affordable and effective ways to drive traffic, increase conversions, and otherwise market your business.
Best of all, it's one of the only advertising models in which the amount you spend is directly related to the results you achieve.
Call 888-601-5359 to speak with a strategist about PPC campaign management services from WebFX, or keep reading to learn more about how PPC ads can help you reach more of your target audience.
Don't forget that WebFX is here for you whether you need PPC advertising services in Raleigh, or PPC services in Pittsburgh.
What is PPC advertising?
If you've ever looked something up on Google, you've almost certainly seen PPC in action.
Every time you conduct a Google search, PPC ads pop up immediately in response to what you've searched. They show up above and beside the regular listings, and they're marked with a small icon that says "ad."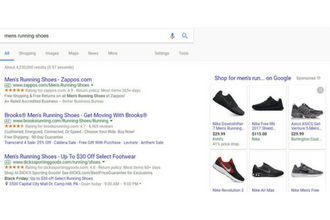 If you click on one of the paid PPC ads, you go to a landing page at the advertiser's company. That landing page will be directly related to what you searched on Google and what the ad said.
So if you searched for hair salons in your area, you'd most likely see ads that want to get you to schedule an appointment. They attract your attention with a quick headline and a short description, and then their landing page convinces you to schedule.
But even if you don't schedule an appointment, the salon that produced that ad pay a small fee to Google (usually a few cents) since you clicked on their ad.
This is where the term "pay-per-click" originated — you will only pay when someone clicks on your ad. If no one clicks, you don't spend any money.
Some of our client Successes
PPC advertising makes sense for businesses of all types, regardless of whether they have small or large budgets.
You set the amount that you're willing to pay every time someone clicks on your link, and Google — or whatever PPC platform you're using — will determine how often your ad is shown depending upon the amount of your bid.
If you bid higher than your competitors, your ad will show more frequently and in better positions.
Some businesses, such as insurance providers and law firms, have to bid extremely high to compete. However, most industries only spend a few cents on each click since they're not as competitive as the insurance or legal fields.
Best of all, you can change your ads or your budget at any time so it constantly fits the rest of your marketing strategy.
Plus, every time you make an ad, your PPC provider will automatically track statistics about it, including how many people click, how much you're charged, and more. That's incredibly helpful for determining which PPC ads are successful and which ones need some work.
No other type of advertising offers you so much, and gives you such incredible control. No wonder companies have jumped on the bandwagon to get the benefits of PPC advertising.
5 advantages of PPC advertising
There are some key advantages to PPC advertising, and all of them are great for your business.
1. You set the maximum budget for your ads
With other types of advertisements, you are locked into a specific rate.
PPC enables you to work within your budget. That means whether you're a multi-national conglomerate or a mom-and-pop in a small town, you can constantly change your ad budget within your limits.
2. You can compete even if your search engine rankings aren't high
If your site doesn't rank well in search engines, you can still promote your company through PPC.
This means you can gain an edge on your competition even if you just launched your website. That's why PPC is especially popular with new startups — it lets them compete for new customers with companies that have been around for decades.
Reach more customers with PPC campaigns
At WebFX, we have years of experience creating effective, results-driven PPC campaigns for our clients, and we can do the same for you.
3. You can easily test different ads
Every PPC provider tracks stats on your ads so you can refine your marketing strategies. All of them track the same basic stats, like clicks and how much you're charged, and provider-specific information. Whether you're on Google, Bing, or Facebook, you can always refine your PPC approach.
These stats also show you if you're getting worthwhile returns from your investment. If you're not, you can easily change something in a matter of minutes.
4. You can gain more brand recognition for your company
As your PPC ads show up more frequently, more people will see (and later recognize) your brand. That's great for building your company's reputation online, even if people don't click on your ads at first.
5. You can launch a PPC advertising campaign in no time
Do you want to deploy PPC advertising before lunch? You can do it! You can set up PPC in a hurry when you have all of your other details laid out (like the ad text and landing page). You don't need to sign a contract or lock into a five-year deal — you just set it up and go!
WebFX is an experienced PPC agency
WebFX has been working in PPC since it became a marketing medium. Our team of PPC consultants keeps up with every major PPC outlet on the Internet so they know what's going on at all times, and they're not afraid to go the extra mile for our clients. Now, we'll go the extra mile for you!
Contact us to create a PPC plan that's specific to your business!
Ready to start your Internet marketing and design campaigns? Call 888.449.3239 or contact us online today to learn more about how WebFX can help with your SEO challenges.