Organic Search vs Paid Search: The Marketer's Handbook
More than 90% of online experiences start with a search engine, resulting in around 3.5 billion daily searches — and that's only on Google. While every business can agree that search is valuable, disagreements start when it comes to organic search versus paid search.
Which is better, and what are the differences between the two?
This guide provides a must-bookmark breakdown of paid search vs. organic search. Plus, it offers helpful advice when it comes to choosing between organic or paid search for your online marketing and advertising strategy.
Keep reading to get all the details on natural search vs. organic search!
If you're looking for professional help when it comes to choosing (or combining) the two channels, WebFX can help. Our search engine optimization (SEO) and pay-per-click (PPC) advertising services offer everything you need to succeed with these two outlets.

Contact us online or call us at 888-256-9448 to learn more!
What is the difference between organic search vs. paid search?
The difference between organic search vs. paid search is simple: it's the cost.
While organic search focuses on unpaid rankings in search results, paid search focuses on paid rankings. With organic search, companies use SEO to optimize their site's visibility or rankings in search results. In comparison, paid search allows users to pay for a prominent spot in search results.
Organic vs. paid search: The ultimate benefit breakdown
When it comes to organic vs. paid search, each offers unique benefits, which include:
Watch our SEO questions video and then keep reading for an in-depth look at each channel's perks!

The 7 benefits of organic search
Organic search offers your company seven different benefits, including the following:
Organic search costs nothing
In comparison to paid search, organic search comes with zero upfront costs.
Your company doesn't have to find funds in your budget to provide your team with a monthly ad spend, for example. All you need with organic search is time. That time commitment can range from researching SEO basics to building a strategy to creating optimized content and more.
While you can invest money into organic search, you have the freedom to choose.
For instance, your company could hire an SEO agency or consultant. You could also invest in some paid SEO tools, like Ahrefs or SEMrush. Purchasing these services and tools, however, isn't a requirement or barrier to getting your website front-and-center in organic search results.
Organic search delivers an impressive ROI
When it comes to organic search vs. paid search, return on investment (ROI) is an undeniable point of discussion. No matter the channel, whether it's organic search, social, or paid search, you want a return on your efforts.
The good news, though, is that optimizing your site for organic search (or using SEO) offers an impressive ROI.
That's why almost 90% of marketers say SEO is successful. While it's difficult to put an exact number to SEO's average ROI, you can measure the return of your SEO strategy easily. You can also browse case studies to see the impact of a well-rounded SEO strategy.
For example, a building solutions provider named Reynolds Building Solutions optimized its visibility in search results (with the help of WebFX's SEO services) to generate some impressive year-over-year (YOY) results and returns.
These results included:
43% YOY organic traffic increase
71% YOY organic contact form submissions
With organic search and a smart strategy for it, your business can achieve impactful results, too!
Organic search compounds on its benefits
Organic search also delivers benefits that compound.
When you launch and maintain your SEO strategy, as well as expand on it, your company can maximize all the advantages of organic SEO. As you create must-share content, you attract links to your site from other websites, plus get industry chatter around your business.

All these benefits compound because you continue to create A-plus content, and can generate more:
Traffic
Leads
Revenue
Rankings
And more
The best part is that your company doesn't have to pay for these benefits, like when someone clicks on your ad with paid search. Instead, you continue to reap the rewards of your organic search optimizations for free.
Organic search boosts credibility
From a user standpoint, organic search can increase your credibility.
Whether a person's searching for comfortable footwear for a vacation or reliable software for a business, your company makes a positive first impression when you appear at the top of organic search results.
In comparison, organizations that appear in the paid section can seem less credible.
Not to mention, if your business shows up in several different organic search results, it can boost a user's brand awareness for your company. Continuing to see your website in results increases your credibility, too, because you continue to pop up as a resource for their questions.
While you can target informational searches with paid ads, it's not a common approach. Your company pays for every click, which is why many businesses opt to target transactional searches. These searches, unlike informational ones, have a high chance of purchase.
As a result, organic search is excellent for reaching top-of-the-funnel users and building credibility.
Organic search attracts relevant users
In the organic search vs. paid search debate, organic search excels by helping your business reach interested users. Whether you're looking to make top-, middle-, or bottom-of-the-funnel users aware of your company, you can do it with organic search.
Remember, with natural search your business can target an array of searches without the upfront cost of paid search. This feature allows you to maximize your presence in search results related to your industry, audience, business, and products or services.
Organic search also lets you take advantage of content marketing.
While content marketing plays a role in paid search (after all, you need to send users somewhere when they click on your ad), it's known more for its impact in search engine optimization. That's because content created for content marketing often takes an informational and educational approach.
Users respond well to this kind of content. A recent study, for example, found that 70% of users prefer getting to know companies through articles versus ads. In addition, 61% of users admitted that they like businesses that produce original content more than businesses that don't.
With organic search — supported by a competitive SEO strategy — your company can reap several benefits. You can build your presence across search results, write and publish helpful content for your audience, and drive later purchases, store visits, quote requests, and more.
Organic search provides actionable data
Like any other digital marketing strategy, organic search provides your team with actionable data.
In comparison to traditional marketing, online marketing offers real-time data. Without a doubt, for example, you know that your recent blog post earns around 15 views every day or that your service page generates five leads each week.
This data can make a tremendous impact on your SEO, as well as your overall marketing strategy.
With accurate, up-to-date information, you can make data-backed improvements to your approach. These updates can help your company attract higher-quality users, appear in less competitive search results, and support your goals for growing this year and next.
It's essential to mention that if your business wants to use organic search and its data to your advantage, that you will need an SEO toolkit. Google Analytics, for instance, is a must-use (and free) website analytics tool for SEO.
Organic search supports other marketing channels
A connected approach to online marketing works. If your social marketing campaign, for example, supports your organic search initiatives, you set your company up for success and some impeccable results.
That's why in the paid vs. organic search debate, both channels claim this advantage.
With organic search, you can support several other marketing channels, including:
Social
Paid
Email
Video
And more
For example, if your team launches a series of helpful blog posts, you can repurpose that content for your social media channels. Your next Facebook post, for instance, could share a pull quote with an eye-catching statistic that gets users interested in reading your article.
This organic search benefit, however, depends on your team and your strategy.
You need to align these marketing channels. That means if you have one team member working on your social campaigns and another on your content marketing strategy, they must coordinate with one another to maximize the impact of all your efforts.
2.4 Billion
IN CLIENT REVENUE
6.3 Million
Leads for our Clients
4 Million
Client phone calls
Our digital
marketing campaigns
impact the metrics that matter most!
Learn More
The 7 benefits of paid search
Paid search provides your business with seven unique advantages:
Paid search generates instant results
In the organic search vs. paid search debate, paid search gets a boost with its turnaround time.
When your company advertises through paid channels, you can see results as soon as your ads go live. In most cases, advertising platforms like Google Ads or Facebook Ads will approve your campaigns and ads in a matter of minutes.
Officially, each platform grants approval within 24-72 hours.
The fast approval time, plus maximized delivery or presence of your ads, helps your business get instant results. Whether you're looking to earn clicks, quote requests, purchases, views, or another action, you will often see results immediately.
This advantage can help your company tremendously, especially if the results generate revenue.
Paid search offers keyword data for SEO
When you advertise online, you receive helpful pieces of user data, including:
Keywords
Location
Age
And more
While demographic information, like location, can help your overall marketing approach, keyword data benefits your SEO strategy. With keyword data from your paid campaigns, you can create brand-new content to target those keywords.
For example, if you earn a substantial amount of clicks and conversions from the keyword "house cleaning for realtors," your company may decide to create a service page dedicated to that keyword. This new page can help your business rank for this high-value keyword organically.
A first-page ranking for that kind of keyword can generate new leads and revenue.
You also provide yourself the chance to earn these leads and sales without paying for them. Instead of clicking on your paid ads, users could find you organically rather than through paid search. This advantage would offer you the chance to redirect your ad spend to another campaign or ad group.
Paid search delivers an impressive ROI
ROI is another perk for paid search in the organic vs. paid search debate.
While every campaign is different, studies show that, when using Google Ads, most businesses earn an average ROI of $8 for every $1 spent. Overall, paid campaigns generate an average return of $2 for every $1 invested.

When your advertising efforts generate an impressive return, it's easy to earn the support of company leaders. They can see that paid channels, like search, social, or geofencing, contribute to the organization's bottom line, as well as long-term goals for growth.
Paid search attracts ready-to-buy users
In most strategies, paid search focuses on audience members with a transactional intent.
These users want to buy a product or need to find a service provider, for example. They're ready to buy. All they need are directions to a reputable company that offers what they need, and you can take on that role with paid search.
Targeting your ads to ready-to-buy users and transactional searches help your company generate immediate results and revenue. That's why transactional searches often come with higher advertising costs.
For the best results, monitor your ad bids and costs to ensure you receive the ROI and results you want.
Paid search provides actionable data
Like organic search, paid search also provides your team with actionable data.
A few examples of ad campaign data include:
Keywords
Time on page
Demographics
And more
While you can use some of your paid search data in your marketing, as well as your SEO strategy, it offers the most value to your paid campaigns. Based on your campaign data, for example, your company can make improvements to your ad strategy.
In response to a low click-through rate (CTR) on an ad, for instance, your team may brainstorm new ad copy. Or, you may revise your bid, update your landing page, or another make another change to your ad strategy.
Depending on your changes (and the results generated), your company may apply these updates elsewhere. For example, you may incorporate some high-performance ad copy into your messaging across service pages.
Either way, your company can use this data to improve your online advertising initiatives.
Paid search supports other marketing channels
In the organic search vs. paid search debate, both support other marketing channels.
With paid search, your strategy can help several other channels, including:
Organic
Social
Email
And more
For example, you can use keyword data to inspire new content for your organic search strategy. Or, you can apply ad copy and ad design to your social media advertising campaigns. You can even use PPC to build your email subscriber list, which can help you generate and nurture valuable leads.
Paid search accommodates every budget
In comparison to traditional advertising, digital advertising offers flexibility when it comes to ad spend.
Across paid search channels, you can set a custom budget for your company.
Whether you want to spend $100 or $1000 per month, you can when advertising on networks like Google Ads or Facebook Ads. It's important to mention, however, that your industry and strategy may influence what you invest.
If you operate in a competitive industry, like consumer services, for example, you may have to increase your monthly ad spend. That's because the average cost-per-click (CPC) for consumer services is more than $6.50.
Underinvesting your paid search strategy will only hurt your campaign's performance and ROI.
For the best results, research your industry and average CPC before launching your campaign.
Free tools like keywordtool.io and KeywordsFX can help you research keywords. This data can help you set a baseline for your budget and bids. Start small with your investment and then increase it based on your initial campaign data.
Paid vs. organic search: The complete drawback breakdown
While paid search and organic search offer unique, as well as similar advantages, they also come with some disadvantages. Before your company starts using either in your digital marketing strategy, it's helpful to review these drawbacks.
A quick summary of the cons in the paid vs. organic search debate include: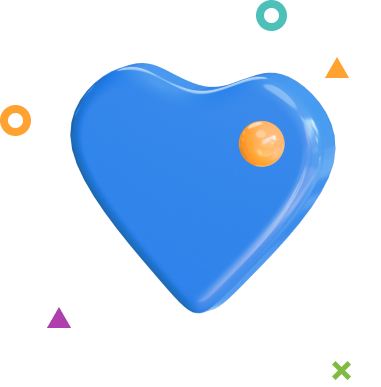 We Form
Longterm Partnerships
Over 90% of WebFX clients continue partnering with us into year 2 of their campaign.
Speak with Us Today!
Keep reading for a complete breakdown of these drawbacks.
The 4 drawbacks of organic search
The four drawbacks of organic search include:
Organic search requires routine upkeep
Using organic search, as well as SEO, isn't a once-and-done project.
You need to continually optimize your site to maximize your presence in search results. These optimization updates can range from page speed improvements to title tag tweaks to outreach efforts to fresh content uploads.
If you abandon organic search after launching it, your company won't see the results you want.
Your pages, for example, won't appear on the first page of relevant search results. They'll fade to page two, and eventually page three, four, and so on because other companies will produce the content and optimize their sites for those search results.
For many businesses, this drawback is a massive one in the discussion between natural search vs. paid search.
That's because many don't have the time, resources, or team members to manage an organic search strategy full-time. Companies can't ignore the benefits of natural search, though. After all, that's how 80% of shoppers and 71% of business buyers research their next purchase.
If your team knows that this drawback will impact your strategy, consider hiring an SEO agency.
Organic search takes time to deliver results
Many businesses and leaders new to organic search feel nervous about SEO's turnaround time.
While paid search can start driving leads, orders, and revenue immediately, organic search takes several months to deliver results. That's because ranking or appearing in search results can take three to six months, especially if your goal is page one.
Nobody can expedite this process — not even an SEO agency.
That's why, if you decide to use organic search, you need to prepare team members and company decision-makers for the wait. Informing everyone beforehand, versus later, can save time and make expectations reasonable.
Fights for real estate from search engines
Search results have changed rapidly over the years.
While the evolution of search results has improved the user experience, the change has impacted organic search. Now, websites must battle not only competitors for real estate in the search results but also search engines like Google.
This situation provides paid search a slight advantage in the organic search vs. paid search debate.
In comparison to paid search, which receives a prominent placement in search results, organic search results must compete with elements like featured snippets, video and image carousels, and local search packs.
All these elements can make attracting organic search traffic challenging, but not impossible.
Requires SEO background and skill set
As with any area of web marketing, you will need a specific skill set to succeed with SEO.
That doesn't mean your team can't learn SEO. What it means is that your team will have to invest time learning about SEO, whether with free courses, online guides, or hands-on training from an experienced consultant.
This requirement, however, can prove challenging for many companies.
Your organization, for example, may not provide the necessary budget or working hours to build your SEO skills, requiring you and your team to spend your personal time learning about SEO. This situation often makes launching a successful SEO strategy almost impossible.
That's why many companies, even small-to-midsized ones, will hire an SEO agency.
The 4 drawbacks of paid search
The four disadvantages that come with paid search include:
Paid search costs money upfront
When your business invests in paid search, you must set and provide your ad spend.
If you don't have an advertising budget, you can't advertise.
This is why cost often comes up as a disadvantage when it comes to paid search vs. organic search. You need company leaders to sign-off on a paid advertising campaign in advance, which requires your team to develop a full-fledged strategy for advertising online.
This requirement, however, can help your business launch a smart and thorough campaign.
You know what you want to accomplish with paid search, for example, and how you plan to accomplish it. In addition, you understand the landscape when it comes to which competitors advertise and where they advertise online.
All these details can help you budget and launch a successful strategy.
Paid search demands constant maintenance
Like organic search, paid search also requires your team's attention.
In comparison to organic search, however, paid search demands more attention more often. Many online advertising specialists, for example, recommend that companies check their paid ads at least once a week.
Less than 30% of companies have looked at their campaigns in the last month, though.
This fact emphasizes the difficulty that comes with paid search, at least for most businesses. Many struggle to find the time to check-in on their campaigns. Forgetting about your paid ads, however, can result in lost conversions and sales as well as an inflated ad spend.
Paid search provides short-term results
A paid search campaign performs for as long as you invest in it. Once you stop, so do the results.
This disadvantage of paid search vs. organic search can place your company in an uncomfortable position. You become dependent, for example, on the revenue driven by your paid ads, which forces you to continue supporting the strategy.
While paid search offers plenty of benefits, you don't want to become 100% dependent on it.
You need flexibility with your digital marketing strategies.
Instead of attracting 100% of your leads from paid search, for example, you want a balance between channels. Maybe 50% come from paid search, for instance, and 25% from organic and 25% from social.
That way, you can tailor your paid search initiatives to your budget and goals.
Requires PPC background and skillset
Like organic search, paid search will require a PPC background and skillset.
Before you launch any paid search campaign, it's essential for your team to do some PPC training. Whether you complete an online course, read a how-to guide, or collaborate with a consultant, you want some practice before you start advertising and dipping into your ad spend.
If you go into paid search without any background knowledge, you risk several mistakes, including:
Exceeding your monthly ad spend
Sending your audience to the wrong landing page
Mismanaging your ad performance data
Targeting your keywords or audience incorrectly
All these errors can hurt your campaign performance and support from company leaders.
Is organic search or paid search better?
Even with a better perspective of organic search vs. paid search, you may still wonder, "Is organic search or paid search better?" There isn't a definitive answer to that question. Most digital marketers, however, agree that organic search and paid search offer enough benefits to make using both worth it.
Should businesses use organic or paid search or both?
Most businesses benefit from using organic search and paid search in their online marketing strategy.
Since organic search and paid search feature unique benefits, they're useful for achieving different goals in your strategy. If you want to promote a new service, for example, then paid search is an excellent channel. In comparison, organic search may work well for an existing product with low demand.
To find which channel your company should use for your goals, outline what you want to accomplish. Then, match that goal with the channel(s) that can help you achieve that goal. Your ad campaign for a new service, for instance, may also feature an optimized service page for organic search.
If you need help weighing paid search vs. organic search, you can always connect with our experienced strategists. You can contact us online or call us at 888-256-9448 to learn how our SEO and PPC services can take advantage of the unique benefits of paid and organic search to generate revenue for you.
Everything you need to know about organic search
Whether you're curious about what organic search means or how organic search works, this section provides everything you need. Get all your questions answered, and learn more about the benefits of using natural search in your digital marketing strategy.
What does organic search mean?
Organic search describes the action of using search engines to look up information about a concept, product, service, business, and more. Following a search, search engines compile a relevant list of paid and unpaid results based on its index of pages and search engine algorithm.


The list of non-ad results are organic search results.
Where do organic search results display?
Typically, organic search results will display at the top of the page or below three ads. In some cases, unpaid search results will appear lower when a search engine results page (SERP) element triggers, like a featured snippet, local 3-pack, or "People Also Ask" section.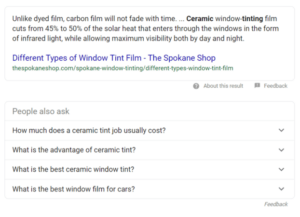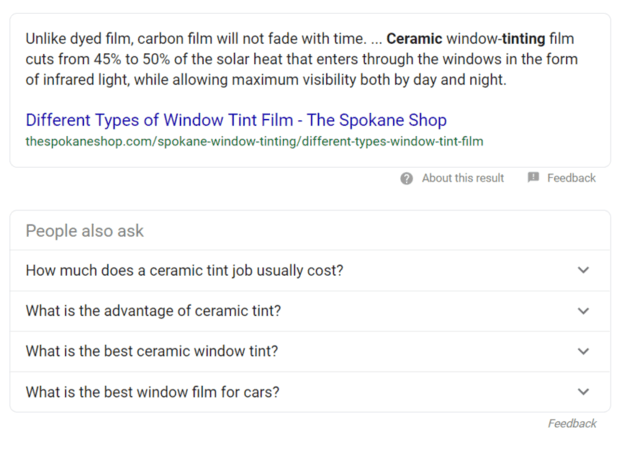 How much does organic search cost?
Optimizing your website for organic search, as well as optimizing some off-site factors to improve your visibility in organic search, costs nothing to start. If you do decide to hire an SEO agency, however, most businesses spend $750 to $2000 per month.
Companies can also invest in a one-time optimization project, which costs between $5000 to $30,000. This service can work if your business manages your SEO proactively. If you don't, you'll see temporary returns from a one-time hire.
Does organic search work?
Yes! Organic search is a trusted channel for businesses looking to not only increase their online visibility but also generate qualified leads, attract in-store foot traffic, build online sales, and even grow their companies.
That's why 89% of marketers call SEO successful.
Many businesses, especially small-to-midsized businesses (SMBs), aren't aware of the benefits of organic SEO, however. A recent study, for example, found that only 33% of SMBs optimize their websites.
Companies, no matter their size, should optimize for organic search.
Most consumers and business buyers use search to find new products, research services, and make purchases. Many also reference websites on the first page of search results, rather than the second, to get their information.

The first page, for instance, captures 71% of all clicks. Meanwhile, the second and third pages of search results earn 6% of all clicks. If your business wants to use organic search to your advantage, you need to not only optimize your website but also optimize your site better than anyone else in your market.
That's why many companies partner with an SEO agency, like WebFX, to get results from organic search.
Everything you need to know about paid search
No matter what you want to learn about paid search, from what it is to how much it costs, this section provides a complete resource for paid search. Get all the information you need to move forward with your paid search strategy below.
What does paid search mean?
Paid search describes an online strategy of promoting your business through paid ads. These advertisements appear at the top and bottom of desktop and mobile search results on search engines like Google and Bing.
Where do paid search results display?
A paid search result can appear at the top and bottom of search results. In most cases, search engines will generate three paid ads at the top and three paid ads at the bottom. Paid search results can take on different formats depending on the ad type.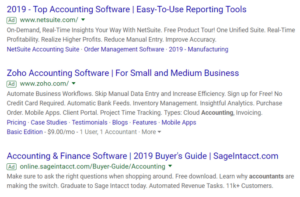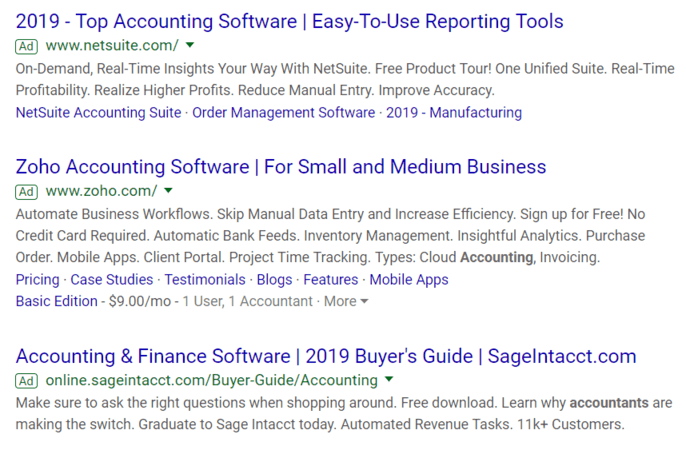 A typical paid search ad, for example, will feature a headline and description. They may also include some sitelinks or site extensions that provide additional information, like a phone number. A shopping-focused ad, however, will include an image, headline, price, and website URL.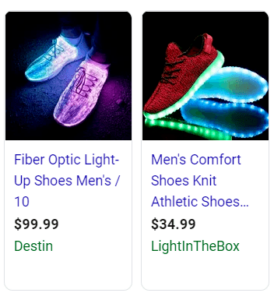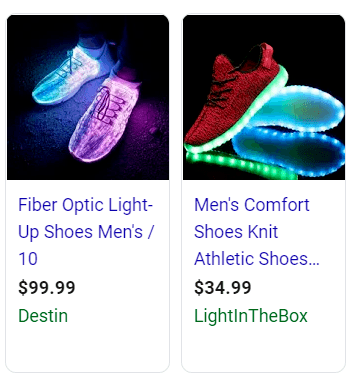 Users can also come across local ads, which advertise a nearby company.


These ads tend to appear for searches with a local intent, like if someone would search for a plumber, roofer, or landscaper. These ads include information about the business's service area, contact information, hours, and ratings.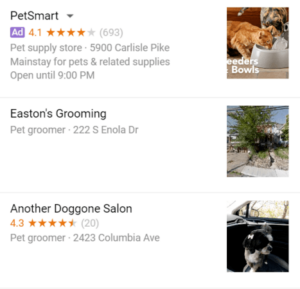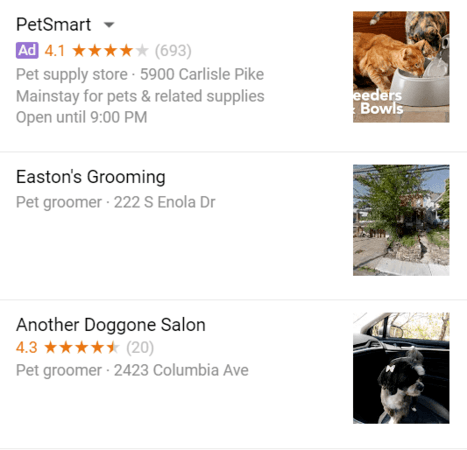 Either way, the placement of paid search ads provides your business with increased visibility.
How much does paid search cost?
Costs for paid search depends on several factors, including the platform, the strategy, and the paid search management agency. On average, however, most companies will spend $9000 to $10,000 per month on paid search.
Your costs may vary, though, so use this number as a reference, rather than a standard.
Does paid search work?
Yes – paid search is a successful and profitable channel for companies across industries.
Even if your business operates, offline, you can use paid search to drive foot traffic. Around 75% of people who do a local search, for example, visit the businesses within a day. That's a tremendous conversion rate, and one your company can experience too with the right strategy.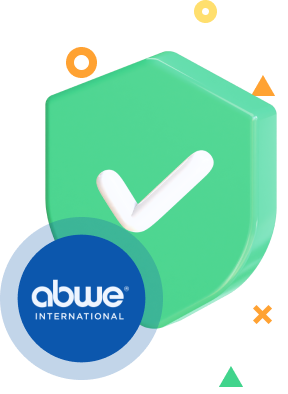 A Partner Businesses Trust
Their focus on ROI and their innate ability to communicate this information in a way that I understand has been the missing link with other digital marketing firms that I have used in the past.
Leah Pickard. ABWE
See the Case Study
Use organic and paid search to your advantage with WebFX
In the organic search vs. paid search debate, there isn't a definitive winner.
Both channels offer immense value to companies, whether you operate online or offline. That's why your business should take advantage of both and incorporate them into your online marketing strategy this year.
If you need professional help when it comes to optimizing your website for organic search and developing your campaigns for paid search, WebFX can help. With our custom strategies and advanced artificial intelligence technology, we've helped our clients grow and take their businesses to new levels.
In fact, in the past five years, we've helped our clients earn more than $1.5 billion in revenue.
Learn how our SEO and PPC services can grow your company by contacting us online or calling us at 888-256-9448 today!