Keyword research is critical to search engine optimization (SEO), which can help you earn more conversions and revenue. Every business should know how to do keyword research, regardless of their digital marketing experience.
With this guide, you'll learn how to find the best keywords for SEO so that your company can maximize the performance (and return) of SEO. We will cover the following topics:
What is keyword research?
Why is keyword research important?
Keyword research elements
How to find keywords for SEO
How to incorporate SEO keywords
Keep reading to learn how to do SEO keyword research! If you're looking for professional help with SEO, contact us online or call 888-601-5359 to learn more about our custom SEO plans for small-to-midsized businesses (SMBs)!
Our digital marketing campaigns impact the metrics that improve your bottom line.
See More Results

WebFX has driven the following results for clients:

$3 billion
In client revenue

7.8 million
Leads for our clients

5.2 million
Client phone calls
What is keyword research?
Keyword research is the process of finding, analyzing, and choosing search terms — which people use to generate results on search engines — for SEO. SEO uses keywords to help search engines rank pages accurately in search results and help people understand a page's context.
For example, if you Google "bike shops in Harrisburg," that would be your keyword, and these are the most relevant results: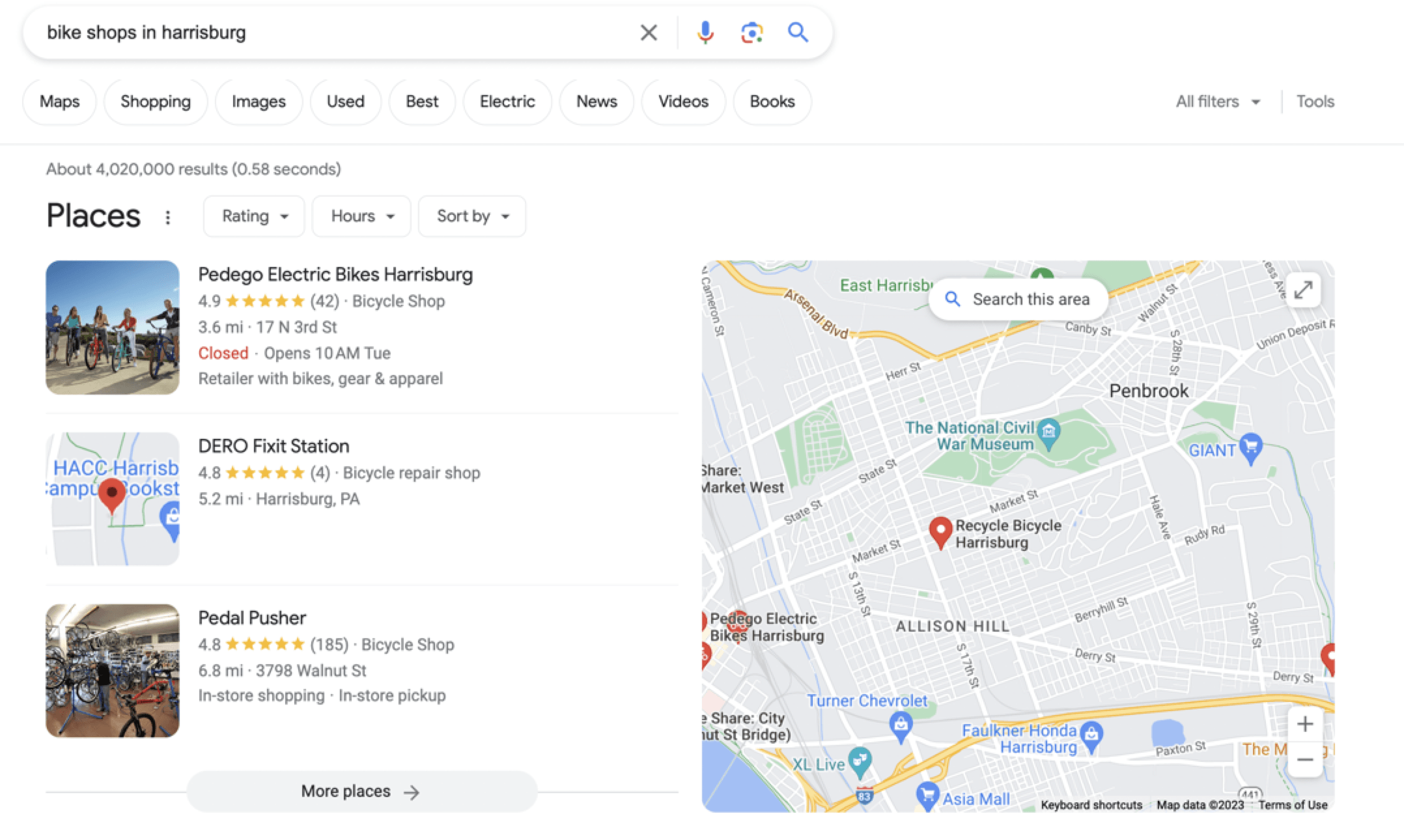 This keyword is telling Google what information you want when searching. Doing keyword research for SEO can help you tell Google (and users) what your site is about.
Why is keyword research important?
Finding keywords is invaluable to your SEO process, as you're targeting users' search right from the start and building content around their needs. Keyword research for SEO is critical for a few stakeholders, including:
Search engines:Search engines like Google use keywords to rank websites in search results. A blog post with a title tag with the keyword, "best running shoes," and a list of the best running shoes tells search engines that it's a relevant page to show for searches with that keyword.
People:Searchers use keywords to search for content online — and choose which content to click on from search results. Someone looking for a compilation of the best running shoes, for instance, is more likely to click on a round-up blog post of the best shoes than a product page.
Companies:Businesses that use keyword research generally earn a better return on investment (ROI) from SEO because they target keywords with the most value. A business that does SEO keyword research, for instance, may focus on long-tail, low-competition keywords.
When you know how to research keywords, you make data-driven decisions about your SEO strategy. Instead of guessing what your target market searches for, you know what terms will help users find your business.
Keyword research elements
The three main elements of keyword research for SEO are relevance, authority, and volume. Let's investigate each one below:
Relevance
Relevance describes the applicability of your keyword to the user's intent — what the user's goal is behind a search. Your content and keywords will rank well if they answer the user's intent.
Google doesn't want to give its searchers results that don't solve their input. So, the algorithm uses your keywords to understand your site as relevant (or not) and post it in the results.
Authority
Google ranks sources that it deems authoritative higher than others. They want to only give the best results to users, and that includes finding websites with established domains and reputations.
So, how can you prove your authority? Many sites do this by creating quality, informative content that helps users and earns backlinks. It also helps to understand the weight that expertise, authority, and trustworthiness (EAT) has on your rankings.
If there are other industry leaders out there (like the New York Times or Mayo Clinic), it might be harder to rank. However, you can also look to these sources for inspiration for how to improve your authority.
Volume
Keyword volume is measured by monthly search volume (MSV), which determines how many times one keyword gets searched in a month. You might rank for keywords, but if they have a low MSV, you are less likely to reach people.
You want to find keywords with a good search volume to answer people's queries.
Cost-per-click (CPC)
CPC is data pulled in from Google Ads or Google Ads that represents how many advertisers are trying to place ads for that keyword. The higher the CPC, the more difficult it will be for your business to rank for that keyword.
The ideal keyword will have a high MSV, but a low CPC. These numbers mean that lots of users are searching for this information, but not a lot of websites are trying to rank for it.
For example, the keyword "dentist near me," has a high monthly search volume, but also a relatively high cost-per-click:
A lot of users are looking for local dentists, but unless your site already has a relatively high domain authority, it will probably be hard to rank for this keyword. That doesn't mean it's not worth targeting, but that there are probably other keywords that will be more effective.
Use our proprietary keyword research tool,
KeywordsFX

, to help you find high-quality keywords for content and PPC campaigns. Identify Top Keywords for Free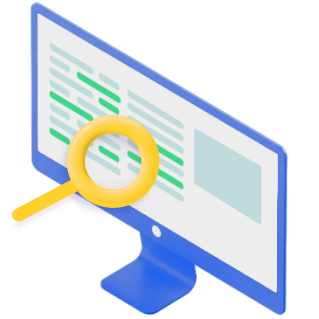 How to find keywords for SEO
You know why SEO keyword research is important, but how do you get started? Here are four different steps to help you figure it out:
Brainstorm potential keywords
Research competitor keyword targeting
Compile a list of long-tail keywords
Use a keyword research tool
Keep reading to break down how to research keywords for SEO.
1. Brainstorm potential keywords
The first step to keyword research is brainstorming a list of possible keywords. These keywords can be as broad as you want and include anything that relates to your industry, products, or services.
A bike shop in Harrisburg might use keywords like, "bike shop," "bike rack," "bike seats," or any other bicycle parts that you sell. You can also use location-based keywords — words and phrases that describe your state, city, region, or area.
2. Research competitor keyword targeting
Check out your competitors' sites and see the keywords they're using to describe the similar products and services that they have. Investigating your competitors can help you come up with original ideas and inform the rest of your keyword research.
As you look for keywords, see what sites typically rank high in the search engine results pages (SERPs). This step will show you the competing sites to look for. If you know your competition already, you can run their site through Ahrefs or a similar tool to see how they rank.
For example, if you look at Ulta Beauty's website, you can see how they rank for makeup-store related keywords:

If you're in the same business, you can use this list to see what you can incorporate into your approach.
3. Compile a list of long-tail keywords
Once you have your basic list, the next step is to expand this into a longer list of long-tail keywords. Short-tail keywords are around 1-2 words and name vague terms, while long-tail keywords are between 3-5 words and offer more detail.
The keywords you came up with in step one might be short and generic, like "bike shops." But there could be thousands of businesses across the country trying to rank for that exact keyword. As a local business, you're probably not going to rank in the top 10.
Instead, you want to find longer, more-specific keywords that indicate whether a user is specifically looking for the parts you offer or a bike shop in your area. Instead of "bike shop," you could try "bike shop in harrisburg, pa" to narrow the search intent.
4. Use a keyword research tool
While you can rely on suggested searches from Google, this approach can take a significant amount of time. That's why we often recommend using a keyword research tool like KeywordsFX. This step will expand your keywords based on user search trends and data.
When you type a keyword into KeywordsFX, you'll get an alphabetized list of all the variations that users commonly search in Google.
If you type in "bike rack," one of the results is "bike rack for audiq5." This result means that a lot of users out there have searched for that exact phrase in Google in the past. It also means that if you sell a bike rack compatible with this specific car, you might want to target this keyword.
Depending on the keyword that you entered, you could get an overwhelming list of suggestions. Take note of the ones most relevant to your business. You can repeat this process for every keyword on your original list to branch out your keyword options.
How to incorporate keywords
Now that you understand how to do SEO keyword research, you can start adding your terms to your site. Here are four steps to follow when including SEO keywords:
Integrate keywords throughout your site
Organize your keyword hierarchy
Make keyword research continuous
Let's look at each one in detail below!
1. Integrate keywords throughout your site
Adding keywords to your website is an essential step to your research. If you have quality keywords but don't know how to integrate them, all your time and energy will go to waste.
Here are some tips for making sure Google and searchers can get the most of your keywords:
Focus on one target keyword and 3-5 supporting keywords that highlight your page topic.
Add the target to the page title, title tag, and meta description.
Use the target or main keyword within the first 100 words of your page.
Don't add an outgoing link with your keyword ad anchor text.
Aim to use each keyword two times naturally.
Our keyword density tool makes it easy to see where your keywords are and if you need to add or remove some.
2. Organize your keyword hierarchy
Once you have your list of keywords, you can determine how you want to incorporate them on your site. Connecting keywords and showing their relationship can better serve Google and your users.
If you found keywords that you already have pages for, add the keyword to your title tags, header tags, meta descriptions, and other important HMTL elements, as well as the body copy on each of these pages.
Throughout the keyword research process, you might have found a few keywords that you don't yet have content to support. Instead of adding these keywords to random pages, use this as an opportunity to create more content for your site and more pages that will help your customers.
From there, you can build internal links to show how your keywords relate. For example, if you have a parent page on bike parts, you might link to other pages on bike racks, wheels, chains, and more.
Be sure to avoid keyword stuffing, or adding keywords where they're not relevant or necessary. All the content on your site should be written with your users in mind to inform potential customers.
3. Make keyword research continuous
As you optimize your site, continue to do keyword research as much as you need. Over time, this process will help you identify even more keywords that are helpful to your customers. It will also keep your keywords relevant to changing search volume and trends.
Even though the keyword "bike rack for 2023 Subaru Forester," might be really valuable right now, there will be a newer model five years from now that users are searching for.
Learn how to do keyword research with the pros
You've learned the basics about how to do keyword research, but if you're looking to take your keyword research skills to the next level, WebFX is here to help.
We have a team of 500 marketing experts who have experience finding the best keywords for websites. If you want help creating content, we can handle that, too. Our 100+ content writers have experience with different industries, content types, and styles.
Ready to get started? Contact us online to get started on your keyword and content strategy today!
How Is Your Website's SEO?
Use our free tool to get your score calculated in under 60 seconds.