Web Design Company
Cleveland
With professional Cleveland website design services, your business can launch a fast, mobile-friendly site that follows search engine optimization (SEO) best practices so you can attract more leads and sales online.
At WebFX, we're a web design agency in Cleveland, Ohio, with more than 20 years of experience and more than 200 team members that include web designers, web developers, professional copywriters, and digital marketers.
If you want to expand your online reach and earn more revenue, we can help. Contact us online or call 216-208-4449 to speak with one of our experts today!
Get a custom quote for your website design project
Keep reading to learn more about working with our experienced team (we've launched more than 1000 sites) for your Cleveland web design project.
Get an all-in-one solution to web design and digital marketing
With our services, you get a complete solution to designing, developing, and marketing your site:
Learn more about working with our experienced team by contacting us online or giving us a ring at 216-208-4449!
Ready to get started?
Are you interested in learning more about how your business can use Internet marketing to increase your sales and attract more customers?
Contact us today to speak with a strategist and hear about our custom plans.
Get your FREE Quote now
Cleveland web design services
Browse our Cleveland web design services now!
Cleveland Website Design
Launch a brand-new, easy-to-use website with our web design services. Our award-winning designers will create a custom, on-brand site that meets search engine optimization (SEO) standards.
Learn More
Cleveland Website Redesign
Use our website redesign services to bring new traffic, leads, and customers to your site. Get access to our experienced design team, plus our dedicated copywriting team to maximize your updated site's performance.
Learn More
Cleveland 30-Day Web Design
Get a brand-new website in 30 days with our rapid web design services. Choose from a selection of templates and our Cleveland website designers will tailor them to your business, brand, and goals.
Explore Templates
Cleveland Site Maintenance
Support the short- and long-term performance of your site with our website maintenance services for Cleveland businesses. With our team, you can trust your website will remain live and accessible.
View Plans
Local Success
WebFX has partnered with numerous local businesses in Ohio to help them grow with digital marketing. We've helped to implement campaigns including SEO, PPC, email marketing, and beyond.
See our Cleveland web design agency's work
Explore our website designs for businesses in and outside of Cleveland, OH!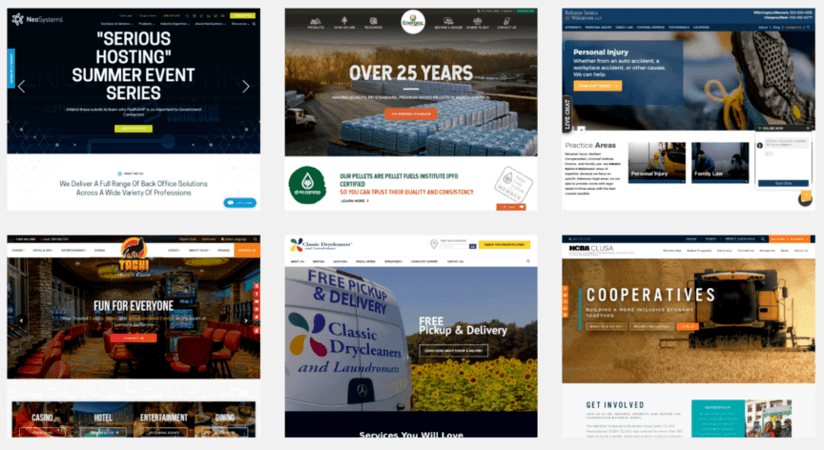 View Web Design Portfolio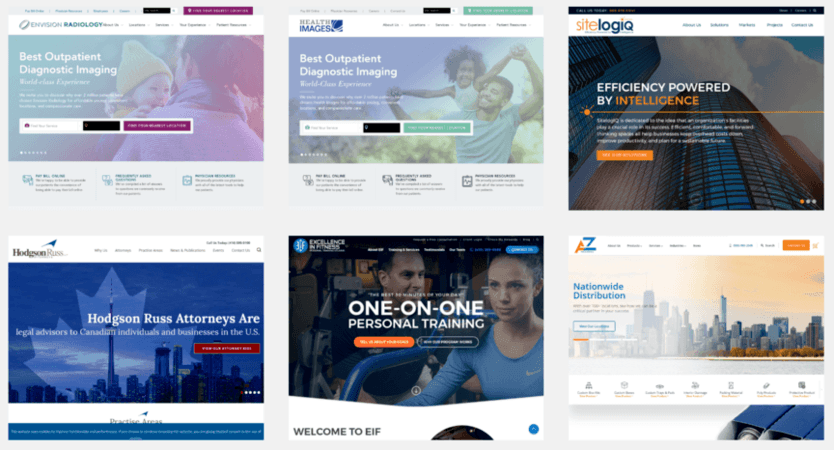 Why choose WebFX as my Cleveland web design company?
If you want a great design for your Cleveland business's website, you must enlist the help of an expert website design agency. At WebFX, we have over 20 years of experience creating websites that drive results for our clients.
So, why choose WebFX?
Our Cleveland web design agency can build your website fast
If you don't have a website already established, you want to get it built quickly so you can start obtaining leads on your site. Our team at WebFX can help you develop your ideal website.
With our program RainmakerFX, we can incorporate your existing brand into one of our custom themes. We offer information-based templates, multi-offerings templates, and user-engagement focused sites. Regardless of the template, our Cleveland web design company have your site up and running in 30 days!
Our Cleveland web design agency has a team of knowledgeable experts
When you partner with us, you're getting a team of 200+ experts that know how to create impactful websites. We have a team of award-winning designers who will help you create the website of your dreams.
Our Cleveland web design agency drives results
If you're going to hire a web design company, you want to choose one that will drive results for your business. At WebFX, we have over 20 years of experience driving valuable results for our clients.
Don't believe us? Just ask our clients! Check out our 550+ client testimonials that attest to the great work we do for them!
Get more than Cleveland website design with WebFX
Are you looking for more than Cleveland website design services?
Browse our digital marketing services, which can help support your brand-new or updated site.
Explore our digital marketing services and digital advertising services to see all our available solutions. If you have questions, feel free to contact us online or call 216-208-4449 to speak with a strategist about your Cleveland web design and online marketing needs.
Mid-Size Businesses Trust WebFX
Their focus on ROI and their innate ability to communicate this information in a way that I understand has been the missing link with other digital marketing firms that I have used in the past.
Leah Pickard. ABWE

What makes a good web design?
The hardest part about designing your website is knowing what will drive results for your Cleveland business. You may be asking yourself, "What elements are crucial to my website's design?"
Here are four main elements you'll want to focus on to create a good website design.
1. Appearance
If you want to have an effective website, the first step is creating a website that is visually appealing. This is how your audience will initially judge your business.
A modern and sleek website will engage your audience and catch their interest. A website that looks like it's from 1990 will not interest your audience.
There is more to your webs design's appearance than choosing the right colors and features. It's also important to focus on factors that affect your website's appearance. Responsive design is one of the most important elements to include in your web design.
Responsive design ensures that each member of your audience has a positive experience on your site, regardless of the device they use. Users will access your website from mobile phones, tablets, and desktop computers. It's crucial that your website adapts to each of these devices to promote a positive user experience.
2. Navigation
In addition to appearance, navigation plays an important role in the user experience. Your navigation helps your audience browse through your site to find information. If your navigation isn't easy to use, you'll miss out on potential leads for your Cleveland business.
Your navigation must be simple and easy to use. You don't want your audience to be unsure of where to find information. A navigation bar that is organized and laid out properly for your audience will drive the best results.
3. Attention
Once you have visitors on your site, the next step is to keep them on your site. If your site isn't interesting or doesn't catch their attention, these leads won't have a reason to stay on your site. You must add elements that keep your audience interested in your site.
These elements include photos, videos, and infographics. These are all engaging visual elements that keep your audience interested in your page. They help break up all the information on your page and make it easier to look at your site.
4. Action
When leads are on your site, the end goal is to get them to act. If you want to encourage them to act, you must add elements that guide them towards acting.
A call to action (CTA) button is one way to get your audience to act. After people read through your page, they may want to take the next step. A CTA button helps guide them towards the next step.
You can logically guide these leads through your site. A CTA button stands out from the rest of your design to ensure that your audience always sees it. If they engage with your CTA, you can then guide them to a relevant page that pushes them closer to converting.
We don't just want to tell you about the beautiful work we do.
WE WANT TO SHOW YOU
We've built over
Websites in industries like yours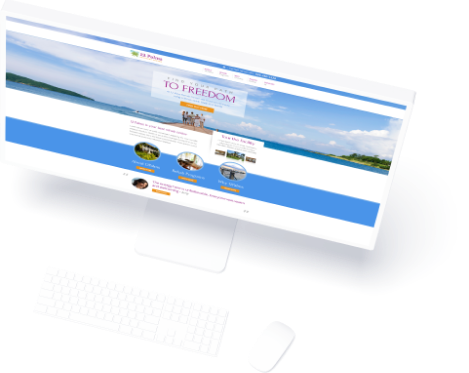 View our past work
Why is web design important for my Cleveland business?
Regardless of what digital marketing strategy you use, you will drive leads to visit your site. It is crucial that you invest in your Cleveland website's design to set a good first impression with these leads. You also want to keep them on your site once they see it.
Your audience expects to see a modern, clean, and updated website. If you haven't updated your website's design in years, it will be off-putting to people in your audience.
When your website is outdated, your audience assumes that your information is outdated too. This happens regardless of whether the information was updated six months ago or just yesterday. Your audience will judge with their eyes and seeing an old design makes them believe your site it outdated.
Investing in Cleveland web design services helps you keep your website modern and updated. It's a great opportunity to build the website of your dreams. You can add numerous elements that enhance the user experience on your site.
If you want to compete with your competitors, you must keep your website's design updated. Your audience will choose a competitor over your business if that competitor has a more modern feel to their site.
To drive the best results for your business, invest in your business's website design.
Ready to build your ideal website?
Our Cleveland website design agency offers numerous web design plans designed to meet your needs and budget
To learn more about our custom web design plans, check out our web design services page.
If you're ready to build a better website to keep your leads engaged on your page, contact us online or call us today at 216-208-4449 to speak with a strategist.
We look forward to helping your business grow!
We're not your typical


Digital Marketing Agency.

Our team is made up of award-winning designers, developers, and Internet marketers. For us, it's not just a job — it's a driving passion. And that passion has led to some of the best work on the web.

Don't take our word for it! We're proud of our many customer testimonials on Clutch. We've earned a 4.9 out of 5 with over 175 ratings.
Driving Digital Revenue For Our 700+ Satisfied Customers