At WebFX, we believe it's important to keep our clients in the loop every step of the way. That's why we offer:
24/7 access to MarketingCloudFX
An ROI dashboard to help you gauge the success of your investment with WebFX
Actionable monthly reports and insights from dedicated account managers
Speak with a Consultant
Many agencies provide their clients with monthly reports on traffic, rankings, conversions, and other campaign-specific key performance indicators (KPIs). But at WebFX, we want to do better.
Instead of pulling data straight from an analytics program once per month, we developed our own reporting platform that allows our clients to see how their campaigns are performing at any time. We also create custom dashboards in Google Analytics for each of our clients so they can quickly access and find important information.
With Google Analytics, you'll be able to set custom goals to track exactly what you accomplish every month. These goals are specific to your business - which makes it even easier to see all of your opportunites for revenue.
Custom goals represent all the conversions that take place on your site - and the best part is, you decide what a conversion is to your unique company. That means that a conversion or goal could be something like a newsletter signup to a lead form submission. Choosing your own custom goals spells increased revenue for your company because you can track the success that you want to track. There is no cookie-cutter tracking data here!
This way, when it comes time to put together monthly reports, our account managers don't have to spend time compiling the data for their clients – they can focus on providing actionable advice to improve it going forward. Call 888-601-5359 or contact us online to get started using our transparent and upfront reporting. If you want to learn more, keep reading!
Here's how it works:
2.4 Billion
IN CLIENT REVENUE
6.3 Million
Leads for our Clients
4 Million
Client phone calls
Our digital
marketing campaigns
impact the metrics that matter most!
Learn More
Transparent reporting dashboards
At WebFX, we understand the importance of keeping our clients in the loop, and we also love sharing great results. That's why we developed MarketingCloudFX.
As soon as you become a client, we'll add your site to the MarketingCloudFX so it tracks your progress immediately. After it's had time to accumulate significant data, we'll share your dashboard with you so you can access it at any time.
Whenever you log in, monitoring the success of your campaign is simple. That's because when we planned the platform, we made it a priority to focus on the metrics that mattered most to our clients. As a result, we developed the ROI dashboard.
By comparing the value of your leads and sales to your spend with WebFX, your dashboard will calculate the exact return you get from every dollar you spend with us. It will also show the average cost for your business to generate one lead.
You'll also be able to see your monthly revenue and leads, as well as access all of our lead management tools.
Essentially, MarketingCloudFX tells you everything you need to know about how cost-effective your budget is - and you can check it whenever you want. MarketingCloudFX is so transparent that it allows you to see how a specific lead finds your business, how much time they're spending on your website, and more. This information is crucial to learning more about your leads, and in turn, making the best budgeting decisions possible.
Let's take a look at all the tools that MarketingCloudFX has to offer.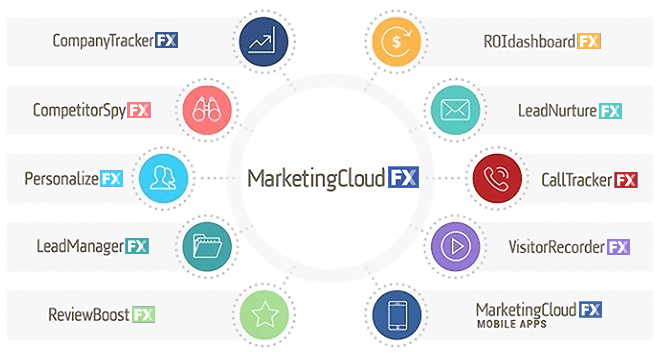 The proprietary tools included in the MarketingCloudFX suite include:
CompanyTrackerFX: Tracks the companies that visit your website, what pages they view, and how often they return.
CompetitorSpyFX: Shows how your website stacks up against your top competitors' and the factors that play a role in how you compete with them online.
PersonalizeFX:Allows you to deliver the right message to the right person at the right time.
LeadManagerFX:Tracks precisely how your website leads found your business, as well as the actions they took on your website prior to converting.
ReviewBoostFX:Helps your business earn more trusted reviews online and pulls the latest data from Facebook, Yelp, and Google My Business to provide an overview of your online reputation.
ROIdashboardFX:Tracks campaign metrics in a dashboard to gauge the overall success of your campaign.
LeadNurtureFX:Keeps leads engaged in your sales funnel and provides them with the information they need to make an informed purchasing decision.
CallTrackerFX:Provides unprecedented level of information on how callers discovered your business and allows you to analyze trends over time, view missed calls, and even listen to recordings of your sales team's phone interactions.
VisitorRecorderFX:Provides insight into your leads' behavior with video recordings of the actions they take on your website before converting.
MarketingCloudFX Mobile Apps:Provides real-time push notifications of leads and calls that come in via the web, as well as key companies that visit your website.
Actionable monthly reports
Monthly reports are where our account managers really shine. Unlike most SEOs who simply send their clients lists of metrics and expect them to figure out what they mean, our Internet marketers take the time to analyze your data and determine the best ways to improve your strategy.
We make this possible by assigning a dedicated account manager to each of our clients. As they work on your SEO and other Internet marketing campaigns over time, they'll continue to develop new strategies for improvement.
For example, a dashboard for your site might look something like this: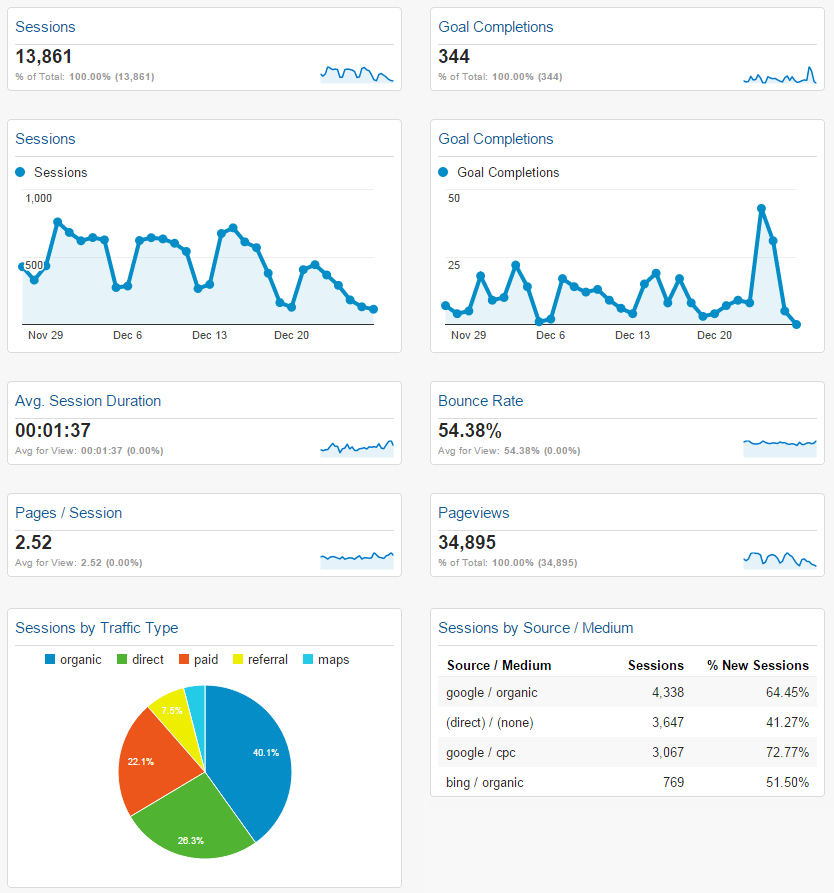 Instead of just sending you the data, your account manager will analyze it and come up with actionable strategies for improvement. Then, they'll relay their insights to you over a monthly call. Any SEO professional can compile a list of statistics and percentages, but we tell you what that data means and use it to help your business grow. That's what sets us apart from the rest.
Your dashboard will include the following information:
Total sessions on your website
Total goal completions
Fluctuation of sessions over time
Fluctuation of goal completions over time
Average session duration on your site
Bounce rate
Average pages per session
Pageviews
Sessions by traffic type (organic/direct/paid/referral/maps)
Sessions by source/medium
The proof is in the numbers
With our proprietary software and ROI reporting, we've been able to drive real results for our clients. Clarity Way, for example, has seen 166% increase in their online contact forms over a 60-day period, and an 87% increase in phone calls over a 30 day period.
Cleveland Brothers saw a 37% increase in conversions and a staggering 198% increase in organic traffic.
VF Outlet saw a 29% decrease in bounce rate, which means they were able to keep users on their site for a longer period of time, and looking through a higher number of pages.
These are just some examples of the many results your company can see with the help of tracking and reporting, because you'll be able to see exactly what's working and what needs to be shifted in order to create the best possible marketing campaign for your business. Check out some more results below!
Ready to work with a transparent SEO agency?
At WebFX, we're proud of the results we achieve for our clients – but never too proud to stop looking for ways to improve. And with our transparent reporting system, you'll be able to monitor those improvements whenever you want.