What Is Digital Marketing? The Definitive Guide to Digital Marketing
Digital marketing is the practice of promoting a business through online channels like search, social, paid, and email. It provides a powerful and cost-effective way to drive revenue. Keep reading to learn more about digital marketing's meaning and how to use it for your company.
If you're asking yourself, "what is digital marketing", you're in the right place! In this guide, we've diving into digital marketing basics to highlight everything you need to know!
Here's a quick overview of everything we're going to cover:
Let's dive in!
Free Comprehensive Guide
Digital vs. Traditional Marketing
Download this guide to understand the key advantages, costs, and opportunities for each to decide which is best for your marketing strategy!
Get My Free Guide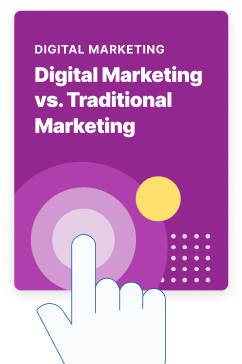 What is digital marketing?
Digital marketing is the marketing and advertising of a business, person, product, or service using online channels, electronic devices, and digital technologies. A few examples of digital marketing include social media, email, pay-per-click (PPC), search engine optimization (SEO), and more.
How does digital marketing work?
You know the definition of digital marketing, but how does digital marketing work?
Online marketing works by developing a coordinated, omni-channel strategy that supports your target audience's unique buying journey. That means your business uses multiple channels, like social, email, and search, to support an overarching strategy, like generating brand awareness, leads, or sales.
For perspective, think about this digital marketing example:
Goal: Earn leads
Channels: Search, email, digital advertising
Strategy: Write a blog post that targets a middle-of-the-funnel (MOFU) need. Optimize the blog post for search engines and users. Include a downloadable resource that requires users to share their email address. Build a drip campaign for those email subscribers to move them to conversion.
It's a basic example, but the above scenario shows how companies can use digital marketing to achieve global goals, like attracting leads. While you can use online marketing channels by themselves, they work best when used together, which is one of the biggest challenges for digital marketers.
Inbound marketing vs. digital marketing
Now that you know the digital marketing definition and the answer to the question, "what is digital marketing", let's dive into how it compares to inbound marketing.
Inbound marketing and digital marketing are two terms that can easily be confused. Inbound marketing is a methodology that uses digital marketing tactics to attract new customers or clients.
On the other hand, digital marketing is an umbrella term that encompasses all forms of Internet marketing, including inbound marketing.
Why is digital marketing important?
When we answered the question, "what is digital marketing", we mentioned that there are several types of digital marketing techniques and strategies.
These strategies offer several advantages for your business. Here are five benefits of digital marketing you can enjoy when you launch a strategy:
1. Digital marketing offers cost-effective marketing solutions
Price is another one of the top benefits of digital marketing.
Compared to traditional marketing, online marketing is extremely cost-effective. If you advertise online, whether on social media, websites, or search engines, you set your budget and bid for ad space. You have complete control over how much you spend, which isn't the case when buying a billboard.
Flexibility is a big feature of digital marketing. Budgets and campaigns can be set to run anywhere from years to minutes. Coupled with precise targeting, businesses get agility that is often missing in traditional campaigns. If you launch a PPC campaign, for instance, and see that it isn't performing, you can go ahead and pause that campaign. In comparison, once you buy a billboard, you have it for that entire duration of a contract, whether it works or not.
2. Digital marketing offers a level playing field
Next on our list of digital marketing benefits is that it offers a level playing field. If you're a small-to-midsized business (SMB), digital marketing also helps your company stand apart from larger brands. That's because online marketing offers cost-effective solutions, like SEO, that can help your business reach its audience.
Large corporations are able to market themselves in ways SMBs often can't. They take up prime real estate with company locations. They employ large numbers of cold-calling sales staff. They sponsor trade show and conferences with elaborate exhibits.
With digital channels, it is just as easy to click an ad for a large corporation as it is to click an ad for a small business. A Facebook Page for a Fortune 100 company looks the same as a Facebook Page for a five-person company.
This even playing field can help your company bypass big brands and reach your target market.
You don't have to worry about how your online marketing budget will compete with larger brands, either. Digital marketing offers several cost-effective strategies, including SEO, that you can use to get your products or services in front of your audience.
3. Digital marketing offers advanced targeting and personalization options
Perhaps one of the top digital marketing benefits is that it offers advanced targeting and personalization options.
Making web marketing a part of your business strategy also gives you access to a range of advanced targeting and personalization options. Traditional marketing, which is broader, can't compete with what digital marketing can provide you when it comes to targeting.
For example, with an online marketing strategy, you can use targeting options like:
Age
Location
Interests
Marital status
Hobbies
Device
And more
These targeting options can help you amplify the other benefits of digital marketing, like its cost-effectiveness. If you launch a PPC campaign, for example, you could use targeting options like location and device to focus your ads on users most likely to convert, like by visiting your brick-and-mortar store.
Online marketing also makes it possible to personalize content with information like the following:
Name
Interests
Purchase behavior
Creating a personalized experience for users, whether via your email marketing campaign or website, can lead to better marketing results. An email that recommends products based on a subscriber's past purchase behavior, for example, can lead to another sale and even a word-of-mouth recommendation.
4. Digital marketing offers accurate campaign tracking and measurement
Online marketing solves a traditional marketing problem — tracking.
With traditional marketing, it's difficult to track whether someone found your business via a billboard, radio ad, or newspaper feature. When you can't track your marketing efforts, you can't measure their performance, which makes it challenging to prove marketing's worth.
It's easy to track the performance and results of digital marketing.
Google tools like Google Analytics, Google Search Console, and Google Ads make monitoring your strategy easy. With Google Analytics, for example, you can track website traffic, user behavior, and website conversions. In comparison, Google Ads provides a 360-degree view of your PPC ads. These types of website analytics are absolutely integral to any digital marketing strategy worth its salt.
Even better, you can use programs like Google Data Studio to compile all your data into easy-to-read and easy-to-share digital marketing reports. Tools like these help you showcase, as well as analyze, the performance of online marketing.
5. Digital marketing offers continuous campaign performance feedback
Making digital marketing a part of your business strategy also gives you access to a marketing approach that provides constant feedback on your campaign's performance, whether it's your SEO strategy or PPC ads.
For example, if you launch a PPC campaign and update your targeting to exclude mobile devices, you may notice a sudden drop in conversions. That immediate response helps you react fast. You can undo your targeting update and get your campaign back to optimal performance.
Even long-term strategies, like SEO, provide constant feedback.
For instance, you can see if your keyword targeting strategy works well by analyzing your website traffic and website conversion rates. This analysis can help you uncover other areas for improvement, too, like your site's design and usability, as well as content quality.
With all its benefits, digital marketing is a massive asset for companies, including yours.
Types of digital marketing
1. Search engine optimization (SEO)
SEO is an online marketing strategy that improves your visibility or ranking in search results relevant to your business and target market.
Using SEO as a digital marketing strategy, companies can increase their visibility in search results on Google and other search engines. With a better spot in search results, your business can earn more website traffic, leads, and sales. Since 93% of online experiences start with a search engine, SEO is a must.
Increasing your ranking requires on-page SEO and off-page SEO. These two tactics focus on making your site friendlier and more authoritative to search engines and users.
There are many SEO strategies you can implement to increase your rankings in the search engine results pages (SERPs), such as:
Auditing your website's SEO performance
Researching keywords
Creating quality content
Making your website mobile-friendly
Earning backlinks
And more
When it comes to digital marketing techniques, SEO earns the most recommendations. With SEO, your business can drive long-term revenue to your company, without the upfront and continuous costs that come with strategies like social media advertising.
2. Content marketing
Content marketing is a digital marketing technique that focuses on creating original and helpful content for users. In most cases, this content, which can range from blog posts to videos to online guides, will get optimized for search, shared on social media, and promoted to increase its reach and exposure.
Content marketing offers companies a cost-effective and long-term strategy for reaching, nurturing, and converting their target audience, as well as supporting their SEO strategy.
With original, high-quality content, your business can generate 54% more leads, plus appeal to the preferences of 70% of consumers who want to learn about your company through blog posts, guides, and articles.
If you use content marketing, you can get creative and create a range of content types, including:
Blogs
Articles
Guides
Infographics
Video
Podcasts
To create content that both engages your audience and ranks well in the search results, you'll want to be sure to implement keywords throughout your content and ensure your content provides value and answers your audience's questions.
3. Pay-per-click (PPC) advertising
PPC advertising is a digital media marketing tactic that promotes your business, products, or services on search engines, websites, apps, and more. PPC operates on a pay-per-click business model, which means you only pay when someone clicks on your ad, which can include text, images, and video.
Over 60% of SMBs use PPC because it's a fast and effective digital marketing technique for generating leads and sales. With PPC, your business can create a hyper-targeted campaign to reach ready-to-buy users in your target audience, which is one reason why PPC boasts an average ROI of $2 for every $1 spent.
The most popular form of PPC advertising is on search engines like Google. These PPC ads display at the top and bottom of the search results page when you search for a word or phrase, indicated by a "sponsored" text above the title.
With a high Ad Rank, Quality Score, and winning bid, you can launch an ad that displays in one of the top spots in the SERPs.
4. Social media marketing
Social media marketing is a type of digital marketing strategy that uses social media networks to promote your business, engage your target audience, and provide your customers with one-on-one support. Most approaches include sharing content, answering comments, and promoting posts.
Almost 75% of people use social media when making a purchase decision, which makes social media marketing a must-use digital marketing technique.
With social media marketing, companies can build a loyal following, as well as engage and interact with their followers to improve customer loyalty, increase sales, and reduce churn.
There are several social media platforms you can utilize to reach your audience, such as:
5. Email marketing
Email marketing is a digital marketing technique that focuses on generating and nurturing leads. With email marketing, businesses can send a range of emails, including to promote products, share company announcements, and pass along helpful advice or articles.
Email marketing is one of the most powerful types of digital marketing a company can use. On average, businesses earn $44 for every $1 they invest in email marketing, demonstrating the usefulness of email marketing as a lead nurturing tactic.
Email marketing also works well with strategies like content marketing and video marketing.
There are several different types of emails you can send to your leads and current customers, including:
Newsletters
Email drip campaigns
Abandoned cart emails
Lead nurturing emails
You can use tactics like A/B testing to test which subject lines and content types engage you subscribers the most.
Email marketing also enables you to create personalized emails by segmenting your subscribers based on their interests so you can ensure you always send them relevant content.
6. Social media advertising
Social media advertising is a digital media marketing tactic that promotes your business, products, services, or social media page on social networks like Facebook, Twitter, Instagram, and LinkedIn. Ads on social media can include text, images, videos, and more.
With the decreased visibility of business account posts due to social media algorithm updates, social media advertising is becoming an essential digital marketing technique.
Using social media ads, your company can reach its target market, build its online following, and generate valuable sales and leads.
Most social media platforms enable you to utilize advanced audience targeting features to ensure your ads reach the people most likely to make a purchase. For example, you can target users based on their:
Age
Location
Job title
And more
7. Video marketing
Video marketing is a digital media marketing tactic that uses video to attract, engage, educate, and persuade users. Companies can use video marketing on their website, as well as video hosting sites like YouTube. Video types range from product showcases to vlogs to how-tos to testimonials.
With 90% of users credit video for helping them make a purchase decision, video marketing is a valuable digital marketing technique for businesses.
Using video, your company can capture the attention of your target market, as well as move them from the top of the funnel to the bottom.
Plus, you can integrate video into other online marketing strategies, like email and content marketing.
8. Web design and development
Web design and web development refer to the design and development of your website — its frontend and its backend.
While web design focuses on the look of your site, web development focuses on the functionality, usability, and speed of your website. Both matter to digital media marketing.
Your website's design and development serve as your digital marketing strategy's foundation. An attractive, functional, and mobile-friendly site helps your business maximize the results of its SEO, PPC, and other online marketing techniques.
You'll want to make sure your website represents your brand to boost your brand awareness and help your audience instantly recognize your company by using the same color scheme and fonts throughout your site.
Key performance indicators (KPIs) and metrics in digital marketing
When it comes to digital marketing, there are a range of metrics you can measure, including:
Website traffic: The number of users who visit your website.
Traffic source: Where your website traffic comes from, like search engines, social media, or paid ads.
Pageviews: The number of times users viewed your page.
Bounce rate: The percentage sessions where a user left your website and did not interact with your page or visit another page on your website.
Time on page: The amount of time users spend on your page.
Click-through rate (CTR): The percentage of users who saw and clicked on your website, page, or ad.
Conversion rate: The percentage of users who completed your desired action, like making a purchase.
Open rate: The percentage of users who received and opened your email.
Follows: The number of users who follow your page or account.
Share: The number of times your post was shared by users.
Return on investment (ROI): The total revenue driven by your digital marketing strategy after any costs.
How to create a digital marketing strategy
Every discussion on digital marketing basics should cover how to do digital marketing — or how to create an online marketing strategy.
Even if you plan to outsource your online marketing by partnering with an Internet marketing agency, it's helpful to understand the workings of your plan.
Learn how to create your digital marketing strategy now:
1. Determine your digital marketing goals
Before you start writing content or launching ad campaigns, stop and think about your goals.
What do you want to accomplish with online marketing or specific digital marketing techniques? Do you want to generate more leads with a PPC campaign, for instance? Or, do you want to increase and improve the quality of website traffic?
As you brainstorm your goals, think about your company's overall goals too.
You may want to increase your social media followers on Facebook, for instance, but your business wants to drive more purchases. You can relate these two goals by building a social media strategy that focuses on increasing sales by generating an active online following on Facebook.
No matter what goals you choose, make them S.M.A.R.T., which stands for:
Specific
Measurable
Attainable
Relevant
Timely
As an example, you might create the following S.M.A.R.T. goals:
Reach 500 social media followers on Facebook in six months
Achieve an 8% website conversion ratein 12 months
Attract 35 qualified leads with PPC by January 1, 2023
If you decide to partner with a digital marketing agency for online marketing, they can help you create S.M.A.R.T. goals. It's helpful, however, if you come to them with ideas for what you want to accomplish, like increasing sales, lead quality, or website traffic.
2. Choose your digital marketing channels
In coordination with developing web marketing goals, you should also decide which digital marketing techniques or channels you want to use. An omni-channel approach, which uses multiple channels, performs best because it reaches users across email, search, social media, and more.
Some of the most valuable types of digital marketing include:
With these strategies, your company can accomplish a range of goals, from generating website traffic and brand awareness to increasing lead generation and purchases. Plus, these techniques, like SEO and PPC, work well together.
3. Set your digital marketing budget
Once you determine your goals and preferred digital marketing tactics, you can set your budget.
For reference, most SMBs dedicate $2500 to $12,000 per month into online marketing. Depending on your company, strategy, and resources, you may invest a different amount. Either way, it's crucial to have a realistic budget.
Setting an unrealistic budget, for instance, can result in your business wasting money because you didn't provide enough of an investment to support a strategy fully. Settling for cheap SEO (think $100 a month) is an excellent example because your company pays for a service without getting any results.
Take the time to research your costs and strategy so you can receive a realistic marketing budget.
4. Develop your digital marketing strategy
Next, start building your online marketing strategy.
As you develop your strategy, you want to think about your target audience. How can you reach users with the techniques you've selected, as well as accomplish your goals? Not to mention, how will you divide your digital marketing budget between your tactics?
You'll also need to think about how you will assign and accomplish tasks.
If you're working with a team, for instance, you will need to outline what tasks need accomplished, who will accomplish them, and when they will accomplish them. Building a dedicated marketing calendar can help you streamline and track your progress.
This step plays a critical part in your digital marketing strategy's foundation, so don't skip it!
5. Launch your digital marketing strategy
Once you've developed your approach, you can move forward with launching it.
Depending on your chosen digital marketing techniques, your launch may include posting your first blog post, launching your first ad campaign, or creating your social media profiles. Online marketing isn't a once-and-done strategy, so your launch date is only the beginning of your efforts.
If you're starting an ad campaign, keep an eye on your ads. You want to make sure they comply with the ad network's rules and standards. If they don't, the networks won't deliver your advertisements. Monitoring these ads closely, however, can help you act fast with fixing any problems.
6. Monitor your digital marketing campaigns
Following the start of your online marketing strategy, you want to monitor each tactic's performance.
For example, if you launched a social media ad campaign, you want to watch impressions, clicks, and CTR. In comparison, if you started an SEO strategy, you want to monitor your rankings and website traffic over the next few months.
A proactive approach to monitoring your digital marketing can help you spot and fix issues fast. Your speedy response time can improve the cost-effectiveness of your strategy because you reduce wasted ad spend or poor keyword targeting.
As you track your campaigns, watch for trends and potential areas of improvement.
7. Implement digital marketing campaign improvements
Your close monitoring and tracking in the previous step can lead to tremendous gains in the long-term performance of your digital marketing campaigns. That's why it's essential for your digital marketing to focus on continuous improvements.
For example, if you notice that location-based keywords perform well for your SEO strategy, you may focus on that tactic more. Or, that your social media ads on Facebook outperform those on Instagram, leading to a more significant Facebook ad spend.
On a routine basis, look at your digital marketing techniques and find areas for improvement.
This proactive approach will not only help improve your strategy but also help your business get ahead of competitors that don't take the time to analyze their tactics. For your company, that can mean more leads, sales, and market share.
8. Measure your digital marketing ROI
Throughout your online marketing strategy, you want to measure its performance, results, and ROI.
Understanding how your strategy performs and how it helps your business can help you increase digital marketing support from business leaders. With more support, you can scale your plan and increase your investment, which can lead to even bigger results.
You can measure your digital marketing ROI by looking at the revenue generated by online marketing, minus its costs. Of course, you'll need to consider some hard-to-measure revenue points, like the value of brand awareness or an active social media following.
In some cases, it's helpful to determine the worth of hard-to-measure data points, like brand awareness, before launching your campaign. That way, you and your company's decision-makers have an agreement on the worth and value of brand awareness, social media follows, and other factors.
Digital marketing FAQs
What does a digital marketer do?
A digital marketer develops, implements, manages, and measures an organization's online marketing strategy and campaigns. Many online marketers specialize in different types of digital marketing, like social media, SEO, content marketing, and PPC.
Generally, digital marketers aim to accomplish their company's overall goals, like increasing revenue, by achieving smaller goals, like improving the organization's website traffic, social media following, and conversion rate.
In almost all cases, online marketers will measure the performance of their business's digital marketing strategy with metrics, also called key performance indicators (KPIs), on a monthly, quarterly, and yearly basis.
What does a digital marketing agency do?
A digital marketing agency will cover your business's digital marketing needs by implementing and managing innovative strategies to market your products and services online to increase your sales and revenue. From managing your social media accounts to redesigning your website or optimizing your web pages and content for search engines, digital marketing agencies can do it all.
How is digital marketing different from traditional marketing?
The difference between traditional marketing and digital marketing is simple.
Traditional marketing uses offline channels, while digital marketing uses digital channels.
A traditional marketing campaign, for example, may use billboards, print ads, and mailers, while a digital marketing campaign may use social media, blog posts, and email to promote a business and its offerings.
In recent years, the line between "traditional marketing" and "digital marketing" has begun to blur as even traditional channels like billboards, TV ads, and direct mail have developed a digital component to them.
Why does digital marketing matter?
Curious about the importance of digital marketing?
For companies today, digital marketing matters because it offers:
Multiple online marketing strategies
Cost-effective marketing solutions
Level playing field
Advanced targeting and personalization options
Accurate campaign tracking and measurement
Continuous campaign performance feedback
You can learn more about digital marketing's benefits below.
How can my business use digital marketing?
Now that you know the digital marketing meaning, you might wonder how your business can take advantage of digital marketing's many benefits.
If you're curious about how your company can use digital marketing, check out these examples:
These are just 10 digital marketing ideas.
Whether you're in the business-to-business (B2B) or business-to-consumer (B2C) market, you can find creative ways to reach your audience through online channels. The customization and versatility of online marketing techniques make them useful for every kind of company. Here at WebFX, we're both a B2B digital marketing agency and a B2C digital marketing agency!
How much does digital marketing cost?
Digital marketing budgets vary. The average small-to-midsized business (SMB), however, spends $2500 to $12,000 per month on Internet marketing. Generally, companies will dedicate 6.5% to 10% of their revenue to online marketing.
If your business earned $1 million in revenue, for example, you would then set aside $65,000 to $100,000 for digital marketing that year. Every company is different, of course, so you may invest more or less in online marketing.
Our digital marketing campaigns impact the metrics that improve your bottom line.
See More Results

WebFX has driven the following results for clients:

$3 billion
In client revenue

7.8 million
Leads for our clients

5.2 million
Client phone calls
Build a revenue-driving digital marketing strategy with WebFX
Need help launching your digital marketing strategy? Not sure which marketing channels will drive the best results for your business? WebFX can help!
WebFX is a full-service digital marketing agency and we specialize in helping companies like yours earn a higher ROI from their marketing efforts.
Contact us online to learn more about our digital marketing services!