11 Best Facebook Marketing Strategies for Businesses in 2024
With over 2.13 billion monthly active users, Facebook is one of the best places to market your business today. No matter your industry or niche, at least part of your target audience is bound to be on it. How can you maximize the performance of your Facebook social media strategy, though? With these proven Facebook marketing strategies.
Even though Facebook is just one of many options for social media marketing, there are numerous ways to market your business on the platform.
You can publish interesting posts, share other industry information, utilize Facebook ads, drive traffic to your site, and more. With the right strategy, Facebook marketing can be an effective choice for any business.
On this page, we'll talk about why Facebook marketing works and the best Facebook marketing strategies your business can use to create brand awareness and increase revenue and sales. If you'd like to speak with a social media specialist before reading on, you can reach us at 888-601-5359.
Guide to
Social Media Marketing for Businesses
Recommendations and tips straight from our subject matter experts!
Get My Free Guide
1. Post informative updates
Posts are crucial to a Facebook marketing strategy for business. They provide constant content for your followers and keep them up to date with your company.
Whether you're a heavy equipment distributor or run a bakery, updates are a great way to keep your customers up to speed with your company.
Updates could list holiday hours for your business, entertain your audience, let fans know about a new product, or announce sales and events.
When you provide updates for your followers, you let them know that you are active on your account and encourage them to engage with your business by liking, commenting, or visiting your site.
2. Share links to blog posts and site content
However, there isn't just one kind of post you should be publishing. There are numerous options for the kinds of posts that you share, and each can provide something unique for users.
Not only are blog posts great for your website's content marketing strategy, but they're also great for sharing on Facebook.
When you share links to your recent blog posts, your Facebook followers will have the chance to visit your site and read them – creating more steady traffic to your website.
You can even gain followers based on steady blog posts on your Facebook page – especially if they're shared often by your friends.
When you share your blog posts on Facebook, you should always accompany the link with an image so that it catches users' attention as they scroll through their newsfeeds.
3. Create must-share infographics
Infographics are one of the best kinds of posts to share on Facebook. These types of graphics take complex ideas and topics and present them in an engaging, easy-to-understand way.
Users often enjoy looking at infographics because they're visually interesting, and catch their eyes while scrolling through their feed.
It also takes much less time to gain knowledge from an infographic than it does from reading an entire article on the subject.
Infographics are also easily shareable, which can attract even more users to your Facebook account, and eventually to your website and storefront.
4. Re-share relevant industry content
No matter what industry your business is a part of, sharing news and articles about it with your followers can be a helpful addition to your Facebook social media strategy.
By sharing information about your industry from authoritative sources, your followers will begin to rely on you for important industry information.
For example, if you own a bakery, and you share a new icing technique from a well-known baker, your followers may find it interesting, and could even learn something from your page.
By sharing your own informational content and content from other well-known industry leaders, you'll become a point of reference to potential and current customers.
5. Launch special offers
Everyone loves a special offer.
You can share coupons, discount codes, contests, and other offers as a part of your Facebook marketing strategy to increase customer engagement with your content.
For example, you could share a coupon at no cost, or you could also ask that friends first share your post to unlock a special offer via email. This allows friends of your friends to also see your content, and the friend that shared your post will be happy with their coupon!
Special Offer Success Story: WebFX created a contest for Giordano's Pizza related to tax deadlines in April.
The contest, titled "Get Your Dough Back" offered $5 off an order if users completed a survey by the tax deadline, April 17. The contest was installed to Giordano's Facebook page. The WebFX social media team created engaging posts to share the contest on Giordano's Facebook Page and it drove over 360 entries with no advertising spend. Giordan's used the survey to gain useful customer feedback and information as well as add users to their newsletter!
6. Reference your Facebook account on other platforms
In order to get the most out of your Facebook marketing, potential customers need to know you have an account.
This means that whenever you have a chance to mention your Facebook profile in your content or on your website, you should do so.
Utilize social sharing buttons on your blog posts, article pages, and infographics, so that users can share your content with the click of a button.
You can also reference your page in email newsletters and the email signatures of employees, and encourage your subscribers to follow you for updates.
7. Reference your page in your physical storefront
One of the best Facebook marketing strategies is connecting your online presence to your physical presence by mentioning your Facebook page in your physical store.
You could encourage people to follow you on Facebook at the bottom of receipts, business cards, or even in-store signs with this Facebook marketing technique.
8. Use Facebook Messenger
Facebook is one of the best platforms to have conversations with current and potential customers.
You can chat about specific customers' needs using Facebook Messenger, and answer questions within comment threads.
Facebook Messenger presents a great opportunity to speak directly with your customers online. You can encourage users to contact you via messenger if they have any questions about your products, or your business in general.
You can even use the messenger feature as a kind of customer service that allows customers to contact you and get a direct response, this strategy is referred to as direct response marketing.
It also provides a great option for those who would rather not speak on the phone to a representative.
Facebook also provides the opportunity to create Messenger campaigns with the goal to create conversations with your targeted audience.
However, if you offer or encourage this option, be sure to respond to messages in a timely manner.
9. Reply to comment threads
Comment threads provide another way to connect with customers, and you can easily do your own form of reputation management in the comments section of your posts.
For example, if a user comments positively on a photo of one of your latest products, you should interact with them by thanking them for their interest and excitement. In doing so, you show users that you care for your customers.
On the other hand, if you find a negative comment, you can apologize for the situation and encourage the user to contact you via messenger to talk about the issue. When you face negative comments head on, it shows that you care about the happiness of your customers.
10. Like your followers' content
You should also take the time to look through posts that your business is tagged in so that you can like them, and see how users are discussing your business.
This allows you to thank customers for posting about your business, and it can even make them want to do so more often. This is extremely beneficial because users tend to trust posts from their friends and family more than those from companies and brands.
11. Create Facebook ads
Facebook ads are a great way to meet your customers where they're already looking.
You can craft your own Facebook PPC, or pay-per-click ad campaign using Facebook's built-in Ads Manager.
You can target your ads based on personal interests, purchasing behavior, and demographics, just to name a few.
Ads are a fantastic Facebook marketing technique because they're extremely useful in attracting users to your page and generating engagement on your posts.
ORGANIC OR PAID FACEBOOK ADVERTISING? SEE WHAT THE EXPERTS SAY
Why does Facebook marketing work?
One of the easiest ways to explain why exactly Facebook marketing works is simply the number of people that use it.
Even though all 2.3 billion Facebook users won't be part of your target audience, some of them are – and you can reach them by being active on the platform.
When you combine interesting, relevant posts with Facebook's advanced targeting options, you can reach a huge portion of your target audience without much effort, and on a modest budget.
BONUS READING: WHY WE THINK SIMON COWELL CRACKED THE CODE TO FACEBOOK MARKETING
WebFX is a partner businesses trust.
Hear from HydroWorx, who saw a 236% increase in organic sessions with WebFX services.
Watch the Video Testimonial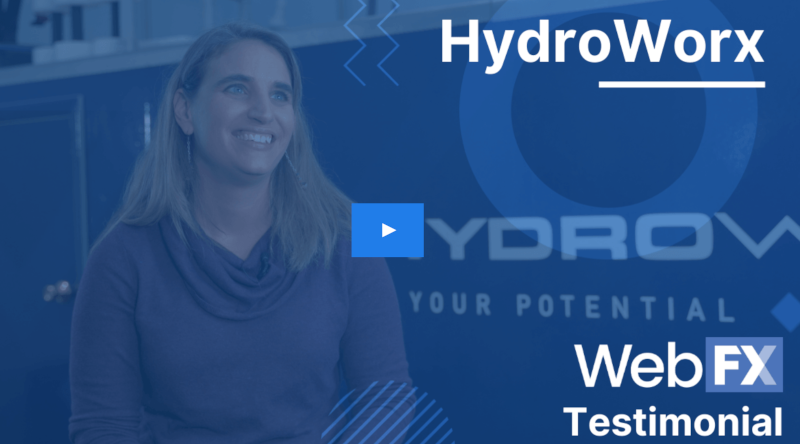 Are you ready to improve your Facebook social media strategy?
Facebook is no longer just a platform for users who want to stay in touch with their friends and family. It's also a great place to market your business online, connect and interact with customers, and increase brand awareness.
If you're ready to start marketing your business on Facebook and getting more value from your Facebook social media strategy, WebFX has you covered.
We have a full team of social media marketers who will work to create a custom Facebook marketing strategy for your business. We'll write posts to get maximum engagement, share your website content, and even set up ad campaigns to generate the best possible results.
As a leading Facebook marketing consultant, we've worked with clients in numerous industries, and we can't wait to work with you!
Contact us today for a free quote!