You're getting ready to hang a picture on your wall, but you have two different frames, and you're not sure which frame is best for your picture. What do you do? Odds are, you'll test both to see which one looks better.
The same principle applies to your digital marketing. If you want to compare two different ad designs or page arrangements, you can simply try out each one to see which performs better. This process is called A/B testing, and it's one of the best ways to improve your marketing campaigns.
You don't have to do A/B testing entirely on your own, either. There are plenty of A/B testing tools that can help your tests go more smoothly. But which tools should you use? Keep reading to find out!
Then subscribe to Revenue Weekly — our email newsletter — to receive more digital marketing tips from the agency with over 1,020 client testimonials!
7 A/B testing tools to use in your marketing
Although you can try to manage your split testing manually, using A/B testing software can help increase efficiency and make the process quicker. Here are seven split testing tools to try out in your marketing campaigns!
1. Google Optimize
Price: Free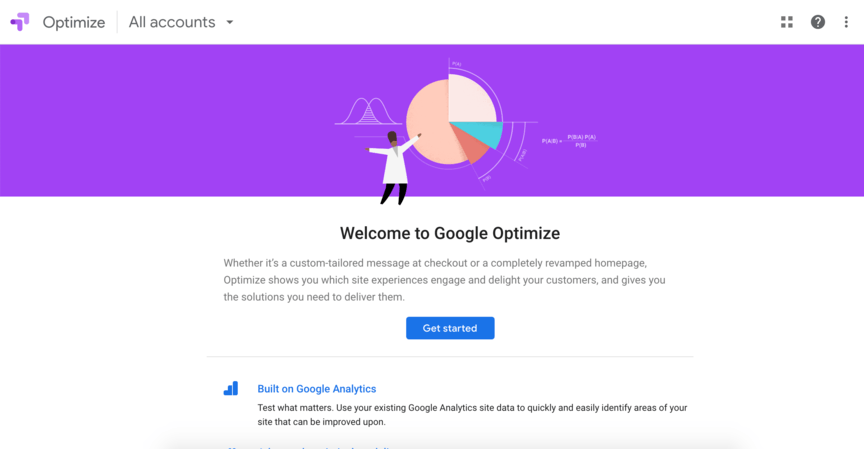 The first tool on our list is Google Optimize. Optimize is a very basic-level tool that helps you perform the essentials — but it's also free, making it a solid choice.
Google Optimize does more than just A/B testing, but that is one of the features it includes. More specifically, it lets you conduct A/B testing for your web design — you can try out different versions of pages, headers, calls to action (CTAs), and more.
It also carries the benefit of allowing you to test more than two versions at once. For the price, it's a particularly useful tool!
2. Optimizely
Price: Custom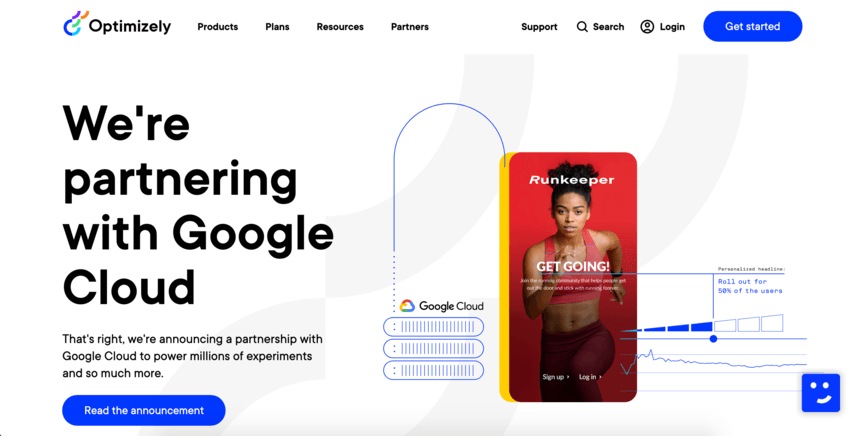 Optimizely is another tool designed to help you conduct A/B testing. It comes with a wider selection of features than Google Optimize, which is why it will cost you more money (their pricing is available upon request).
Optimizely enables you to test multiple elements on the same page at one time. You can run separate tests on the header, CTA, text content, and images of a single page all at once.
You can also use Optimizely to test some behind-the-scenes elements like cookies.
3. Adobe Target
Price: Custom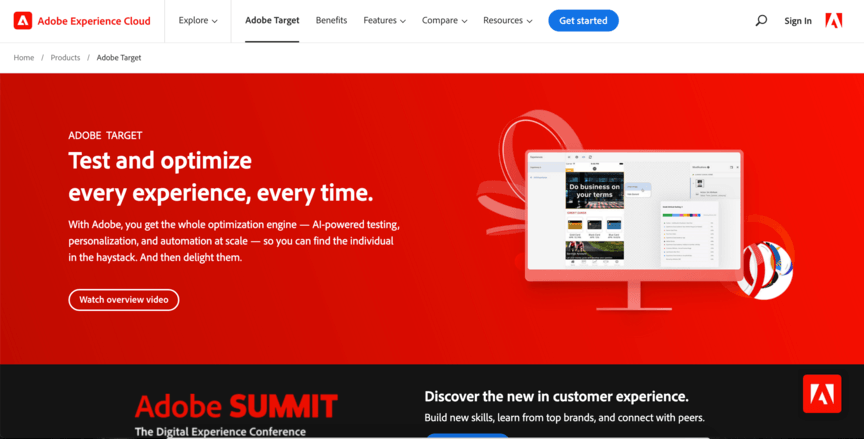 Adobe Target comes with many of the same A/B testing features as Optimizely. However, there are a couple of things unique to Adobe Target.
This A/B testing software is the ideal option for any business already using Adobe Analytics on its website. If that describes you, this tool might be the perfect choice for your business.
Adobe Target helps you automate the testing. Many tools give you an easy way to manage your testing, but you're still setting it up yourself. Target, however, has a self-learning feature, where it uses artificial intelligence (AI) to automatically adjust your content based on user behavior.
4. Google Ads
Price: Varies based on bidding
You may already be familiar with Google Ads. If you are, you know that it's not exactly A/B testing software — it's Google's platform for managing pay-per-click (PPC) advertising campaigns. But Google Ads has a wide range of features related to PPC, and A/B testing is one of those features.
The best way to harness split testing in Google Ads is to take advantage of ad groups. An ad group is where you put together a particular group of keywords and a few different versions of your ad. Google will then display different keyword-ad combinations from that group.
This process is built-in A/B testing. You can monitor your ads' performance to see which combos are working best — you might observe that Ad A drives far more clicks when paired with Keyword B than it does with Keyword C, and so on. You can then reoptimize as needed.
5. Freshmarketer
Price: $19+ per month
Another of the most useful paid advertising A/B testing tools is Freshmarketer. Rather than testing your ad copy, however, this platform is ideal for testing different versions of your landing pages.
Freshmarketer offers split URL testing, meaning you can create two separate versions of the same page and evenly split all your traffic between those two versions. You can then see which version of the landing page results in more conversions.
You can even use Freshmarketer to track exactly how much revenue your different landing page versions have generated!
6. Hootsuite
Price: $49+ per month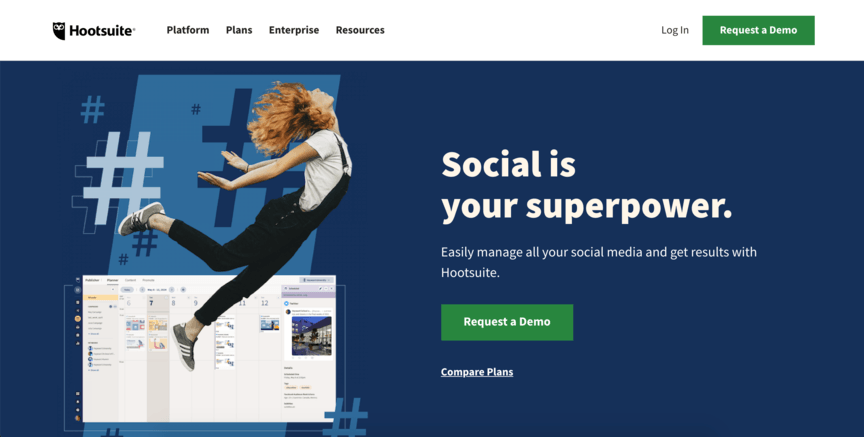 Like Google Ads, Hootsuite isn't actually a piece of split testing software. It's a social media management platform designed to help you run your social media campaigns more efficiently. However, you can still use it to improve the effectiveness of your social media A/B tests.
A/B testing on social media is fairly straightforward — you can test out different versions of a particular post or paid social media ad. Hootsuite helps you manage your posts and ads more smoothly, while improving the A/B testing process.
If you want to conduct split testing on your social media, don't try to do it all manually — get a tool like Hootsuite to help you manage it.
7. Apptimize
Price: Custom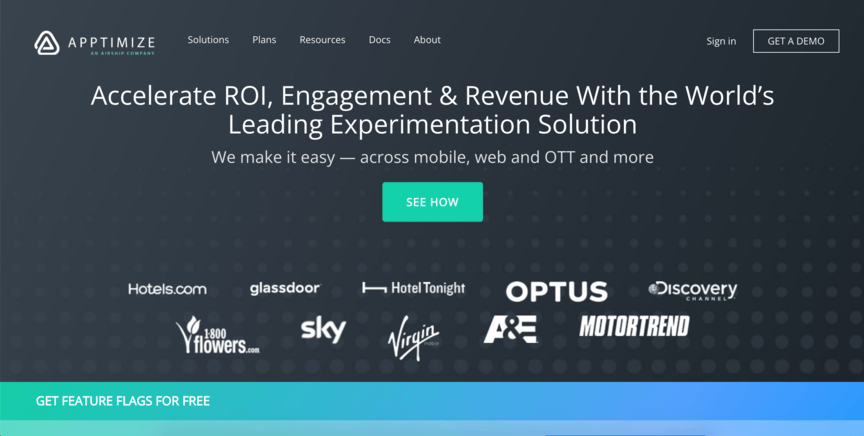 The last piece of split testing software on our list is Apptimize. This tool is designed specifically for mobile apps. Whether you run paid ads through third-party apps or have your own company mobile app, Apptimize can help you run A/B tests.
One of the standout features of Apptimize is the fact that it lets you compare insights across multiple platforms. For instance, you can compare ad responses on mobile apps versus on the web. You can also see if any server-side changes affect the front-end experience for mobile users.
We foster and form long-term partnerships so that your business has long-term results.
Over 90% of WebFX clients continue partnering with us into year 2 of their campaign.
Hear from Our Happy Customers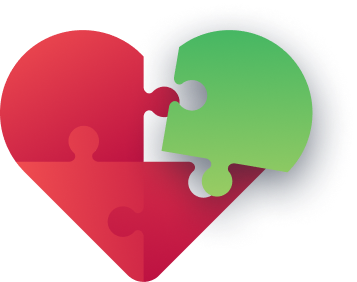 WebFX can help you get the most from your A/B testing software
Want a helping hand to show you the optimal way to manage your A/B testing tools? Partner with WebFX! We've been driving results through digital marketing for over 25 years, so we know what it takes to drive revenue.
When you partner with us for our digital marketing services, you'll get help running A/B testing referred to above. You'll also receive a dedicated account representative to keep you in the loop about everything we do for your campaigns.
To get started with us, just call 888-601-5359 or contact us online today!
WebFX Careers
Join our mission to provide industry-leading digital marketing services to businesses around the globe - all while building your personal knowledge and growing as an individual.