8 Tips on How to Make a Landing Page That Converts
If you want to attract and convert new leads, it's important to make creative, effective landing pages.
Many businesses use methods like search engine optimization (SEO), pay-per-click (PPC), and social media marketing to draw new leads to their site. For instance, if you're utilizing SEO, there's a good chance you are directing people to landing pages on your site. You need to create landing pages that will engage your leads and encourage them to act.
On this page, we'll provide you with eight tips for creating impactful landing pages that will earn your business leads and conversions. To learn more about how you can start creating these landing pages, call our landing page agency today at 888-601-5359 to speak with a strategist.
WebFX is a partner businesses trust.
Hear from HydroWorx, who saw a 236% increase in organic sessions with WebFX services.
Watch the Video Testimonial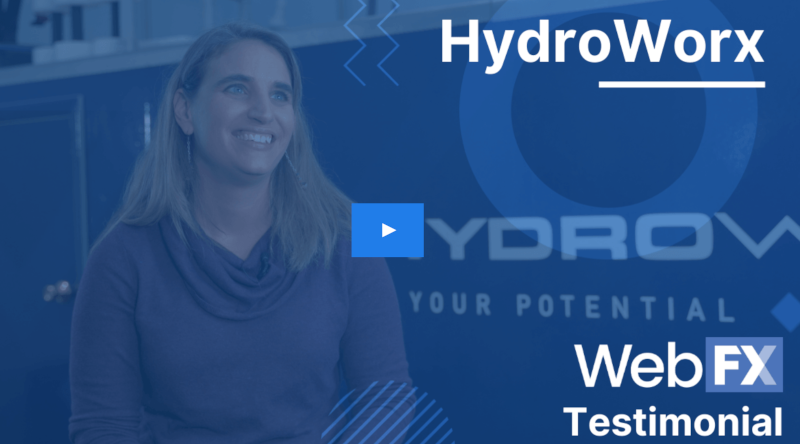 1. Make your landing page design clean and organized
First things first, what is a landing page? A landing page a standalone page specifically designed to capture leads or conversions. You arrive on a landing page after clicking a link in an ad.
Your landing page sets the first impression. Your visitors will see this page as a reflection of your brand and determine if they want to stay, so you should design it to make a positive impact on your visitors. You want to have a cohesive design that is simple and coincides with your business.
When you create your landing page, you should make it look clean and organized. You don't want people to come on to your page and feel overwhelmed with how much there is on your page, as this may cause them to leave quickly which will negatively impact your SEO efforts.
To design a clean page, you need to determine what information needs to go on it. Your landing page should contain only the post important information regarding your business. This will make it easy for your visitors to look at your site, find what they're looking for, and stay on your site longer.
One of the most important design features is your call to action (CTA). Whether it's a button or submission form, your CTA needs to stand out and catch your audience's attention but also flow with your design. In other words, you want your visitors to see it, but you don't want it to look out of place.
Aside from the CTA, another great design feature to incorporate is visual elements. Visual elements, like videos, have a huge impact on visitors. They break up text and keep your visitors interested in your page.
You will earn more conversions by including visual elements on your landing page. Videos have a huge impact on landing pages and can increase your conversion rate up to 80%.
Lastly, another essential element of your website's design is mobile-friendliness. Creating a more mobile-friendly website helps mobile users and desktop users have a page that adapts to their device. Include a responsive design for your landing pages so that everyone has the same experience on your site.
By incorporating a responsive design, you will provide users with a great experience on your landing pages.
2. Only include necessary information
When you create a landing page, you don't want to overload it with information. As we mentioned earlier, if you have too much information on your page, you will drive away leads.
You only want to include the most important information on your website. This isn't a place to include tons of promotional excerpts about your business and all your packages. Instead, you want to provide material that will help your visitors convert.
When you create your landing page, think about important information that will help your leads convert. What might make your leads want to try your products or services? How can you encourage them to try them? Create copy that avoids excessive text and gives valuable information.
Finally, your website should be easy to read so that your page visitors are not struggling to find what they need. When you include only the most important material, you prevent your visitors from having to comb through paragraphs of text.
When you focus on delivering only the necessary information, you will see better results with your landing page.
3. Make it about your visitors
When you are shaping the information to put on your page, you need to be mindful about the things you include that will convince them to convert. We'll discuss these options later.
Your pages should be created based primarily on the consumer, not only your business. Instead, focus on what you can do for them. People want to know how your business with benefit them, so include on what products or services they get out of choosing your company.
When you emphasize how your business will help your visitors, you will create a better landing page that will keep your target audience engaged.
4. Include testimonials and credentials on your landing pages
As stated previously, there are a few pieces of information about your business that you want to include to entice your leads to act. These are testimonials and credentials.
Testimonials are important because they build trust with site visitors. If people see that you have a lot of client testimonials, they will trust that you provide great service. Even though this is information about your business, it will help your leads convert.
They want to know that others have experienced success with your products or services. Client testimonials provide them with that insight. It is a great way to show how you can positively impact them with your expertise.
Another great piece to include is your credentials. If you've won awards, have certain certifications, or other important credentials, you want to show people those achievements. These shouldn't take up a large portion of your page, but you want to include them to help build your leads' confidence in your business. Achievements show your audience that you are doing something right.
These two pieces of information can help your leads decide to act. When they see your client testimonials and credentials, they will be more inclined to choose your business.
5. Put a CTA in the header
The header is one of the first things a person sees when they look at your site. They immediately look at the top of your page, so this is a great place to put a CTA.
Your CTA can simply be a button to get a quote, call your business, make a purchase, or other actions. If you want users to act, you need to include a CTA to guide them towards taking that action.
You want to create CTA buttons that are noticeable at first glance. For example, make them a different color that pops against your website's background to help them stand out from everything else.
By including a CTA in the header and unique CTA's throughout your website, you will guide more leads to convert.
6. Make your forms short and simple
Many landing pages include sign up forms to get their visitors to act, such as make a purchase, download a guide, or sign up for an email list. Businesses use these forms to capture leads and earn conversions.
When you create these sign-up forms, you need to keep them simple. Request a name and email address to make it quick for your leads. If they want to download a guide or sign up for emails, they want to do it quickly and continue browsing.
Alternatively, when you start adding more information to the form, it turns people away. A long form will deter people from filling it out and you will lose leads rather than convert them.
By using a shorter form, you will capture more leads for your business. You can always follow up later to obtain more information about leads. For now, make it sweet and simple.
7. Test your landing pages
The most important thing you want to do is test your landing pages. If you put in all the time and effort to make a great landing page, you need to make sure it is effective.
You can do this by previewing your page. If it seems too busy or too plain, you'll need to make changes. Be sure to always preview your pages to make sure they look presentable.
Once you launch your page, you can see how your audience responds. Are they engaging with your site or leaving immediately? How does your audience respond to the page?
You can track the results to see where your website succeeds and where it falls short. This enables you to make the proper changes to create an attractive page for your leads.
8. Use multiple landing pages
Whether you use SEO, PPC, or email, you are drawing in leads from multiple channels. Since you capture these leads with different methods, you want to create multiple, customized landing pages that suits their experiences and needs to capture all of your leads effectively.
For example, social media users have a different experience than people who conduct Google searches. Because of this, it is beneficial to create landing pages for each type of lead gathering strategy you perform. While it can be expensive and take time, it is worth it to create a customized experience for your audience.
By using multiple landing pages, you will improve your leads' experience with your business.
Our digital marketing campaigns impact the metrics that improve your bottom line.
See More Results

WebFX has driven the following results for clients:

$3 billion
In client revenue

7.8 million
Leads for our clients

5.2 million
Client phone calls
WebFX is a top digital marketing company
With an impactful landing page, you can earn new leads and conversions for your business. If you want to see maximum results, you need to partner with a company that will produce them. At WebFX, we know how to create successful landing pages that drive results for your company.
We're a full-service digital marketing company that specializes in creating impressionable landing pages. We have a team of 500+ experts that are dedicated to your campaign. They'll bring their knowledge and expertise to help you create landing pages that entice your leads to convert.
If you're looking for results, we know how to drive them. To date, we've driven over $3 billion in sales and over 7.8 million leads for our clients. We focus on putting our clients' success first.
Our clients love the work we do, too. In fact, we have over 1020 client testimonials from a variety of industries. Check them out to see what its like to partner with a top digital marketing company like WebFX!
Get started today
If you're ready to start earning more conversions with impactful landing pages, contact us online or call us today at 888-601-5359 to speak with a strategist!
We look forward to working with you!