If you've ever wondered how to advertise on social media, you've come to the right place! With so many platforms out there, how do you know the types of social media advertising that your company needs and how to utilize them properly? There are plenty of options out there and on this page, we'll talk about them all.
To learn more, keep reading, but if you'd like to speak with a marketing specialist, feel free to give us a ring at 888-601-5359!
Bonus Read: How to do a social media analysis to improve social success
Types of social media advertising
Worldwide, there are 2.82 billion social media users. It's no secret that social networking is one of the most popular online activities — also making it one of the best places for businesses to advertise their products and services. But what type of social media advertising will fit your company best?
We'll talk about that in the next section — but for now, let's talk about the types of social media advertising networks at your disposal.
Facebook advertising
You can find everyone from your high school crush to your long-lost cousins on Facebook, but did you know that Facebook is also a great advertising platform? Facebook comes with a proprietary ad platform that allows you to create ads in a variety of formats that speak to and engage your target audience. You can target your ideal customer by demographic, previous online activity, and even interests — making Facebook one of the best places to advertise.
Facebook's ad platform allows you to set a daily, monthly, or lifetime budget that you'll never exceed — your cap is the most money you'll spend on ads. From there, Facebook decides how to delegate your budget properly to get the most ad clicks. Facebook ad formats include:
Image ads
Video ads
Slideshow ads
Carousel ads
Instant Experience ads
Collection ads
Instagram advertising
Instagram is an image-heavy social media platform that also doubles as a great ad platform. Facebook owns Instagram, so the ad process is extremely similar. You can choose from a variety of ad formats that help you reach your target customer, and target them based on demographics, location, interests, and online behavior.
Instagram ad formats include:
Stories ads
Photo ads
Video ads
Carousel ads
Collection ads
Ads in Explore

Snapchat advertising
Snapchat is a unique social media platform that allows you to post content that expires quickly. For example, if you send an individual a Snapchat, users decide exactly how long the recipient can look at a specific snap, and once it's gone, it's gone for good. (Unless you take a screenshot, that is.) Snapchat stories, on the other hand, expire after 24 hours and users can view and access them as much as they want during that timeframe.
Snapchat advertising allows you to set any budget cap, and with their Ads Manager, you'll never overspend. Snapchat ad formats include:
Snap ads
Collection ads
Story ads
Lenses
Filters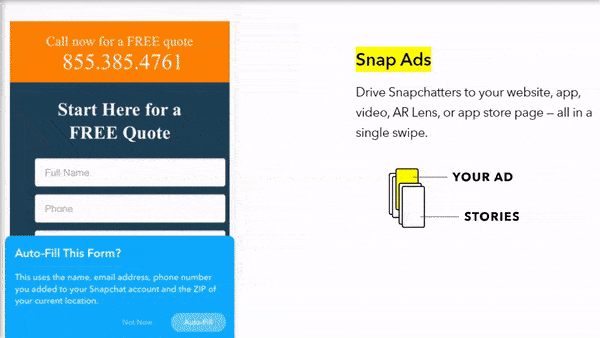 Twitter advertising
Advertising on Twitter is a great way to get more website traffic, boost brand awareness, and increase leads. You'll target users with your ads based on keywords, demographics, interests, and more — making it one of the easiest platforms to reach your ideal customer. There are a wide variety of ad formats on Twitter, and when we say wide variety, we mean wide variety.
Here are a few Twitter ad formats:
Image ad
GIF ad
Plain text ad
Promoted video
In-stream video ads and sponsorships
Website card
App card
Direct message card

LinkedIn advertising
LinkedIn is a great professional network, but it's also a great place to reach future customers. You can promote partnerships and events while increasing awareness for your brand when you advertise on LinkedIn. You'll also have a huge professional user base that you can target by job title, industry, gender, age, and degree — to name a few.
As you might have guessed, LinkedIn, like other platforms, also offers a wide range of ad formats to help you engage the right audience. LinkedIn ad formats include:
Sponsored content
Sponsored InMail
Text ads
Choosing your platforms
How do you know what platforms will work best for your business? There are a few aspects you can determine upfront to help you make some guesses as to which type of social media platform will work best. However, it's best to test your ads on a variety of platforms to see which one delivers the best results.
Here's a basic guide to help you decide the best social media advertising platforms for your business:
Advertise on Facebook if:
You want to appeal to one of the biggest social media audiences
You want to advertise a specific product or service
You want to boost brand awareness
You want to chat directly with customers via messaging
You want to increase clicks to your website
You want to target based on interests and online behavior
Advertise on Instagram if:
You want to advertise a variety of products in one ad
You already advertise on Facebook
You want to chat directly with customers via messaging
You want to appeal to new target audiences
You want to retarget
Advertise on Snapchat if:
You want to make geofencing part of your advertising strategy
You want to advertise a specific event
You want to try selling one specific product or service
You want to target primarily millennials
Advertise on Twitter if:
You want to try a wide variety of ad formats
You don't want to spend a lot of money
You want to boost brand awareness
You want to increase website traffic
Advertise on LinkedIn if:
You want to advertise to professionals
You want to advertise to a specific income level, degree level, or industry
You want to advertise an event or conference
Bonus Reading: How to Rebrand Your Social Media
How to advertise on social media
Now we get to the biggest topic of all — how to advertise on social media. We've broken down the steps it takes to create the best social media advertising strategy below. We also have the steps outlined in a video!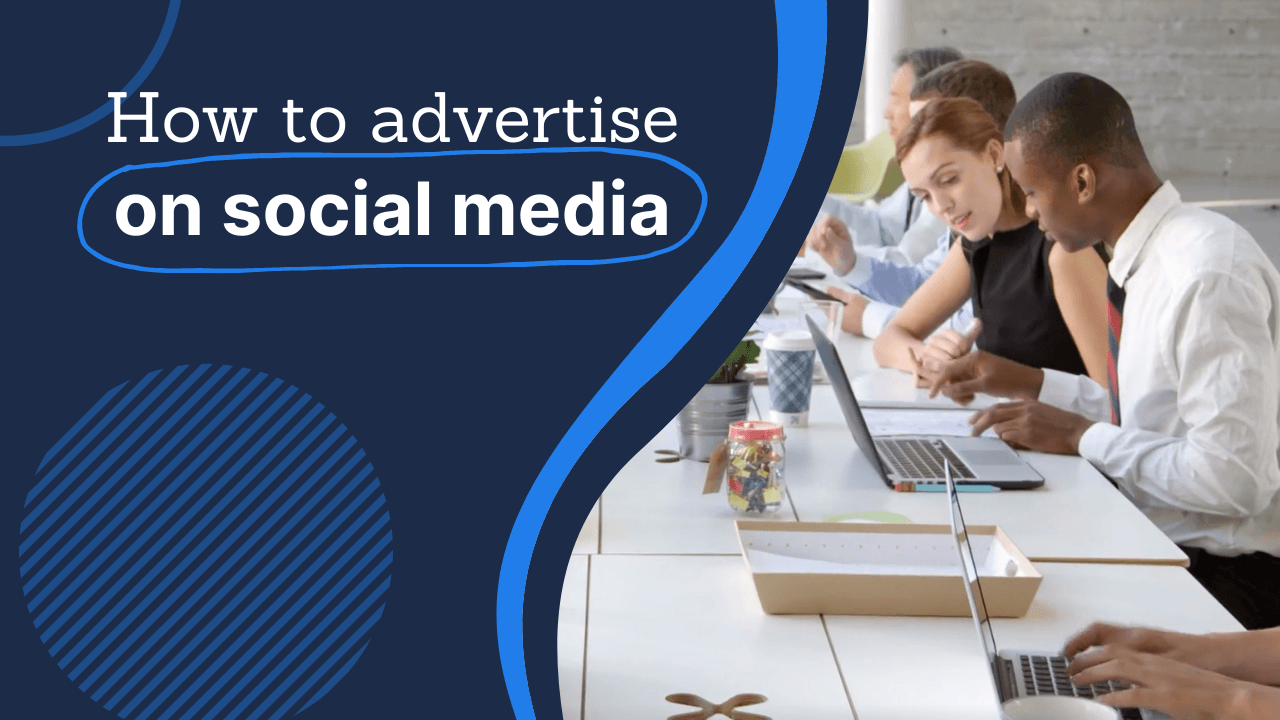 Step one: Choose your platforms
We've outlined above a few reasons why you should choose each platform.
Keep in mind that you'll be most successful with social media marketing if you use more than one platform for your advertising strategy. The more audiences you can get your ad in front of, the better. Start your social media advertising strategy by nailing down what platforms you want to advertise.
Step two: Create an audience persona
It's time to get creative.
The second step is to create an audience persona for your ideal customer. This persona will help you determine exactly what qualities you want to target and will help you decide which social media advertising platforms work for you. For example, if you want to advertise a huge event that you have coming up that caters to senior college students, LinkedIn would be a fantastic place to advertise — simply because of the marketing persona that you created.
Similarly, if your ideal customer is a millennial that lives on their own and has a job, Snapchat would be a great place for you to advertise. Your target persona should include things like:
Age
Gender
Specific location
Degree
Marital status
Interests
Online behavior
Job industry
Step three: Decide on your ad budget
Another important step in your social media advertising journey is to decide on your ad budget. This step is crucial because skipping it can cause you to spiral out of control in the finance department. Ads can suck up a lot of spend if you allow them to, which is why it's so important to choose a budget and stick to it.
You should start by determining an overall ad budget — you'll divide this amount among all your platforms after you decide which are best for you. Setting this overreaching ad budget will help you stay on track and give you a spending cap to keep in mind.
Step four: Determine your goals
What do you want to accomplish with your social media ads? Are you looking to drive more traffic to your website, sell more products, or improve brand awareness?
Maybe you want to do all three! Whatever the case may be, determining your ad goals upfront will give you something to work toward. If you're not accomplishing those goals with the ad strategy you start with, you'll know its time to change up your strategy.
Step five: Decide if you'd like to hire a social media marketing company
If you run your own business, taking over your ad strategy might be more than your plate can handle.
In that case, many business owners turn to social media marketing agencies to help them design, craft, and launch their social media ads. Not only that but when you work with an agency you get the added benefit of advertising advice based on years of experience.
Time to Level Up Your Sales
Our long list of services helps you grow every aspect of your business with marketing strategies that are proven to increase bottom-line metrics like revenue and conversions.
In the past 5 years, we've managed more than 12.9 MILLION transactions across our client base.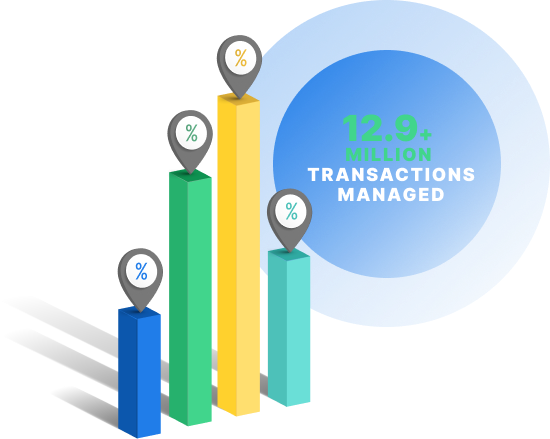 WebFX can help teach you how to advertise on social media
If you're looking for an in-house team of social media advertising experts who are experienced with all types of social media advertising, WebFX is here for you.
We're known for the insane results we drive for our clients, our extensive portfolio and our more than 550 client testimonials. But most of all, we're known for the relationships that we forge with our clients. We're not looking to take over your company's social media endeavors, we're looking to become an extension of your marketing team.
We'll get to know your business and care for its success like it's our own — because it is. If you're interested in learning how to advertise on social media from the experts, WebFX social media managers are here to help. Contact us online for a free quote or give us a call at 888-601-5359 to learn more!
How is your website's SEO?
Use our free tool to get your score calculated in under 60 seconds.
Get posts by email
Join 200,000 marketing managers and subscribe to Revenue Weekly!
"*" indicates required fields
WebFX Careers
Join our mission to provide industry-leading digital marketing services to businesses around the globe - all while building your personal knowledge and growing as an individual.