Did you know that 59% of people say that email influences their purchasing decisions? Email marketing is a valuable lead nurturing strategy — but only if subscribers engage with your marketing emails.
Email marketing engagement is a measurement how subscribers engage with your marketing emails. You can measure email marketing engagement using open rate, click activity, referral traffic, conversions, and more.
Keep reading to learn how to improve your email marketing engagement rate:
And if you want to get the latest tips and tricks for marketing your business online, join 200,000+ savvy marketers by subscribing to Revenue Weekly!
6 effective ways to improve email marketing engagement
If you want to improve email marketing engagement, here are six tips to help you see better results with your emails:
1. Create eye-catching subject lines
Your subject lines have a significant impact on whether subscribers engage with your email content. In fact, 47% of subscribers open emails based on the subject line. If you're not catching subscribers' interest the minute they see your subject line in their inbox, they're not likely to engage with your emails.
To catch your audience's attention, you need to craft a subject line that makes them want to open your email and learn more.

Here are some best practices for creating open-worthy emails:
Personalize your subject lines by using the subscriber's name or using "you"
Create a sense of urgency ("FINAL HOURS for today's sale!")
Use humor
Use a cliffhanger ("You won't believe the deals we have…")
Takeaway: Creating compelling subject lines will help you get people to engage with your email marketing content.
2. Segment your subscribers
If you want to increase email engagement, segment your subscribers. When people subscribe to your emails, they're not all interested in the same things. Each subscriber has different needs, and the best way to meet those needs is to segment your subscribers.
You'll want to segment your subscribers based on their interests in your business. If you sell cooking supplies, you may have one group of people interested in your high-end stand mixers, while another set is interested in your pots and pans.
Grouping people together based on their interests and other defining information like demographics helps you deliver more tailored emails.
Your subscribers don't have time to waste with irrelevant emails, especially when they receive dozens of emails a day from different companies. When you personalize your information to your audience, they're more likely to engage with your emails.
Takeaway: Segment your subscribers to deliver only the information that matters to them, so they're more likely to open your emails and engage with the content.
3. Create informative email headers
Next to your subject line, your email's header is the most important element in making a positive first impression. If you get people to open your emails, you don't want to drop the ball with a lackluster heading.
If you want to improve email engagement, create an informative and engaging header for your emails.
You can take a similar approach with your headers that you do with your subject line. In this example from One Kings Lane, they used the subject line "Selected just for you –– take your pick!" and followed up with a header that said, "Finds you'll love."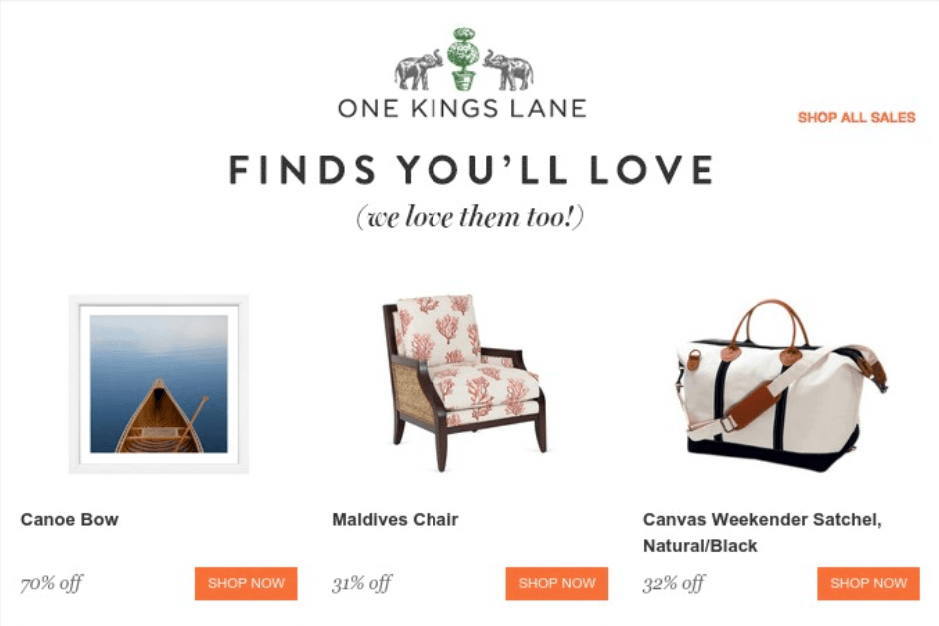 As you can see, the header further emphasizes that One Kings Lane picked out products that are most relevant to the subscriber. They also include a "Shop Now" button to make it easy for the subscriber to shop the picks.
Takeaway: Make your header just as engaging and relevant as your subject line. It will help you keep prospects engaged once they open your emails.
4. Get your timing right
If you want to increase email engagement, you may need to work on your timing. Sending emails at the right time of day can strongly impact whether someone engages with your email content.
Finding the right time will depend upon your audience. Even though 58% of adults check their email first thing in the morning, you may find that your subscribers behave differently. You'll want to experiment with sending your emails at different times of the day to see when you garner the most engagement.
You'll also want to consider what day of the week you send your emails, too. You may find that Tuesdays, for example, garner a lot of engagement, but Fridays don't. Figuring out the right time of day, as well as the best days, can help you garner more engagement with your email campaigns.
Takeaway: Make sure you're sending your emails at the right time of day and on the right day to maximize the chance that subscribers will engage with your content.
Pro tip: With email software like EmailMarketingFX, you can set up your emails to send at the right time in a subscribers' time zone!
5. Create one central call to action (CTA)
To increase email engagement, you need to create a centralized call to action (CTA). Your engagement rate can suffer if you ask your audience to do too much in one email, as they won't know how to proceed.
Imagine if you opened an email and saw multiple CTA buttons, each one of them guiding you to do something different. Which one would you click? The decision would be difficult, as you wouldn't know which one was the right button to select.
That's why you must stick to one central CTA. Having one CTA will keep your audience focused and make them more likely to click on the button to visit your website.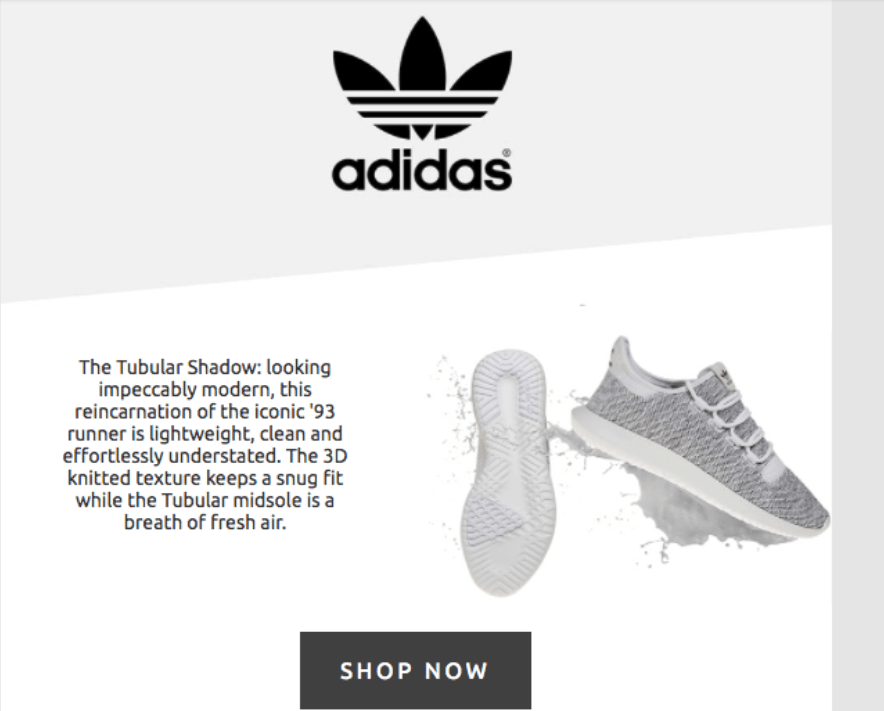 When you craft your centralized CTA, make sure it's descriptive and tells your audience what will happen next. Don't use a generic CTA like "Click Here." Instead, use a specific CTA like "Shop Our Clearance Sale."
Takeaway: Keep your emails focused by encouraging your audience to only take one or two actions. If you offer too many options, it can overwhelm subscribers.
6. Use video
If you're looking to get your subscribers to engage with your email marketing, try adding videos to your email. Videos can increase your clickthrough rate (CTR) by 300%!
Videos help you catch your subscribers' attention and get them to engage with your emails. Your video can focus on a new product you offer, helpful industry-related information, or a behind-the-scenes look at your company.
When you create videos and add them to your emails, ensure they're high quality and informative. You don't want to make a video just for the sake of having a video in your email –– it needs to add value for your subscribers.
Takeaway: Video is an excellent addition to your strategy if you're looking to boost email marketing engagement. Try creating informative videos that provide your subscribers with value.
WebFX can help you increase your email marketing engagement
When you're busy running your business, it's challenging to find time to create emails that engage and delight your audience. If you need help boost engagement with email marketing, WebFX can help.
Our team of over 500 marketing experts is ready to help you craft an email marketing campaign that drives higher engagement rates, translating into revenue. With our proprietary email marketing software, EmailMarketingFX, we can easily help you manage your email marketing campaigns.
Ready to drive more revenue with your emails? Contact us online or call us today at 888-601-5359 to speak with a strategist about our email marketing services!
How is your website's SEO?
Use our free tool to get your score calculated in under 60 seconds.
Get posts by email
Join 200,000 marketing managers and subscribe to Revenue Weekly!
"*" indicates required fields
WebFX Careers
Join our mission to provide industry-leading digital marketing services to businesses around the globe - all while building your personal knowledge and growing as an individual.