If you're trying to appear in search results on search engines like Google, you need to start doing keyword marketing. Keyword marketing is a valuable strategy for helping your site appear in search results, whether its organic listings or paid advertisements. On this page, we'll provide you with six tips for doing keyword marketing:
Keep reading to find out more about how to do keyword advertising!
What is keyword marketing?
Keyword marketing, also referred to as keyword advertising, is marketing your business through search engines. This strategy involves determining keywords most relevant to your company and optimizing to appear in these searches.
Keyword marketing can be done for search engine optimization (SEO) or pay-per-click (PPC) advertising.
How to do keyword advertising
If you want to know how to find keywords for advertising or marketing your business through search, check out these six tips!
1. Generate a list of topic ideas
To help you create a list of terms for keyword search marketing, start by generating a list of topics related to your industry and target audience. Making a list of topics can guide you in the right direction for finding relevant terms for your site. Let's say you own a bakery.
Some common topics of interest related to your business include:
Desserts
Pastries
Bread
Recipes
Baking techniques
Gluten-free baking
This list of ideas gives you a great starting point to start whittling topics down into more specific ones, which will help you find relevant keywords for your keyword marketing. If we look at the topic "baking techniques," you might think of multiple baking techniques like:
Kneading dough
Creaming butter and sugar
Separating eggs
Sieving
Folding
From that point, you can take each baking technique and think of terms related to it. For example, if you take the topic "kneading dough," you may think of a key term like "how to knead dough" and use that to help you find more related terms. As you can see, by creating a list of topics and working to narrow them down, you can find relevant terms for your business.
2. Use keyword research tools to help you find the right terms
To help you find relevant keywords, you need to conduct keyword research. Keyword research tools will help you find the right phrases for your page or ad campaign faster. You can use a free tool like KeywordsFX to generate a list of relevant terms.
Let's go back to the core term, "how to knead dough." If you plug that term into a keyword research tool, you get dozens of keyword suggestions: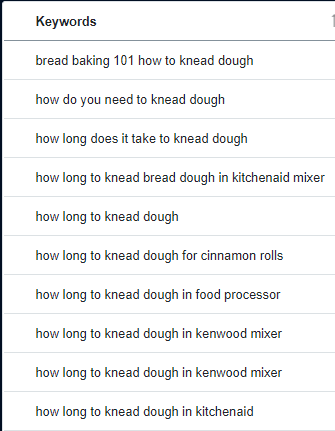 Based on the results, you can generate a list of relevant keywords for your topic of choice. Not to mention, using a keyword research tool can help you get inspired by other content topic ideas. When you look at additional keyword suggestions for "how to knead dough," you can see many keywords related to specific dough types.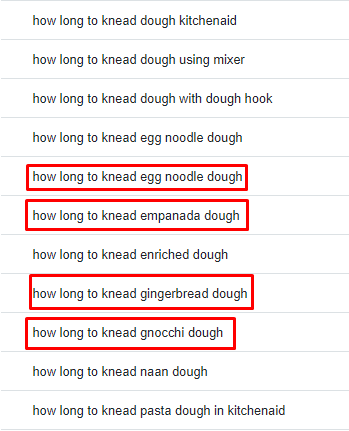 Seeing these keyword suggestions might inspire you to create another blog post that focuses on the time and methods for kneading different dough types. It's a great way to find additional keywords to rank for in search results.
3. Analyze the intent behind keywords
When you choose keywords for keyword advertising, make sure you check the intent of the keyword. You want to make sure you're choosing keywords relevant to your business and industry, plus matching the user intent behind those keywords. The best way to accomplish this goal is to search your keywords on Google.
If you search "how to knead dough," you can see that most of the results focus on providing steps for kneading dough. On the other hand, if you search a term like "gluten-free bakery," it generates local listings for nearby bakeries, lists of the best gluten-free bakeries in the area, and business pages for gluten-free bakeries.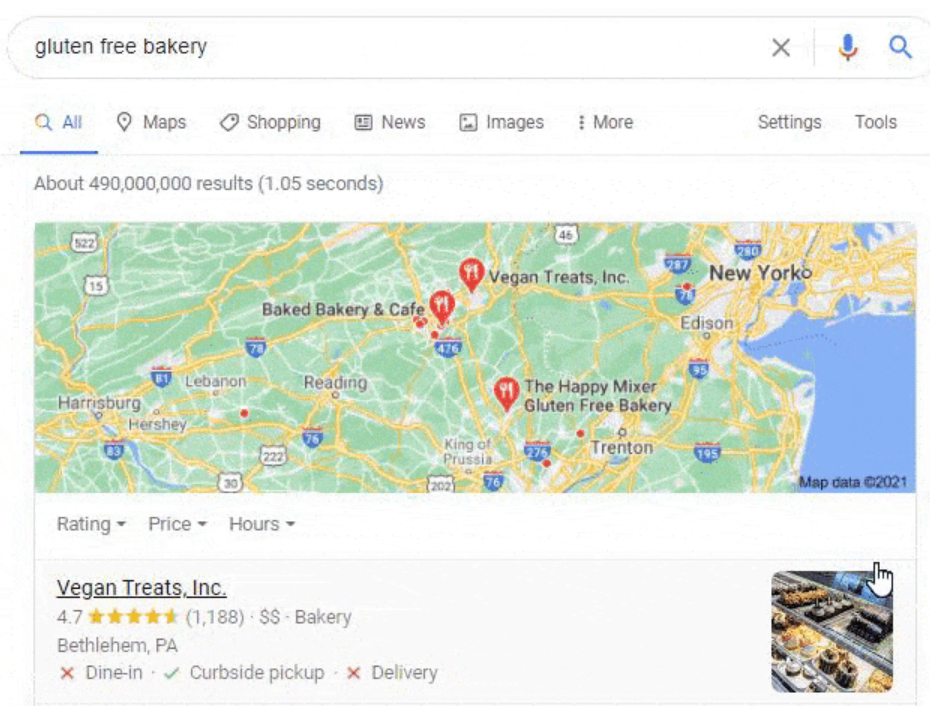 You always want to check the search intent to ensure you're integrating the right keywords into your site and creating pages that match what users hope to find when searching with those terms online.
4. Focus on long-tail keywords
As you search for advertising keywords, stay focused on long-tail keywords. Long-tail keywords are terms that contain three or more words, like "how to knead bread dough." Long-tail keywords are fundamental for both keyword marketing and keyword advertising. When you use long-tail keywords for keyword marketing, you help drive qualified traffic to your site.
People who search with long-tail keywords have a more specific search intent, so you know they're interested in your business. As for keyword advertising, long-tail keywords help you drive more qualified leads while keeping your costs down. Long-tail keywords are more specific, meaning fewer but more qualified leads search those terms.
These keywords keep your ad costs down and enable you to get more from your budget.
5. Create keyword groups
Once you find keywords for advertising, you'll want to create keyword groups or ad groups. Keyword groups enable you to stay organized and show the right ads to the right people. Additionally, grouping your keywords enables you to create more relevant ad content that applies to all keywords.
For example, if you were running an ad for "local gluten-free bakery" in Los Angeles, you might have a keyword group that looks like this:
Gluten-free bakery, Los Angeles
Gluten-free bakery in LA
LA gluten-free bakery
Los Angeles gluten-free bakery
Gluten-free baker in Los Angeles, CA
By grouping keywords together, you ensure that you make it easier for you to show your ad in multiple relevant search results. It helps you deliver relevant ad content for your keywords
6. Analyze your competitions' keywords
If you want to be successful with keyword search marketing, you need to look at what your competition does. You won't discover every relevant keyword for your business through keyword research — this part is where your competition can help. You can use a competitor keyword research tool, like SpyFu, to help you identify relevant terms for your business.
This tool enables you to see keywords you're missing that could be valuable for helping you attract more leads for your business. While you don't want to copy your competitors' strategy, tools like SpyFu can provide you with an opportunity to identify key terms you're missing that could potentially help you grow your business.
Get started with keyword marketing today
Keywords are fundamental to helping you appear in relevant search results. Whether you're doing keyword marketing or keyword advertising, identifying core terms will help you appear in relevant search results and drive more relevant traffic for your business.
Not sure how to get started? WebFX is here to help! With a team of over 500 marketing experts, we're ready to help you find valuable terms that attract more leads for your business!
Give us a call at 888-601-5359 or contact us online to learn more about our SEO services and PPC services!
WebFX Careers
Join our mission to provide industry-leading digital marketing services to businesses around the globe - all while building your personal knowledge and growing as an individual.