Facebook is one of the best places to advertise your products and services. With seven in 10 adults using the popular social platform, it's guaranteed that you're advertising to a huge pool of potential customers. But when it comes to organic vs. paid Facebook marketing, which is best? Should you stick to organic Facebook advertising, or should you branch out and invest in paid Facebook advertising? Get the answers to all of your Facebook advertising questions in this post!
Simon Cowell Cracked the Code to Facebook Marketing
Want to start marketing on Facebook immediately? Our social media experts at WebFX can help.
Give us a ring at 888-601-5359!
Organic vs. paid Facebook advertising: What's the difference?
Let's first chat about organic and paid Facebook advertising as separate entities and how they differ.
Organic Facebook marketing
What exactly do marketers mean when they refer to "organic" Facebook advertising?
Organic Facebook marketing refers to posts that you make on Facebook that don't have any budget behind them. Similar to search engine optimization, or SEO, you can rank highly in search engines without a budget (if you do it on your own without an agency.)
These are organic search results in Google because they're not paid for — they appear because they follow SEO best practices, and Google deemed them relevant and beneficial to users' queries.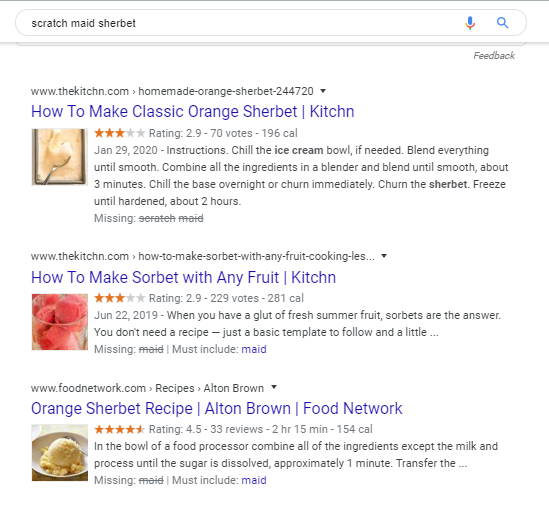 Similarly, these are organic Facebook posts, because they're also not paid for.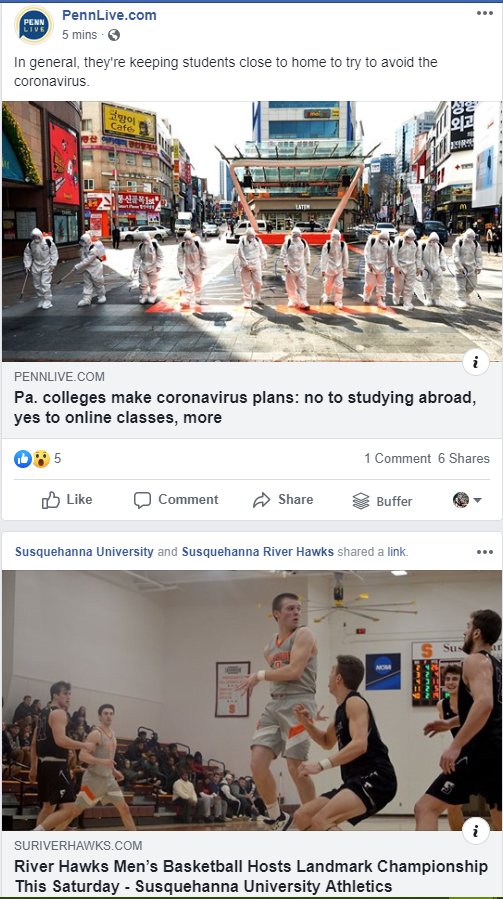 You can successfully market your business with organic Facebook marketing — in fact, it's crucial to your social success.
Paid Facebook marketing
With the option for organic Facebook marketing also comes the option for paid Facebook marketing. You can tell if a post is paid for by the "Sponsored" tag at the top of the ad. Here is an ad for Wix that showed up in my Facebook news feed.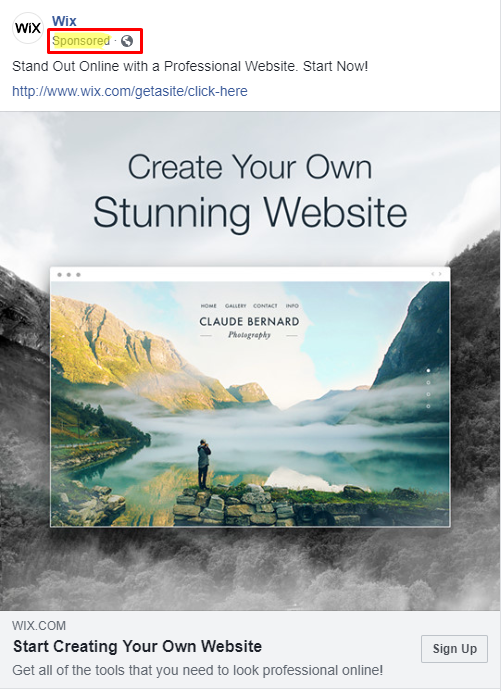 And here's one for Glossier that showed up in my right-hand sidebar.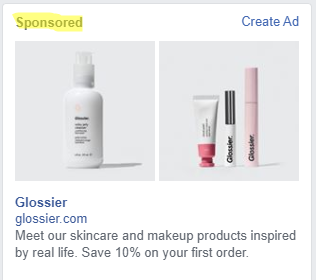 There are a lot of options when it comes to paid Facebook advertising. For example, they offer the following ad formats:
Photo ads
Right column ads
Dynamic product ads
Slideshow ads
Collection ads
Not only do Facebook paid advertising options offer a lot of ad types, but they also offer a laundry list of targeting options. But we'll get to that later!
Organic vs paid Facebook advertising: Pros and cons
Now that we've gone over the basics of organic and paid Facebook marketing, let's talk about the pros and cons of each.
Pros of organic Facebook marketing
There is a long list of reasons you should consider organic Facebook marketing. Here are a few:
It helps you build brand awareness: For users to see your organic posts, they have to follow you on Facebook. That said, when users follow you, they expect to see a steady stream of content. When you post organically, it helps you build brand awareness since you'll consistently show up on your followers' timelines.
It keeps your company top of mind: When you constantly show up in user timelines, you'll stay top of mind. Unlike companies that don't post organically to Facebook, you'll regularly remind your followers that you exist.
It helps create a strong social presence: If users come to know you outside of Facebook, for example, if they see you first in Google search results, they'll likely try to find you on social media platforms. If you don't post organically, there won't be any content on your page for users to look back on.
It fills the gaps where ads don't show up: It's crucial to keep your audience up to date — especially about things that you don't advertise. There is a lot more going on at your business besides the product that you choose to advertise that month. You can use organic Facebook marketing to update users about changes to your products, upcoming events, links to your blog, or even witty thoughts to keep them engaged.

Thrive Market, for example, provides a link to their website for tips on how to cook scallops. This isn't a paid post, but it's an organic one that keeps users engaged via Facebook.

You can start conversations with organic posts: When you post something organically, users can engage by commenting. When they comment on your post, you can reply back and forth to start conversations with your audience — providing a certain level of customer service and building trust.
Cons of organic Facebook marketing
Users have to follow you to consistently see organic posts: For users to keep up with all the witty, fun, traffic-driving content that you post on your Facebook page, they have to follow you. They might, by chance, see your organic content if one of their friends shares something that you post, but other than that, they won't see a steady stream of your posts. Not to mention, the ever-changing algorithm has made it harder to show up organically in users' feeds.
You can't target users with organic posts: Aside from explicitly stating the target audience for a post ("Calling all strawberry fans!" or ''Listen up, teachers!"), you don't have targeting options when you post organically on Facebook.
Pros of paid Facebook advertising
There is an equally long list of reasons that we love paid Facebook advertising:
You can choose from a variety of formats: As we mentioned earlier on this page, there is a wide variety of ad formats to choose from. Whether you want to advertise a product with a video of how to use it or post an Instant Experience ad to immerse your audience in a service you offer, Facebook ads can help you do it.
You can target users and there are loads of options: One of the biggest pros of paid Facebook advertising is the fact that you can select exactly who you target. This means that you get your products and services in front of the users who are most interested and most likely to buy. In the long run, that means more sales.
You can drive leads and make sales cost-efficiently: When you opt for paid Facebook ads in the battle of organic vs. paid Facebook marketing, you can rest assured that you're opting for a cost-effective way to drive leads and make sales. You're able to set a specific cap on how much you spend on ads per day or in your ad's lifetime — meaning you'll never overspend.
You can increase revenue: The sentiment "you get what you pay for" is especially applicable to Facebook ads. Since you're paying to get your products and services in front of your target audience, you can expect improved revenue year over year.
Cons of paid Facebook advertising
You need to dedicate time to analytics: When you use Facebook ads, you'll have to carve out time to consider the analytics of your campaign. If you don't, you could be wasting valuable marketing budget on ads that don't' deliver.
You can waste your budget if you're not careful: If you're not well-versed on Facebook paid advertising, it's easy to wither away your marketing budget. It's ideal to work with a professional Facebook marketing agency to help you manage your ad spend.
Organic vs. paid Facebook marketing: Which do you use?
In a battle of organic vs paid Facebook, you might be wondering which will bring you the best results. The truth is, without each other, it's unlikely you'll see astronomical results — each works with the other to drive amazing results for your company. When you opt for only organic Facebook marketing, you won't be able to reach your target audience with ads that outline your product or service offerings.
On the other hand, when you only opt for paid Facebook advertising, you won't have a robust Facebook presence — making you untrustworthy to users.
To make Facebook an asset to your business, you should consider using both organic and paid marketing.
Looking to dive into organic and paid Facebook marketing?
If you're ready to start driving website traffic, leads, and conversions with Facebook, WebFX can help. We've been driving real results for clients for over a decade, and our social media specialists know the ins and outs of social media marketing. Not to mention, we're also a Meta Business Partner!
Contact us online for a free quote, or give us a call at 888-601-5359 to get started today!
How is your website's SEO?
Use our free tool to get your score calculated in under 60 seconds.
Get posts by email
Join 200,000 marketing managers and subscribe to Revenue Weekly!
"*" indicates required fields
WebFX Careers
Join our mission to provide industry-leading digital marketing services to businesses around the globe - all while building your personal knowledge and growing as an individual.