Social Media

6 Social Media Best Practices for Small Businesses
6 Social Media Best Practices for Small Businesses
Owning and managing a small business takes time and effort. The same can be said for managing a small business's social media accounts. When you use best practices to understand your audience, set the right goals, engage with users, create content, and leverage ad targeting, you can take your small business's social media marketing to the next level. By taking things one step at a time, you'll be better prepared to launch a social media campaign and connect with potential customers that you haven't reached yet!
Keep reading to learn more about the six social media best practices for small businesses!
74% of people use social media when making a purchasing decision.
Make their decision easy with a stellar social media presence. See how your brand can level up by requesting a no-obligation proposal today.
One of our experts will be in touch within 24 hours!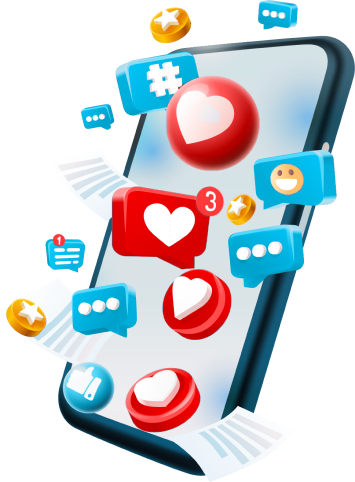 1. Identify your target audience on social media
Knowing your audience for any marketing campaign is a crucial starting place to shape your messaging, tone, and marketing efforts. However, you can dig deeper into insights about your social audience on each platform when exploring social media marketing. Social media platforms each have a version of audience insights where you can see more about the demographics of your audience that is specific to that social network.
Exploring information such as age, gender, interests, income, and education about your audience can help you find the right approach to take on each platform. For example, below you can see Audience Insights from the WebFX Facebook. From this information, we know we want our messaging to appeal equally to men and women in the 25-44 age range.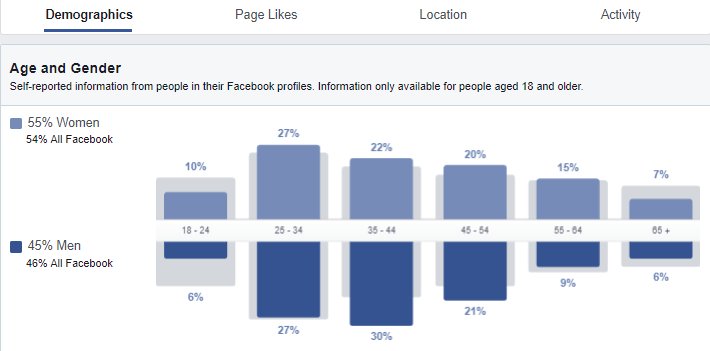 2. Set goals for social media
Once you dig deeper into who your audiences are on social, it's important to define goals for your small business on social media. Think about how your social platforms can influence potential customers and current customers along the buyer's journey. Are you going to use social media to generate awareness for your small business or use it to build loyalty with existing customers?
You can have multiple goals for your social media marketing if you have the time, staff, and effort to work to meet all those goals. We recommend starting with your most important goals and doing those well, before biting off more than you can chew!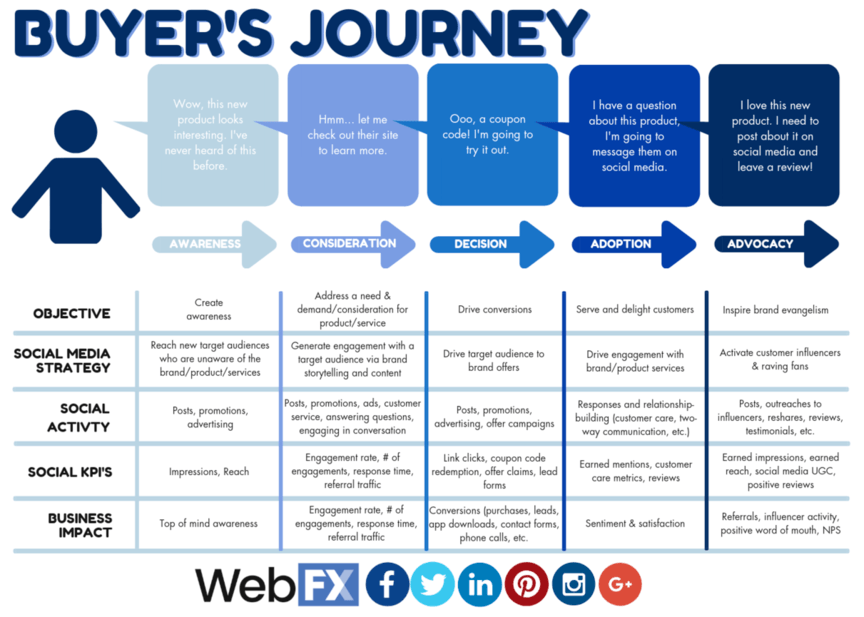 According to Sprout Social, the top three goals among social media marketers are:
Increase brand awareness
Increase community engagement
Increasing website clicks
No matter what your goals are, you should consistently engage with your audience.
3. Actively engage with your audience
It's called social media for a reason! Too often, we see businesses create accounts, schedule content, and say "Ok, our job is done! We've got a social media presence." Being active with your audience on social media is the key to building relationships and trust with your social audience.
On social media, your audience includes current and potential customers, so you want them to perceive your business positively.
Choose the right platforms.
Just because a social platform exists, doesn't mean your small business needs to use it. We'd rather see a small business only have a Facebook page and be super engaged, answering questions and responding to comments constantly vs. having a Facebook, Twitter, LinkedIn, and Pinterest and barely checking any of them or creating valuable content on a regular basis. As a small business owner or employee, you have a lot to manage already, so taking on only the social accounts you can manage is important to make sure you can do it successfully! To decide which platforms are the best fit for your small business, take another look at your target audience and goals.
If you want to reach parents with your monthly events, Facebook can be a great fit. If you want to reach millennials with engaging visual assets, you might want to be posting and engaging with users on Instagram. If you want to reach other businesses and share industry news, LinkedIn might be the right social platform for you.
Keep accurate business information.
Keeping your pages up to date might seem like a no-brainer social media idea for a small business, but it's often overlooked!
When is the last time you did an audit of your social accounts to review your about information, bio paragraph, hours, address, contact info, and more? It's important to make sure all information across your platforms is consistent. This applies to your cover and profile photo, too, to increase your brand identity across platforms.
Any time your small business makes an update, transfer that to your social media accounts. If you update your slogan or change your business hours, make updating social media accounts a part of that change, too. Nothing says, "We're distant and unresponsive" like outdated information on social media.
Monitor engagement and activity on your accounts.
In addition to keeping information on the up and up, staying active on your accounts shows your audiences you're accessible, responsive, and care what people have to say.
Engagement doesn't have to take a lot of time or effort. A simple like and short response can go a long way! Areas to monitor daily, two to three times per day, include but aren't limited to:
Facebook

Comments
Shares
Messages
Mentions
Check-Ins
Tagged photos
Reviews and recommendations

Twitter

Replies
Retweets
Mentions
Messages

Instagram

Comments
Mentions
Tagged photos
Direct Messages

LinkedIn
Pinterest
Google
4. Start and respond to conversations via private messages.
We mentioned messages as an area to monitor above but feel strongly about putting more emphasis on this area for small businesses on social media. Private message outlets across each platform are becoming more commonly used by customers to reach out and interact directly with small businesses. We recommend taking a reactive approach to respond to every incoming message.
On the flip side, we also recommend being proactive with messages. When someone comments and you need to take the conversation to a private platform or need to get more detailed information, start a private message or request the user starts one. Facebook currently shows an average response time for pages that respond quickly to messages, which is a great opportunity to show your responsiveness.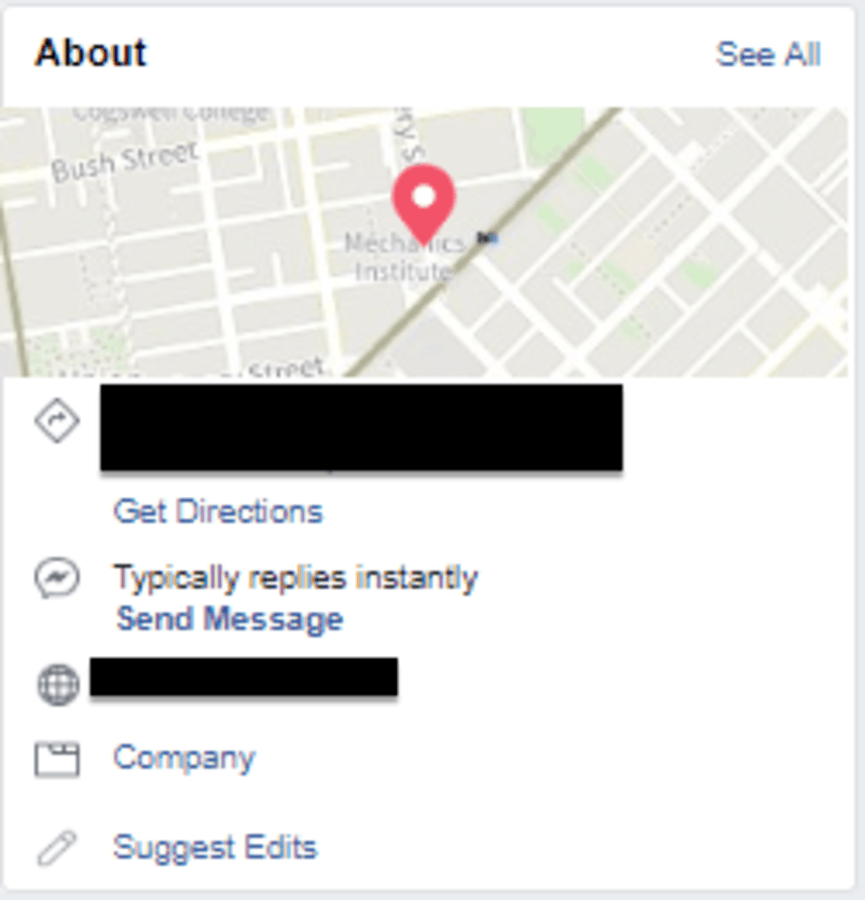 5. Create content that sparks meaningful interaction
The top two reasons people unfollow businesses on social media? They share too many informational posts or information that isn't relevant. The number one reason a user unfollows a business is that they share too many promotional posts, followed by sharing information that isn't relevant.
To avoid both common pain points, share and create content that creates meaningful interactions. Try asking your audience their opinion on a topic that they feel strongly about or asking people to vote for their favorite product of yours. With this type of content, you'll be interacting with your audience to create relationships, learn about them, and increase your reach, especially on Facebook because of the meaningful interaction and its influence on algorithm placement.
Be consistent.
Consistency is also a factor for social algorithms.
Stay consistent with your content to build on your progress with content and interaction with your audience.
Quality over quantity.
Consistency is key, but each post you share on your social media for your small business should be high quality and have a purpose. Avoid posting just to post. Post with intent to engage your audience.
6. Leverage ad targeting to reach potential customers
A small business can leverage the unique aspects of different social advertising platforms to reach its target audience. Every social platform offers targeting by location, age, and gender. Additionally, each platform offers advanced targeting, sometimes based on interests, demographics, keywords, and more to hone in on the audience that you want to reach.
A great place to start for small businesses and social media advertising is with engagement or traffic campaigns to boost interaction from audiences or drive users to your site to learn more about your business.
Managing your small business social media campaign
Small businesses can benefit from social media by increasing awareness, engaging audiences, and reaching new people with advertising by following important best practices. Knowing how to manage social media for your small business can be a big commitment for your internal team.
Do you need help with your social media campaign? WebFX can help.
Whether you're looking for social media services in D.C. or a social media campaign in Tampa, we've got you covered. Give us a call today at 888-601-5359 to learn about our SMB social media services!
Karley is a Social Media Analyst who loves volleyball, yoga, & donuts. Follow her on Twitter

@icekarleyr

.

WebFX is a full-service marketing agency with 1000+ client reviews and a 4.9-star rating on Clutch! Find out how our expert team and revenue-accelerating tech can drive results for you! Learn more
Twitter and Facebook Status Generator
Finding engaging social media content for your business can be difficult. Use our tool to quickly find ideas and post directly to your page.
Give Me an Idea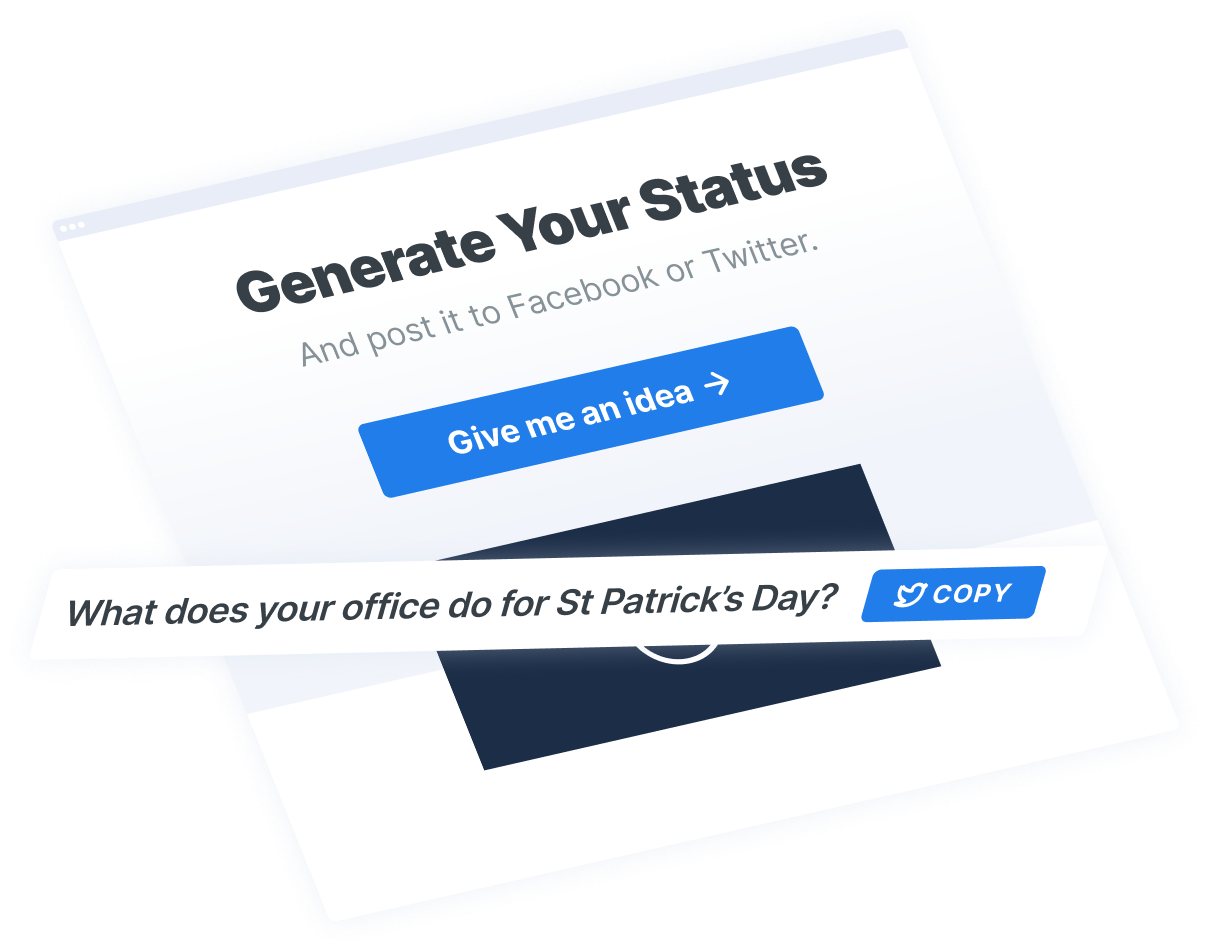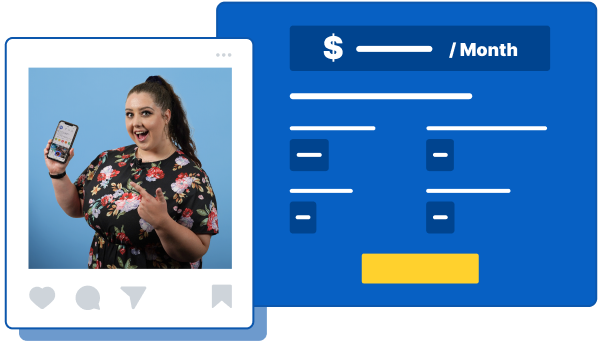 Twitter and Facebook Status Generator
Finding engaging social media content for your business can be difficult. Use our tool to quickly find ideas and post directly to your page.
Give Me an Idea