Your Ultimate How To: Social Media for Business
Social media has come a long way from MySpace and AOL Instant Messenger — something that was once only meant for connecting with friends and family online has turned into a place to sell goods, build a brand, and even become famous.
Social media platforms like Facebook, Instagram, LinkedIn, Twitter, and others have become a popular hub for businesses to advertise their products and services, which has a lot of people asking, "How can I use social media for business?"
On this page, we'll talk about how to use social media for business successfully, different social platforms for business, social media for business tips, and so much more.
If you're ready to dive in, keep reading! Or, if you'd like to speak to a marketing specialist about social media for your business, give us a call at 888-601-5359
74% of people use social media when making a purchasing decision.
Make their decision easy with a stellar social media presence. See how your brand can level up by requesting a no-obligation proposal today.
One of our experts will be in touch within 24 hours!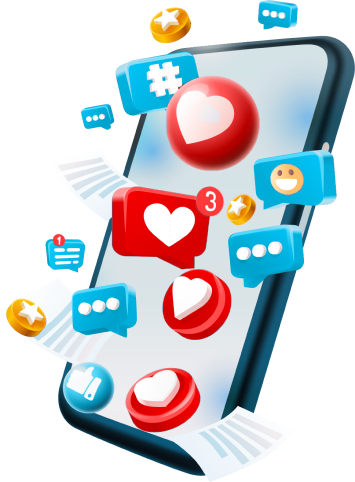 How to use social media for business, successfully
There are countless ways you can use social media for business, but if you want to do it successfully, there are a few steps you'll have to take and a few social media ideas you'll have to try.
If you want to drive the best results with social media for business, follow the steps below.
Take inventory
Taking inventory of your current social media presence is a step that you don't want to skip. When you look at your current social platforms, you should compile the following information:
How often you currently post to each platform
What kind of content you post
How much engagement each post type receives
How many messages you get through the platform
How many followers you have
Analytics
By taking inventory of your current social media platforms and how they perform, you'll reveal and understand what you're doing right and what you might need to tweak.
Diving into your analytics is one of the most important steps you can take during the inventory stage, and it's simple to see why.
When you look at your analytics through each platform (most social platforms have proprietary analytics tools), you'll reveal a lot of the information that we mentioned earlier on our list.
Analytics will help you understand:
How followers engage with your posts
How engagement changes over time and with different post types
How responsive you are to messages
Follower count and how it changes over time
And so much more
As you can see, looking at the analytics of each platform helps you understand almost everything we mentioned on our inventory checklist above.
After looking at your analytics, you'll determine if your social platforms perform the way you want them to perform for your business.
If they don't, you can start crafting a strategy for improvement. If you are satisfied with their performance, you can continuously use analytics to ensure that your social platforms always perform well.
Know your goals
Even before you analyze your social media platforms, you likely have some goals in mind. Whether you want to boost your follower count, sell more products, or increase your brand awareness, you should have a list of goals that you want to accomplish.
Setting goals means you always have something to work toward and, it makes it easier to craft your campaign since you'll know exactly what you want to accomplish.
Some goals you may have include:
Posting more consistently
Increasing follower count
Boosting brand awareness
Selling more products
Driving more website traffic
Providing fantastic customer service via social media
As you can see, goals vary greatly. It's important to remember that no goal is too big or too small to consider, and you don't have to assign specific figures for them to be effective.
Take note of goals that seem out of reach, and work toward them. You might surprise yourself!
Know your competitors
Knowing your competitors is another crucial precursory step to crafting the perfect social media campaign for your business.
You can gain a lot of insight from your competitors just by looking at their social presence.
Pay attention to things like:
Platforms they use
How often they post
What kind of content they post
The engagement they get for content types
You should never copy your competitors exactly, but it's smart and resourceful to take note of their success.
Select your platforms
There are so many social media platforms out there that its hard to keep track. And how do you know what social media platforms you should take advantage of for your business?
Each platform has pros and cons and some work better for certain industries than others.
One of the best things you can do before selecting your platform(s) is to research each. Although every social platform has the common thread of keeping people connected, each has its own quirks that make them effective for businesses.
ORGANIC OR PAID SOCIAL MEDIA MARKETING? SEE WHAT THE EXPERTS SAY
Although you should take some time to do your own research, we'll give you a brief rundown of each platform and what social media goals it can help you reach.
Facebook
User base:Facebook is the most popular social media platform with 2.38 billion users. When you consider just how many users Facebook has, it makes it easy to understand why it's one of the best platforms to market your business — simply because of the vast audience you can reach.
Paid options: Facebook offers paid advertising options to help you sell more products. The integrated ad platform helps you create ads that granularly target your most qualified audience.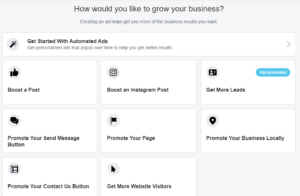 Analytics: Facebook also has its own integrated analytics platform called Facebook Insights. From there, you'll have access to metrics like page views, post reach, messenger insights, and so much more.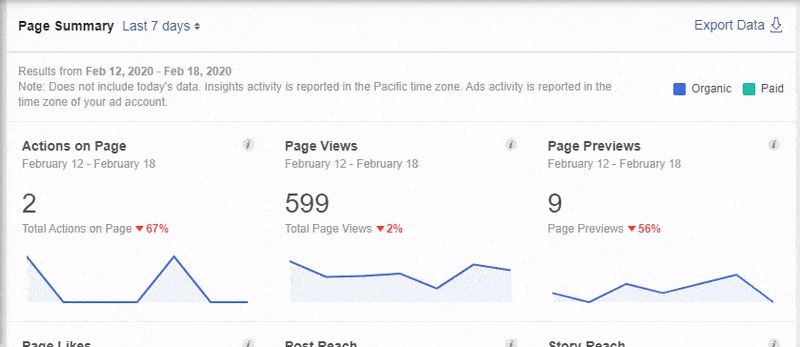 Messaging capabilities: You probably won't be surprised to find that Facebook also has its own integrated messaging feature as well. Facebook Messenger allows you to have seamless communication with your followers and even provide a level of customer service.
Goals it can help you reach: Facebook is a great platform for boosting brand awareness, selling more products, and getting users to your website. Not only that, but if your goal is to have better customer service, Facebook Messenger allows you to communicate easily with customers.
Instagram
User base: Instagram has over one billion users, making it another great platform to appeal to your target audience.
Paid options: Instagram is owned by Facebook, so it has many of the same ad options. You'll be able to create custom ads that show off multiple products to help increase sales.
Analytics: Instagram's built-in analytics gives you access to metrics including mentions, impressions, website clicks, age range, and so much more.
Messaging capabilities: Instagram also has a direct message feature that allows you to communicate openly and easily with your followeres.
Goals it can help you reach: Since Instagram is an image-heavy social media platform, it provides a lot of opportunity for boosted brand awareness. You can also sell more products with Instagram ads.
Twitter
User base: In 2018, Twitter rounded out the year with an impressive 262 million users. Although Twitter is a fantastic platform for marketing your business, keep in mind that it has far fewer users than Facebook and Instagram.
Paid options: Twitter's integrated ad platform allows you to craft photo ads, video ads, and more to help you sell more products on the platform.
Analytics: Twitter also offers integrated analytics that helps you understand post reach, audience engagement, follower count, and more. You can even choose the time frame that you analyze.
Messaging capabilities: Just like Facebook and Instagram, Twitter also has a direct message function to help you connect directly with your followers. You can answer questions, troubleshoot issues, and more.
Goals it can help you reach: Since tweets are short (280 characters) and fleeting, Twitter is a fantastic platform for boosting brand awareness. Of course, if you opt to advertise on Twitter, it's also a great platform to sell more products.
LinkedIn
User base: At the end of 2018, LinkedIn crested 590 million users. More than Twitter, but less than Facebook and Instagram, LinkedIn offers an extensive marketing audience.
Paid options: LinkedIn offers ad options including photo ads, video ads, InMail ads, and so much more.
Analytics: LinkedIn offers in-platform analytics — like the other platforms we've outlined. LinkedIn analytics allows you to pull metrics like post interaction, follower demographics, and more.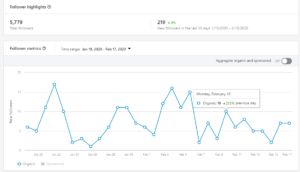 Messaging capabilities: LinkedIn also provides in-platform messaging to ensure that you always have easy interaction with your followers.
Goals it can help you reach: Although you can sell products and services on LinkedIn, keep in mind that the platform's audience is mostly business professionals. That makes it a great place to advertise conferences and events, and even a great place for recruiters to advertise employment openings.
Now that you have some background on some of the most popular social media platforms for business, it's time to choose which ones you're interested in integrating into your campaign.
Keep in mind that the more social media real estate you take up, the more results you'll see. There's nothing wrong with only choosing one social platform, but if you want to make the most of social media for business you should consider two or three.
At the very least, you'll want to have a business profile on each social media platform so that users can find you anywhere.
If you need help deciding what social media platforms will help you reach your social media goals, feel free to contact WebFX at 888-601-5359!
Decide if you want to opt for social media ads
To market your business on social media platforms, it's not required that you use ads. However, if you're looking to sell more products as opposed to simply increasing brand awareness, running social media ads is a wise decision.
Social media ads are a cost-efficient way to increase leads since you'll never spend more than your set budget.
For example, with Facebook, you can set a budget cap and Facebook will automatically disperse your ad spend as it sees fit. However, it'll never allow you to spend more than the budget cap you've provided.
Not only does capping your budget make social paid advertising cost-efficient, but you also must remember that you won't pay for an ad until someone clicks it. This payment system means you're not paying for ad space — just ad clicks.
Each social media platform offers its own ad platform that makes it easy for you to create ads catered to your target audience. Based on the platform, you'll be able to target users based on demographics, interests, level of education, and so much more.
You can also have fun with the look of your ad — choosing beautiful images of your products to share with the world on social media.
Decide if you need help from experts
If you run your own business, it's no surprise that you've got your hands full. If you're considering social media for business, it might be in your best interest to hire a social media marketing agency to help.
If you're on the fence about hiring an agency to show you how to use social media for business, check out some of the things they can do for you:
Give you advice on what social media platforms to use
Help you improve your current social media presence
Help you set up business accounts on social media platforms
Help create ads for each social platform
Analyze the performance of your social posts on each platform
Make campaign suggestions for continued success
These are just a few things that a social media agency can do for you — so if you're delighted at the idea of not having to create social ads or analyze their performance, hiring an agency is a fantastic option.
WebFX is a partner businesses trust.
Hear from HydroWorx, who saw a 236% increase in organic sessions with WebFX services.
Watch the Video Testimonial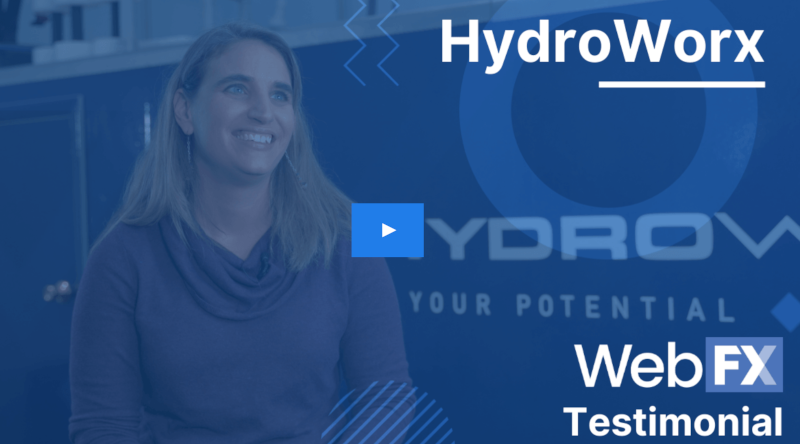 Social media for business tips
If you're still wondering how to use social media for business, we've put together a few social media for business tips to help you make the most of your campaign.
Check out our B2B social media video for advice from one of our expert social media managers, and then keep reading to learn more.
If at any time you have a question about one of our tips, feel free to give us a call at 888-601-5359 to speak with a marketing specialist!
Tip 1: Keep your goals top of mind
Remember those goals you set at the beginning? It's crucial that throughout your social media campaign, you keep those goals top of mind.
For example, if your goal is to boost brand awareness, and you consider that goal at every stage of your campaign — you'll make decisions that help you meet that goal.
Tip 2: Analyze, analyze, analyze
Analytics will make or break your campaign — and its essential that you analyze your platforms every step of the way. However, it's most important that you analyze your campaigns when you make small changes.
For example, if you decide to change your header image from an image to a video on Facebook, you'll want to keep an eye on your analytics to see if metrics change. If metrics improve, you'll know that the change was the right change. If they don't, you'll know to change the video back to an image.
Not all analytics will be that cut-and-dry, but you should be taking note of any major metric changes that occur after you tweak something on your social platforms.
Tip 3: Start conversations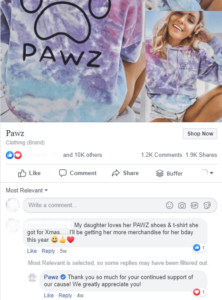 One of the best social media for business tips we can offer is to start conversations. Social media platforms are just that — social — and if you don't interact with your followers, they'll lose interest.
Not just that, but they'll find it hard to believe in a brand that doesn't effectively communicate with their audience.
There are many ways that you can start conversations. Here are some of our suggestions:
Finish your post with a question: "This week, we're offering a new cupcake flavor — Neapolitan! What is your favorite flavor that we offer?!"
Interact with followers in the comments: If your followers are interacting with your posts by commenting, comment back! Ask them questions and thank them for interacting.
Answer direct messages and keep the conversation going: If a user sends you a direct message, be sure to reply as soon as possible. Not only will it show that you're responsive, but it'll show that you care about what users have to say. Keep that conversation going, too! Ask users how they like your products and if there's anything you can do to improve.
Tip 4: Be human
Being human is one of the best social media tips for businesses. Many brands forget to be human — and forget to treat their customers as friends.
Chewy.com is one of the best examples of being human on social media. On their Facebook page, they share a video of employees — allowing you to get to know the people who package your pet's order.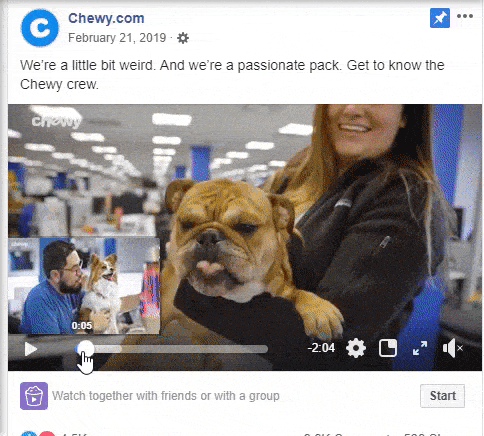 Interact with users on a real level — speak their language and strive to understand them. Provide a unique experience by personalizing posts to cater to specific niches and don't be afraid to highlight your own shortcomings.
For example, if someone is bashing your customer service in the comments of a post, be real with them, apologize, and let them know that you'll make it right.
Tip 5: Be consistent
When it comes to posting, stay consistent. That doesn't mean that you should post at 4 p.m., every day, but it does mean that you should create a social content calendar to ensure that your posting regularly.
A social media content calendar will help you keep track of what kind of content you'll post and when you'll post it, and if you use a social media management tool like Buffer, you can automate the entire process.
Being consistent shows followers your dedication and attention to detail — two huge wins!
Are you ready to adopt social media for business?
If you're a business that doesn't currently have a social media marketing campaign, or you're not satisfied with your current campaign, WebFX is here to help.
We're a full-service digital marketing agency that can help you interact with your target audience on social media, improve brand awareness, and sell more products.
We have an entire team of social media specialists who can expertly craft a social media presence that drives results.
If you're ready to drive more leads with social media for business, contact WebFX for a free quote, or give us a call at 888-601-5359!