Our D.C. social media services
At WebFX, our social media agency in Washington, D.C. offers the following services for social media:
Social media marketing services
Engage current and potential customers across social media platforms with our social media marketing services. Receive a custom strategy, dedicated account manager, original content, and routine reporting.
View Our Social Media Marketing Services
Social media advertising services
Attract new followers and clients with our social media advertising services. Get a custom, targeted, and optimized campaigns, plus commenting monitoring and one-on-one consultations with a dedicated account manager.
View Our Social Media Advertising Services
Why is social media marketing important?
Let's take a closer why social media marketing is essential to building brand awareness and creating new customers.
Access a tremendous audience
Many people use social media daily. With over two billion users, it's a great opportunity for you to connect with your audience through these platforms.
These social media platforms attract a variety of people. People of all ages, races, and locations use social media. With so many different demographics on social media, it is crucial that you take advantage of these platforms to reach your audience.
You can use numerous types of social media platforms to connect with your audience. These platforms include, but are not limited to, Facebook, Twitter, Instagram, Pinterest, and LinkedIn.
You'll need to figure out which platform works best for your Washington, D.C. business. Choose the platform that your audience frequents the most, so you can connect with them better.
Interact with people one-on-one
Along with email marketing, social media marketing allows you to interact with your Washington, D.C. business's leads directly. When you can connect with your leads, you will deliver more valuable content that helps them convert.
Use advanced targeting for tailored content
With traditional advertising, it is difficult to tailor your content to your audience. When you create a radio spot or put up a billboard ad, you must try to appeal to many people in your target audience.
These traditional methods don't help you effectively target people in your audience. There is a small number of people in your target audience who will see your ad, and this can hurt your chances of earning quality leads.
Social media is a better option for your Washington D.C. business because you can reach more people in your targeted demographics. You can focus on your target market and produce content that appeals to them.
This also means that you are putting your money towards converting people who are interested in your products. With traditional methods, you spend money advertising to people who aren't in your target audience.
However, social media marketing ensures that your money goes toward leads that are most likely to convert. By tailoring your ads to fit a person's age, location, gender, or interest, this makes it easy for your business to reach more qualified leads.
74% of people use social media when making a purchasing decision.
Make their decision easy with a stellar social media presence. See how your brand can level up by requesting a no-obligation proposal today.
One of our experts will be in touch within 24 hours!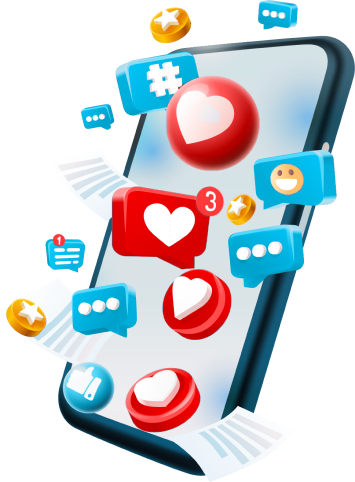 Why choose our D.C. social media company?
Social media continues to increase in popularity among businesses. Additionally, many of them are constantly evolving. It's important that you create a social media marketing campaign that is effective and drives results for your Washington D.C. business.
At WebFX, we know how to create social media marketing campaigns that drive results for your business. We're a full-service digital marketing company that has experience creating effective social media plans.
We have a team of 500+ experts that are dedicated to your campaign. Our award-winning team will help you create a social media marketing campaign that works for your Washington, D.C. business. We take the time to get to know your business and build a customized plan that drives results.
If you're looking for results, we know how to achieve them. To date, we've driven over $3 billion in sales and over 7.8 million leads for our clients. We focus on driving results for our clients first.
Our clients love the work we do for them. In fact, we have over 1,020 client testimonials from a variety of industries. Check them out to see what it's like to partner with a top social media marketing company like WebFX!