What Is Conversion Marketing?
You've probably heard a lot of talk about conversions, and you might've heard about conversion marketing in particular. In the digital world, a "conversion" can mean different things for different companies. For ecommerce businesses, a conversion could a customer purchasing a product. For B2B companies, a conversion could be a site visitor filling out a contact form or signing up for a newsletter.
Both scenarios are valid conversions for their companies. But no matter what you call a "conversion," every company wants the same thing: More.
But how does that work? That's what conversion marketing is all about.
Call 888-601-5359 to speak with a strategist about conversion rate optimization services from WebFX, or keep reading to learn how you can increase your company's online conversions.
How conversion marketing works
Conversion marketing is focused on taking the visitors on your website and turning them into paying customers. It's the first step in conversion rate optimization, giving people a reason to become your customer before you refine your process.
In addition, conversion marketing differs from other forms of marketing by focusing on the actions that you want visitors to take on your website as opposed to simply getting traffic to your site. Conversion marketing is also much less concerned with your site's visibility online and instead focused on the visitors that your website already draws.
So, basically, conversion marketing is all about taking your existing site's visitors and turning them into customers as efficiently as possible. You can use other strategies like SEO to actually bring customers to your website in the first place.
With that in mind, conversion marketing is built on fundamental ideas that can help you improve your business.
Conversion marketing basics
Conversion marketing can be an effective addition to any company's marketing strategy. But before you begin working on your conversion efforts, there are a few basic ideas you need to know.
Conversion marketing is focused at the bottom of the sales funnel, where your site visitors finally take the steps to becoming customers.
Conversions are an important event that helps you build your company. When someone buys from you, signs up for your newsletter, downloads a free sample of your software, or anything else, you're bringing that person another step closer to being a customer.
Conversion marketing takes time. Your conversion rate won't improve overnight, so you have to stick with it for the long haul.
Conversion marketing is highly effective at growing your business. Again, you're not focusing on driving traffic to your website — you're focused on turning existing traffic into paying customers. That emphasis on the bottom line means you start seeing results in dollars and cents, not just analytical data.
Conversion marketing is easy to quantify. You just compare your analytics data from before you started using conversion marketing to your current stats and look at the difference.
With such a strong foundation, conversion marketing has a place in any business model in any industry. After all, your business needs new customers to continue growing, and that's what conversion marketing gets you — more customers.
Plus, when you're working in conversion marketing, you're not talking about potential, you're talking about end results. You're witnessing first-hand the results of your hard work and how it has an impact on your company.
And when you're working with data at your back, the results will be good.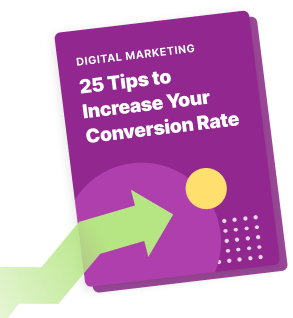 25 Free Tips to
Double Your Leads
without having to double your traffic. Learn how to increase your website conversion rate today!
Get My Free Guide
How to use conversion marketing to grow
The size of a business doesn't matter when you want to increase conversions. The only objective is to bring more site visitors closer to becoming customers. With that in mind, you can start conversion marketing with a few basic steps.
Watch customer behavior. Some companies like to develop a flow chart of all the possible routes that a consumer could take and what conversions they could take along the way. By watching customer behavior flow on your site, you can get ideas for the best places to convert customers.
Make conversions easy. Simplification is a key element of conversion marketing. If visitors have to fill out tons of forms and click for several pages, they're not going to convert. But if you have everything on one nice page, and it only takes one click to finalize everything, they will.
Evaluate each conversion. Once you start getting more conversions, track them to see what visitors are doing. This gives you insight into what parts of your conversion marketing strategy are working and what needs work. It's also the first step to conversion rate optimization.
Make each conversion count. Conversions are all important to your company, no matter what they accomplish. However, if you find yourself placing less and less emphasis on one of your "conversions," consider whether it should be a conversion or not. As a rule of thumb, if an action doesn't play a part in creating a paying customer for your business, then it's not a conversion.
Start with the basics. When you're starting out, keep it small at first. Make the changes that you've discovered to be important, and collect data to guide your future conversion marketing decisions.
We're masters of our craft.
WebFX is a marketing and design industry leader.

Meta, Amazon, and Google Partner


4,000+
blog posts written


300+
Google Certified team members

Contact Us

WebFX can help your company convert customers
At WebFX, we've built our careers on getting our clients results that help them grow their businesses. We're experts at conversion marketing, and when you partner with us, we'll put those strategies to work for you. When it comes to your bottom line and your business's future, no conversion should go unnoticed — and we'll make sure they're helping you grow.
Do you want to make more money? Contact us today to start your conversion marketing strategy with a CRO agency that knows what they're doing!
Earn a 20% greater ROI with WebFX