Did you know that only 22% of companies are happy with their conversion rate? If you're not happy with yours, it's time to use conversion rate marketing to improve it. Conversion rate marketing will help your company refine a shopper or business buyer's online experience, making it even easier for them to choose your company.
On this page, we'll discuss what a conversion rate is in online marketing and provide five tips for boosting yours.
If you want to learn more about conversion rate optimization, call us today at 888-601-5359 to speak with a strategist about our conversion rate optimization services.
What is conversion rate?
Conversion rate is the percentage of visitors that complete your desired action compared to the total number of people that could have converted. The formula for finding the conversion rate is:
(Number of visitors that converted / Number of people who visit the page) x 100
For example, let's say you have 100 conversions out of 300 visitors. If you take 100 conversions divided by 300 visitors, you get 0.3333. When you multiply that by 100, you get a conversion percentage of 33.33%. Your conversion rate is 33%.
A high conversion rate is an indication of success with your marketing strategy. It means you showcase the value of your products or services to your audience, and they can easily find them and learn about them.
What is conversion rate in marketing?
Conversion rate plays an important role in your digital marketing campaigns.
Whenever you run an online campaign, you can monitor your conversion rate to see how it drives results for your business. Your conversion rate is an indicator of your campaign's success. If you have a high conversion rate, it indicates that your campaign succeeds at getting leads to convert.
A low conversion rate indicates that your campaign needs optimizations to improve it. With digital marketing, your conversion rate isn't just sales. Your conversion rate can be actions like downloading a guide or signing up for a seminar.
You can have various types of conversion rates in digital marketing.
What is a good conversion rate?
The most common question companies ask is: What's a good conversion rate for my business? They want to know what conversion rates other organizations reach so they can reach it, too. So, what's a good conversion rate for your company?
The truth is that there isn't one precise amount or number that holds accurate for every company. An ideal conversion rate varies among industries. For example, if you have a clothing store, an acceptable conversion rate may be 25% for your business.
A car dealership, on the other hand, may see a conversion rate of 3% as excellent. At a clothing store, it's much easier to get people to purchase products when they walk in the door. The products generally cost less, so more people will buy or make impulsive purchases.
Cars, on the other hand, cost thousands of dollars and can require loans to cover the cost. Not everyone who walks in the door looking at a car will convert right away because it's a big commitment. The conversion rate is lower for businesses like car dealerships because it's a longer sales cycle and a more significant purchase.
If you want to know a reasonable conversion rate for your industry, conduct some research and search around to see what the average conversion rate is for your business.
Check Your Conversion Rate With Our Free Calculator!
What does it mean if I have a low conversion rate?
You may find, after a bit of research, that your conversion rate is lower than the industry average. Even though your conversion rate is lower, don't panic! Two factors tend to cause a low conversion rate:
Your landing page design makes it too difficult for users to navigate and purchase
Your website doesn't show the value of your product or service to your audience
While there can be other issues that contribute to your low conversion rate, these two factors are typically the most significant. The good news is that you can quickly fix these issues through conversion rate optimization!
Are conversions only purchases?
No. It's a common misconception.
Conversions aren't restricted to sales. Here are a few potential conversions you can track besides purchases:
Submitting a form
Chatting online with a representative or chatbot
Subscribing to emails or publications
Calling your business
Downloading a free guide or resource
As you can see, conversions aren't restricted to purchases. You can set up conversions on your page, like calling your business, which may help you get closer to the ultimate goal of making a purchase. Let's go back to the car dealership.
Since they have a low conversion rate when it comes to purchases and many purchases happen in-store versus online, it can be challenging to measure the success of their marketing campaigns. Instead of focusing only on sales, they could offer a free guide on choosing the right car. The dealership could then monitor conversion rates when it came to how many people downloaded the guide.
By providing this free guide, the car dealership could gauge how effectively they're attracting and engaging people on their site. The dealership could also generate valuable leads in the process, which could result in sales later.
Five tips for boosting your marketing conversion rates
If you're looking to improve your marketing campaign's conversion rates, you've come to the right place. Check out these five website conversion rate tips to help you optimize your site for sales, leads, phone calls, and more!
1. Create dedicated landing pages for your paid advertising campaigns
One of the best conversion marketing strategies is to create dedicated landing pages for your paid ad campaigns. Every ad should have a landing page that focuses on the product or service advertised. If your audience clicks on an ad for a specific product or service, they want to see information about that product or service on the landing page.
You don't want your landing page to be your homepage or a page filled with information about other products. Creating focused landing pages drives better results for your business. It helps your audience continue to focus on the product or service they searched in the first place.
For example, let's say you own an HVAC company and create an advertisement for your heating installation services. You run a pay-per-click (PPC) ad, and leads looking for heating services click on it. Imagine that your landing page is your homepage.
Your audience would see this page and get frustrated immediately. They were expecting to click on your ad and find information about your heating services, not a generic page about your business. Instead, a landing page specific to your heating services would work better for your audience.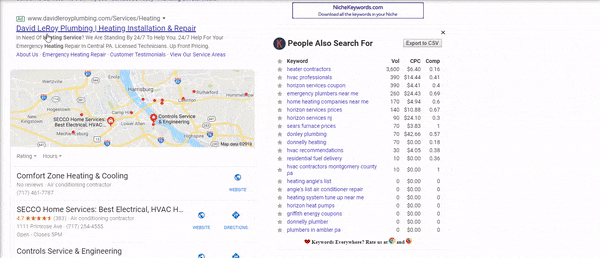 They would click on the ad to find a landing page that details your heating services and the type of repairs you do for your customers. Your audience would engage more with this landing page and be more likely to contact your business. Creating a dedicated landing page helps you keep your audience focused on the right product or service and helps provide them with the exact information they need.
2. Test your website and landing pages
The first version of your landing page isn't the best one. It's essential that you consistently test your pages to ensure you're putting out the best version. You can conduct A/B testing to test different elements on your site.
When you perform a test, focus on making one change at a time. If you change too many things at once, you won't have definitive results on which ones positively impacted your site. So, what elements should you test?
You can test any number of elements on your page, from the call to action (CTA) to the size of your header font. The smallest changes can sometimes have a significant impact on your audience! By testing your pages, you'll put out the best version of your page for your audience.
It will help you spark more engagement and improve your website's conversion rate.
3. Use CTAs on your website
When someone visits your landing page and likes what they see, they want to know how to proceed next. If you don't provide them with directions, you risk losing that lead. By adding CTAs to your page, you guide those leads to the right place.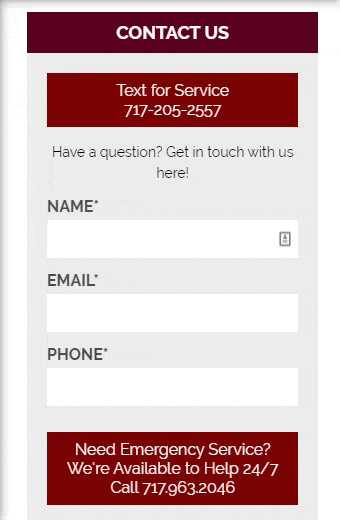 CTA buttons are a great way to help your audience move to the next step. These buttons stand out on the page and catch your audience's eye. When they're ready to proceed, they know where to click to take the next step.
When you're testing, you can try different:
Generally, you'll want to create specific CTA buttons. Don't just say, "Click here." Get detailed with requests like, "Download your free guide," or "Call us today for a free quote." Your audience should know what will happen when they click on the button. A good CTA will increase engagement on your page and improve your website conversion rate.
4. Keep your forms short
When you capture leads through forms, you're eager to obtain as much information as possible. While this may seem like an excellent opportunity to learn more about your leads, it can stop them from filling out your forms. Many people don't want to spend a long time filling out forms on your site.
If you're asking for information that isn't necessary, your audience is more likely to abandon it. You want to keep your forms as short as possible. That doesn't mean you can't ask for information, but you'll want to be selective about the information you request.
For example, if you're offering a free guide on how to build your credit score, asking a person's gender or how many credit cards they own isn't necessary. It adds a step that makes the form longer to fill out. You can keep it simple by asking for a name and email address.
This information provides you with the basics to follow up and grab additional details later.
5. Use video to engage your audience
One of the most effective conversion rate marketing strategies is video marketing. Videos are compelling for boosting engagement and providing your audience with valuable information.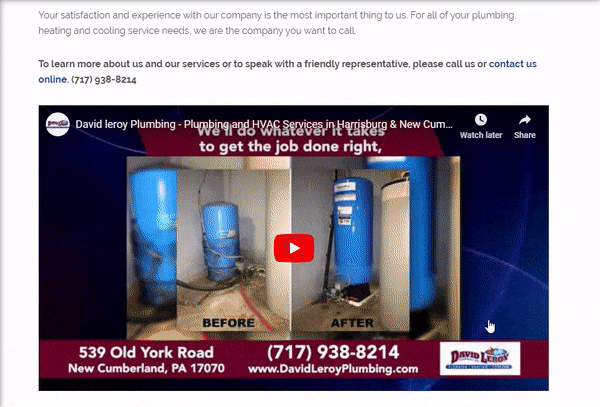 Video improves conversions by 80% when integrated into a landing page.
It's a simple but effective technique for helping you improve your website conversion rate. When you use videos, you help your audience obtain valuable information with less work. It's much easier to watch a 30-second video than to read paragraphs of text.
It combines visual elements and vital information to create a positive experience for your audience. If you want to drive more success with your pages and boost your conversion rate, add videos to your pages. It's a proven conversion rate optimization tactic to get your audience to engage with your website and CTA.
Invest in conversion rate marketing today
If you find your conversion rate isn't up to par, investing in conversion rate optimization will help you improve your website's conversion rate.
You'll invest in tactics that will assist you in improving your site's ability to generate leads, traffic, and sales. At WebFX, a leading search marketing agency, we have over 20 years of experience in improving website conversion rates for our clients. In the past five years alone, we've driven over $3 billion in sales. We know how to drive results that help your business grow.
If you're ready to improve your conversion rate through marketing, contact us online or call us today at 888-601-5359 to speak with a strategist about our conversion rate optimization packages.
How is your website's SEO?
Use our free tool to get your score calculated in under 60 seconds.
Get posts by email
Join 200,000 marketing managers and subscribe to Revenue Weekly!
"*" indicates required fields
WebFX Careers
Join our mission to provide industry-leading digital marketing services to businesses around the globe - all while building your personal knowledge and growing as an individual.