Top 3 Web Marketing Strategies for Your Business
Your web marketing plan is a big part of your online presence. It helps you reach new leads and earn conversions for your business.
As you start to shape your web marketing plan, you'll find that there are numerous web marketing strategies you can use. Each of these strategies adds value to your business and helps your business grow. The hardest part is knowing which ones will work best for your business.
So, how do you figure out the best web marketing strategies for your business?
On this page, we'll discuss the top three digital marketing strategies you can incorporate into your plan. If you need help choosing the right methods for your business, call us today at 888-601-5359 to speak with a strategist.
1. Search engine optimization (SEO)
Search engine optimization (SEO) is a great method for your business to reach new leads. SEO is the process of boosting your website's ranking in the search results.
This method operates on keywords. When users conduct searches, they use keywords to generate a list of websites that fit their search query. Users want to find websites that will provide them with the information, product, or service they need.
To use SEO, you need to select keywords that your audience uses. This will help you reach leads that are the most interested in your business. You'll need to conduct keyword research to find the right keywords.
As you conduct keyword research, you'll want to focus on long-tail keywords. These are keywords that contain three or more words. Long-tail keywords are a better option than short-tail keywords, which only contain one or two words.
"Flower shops near Harrisburg, PA" is a long-tail keyword your audience may use. "Flower shops" or "flower" is a short-tail keyword.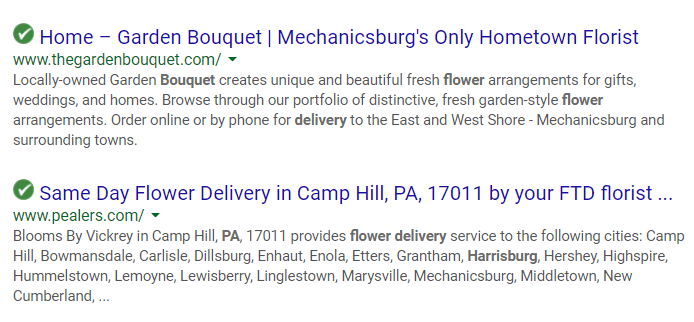 Long-tail keywords are better for your campaign because they attract more qualified leads. You can't define user intent with short-tail keywords. If someone types in the keyword "flower," may look for different types of flowers, how to plant flowers, or a flower shop.
It is challenging to know what a user seeks when using short-tail keywords. Long-tail keywords specify what a user wants. You want to use long-tail keywords to leads that are interested in your business.
Once you select your keywords, you'll need to integrate them into your site. When Google crawls through your site, they look for keywords to understand the context of your page. You want to integrate your keywords on your page, so you can rank for the right keywords.
You can put keywords in the heading, title, body text, and meta description of your page. These are great places to include your keywords, so your page can rank better.
As you integrate keywords into your site, you'll want to avoid using them too often. This leads to keyword stuffing, which negatively impacts your site's ranking. You want to use keywords where they flow naturally in your writing, so don't force yourself to integrate them.
SEO is a great way for your business to obtain new leads. This method helps you boost your website's ranking in relevant search results. You help your business connect to leads that are the most interested in your business.
2. Pay-per-click (PPC) advertising
Pay-per-click (PPC) advertising draws in credible leads for your business. These paid advertisements appear at the top of the search results. You will see them above the organic listings and tagged with the word "ad."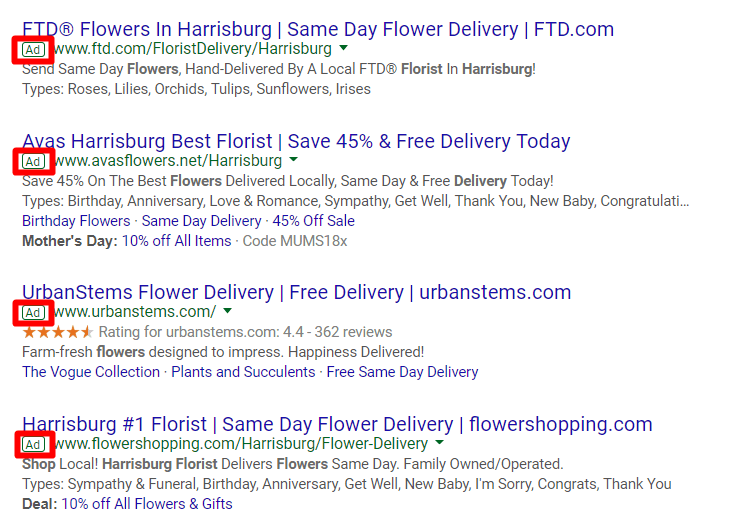 Like SEO, PPC ads operate on keywords. These keywords trigger your ads to appear in the search results. This is another case where you'll want to focus on long-tail keywords.
Once you have your keywords selected, you'll bid for your ad's placement. You need to set your maximum bid. This amount indicates how much you want to pay each time someone clicks on your ad.
Your maximum bid and quality score will determine your ad placement.
When you use PPC, you only pay when people click on your ads. You don't pay for impressions. Your money goes towards interested leads.
This method gives you complete control over your budget. If you only want to spend a certain amount on your campaign, you can set that amount. You will never incur additional or unforeseen costs that make you exceed your set budget.
PPC drives in great leads for your business. If people are interested in learning more about your business, as well as your products and services, they will click on your ad. These leads are ready to convert and want to find the best business to fit their needs.
If you want a web marketing strategy that drives in valuable leads for your business, PPC is a great option.
3. Email marketing
Email marketing is a great method for connecting with leads and nurturing them towards conversion. This is one of the few methods that enables you to build a direct relationship with your audience.
To start using email marketing, you need to obtain emails. You can do this by setting up an email sign-up bar on your website. This bar can go in the header or footer of your page.
You can also create pop-up email sign-ups. These are sign-up boxes that are triggered by a certain action. It can be someone entering a certain page or scrolling to a certain point on a page.
You'll want to put in the time and effort to obtain emails. Some businesses will try to buy email lists. It seems like a quick and efficient way to get email subscribers.
The truth, however, is that these lists won't help your business. They contain very few valuable leads.
When you send emails to people on these lists, they will more than likely end up being deleted. There's a good chance they may not make it to the sender and end up in the spam folder. You'll end up wasting your money on leads that aren't valuable for your business.
Adding email sign-up forms to your website will help you obtain more qualified leads — people who are most interested in your business. They will check out your page and like the information they see. If they want to hear more from your business, they'll opt to join your email list.
Once you have this valuable list of email subscribers, you can start sending them emails. You can send numerous types of emails that will appeal to your audience. This may require you to feel out your audience and see what types of emails they like the best.
You can try sending your audience promotions, deals, informational articles, or links to your blog. Your audience will help you figure out which types of emails work for them.
One of the best features about email is that you can monitor your campaigns as you run them. With programs like EmailMarketingFX, you can create, send, and monitor your email campaign all in one place. This makes it easy and convenient to track your campaign's performance.
You can see who opens your emails, who clicks on them, and who converts. It's a great way to help your business see which parts of your campaign successful and which ones are not. You may find that you have a high open rate but a low clickthrough rate (CTR), which could indicate a successful headline but weak body text.
Email marketing offers many benefits for your business. It's a great way to build a direct connection with your leads. You know who your leads are, so you get a better idea of the kind of content they want to see.
You can also tailor content to these leads. Email enables you to provide your leads with targeted content that encourages them to convert. It's a great way to nurture leads and earn more conversions for your business.
Our digital marketing campaigns impact the metrics that improve your bottom line.
See More Results

WebFX has driven the following results for clients:

$3 billion
In client revenue

7.8 million
Leads for our clients

5.2 million
Client phone calls
WebFX is a top web marketing company
When you shape your digital marketing plan, you want to make sure you choose the methods that are right for your business. Each web marketing strategy brings a unique benefit to your business. At WebFX, we know how to create web marketing strategies that drive more leads and conversions for your business.
We're a full-service digital marketing company that specializes in web marketing strategies. We have a team of 500+ experts that will bring their knowledge and expertise to your campaign. Our award-winning team will help you build a web marketing strategy that helps your business reach its goals.
If you're looking for results, we know how to drive them. To date, we've driven over $3 billion in sales and over 7.8 million leads for our clients. We focus on putting our clients' success before anything else.
Our clients love the work we do, too. In fact, we have over 1020 client testimonials from a variety of industries. Check them out to see what it's like to partner with a top web marketing company like WebFX!
Get started today
If you're ready to start creating a customized web marketing strategy that earns your business more leads and conversions, call us today at 888-601-5359 to speak with a strategist or contact us online.
We look forward to helping your business achieve new heights!