Want to launch an omnichannel marketing strategy but don't know where to start? Learn the basics with this video featuring Jess from the WebFX Marketing team.
Transcript:
An omnichannel marketing strategy gets your message in front of people across the channels they use. That's a simplified definition, so stick with me for the details.
In this video, you'll learn more about omnichannel marketing: What it is, its benefits, and how to get started.
Let's kick things off with a definition.
What is omnichannel marketing?
Omnichannel marketing means that your business creates a seamless brand experience across the different marketing channels your customers use.
Consumer behavior shapes this strategy because it depends on how they interact with your business. The omnichannel approach operates under the idea that when people want to make a purchase, whether they need a product or service, they will use multiple online, and even offline, channels to make their decision. Your business needs to meet people wherever they are online in order to succeed with this type of campaign.
You can say that omnichannel marketing is a more complex version of multi-channel marketing, which focuses on reaching people through multiple channels online, like social media, email, ads, and other forms of communication.
Using a multichannel approach, you typically share the same message across your marketing channels with the hope that someone will take a particular action. If you want to increase attendance at your new Yoga class, for example, you'd share upcoming class information on social media, in your email newsletter, on your website, and in your ads.
Omnichannel marketing does involve multiple online channels. But the complexity comes in when you try to meet people at different stages of their journeys, in multiple locations online, with tailored messaging for each marketing channel.
Instead of sharing the same message everywhere, you use your marketing channels to guide people through a journey to your business. Promoting your Yoga class with an omnichannel approach would still use a variety of channels, but instead of sharing a blanket update about the class, you customize your content for different outlets.
You update your website and post on social media that you have a new class. You reach people who have attended classes before with a video ad explaining the benefits of your new class. You send those current and former students a discount code via email. Then, a few days before your new class, you send an SMS update that asks subscribers if they'll be attending.
Want more omnichannel marketing examples? Keep watching.
Additional omnichannel marketing examples
Let me tell you about Redbubble, a site which lets artists create designs that then become t-shirts, stickers, posters, and more.
Redbubble has both a website and an app where you can view and purchase products. If you create an account, you can save your favorite items and come back to them on the app or website. Pretty seamless.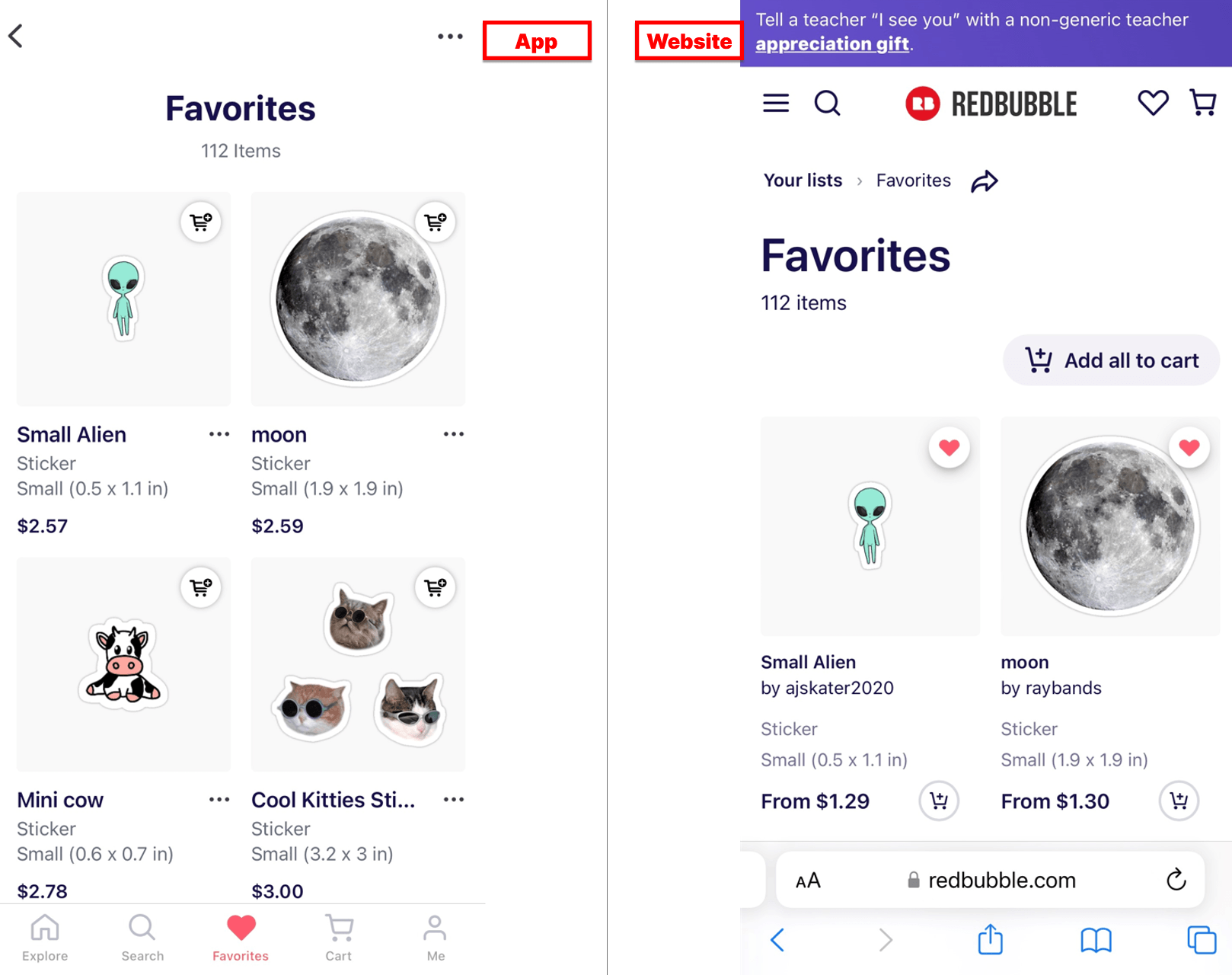 When you provide Redbubble with contact information, you can receive recommendations via email that fit your interactions with the platform.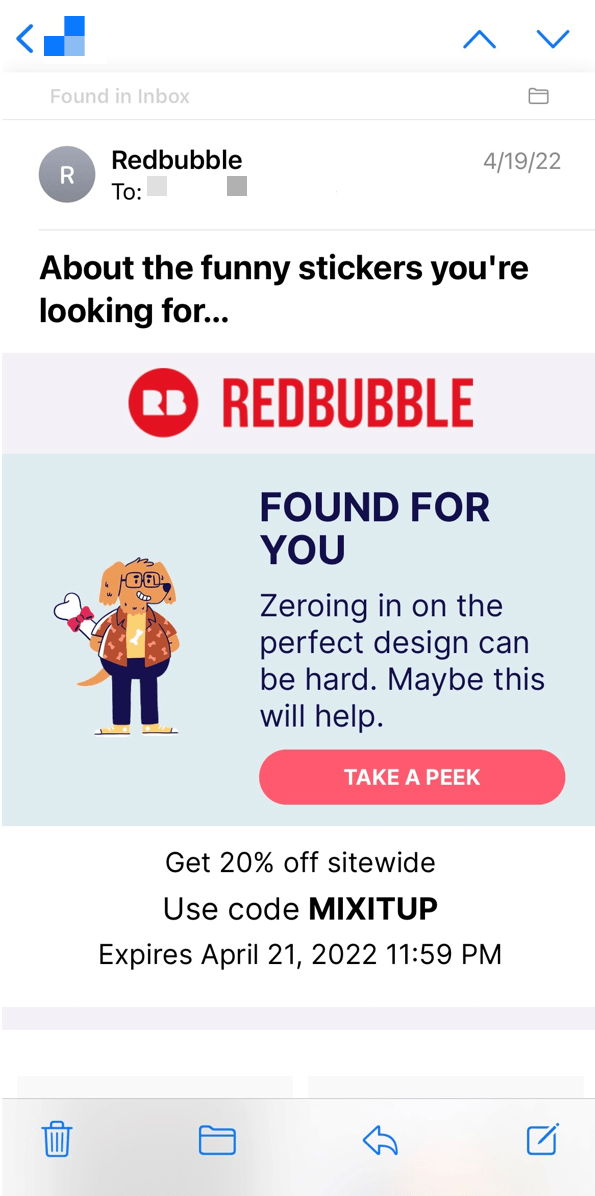 So, you've seen some cool things that you want. Redbubble doesn't stop there. They sweeten the deal. To get you back on the website or app, Redbubble may reach you with social media ads that promote special discounts or deals on the site.
Take note of this omnichannel approach. It doesn't just share the same thing on every platform. In the example, all of the marketing channels use slightly different but cohesive messaging that pushes you towards a goal—in this case, it's making a purchase.
You don't need a fancy app or expensive technology to have an omnichannel presence. Say you offer home improvement services. You have a form on your website for people to contact you, and when they fill out the form, they specify why they need your services via a dropdown box.
Once they fill out the form, they receive a text that thanks them for their project information and shares a timeline for when they can expect a response. After they've set up an initial meeting with you, you use automation to send an email on what to know before the meeting and how to budget for the specific project they defined in their contact form.
You set a date for the construction to start at an in-person meeting and provide some informational papers to your customer. One of the papers contains a QR code that links to a video on how to get your house ready for construction.
After the work is done, you send your regular email newsletters to the customer and occasionally push an ad their way about a special promotion they may find interesting.
Why use omnichannel marketing?
Omnichannel marketing helps protect your business from the constant changes in the digital marketing world. Because you use multiple channels to reach your audience, you don't rely on one particular platform for success. So, for example, if your business's marketing success relied entirely on remarketing to your audience through social media, a big change like getting rid of third-party cookies (which — I'll remind you — is a real thing that's happening) would very negatively impact your strategy. It's much easier to pivot if you have other outlets to reach your audience.
Almost 70% of customers rely on a variety of channels to make just one transaction, according to Salesforce. An omnichannel marketing strategy means your business can use those channels to meet people in the buying process and move them towards a purchase.
And since omnichannel marketing focuses on the customer and how they use the Internet, you can provide a better customer experience. Great customer experiences lead to more happy (and returning) customers. One study found that 75% of Americans are more likely to show loyalty to a business if they receive personalized customer service. That same study shared that over 70% of Americans would go out of their way to work with a company that has higher customer service standards.
In order to successfully launch an omnichannel strategy, you need a deeper understanding of your audience and how they go from fans of your business to repeat customers. The insights you get from diving into your customers' journeys can help you meet their already-existing expectations and enrich your marketing campaigns overall.
Salesforce shares that over 65% of customers come to a business expecting that business to understand the needs and expectations they have. You'll certainly have a solid understanding of your customers after creating your omnichannel marketing strategy.
Last benefit before I move on to the next section of the video. A report from the Harvard Business Review shared that omnichannel customers in a retail environment spend an average of 4% more when they shopped in a store and 10% more when they shopped online, compared to customers who used one channel.
Bonus Read: 70+ Retail Statistics
So, to summarize: An omnichannel approach helps you better anticipate your customers' needs, create loyalty, and potentially increase your sales.
How to get started with omnichannel marketing campaigns
Understanding your customers and their touchpoints with your business remains a massive part of your omnichannel efforts, so figuring out the channels they use and where they interact with you is critical to your success.
If you use a first-party data platform, such as a customer relationship management system (CRM) or a customer data platform (CDP), you already have a great place to analyze your customers' paths to purchase. If you use an analytics tool on your website, you may be able to view different metrics that tell you how people arrived on your pages, and the interactions they had with your content.
You can also just ask your past or current customers how they found you, and the steps they took to make a purchase. It doesn't have to be super complicated.
I think I should mention that you don't want to spread yourself too thin. You should be on the channels your customers use, but only if you have the resources. Focusing your energy on 3-4 channels is much more effective (and less stressful than) struggling to keep up with 7 channels.
Once you know where your customers spend time online, you can figure out how to address their needs and expectations. Identify pain points by researching the queries that bring people to your pages with a tool like Google Search Console, Ahrefs, or Semrush. Again, you can always ask your customers what information they would find helpful. Or even get in touch with your sales team if you have one.
Don't forget to keep an eye on your campaigns. You may have slightly missed the target with your content, or your audience has changed as it's grown. The best part of digital marketing is that you can make updates fairly quickly based on your data.
That's all I have for you, omnichannel marketers. If you want us to cover more about omnichannel marketing, let us know in the comments.
And this is your reminder to hit the subscribe button and sign up for Revenue Weekly, our email newsletter, for the latest digital marketing insights from the pros. See you next time!
How is your website's SEO?
Use our free tool to get your score calculated in under 60 seconds.
Get posts by email
Join 200,000 marketing managers and subscribe to Revenue Weekly!
"*" indicates required fields
WebFX Careers
Join our mission to provide industry-leading digital marketing services to businesses around the globe - all while building your personal knowledge and growing as an individual.