When it comes to local business marketing, your focus is on reaching customers in the area. You want to draw people in and make them want to visit your business or use your services.
You may have started with more traditional methods, like flyers, billboards, and radio spots on local stations. However, the Internet presents more — and often better — opportunities to reach your customers. That's why online marketing for local businesses is often an extremely effective way to reach and convert your target audience.
From social media marketing to content marketing, you have countless ways to reach your target audience with digital marketing. So how do you determine which local business marketing strategies are best for your business?
Keep reading to learn about the seven best ways to use digital marketing for your local business, plus get tips for using these online marketing strategies.
For professional help with local business Internet marketing, contact us online or call us today at 888-601-5359 to speak with a strategist about digital marketing services from WebFX.
Our digital marketing campaigns impact the metrics that improve your bottom line.
See More Results

WebFX has driven the following results for clients:

$3 billion
In client revenue

7.8 million
Leads for our clients

5.2 million
Client phone calls
1. Optimize your site with search engine optimization (SEO)
One of the most valuable local business marketing strategies is search engine optimization, or SEO. SEO is the process of boosting your website's rankings in search results.

Many businesses strive to reach the first page of results, because 75% of searchers never click past that first page. If your business is listed on the second page, you'll miss out on potential leads.
As a local business, you will focus more on local SEO. This is a type of SEO that focuses on reaching searches in a specific city or geographical area.
Check out the next local business online marketing tip to learn about using local SEO!

Hear What It's Like to Work With WebFX!

"Local and transparent in the work they do. There are so many companies out there that offer the same services, we are grateful to have hit it off the way we did with WebFX. Couldn't be happier!"
Waste Management Services
2. Claim and update your Google Business Profile
If you've ever conducted a search looking for a local pizza place or car repair shop, you may have noticed that the search results included a map with a list of businesses that match your search. These are Google Business Profile listings.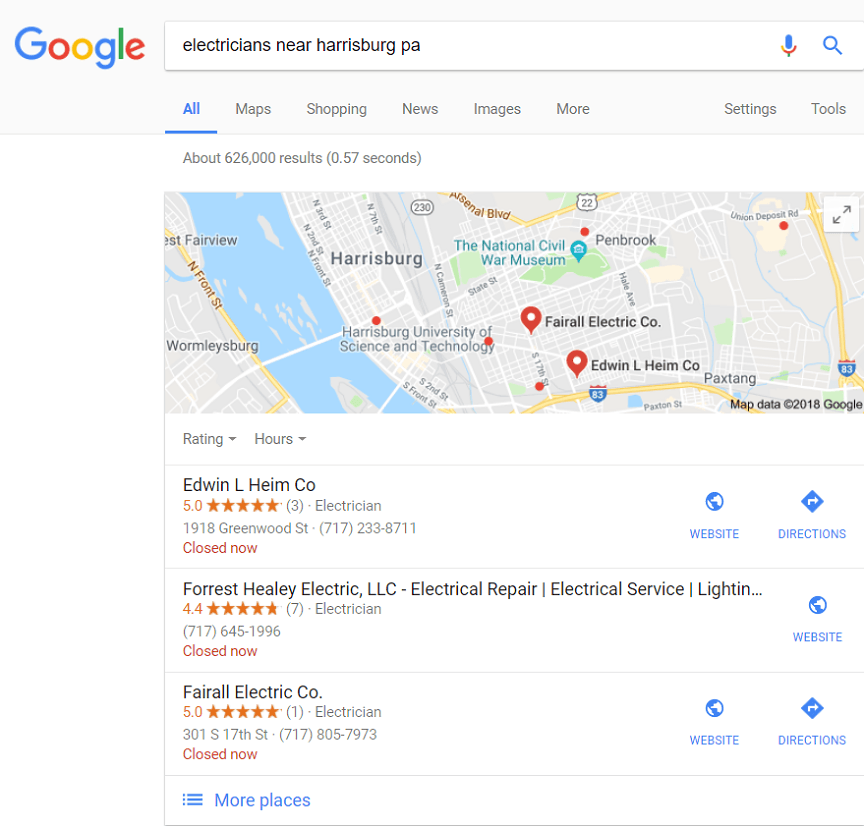 These searches are typically triggered when you include a location in your search or the phrase, "near me." These types of searches produce results for businesses that are in the area you are searching.
Your Google Business Profile listing is important because it is often the first interaction a new customer has with your business. With these listings, you want to include all the important information you can, like hours of operation, location, and contact information. You should also include photos of your team, products, or people performing your services.
You want your listing to be as complete as possible. If your listing contains more information than a competitor's listing, customers will be more likely to check out your business because they feel more informed. This also may be the first time they interact with your business, so you want to make a good first impression.
Another important feature of Google Business Profile is the review section. People can leave reviews about their experience at your business, and this presents a great opportunity for you to thank people for positive reviews and address any concerns from negative reviews.
This interaction builds your reputation and is a great way to build a positive relationship with customers, regardless of their experience.
3. Target long-tail, local keywords
Aside from Google My Business, you can also reach local searchers by incorporating the words and phrases they search throughout your site.
The first step in this local business marketing strategy is keyword selection. Search results are generated based on the keywords that a user searchers, and you need to determine which ones they're using that are related to your business.
You'll need to conduct keyword research. This will help you figure out which keywords are best for your business. It will also help you determine which keywords have the potential to produce the best results.
It is best to focus on long tail keywords rather than short tail keywords. Long tail keywords contain three or more words, while short tail keywords only contain one or two. Short tail keywords are not a good choice for your business because they are highly competitive and do no specify user intent.
An example of a long tail keyword is "electricians in Harrisburg, PA." This is a specific search where users are looking for a local business. These long tail keywords will help you connect with more valuable leads.
Once you've selected your keywords, you'll need to incorporate them into various elements on your site. You can use them in your headings, titles, meta descriptions, and body text.
4. Earn links from reputable sites
You'll also need to earn links from other sites as a part of SEO. Links are an important part of boosting your rankings, because they establish your authority.
Links from credible sites signal to Google that your site has valuable information that other sites find worth sending their visitors to. This improves your rankings and helps you reach more potential leads.
5. Create an intuitive user experience
Another thing your local business's online marketing plan should focus on with your site is the user experience it provides. You want users to have a positive experience on your site so that they will spend time with your content and learn more about your business.
For example, if you're a hardscaping company investing in digital marketing, you can improve your user experience by improving your website's design, including a functional navigation, and ensuring that your pages load quickly. These are important aspects of your website that can have a drastic impact on how much users enjoy — or don't enjoy — spending time on it.
6. Run pay-per-click (PPC) ads
Another great local business Internet marketing strategy your company can utilize is pay-per-click, or PPC, advertising. PPC ads appear at the top of search results, above the organic listings.
Similar to SEO, PPC ads involve utilizing keywords. You'll need to conduct keyword research to figure out the long tail keywords for your campaign.
Once you have your keywords selected, you'll need to bid for your ad's placement. The amount you are willing to pay each time someone clicks on your advertisement is your maximum bid. This number is flexible and can be changed at any time.
Your maximum bid and quality score will determine your ad's placement. Once you have your placement, you can begin running your campaign.
PPC is a great option for your local business's digital marketing strategy because it enables you to drive in more credible traffic. In fact, users that click on a PPC ad are 50% more likely to convert than when organic visitors. This is due to the fact that many people click on PPC ads when they are ready to convert.
PPC is also a great option for local and small businesses because you control the budget. If you only want to spend $500 or $1,000 on a PPC campaign, you can set that limit ahead of time and never worry about exceeding it.
One of the best features of PPC is that you only pay when someone clicks on your advertisement. This means that you are only paying for interested leads.
This enables you to make the most of your money. You don't have to worry about incurring additional costs. Once your budget is set, your campaign is structure around that budget and your maximum bid.
7. Nurture sales with email marketing
If you want to directly connect with potential leads, email marketing is a great option for your business. It is a great way reach out to customers and provide them with information they want to see. As a result, email marketing has a potential ROI of 4400%!
To start using email marketing, you'll need to build a subscriber list. You can do this by integrating an email sign up form in the header or footer of your website. If you want to be more direct, you can use a pop-up email form.

Once you build up a list of subscribers, you can begin sending them valuable information. It is important that you segment your subscribers so that you only send them content they want to see. You don't want to send everyone the same emails because different segments of your audience may subscribe to your emails for different reasons.
This local business marketing strategy also presents an opportunity for you to nurture leads. You already know these subscribers are interested in your products or services, so you can send them content that helps them learn more about the products or services they are interested in.
Software like EmailMarketingFX makes it easy to manage your email marketing campaigns. You can use it to create, send, and monitor the success of your emails.
Drive sales with online marketing for local businesses
If you're ready to start reaching more customers with online marketing for local businesses, WebFX can help. We're a full-service digital marketing agency with years of experience creating customized digital marketing plans for local businesses.
Our award-winning team knows what it takes to drive real results. In fact, we've driven over $3 billion in sales and over 7.8 million leads for our clients to date. We put our clients' success first and strive to bring the best results possible.
Our clients love the work we do, too — which is why we have over 1020 client testimonials from a variety of industries. Check them out to see what it's like to work with a top digital marketing company like WebFX!
If you're ready to start gaining more valuable leads and conversions with digital marketing for local businesses, contact us online or call us today at 888-601-5359 to speak with a strategist about our digital marketing services. We look forward to taking your business to new heights!
Earn a 20% greater ROI with WebFX