On this page, we'll answer your most common questions and talk about every reason why inbound marketing services are the best option for your business. We'll also cover some examples of inbound marketing to inspire your own inbound marketing strategy.
What does inbound marketing mean?
Inbound marketing refers to strategies that connect you with customers looking for products and services you offer. Also known as a "pull" marketing strategy, inbound marketing attracts qualified leads to your business.
Inbound marketing is an umbrella term for strategies like:
And more!
What's the difference between inbound and outbound marketing?
When researching inbound marketing, people want to know, "What's the difference between inbound and outbound marketing?".
Inbound marketing isn't intrusive like cold calls and includes techniques that create a customized experience for target customers. Creating targeted inbound marketing campaigns helps you attract, inform, and delight your audience with your products and services. Not to mention, it helps you build a relationship with them as well, so they'll be more likely to purchase.
The difference between inbound and outbound marketing is simple:
Inbound marketing meets customers where they're searching online. Since inbound marketing targets people actively searching for your products and services, it attracts more qualified leads — people who are most likely to buy.
Outbound or "push" marketing is an intrusive form of marketing that interrupts users to advertise products or services. With outbound marketing, you reach a less qualified audience — people who may or may not be interested in your business.
Outbound marketing services include strategies like:
TV commercials
Billboards
Cold calls
Junk mail
Although outbound marketing services might have some success, in comparison to inbound marketing strategies, they are a waste of marketing budget since they don't target your most qualified customers.
Our digital marketing campaigns impact the metrics that matter most!
Over the past 5 years, we've generated:
1.5 Billion
in client revenue
4.6 Million +
leads for our clients
1.8 Million
client phone calls
Learn more about our results
Why inbound marketing services can improve your business exponentially
Creating an inbound marketing strategy is low-hanging fruit when it comes to improving your business.
Why? The strategies included in your campaign require you to get to know your target audience so that you can advertise to them directly and meet them where they are in the customer journey.
Read on for an in-depth look at why inbound marketing is a fantastic investment.
It meets potential customers where they are
Inbound marketing actively targets people searching for your products and services.
If you're driving down the road and happen upon a billboard for a new car, that's not a marketing strategy that's meeting you where you are as a shopper. You're likely not even looking to purchase a new vehicle!
However, since inbound marketing services are targeted and intentional, they allow you to meet customers where they are in their buyer journey.
For example, search engine optimization or SEO helps you show up highly in search engines for targeted keywords. That said, a user must search the keywords that you write about to see the content that you write — they're not being bombarded with your content on a whim. Instead, they're actively searching for it.
Inbound marketing services are so beneficial because they can reach potential clients at their particular stage of the buyer journey — making them more likely to convert.
It's targeted
Inbound marketing strategies provide a great way for you to target your ideal audience.
For example, pay-per-click (PPC) ads allow you to select different targeting parameters which place your ads directly in front of users that fit a specific demographic, lifestyle, or other category of your choosing.
When you target users based on their needs, you'll see an uptick in conversions — simply because you're marketing to users that are interested in what you have to offer.
It's marketing with intention
Inbound marketing services are far more intentional than outbound marketing strategies.
You can think of outbound marketing strategies as throwing something at the wall to see what sticks. It's not very intentional, and it can often wind up being waste of your marketing budget.
When you opt for inbound marketing services instead, you can rest assured that you're marketing with intention. Your intentions might include:
Marketing to the right customer at the right point of their buyer journey
Marketing on the right platforms
Marketing to users that actually need your products or services
Tracking the success of each campaign as to not waste your budget
These intentions are great to set at the beginning of your campaign, and as you opt for different inbound strategies, you'll see that they're not difficult to accomplish.
It's measurable
When you opt for inbound marketing strategies, you'll be able to measure and track their success.
This means that if a specific strategy isn't working, you can use analytics to determine where there might be holes in a specific campaign and patch them accordingly.
It's difficult to track the success rate of outbound marketing techniques, simply because they're not tied to any tracking platforms.
Strategies like SEO, PPC, social media marketing, and email marketing allow you to track success in Google Analytics, or for social media, in each platforms' proprietary analytics program.
4 examples of inbound marketing to inspire your strategy
Check out some examples of how some of our favorite brands use inbound marketing to thrive.
1. Home Depot's blog
Check out the way Home Depot takes advantage of their industry knowledge to provide users with valuable information on their blog!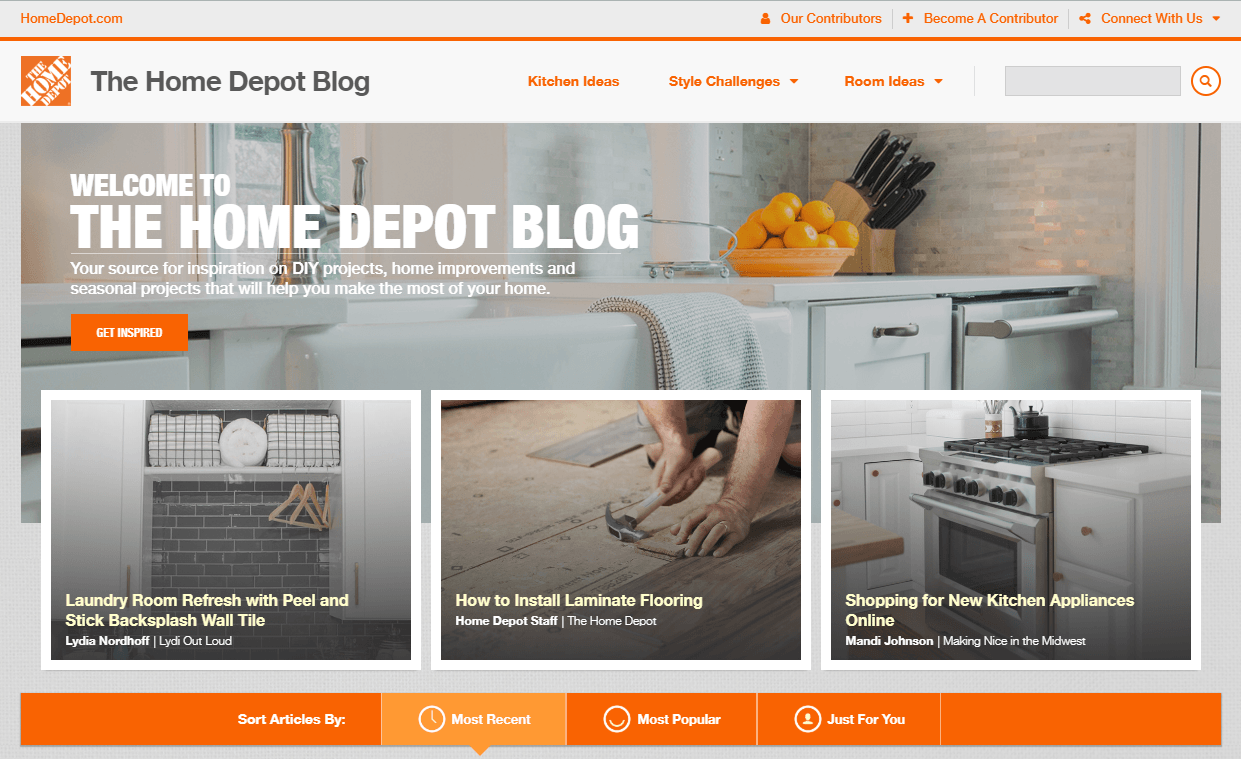 The goal of their blog posts isn't to sell their products (although that can be a beneficial byproduct). It's to inform users so that they feel empowered to take on their own projects.
Blogging as an inbound marketing technique falls under the category of content creation, and it can shift to a content marketing technique if Home Depot were to share their blog posts on social media or in an email newsletter!
2. Starbucks local SEO
Starbucks knows that even though it's a chain, there's no room to let off of their inbound marketing efforts.
When I search for "coffee near me," Starbucks is the first coffee shop to show up in the local SEO 3-pack — showing that they've opted to complete their Google My Business (GMB) profile and reap the benefits of local SEO.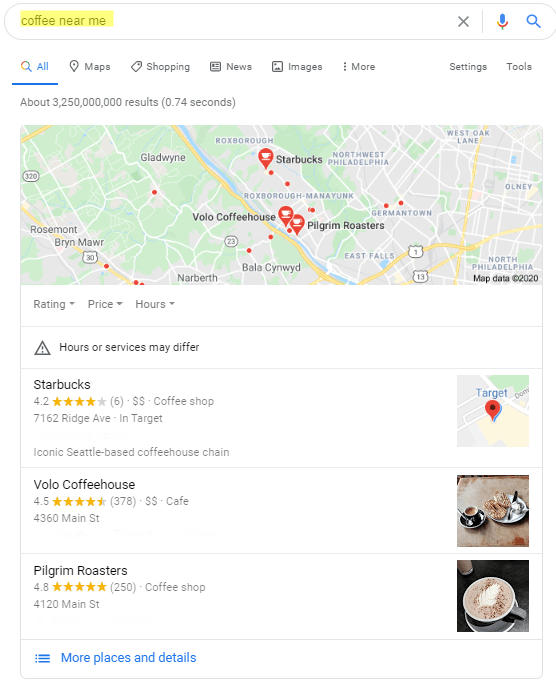 This inbound marketing initiative isn't intrusive since it meets users exactly where they are — in a specific Google search.
3. Gap's PPC ad
When I do a Google search for "comfortable pjs," a PPC ad for Gap's women's relaxed pajama pants shows up above organic results.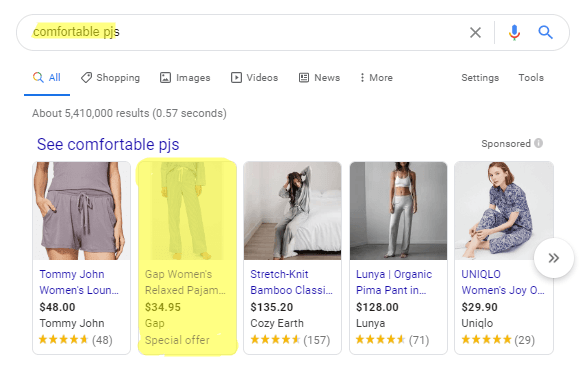 Opting for PPC ads as an inbound marketing service allows you to target users based on exactly what they're searching for. PPC ads are extremely unobtrusive since users are already searching for the product or service shown in ads.
4. B&H's email newsletter
Email marketing is one of our favorite inbound marketing services — not only because of its incredible ROI ($44 for every $1 spent) but because it sends extremely targeted emails to people who have already shown interest in your business.
Check out B&H's email newsletter. I receive these in my inbox consistently — because I was interested in their products and services and proved it by signing up for their newsletter.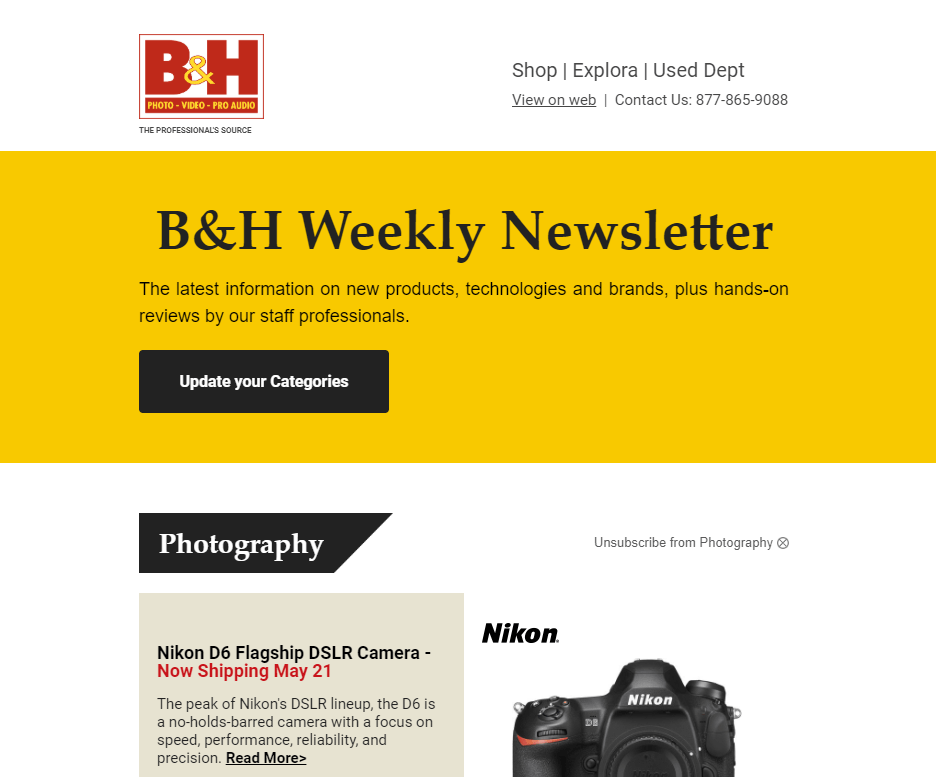 Email newsletters are a fantastic inbound marketing service to adopt since they lets you reach target customers that have already proven their interest in your products.
WebFX — our marketing agency list of services
If you're looking to use inbound marketing services to improve your business, we've got you covered.
WebFX is a full-service digital marketing agency, which means we offer a wide variety of inbound marketing services.
Check out our marketing agency's list of services below, and keep in mind that we offer more than 50 inbound marketing services — so, not all are listed here!
Inbound marketing pricing
Every inbound marketing service that we offer is customized to client needs. We serve customers in a variety of industries and locations around the globe.
If you'd like help with your inbound marketing strategy, we'll create a unique, customized campaign just for you.
We can merge any combination of our inbound marketing services to create a successful marketing campaign that attracts website traffic, leads, and most importantly, increases conversions. In the past 5 years alone, we've generated over $2.4 billion in client revenue — and we can't wait to drive results for your business.
If you're ready to get started, get a free quote by contacting us online, or to speak with an inbound marketing specialist, feel free to give us a call at 888-601-5359!