What Is Inbound Marketing?
Inbound marketing is a methodology that attracts (versus interrupts like outbound marketing) users with experiences personalized to their wants, challenges, and interests. Strategies like email marketing, search engine optimization (SEO), and content marketing all work as inbound marketing strategies.
These are all excellent questions, and this inbound marketing guide answers them all. Keep reading to learn all about inbound marketing and get actionable advice for launching your inbound marketing strategy.
If you need professional help with inbound marketing, contact us online or call us at 888-601-5359. You can also browse our inbound marketing services to see how our award-winning team can build a successful plan for your business.
The inbound marketing definition
Inbound marketing definition refers to any marketing activities that bring people in, as opposed to marketers having to reach out to them. It can also be summed up as any kind of activity that earns attention, as opposed to an activity that pays for it.

Inbound marketing is usually something that was desired by the person consuming it, as opposed to something that was offered or exposed to someone without their permissions or desire for it. This is why you may also sometimes hear inbound marketing called "permission marketing" (a term coined by author Seth Godin).
Learn about Inboud Marketing Definition and Inbound Marketing Strategies
Examples of inbound marketing
A few examples of inbound marketing are blog posts, podcasts, emails, social media posts, and videos. In contrast, a few examples of marketing that would not be considered inbound—also known as outbound marketing—are commercials, direct mail, cold calls, and spam email.
Do you see the difference?
Inbound marketing vs. outbound marketing
Inbound marketing methods are sought out and consumed by those who have a desire for them, or who are looking for them in their time of need. On the other hand, outbound marketing methods tend to be intrusive, unwanted, or even spammy.

As time goes on, consumers are learning to tune out outbound marketing methods, or are even finding ways to avoid them. For example, when a television commercial comes on, a consumer may simply change the channel. A spam email may automatically be filtered to the "spam" folder, or deleted without being read. Those who rely solely on these methods are finding that they are not as effective as they once were…nor do they provide the desired return on investment.
Inbound marketing, on the other hand, gives marketers a chance to "earn their way in."
For example, instead of a television commercial, a company may produce a detailed how-to guide or blog post. When the consumer needs it, they will find it in a search, and become aware of that company. This earns more trust than an intrusive commercial, and may also have a higher ROI.
As mentioned, inbound marketing brings people in, as opposed to requiring marketers to reach out. This is the crucial difference between the two.
How did inbound marketing start?
Along with asking "What is inbound marketing?" you may be wondering how this new form of marketing came to be. Truthfully, inbound marketing has been around for many years, and many companies have been using it—but the term "inbound marketing" was not coined until 2005.
Brian Halligan, CEO and co-founder of HubSpot, a marketing software company, came up with the term to describe this type of marketing. In 2009, Halligan and fellow HubSpot co-founder Dharmesh Shah, released a book on the topic titled Inbound Marketing: Get Found Using Google, Social Media, and Blogs.
In addition to creating the term and methodology, HubSpot also developed a flywheel to demonstrate the inbound marketing process. This flywheel grew to encompass not only marketing but also sales and customer service.
The flywheel features three components:
Attract: The "attract" element focuses on reaching and bringing your audience to you, like with helpful blog posts, funny social media content, or optimized content for search. Attraction strategies center on generating audience-focused resources that your audience can find easily.
Engage: The "engage" component revolves around communication. How you engage with clients and leads, whether on social media, over the phone, or via email, influences their decision when it comes to choosing your business, products, and services.
Delight: The "delight" element centers on customer retention. You want to keep your clients happy and satisfied, as well as motivated to recommend your business to others. This stage combines both attract and engage, as you continue to provide resources and communicate.
Companies can use a range of strategies for these components, as demonstrated in the table below:
| FLYWHEEL STAGE | STRATEGIES |
| --- | --- |
| Attract | Content marketing Search engine optimization Social media marketing and advertising Pay-per-click advertising Video marketing |
| Engage | Social media marketing Email marketing Content marketing Chatbots |
| Delight | Content marketing Social media marketing Chatbots Email marketing |
Why is inbound marketing important?
Inbound marketing matters to businesses for a few reasons, and the Internet is the biggest one.
Thanks to the World Wide Web, people across the world can research companies, products, and services in an instant. They can compare your business with competitors in minutes. Not to mention, who they find depends on search algorithms, social media, paid ads, and more.
If your company doesn't use inbound marketing, you won't have the chance to reach your audience.
Inbound marketing helps you attract users, as well as earn visibility on the Internet.
That makes inbound marketing an immensely powerful marketing approach. Companies can't afford to ignore inbound marketing, even if they provide the best product or service because people won't know that they do because consumers can't find them online.
Use inbound marketing and you can start growing your business.
How does inbound marketing work?
Inbound marketing does not consist of one single marketing method that draws potential customers to your website. In fact, it consists of multiple marketing methods, all of which are considered inbound.
Each of these methods works a little differently. Some of them may rely on producing content that, like our example above, exists for a consumer's time of need. Others involve creating a presence on channels like Facebook, Twitter, and Instagram. And others focus on the optimization of your website to make your content and business easier to find, increasing the likelihood that consumers will choose to learn more about you.
Let's explore the methods that make up inbound marketing in a little more detail.
How you can use inbound marketing
Your business can use inbound marketing to accomplish a range of goals, including:
Building brand awareness for your brand, products, or services
Creating an online following across multiple channels, like social media and email
Increasing website traffic and website conversions, like with SEO
Improving lead quality and lead management
Delivering personalized customer service and support
Establishing a presence across multiple touchpoints, like search, email, and social
Expanding understanding of target audience goals, challenges, and wants
And more
Essentially, you can use inbound marketing to grow your business. In addition to attracting new customers, you can also take advantage of inbound marketing to retain current ones, which can have a massive impact on your bottom line.
5 inbound marketing strategies businesses use
You have choices when it comes to inbound marketing strategies. Companies can personalize their tactics to their audience, which makes inbound marketing highly customizable.
Five of the most popular strategies include:
1. Content marketing
If you are creating articles, how-to pages, whitepapers, or other content, this is also a form of inbound marketing. Not only do these content pieces make it more likely that someone will find your company when they are searching for you, they also help those who have already located your site feel an affinity toward it. If you regularly product helpful content, you may be seen as a better, more valuable business than one that does not.
There are many types of content that you can produce, from whitepapers to videos to long-form guides. Not every type of content will work for every business. Experiment with your offerings to see what works best for your leads—you might be surprised!
2. Social media
Social media is also another component of inbound marketing. While it can be used to reach new customers or potential leads, it can also be used to grow relationships with existing ones by offering helpful content or great service at the right times.
3. Blogging
Blogging for your business is a fantastic way to increase awareness, produce great content for your site, and attract links that have the potential to help your site rank better in search engines. Blogging is also a crucial part of many inbound marketing strategies, since it focuses on the creation of content that people will want to consume.
4. Email marketing
Email marketing may not seem like a form of inbound marketing, but because you must get permission before emailing anyone—you do ask for permission, right?—it appears solidly on the inbound list. Like social media, email is typically used to grow existing relationships by offering something desirable at the right time.
You can use email marketing as part of your inbound marketing strategies by offering more than sales or deals in your emails. Why not send out how-tos, content, links to your blog posts, or highlights from social media? Or even highlight a fan or customer of the week?
5. Search engine optimization (SEO)
Yes, SEO — or search engine optimization — is a crucial part of inbound marketing, and key for any inbound marketing strategies. After all, where would these other marketing methods get you if they weren't properly optimized, or your site wasn't up to today's SEO standards?
If you're not already familiar with SEO, it's an important part of online marketing by which your website is optimized to appear more often in search results, or rank higher than your competitors. SEO is the difference between ranking #1 and ranking #10, and what determines which websites take the top spots for any specific search query. You can learn more about SEO on this page.
Without SEO, which ensures your content is as search engine-friendly as possible, even your best content would have no chance of reaching your target audience.
These are just a few examples of marketing methods that are considered inbound instead of outbound. Remember: if your marketing is earning your customer or lead's attention, rather than buying or begging for it, chances are it is a form of inbound marketing strategies.
Free Guide Download
Let Prospective Clients Come to You
Download our guide to see how you can use inbound marketing tactics to get in front of qualified business looking for your products or services.
Get My Free Guide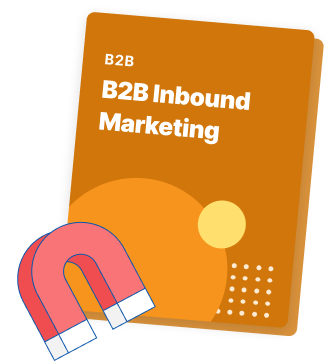 How to get started with inbound marketing
If you're looking to get started with an inbound marketing strategy, our advice to you is this: start small. You don't have to do everything at once, or use every single method we listed on this page. In fact, that would probably be counter-productive.

To get started, choose one marketing method you're not already doing, and work with your team to set a strategy for it. Ask the following questions:
When will we launch this?
How do we expect it to help our leads, clients, or customers?
What kinds of goals do we want to meet with this method?
How does this fit into our overall marketing plan?
Then, launch your method.
Monitor the results carefully for a set period of time. It's also important to realize that inbound marketing does not often have immediate results: many blogs have to work for months or even years before they see regular readers. However, if you do not meet your goals, you may want to re-evaluate your approach and try again, or even phase that method out entirely.
If you want to add additional inbound marketing methods, be sure that they are added one-by-one, and that you are asking questions like the ones listed above, and measuring your response carefully, each time. By doing this, you'll be able to have a better idea of what is working for you and what isn't—and how happy you're making the people visiting your website!
We hope this page helped answer the question "What is inbound marketing?" for you…and then some! Now that you know more about what inbound marketing is and how it works, we wish you luck in using it on your own website!
[Infographic] Inbound marketing explained
Check out the infographic below for a quick inbound marketing summary!

Need help developing an inbound marketing strategy?
As a leading inbound marketing agency, WebFX can create a comprehensive inbound marketing strategy for your business. While other firms may simply provide a few services and call it a day, WebFX is a full-service agency that works with its clients to develop personalized, strategic plans designed to create the greatest return on investment possible.
VIEW OUR INBOUND MARKETING PLANS
When you're ready to experience award-winning web design, SEO, and inbound marketing from one of the nation's best marketing teams, we'd love to hear from you! Simply email us or give us a call to discuss what you'd like to accomplish with an inbound marketing plan, and we'll create a custom quote just for you.
Earn a 20% greater ROI with WebFX