Since local businesses focus on driving in customers from the nearby area, it is beneficial for them to use local SEO. This kind of SEO focuses on driving more local traffic. One thing you'll want to know is what a local SEO 3-pack is.
In this post, we'll discuss the basics of the local SEO 3-pack and how you can optimize your listing to rank higher. Let's get started!
What is a local SEO 3-pack?
A local SEO 3-pack is the listing of three businesses you see first in the search results when searching for terms using keywords like "near me" or "near [Location]." When you conduct a search for a local business, Google generates a list of potential businesses that fit your search query. The first things you'll see are the three Google Business Profile listings.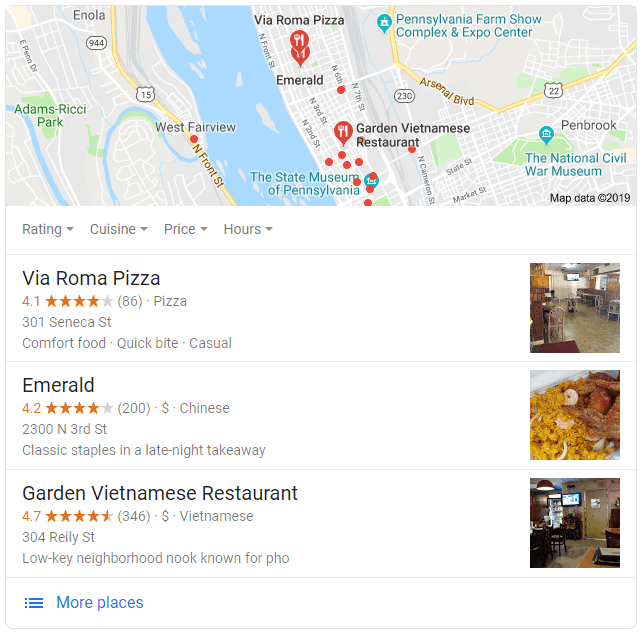 How have local business listings on Google changed?
Previously, this feature had five to seven business listings. This meant that many local businesses could be featured in the search results.
Google recently decided to narrow it down to the top three results. The top three results focus on businesses that are the most relevant to your search. The results will vary when you change locations to give you the businesses that are closest to you.
Not only has Google changed the number of listings, but they also changed the listing format. This means that when you see the local 3-pack listing, you only see a business's address. Unlike previous versions, there is no other contact information listed.
If you want more information from the business, you must click on their listing. After clicking on the listing, you are directed to a page that highlights the business you clicked on and lists various other businesses.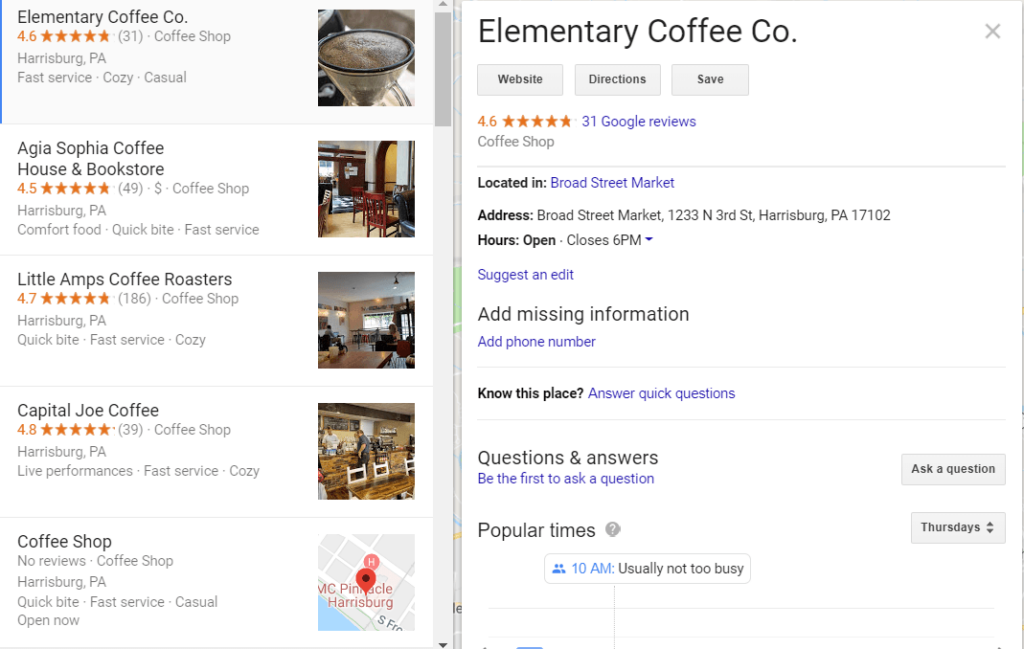 This means that your business can still be featured, even if leads don't initially click on your ad.
That's why it's important to optimize your listing so you can reach more valuable leads.
5 tips for ranking in the local SEO 3-pack
Want to see your business in the 3-pack? Check out these tips!
1. See if you're in the top 20
Before you start to optimize your listing, you'll want to see where you stand. It is important that you see if your business is in the top 20 for your area. The top 20 list will change order based on your location, but the same businesses are listed.
Basically, the businesses change order based on a user's location to your business. If you are in one of the top 20 positions, you have a good start to optimize your list.
2. Fill out your Google Business Profile page entirely
When users look for your local business, they want to obtain information about it. This helps them decide if your business is the right choice for them. To rank better in the local SEO 3-pack, include your company's information in a business listing.
Fill out your listing completely, so users can gather specifics about your company. Include your updated address, contact information, and other important details. Most importantly, make sure your hours of operation are up-to-date.
When you add your business hours to your listing, leads see phrases such as "opens soon," "open," or "closing soon." It's important that they see the right hours, so they can visit your business during the appropriate hours.
3. Get reviews on your Google profile
Reviews drive traffic for local businesses because people look for reviews to see if it is worth visiting. In fact, almost 84% of consumers trust online reviews just as much as personal recommendations. Since reviews matter to your audience, you want to use them to entice leads, so they will visit your business.
Additionally, when you earn reviews, you will boost your visibility. People will see your star rating when they see the local SEO 3-pack and be more interested in seeing what your business has to offer them. If you have good reviews, you will attract more people to your listing.
This will help your business earn more credibility and clicks to your website.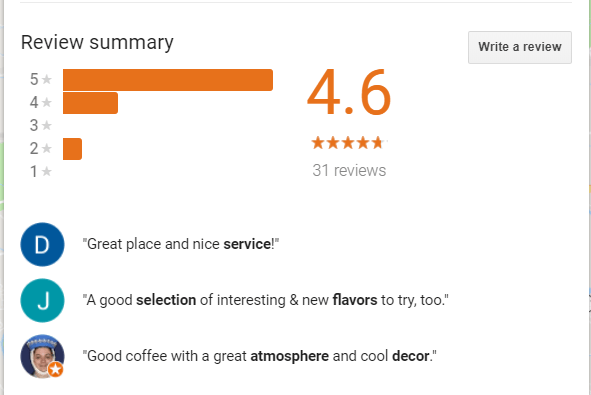 4. Garner locally relevant links and backlinks to boost visibility
Link building is a big part of SEO. You want to earn links to help improve your site's ranking. As a local business, try to earn locally-relevant links.
These are links from other local businesses that drive traffic back to your business's website. It helps more people find your business. You will earn local links by sponsoring nonprofits or sponsoring events.
Leads will see your business's name, follow the link to your website, and learn more about your business. This will also boost your brand recognition. The important part is that you get your business out there.
You want more people to visit your business. This can lead to more reviews for your business, which will help your local listing. Aside from locally relevant links, you'll also want to build backlinks.
Backlinks are the most effective links to increase your website's ranking. It helps improve your website's organic ranking. By earning backlinks, you build your business' trust and authority.
This will help you build a strong Google listing, which can help you get into the SEO 3-pack. Even if people skip the local SEO 3-pack, you'll still have a website that ranks strongly organically, so leads can still find your site.
Bonus read: Local Link Building Tips for SMBs
5. Build your social media presence
Social media is a great tool for local businesses. It provides you with the opportunity to connect to your local customers. You will build stronger relationships with your customers by using social media.
Your social media presence will help you improve your Google listing. If people are connecting with your business on social media, you can guide them to visit your website. This will lead to a boost in traffic, which will help improve your organic and Google ranking.
Social media helps you earn more reviews too. People can review your business on social sites like Facebook to improve your reputation. The more positive experiences leads have with your business, the more clicks your Google listing will receive.
Start optimizing your SEO listing today
If you want to drive in more leads for your business, you need to work on getting into the local SEO 3-pack. Check out our client-managed local SEO services to get your business's website optimized for local searches. When you are in one of the top three positions, you drive more leads for your business. It's an opportunity to earn more valuable leads that you can convert into customers.
Check out our local SEO checklist to learn more about what you need for a successful local SEO campaign!
WebFX Careers
Join our mission to provide industry-leading digital marketing services to businesses around the globe - all while building your personal knowledge and growing as an individual.