B2B Inbound Marketing: Your Guide to a B2B Inbound Marketing Strategy
If you own a B2B business, there are a few things you know. First, you know that creating strong relationships with your target audience is the key to success. You also know that targeting them at the right time is another crucial piece of the puzzle. If you implement an effective B2B inbound marketing campaign, you'll be able to check both those pieces off your list and put yourself on the path to more loyal clients and revenue.
What is B2B inbound marketing?
Let's start with the basics — what is B2B inbound marketing?
A business-to-business (B2B) business is one that sells its goods and services to other companies — not to consumers. They offer their products and services to businesses that need them to run their own companies.
An auto parts manufacturer is an excellent example of a B2B business. They manufacture car parts and then sell them to vehicle manufacturers to make the finished vehicle. Without the auto parts manufacturer, the vehicle manufacturer couldn't do their job.
So, what is B2B inbound marketing then?

B2B inbound marketing is a strategy that puts you on a potential customer's radar long before they need your services. The beauty of B2B inbound marketing is in the building of trust and brand awareness that you cultivate before a company is even interested in your services.
What is an example of B2B inbound marketing?
Inbound marketing isn't disruptive — meaning you market your services to users without them even knowing it. An example of disruptive marketing, the opposite of inbound marketing, would be something like cold calling.
Not quite following? Check out the example below.
Let's say you've wanted to open a coffee shop. You know that it's a big undertaking and you won't be able to do it alone. You'll need to order shipments of products to start your company and to keep it afloat long term.
While you're doing your research, you read an article that talks about coffee grounds versus the whole bean. You know you'll need to keep coffee grounds in your inventory later, but you're not worried about buying right now.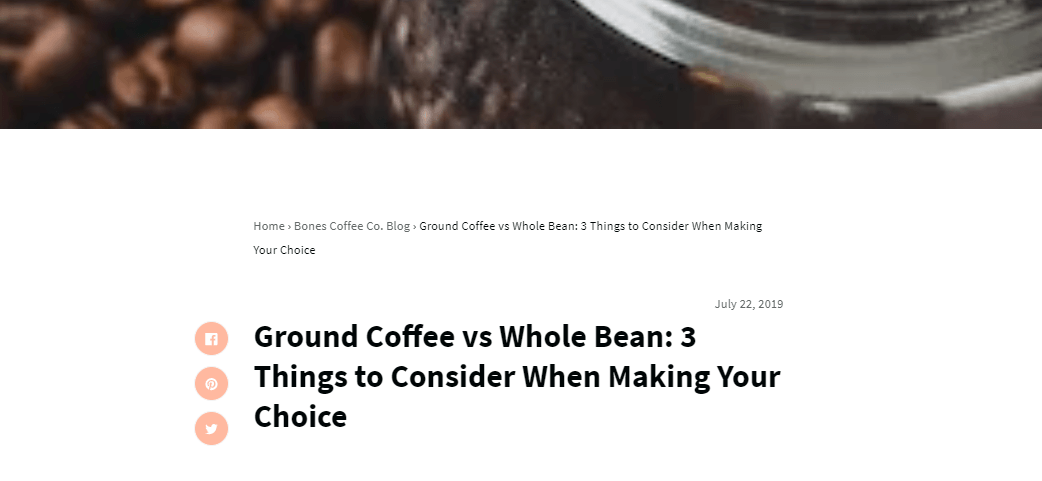 On that same page of content, you find a button link that takes you to another page on the same website that outlines coffee makers and what kind you should use based on the type of business you want to run.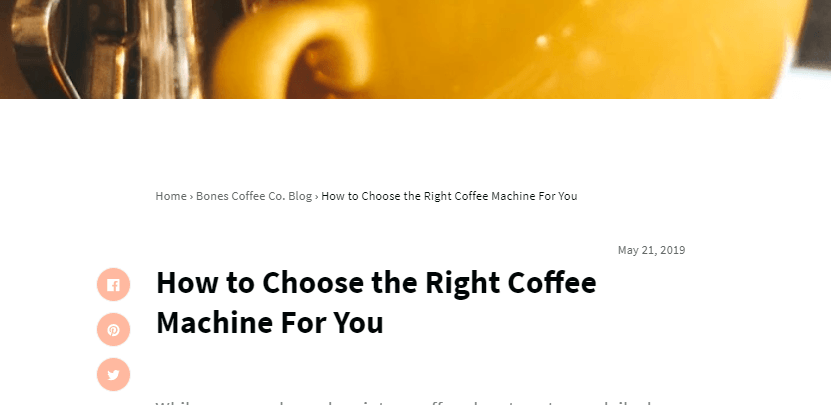 You know you'll need these, too, but aren't going to buy them right now.
Fast forward to when you open your shop. You remember those extremely well-written, informational articles that talked about the different kinds of grounds, beans, and coffee machines.
Little did you know that a coffee grounds distributor wrote the article, and you've been getting their newsletter, too, since you signed up on their website.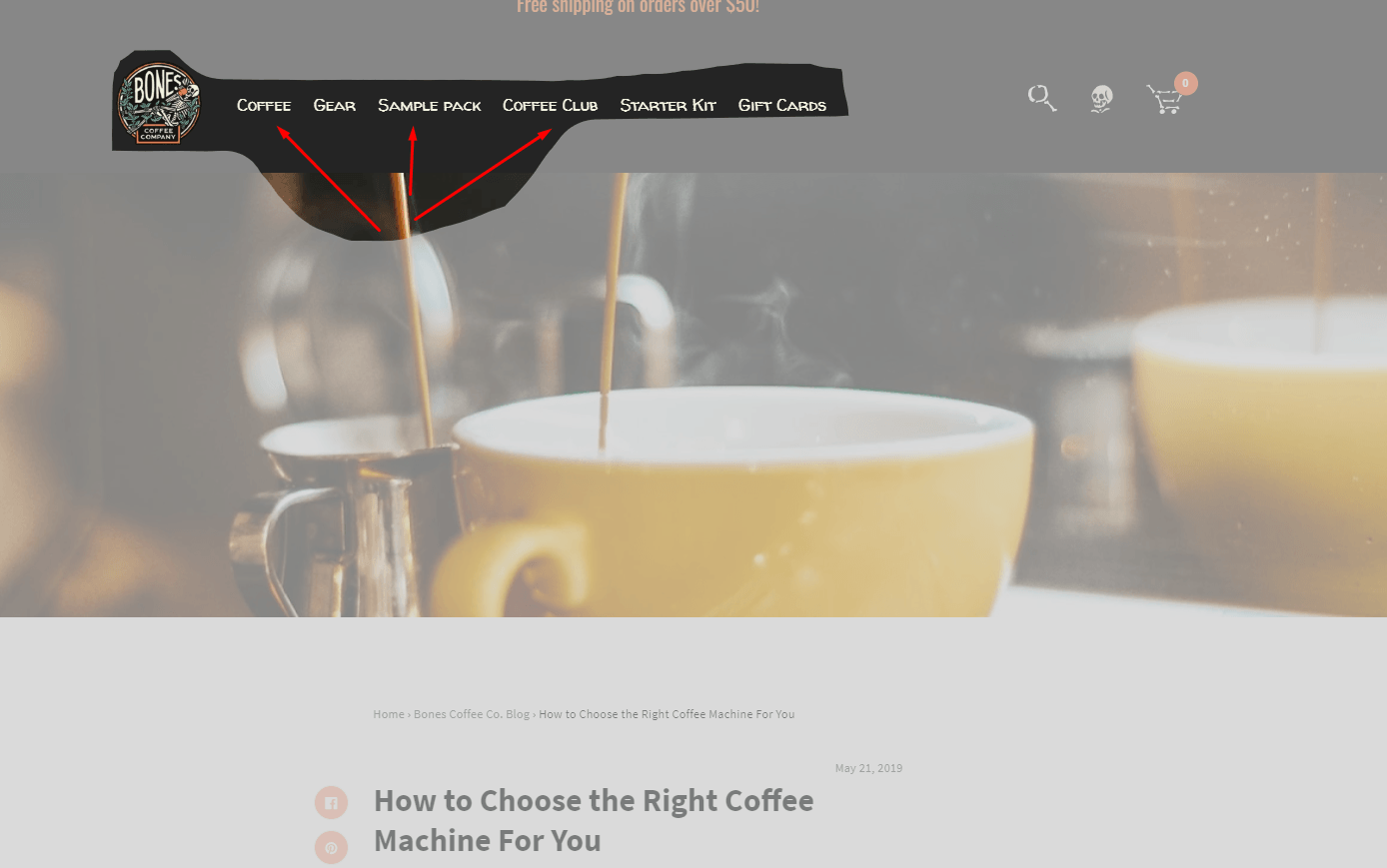 Even though you weren't ready to purchase their products when starting your research, or knew that they even provided large-scale coffee sales, they nurtured you into becoming a customer by providing you with fantastic information at the beginning of your journey.
This is a perfect example of an effective, well-done B2B inbound marketing campaign since it involves engaging with leads, nurturing them, and eventually spurring conversions.
When everything is said and done, B2B inbound marketing gets done right when you don't disrupt your audience. Instead, you meet business buyers where they are to make them familiar with your brand, products, and services.
Want to use B2B inbound marketing techniques to create a strategy for your own business? Keep reading!
Create your own B2B inbound marketing strategy that works
A common misconception is that B2B inbound marketing is synonymous with search engine optimization (SEO), content marketing, or email marketing.
The truth is, B2B inbound marketing is a standalone strategy, and though it does involve elements of other marketing strategies, it isn't considered inbound marketing unless it includes a mix.
To create a B2B inbound marketing strategy for your company, you should follow the steps below:
1. Get to know your target audience before anything else
If B2B inbound marketing is all about marketing to your target audience covertly, you'll have to know them before marketing to them. Similar to how it's easier to buy your mom a gift than it is to buy your third cousin, twice removed, a gift, it'll be easier to market to an audience that you understand.
There are a few ways to make sure you have all your bases covered:
List your current customers
Make a nice long list of customers that you've had for at least a year.
Customers who have been with you for this long will provide the best buyer intent data since you likely consider them "loyal." When you list them out, you'll want to take note of things like demographics, interests, hobbies, education level, marital status, and more.
This will help you create a buyer persona, which we'll talk about in step two.
Make a map of their typical buyer journey
How did your existing customers find you? Did they read seven blog posts before they converted? Did they read a single blog post and sign up for your email newsletter?
Knowing how your customers found you and what it was that led them to convert is crucial in crafting an effective B2B inbound marketing strategy. You can find this data by consulting Google Analytics!
Ask current customers what they need
Gaining insight into what your existing customers want and need from your products can help you stay ahead of the curve when it comes to marketing to upcoming customers.
Since your target audience members are all the same, or at least similar, you can leverage the existing relationship with current customers to gain insight into how to market to new customers.
For example, if your current customers say they're interested in more color variety for one of your products, you can anticipate that future customers will feel the same way, too.
2. Create a target persona
After you've compiled all the information we mentioned above, it's time to create a target persona.
Creating a marketing persona will make it easier for you to craft an effective B2B inbound marketing strategy since it provides a fictitious profile of your target customers. For B2B marketers, it's more likely that you're creating a target business persona rather than a single person.
Their professional level: As a B2B marketer, the professional level of your audience is likely decision-makers. You should look to market to high-level business professionals.
Their annual company revenue: The revenue of your target customer can help you understand their budget.
Their education level: Did your target customer graduate from a prestigious college? Did they go on to get their masters? This is all great information to know to help create the most effective target persona.
Their location: Knowing your target persona's location can help you tweak your language to fit specific dialects.
3. Decide what kinds of content you want to use
As a B2B business, it's all about using B2B inbound marketing techniques that help you reach your target audience. After doing audience research and creating your target personas, it's time to decide what kinds of content you'll use to nurture your leads into paying customers.
There is a wide variety of content you can use, and it's up to you to decide!
Blog posts
Blog posts are one of the best forms of content you can use for B2B inbound marketing.
You can cover a wide variety of topics with blog posts, and they're easily shareable on social media platforms and in email newsletters. Since you can create blog posts on virtually any topic, they're proven to be one of the best methods of lead nurturing.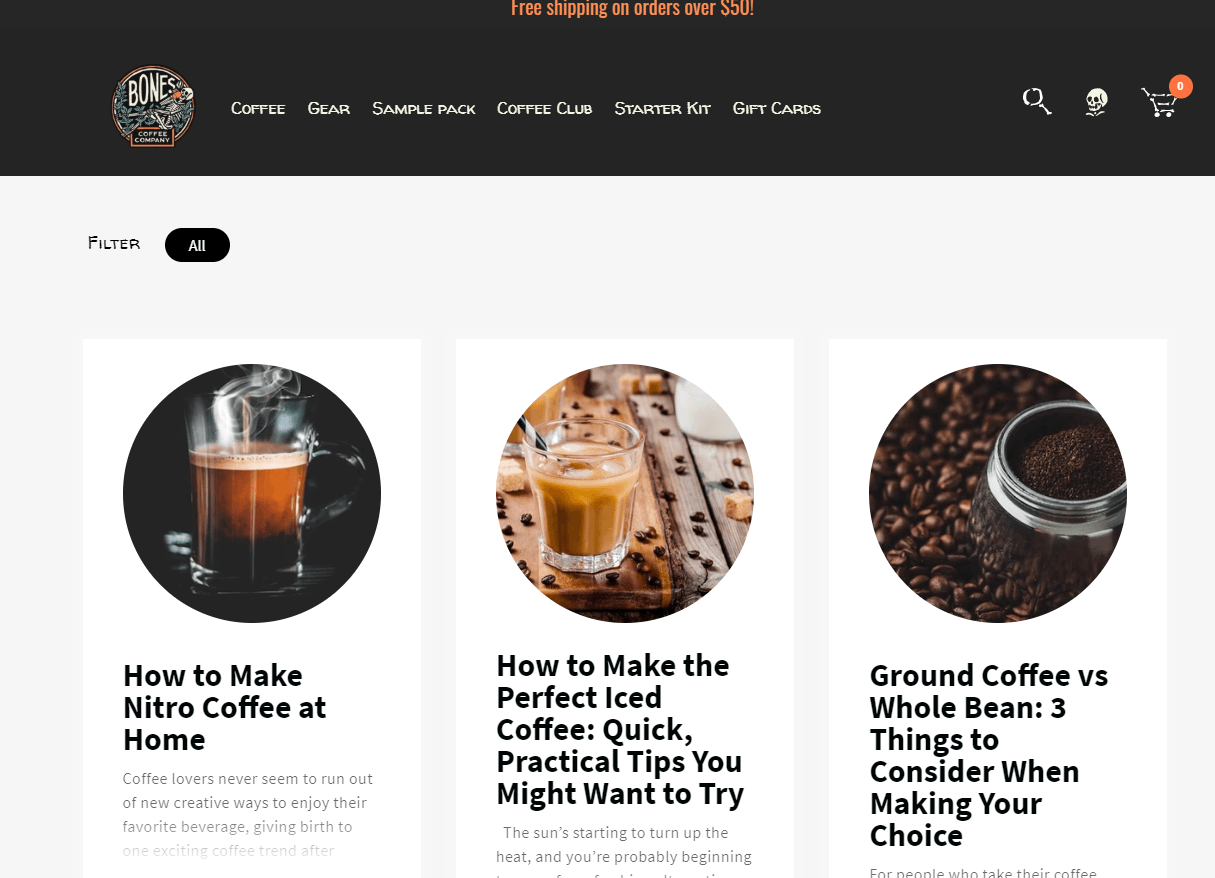 Social media
With so many social media platforms available, there are plenty of opportunities to market to your target audience without them even knowing. How? Simply post content that has to do with the projects or services you offer.
It could be one of your blog posts, a survey about your industry, news articles about your industry, and so much more. You can create tons of brand awareness with social media, which helps customers on their buyer journey.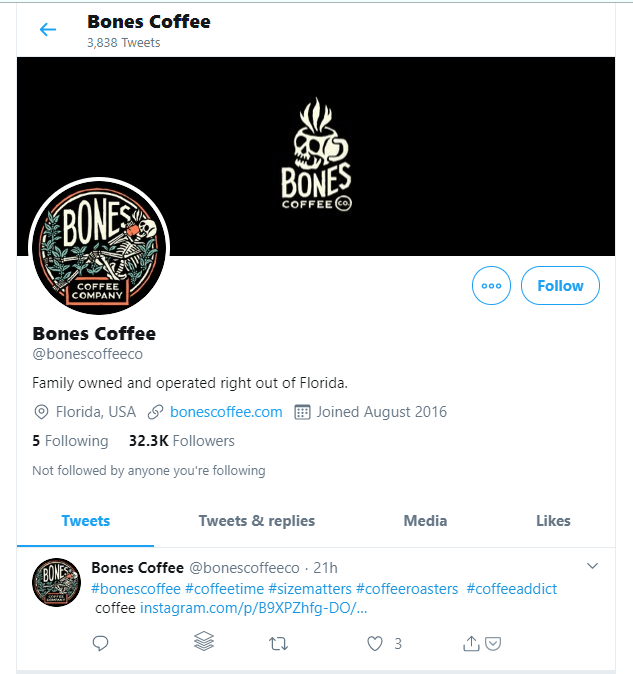 Email marketing
When you opt to use email content to nurture your leads, you're opting for an extremely cost-effective strategy that helps keep your business top of mind to potential customers. Remember the coffee shop example we used earlier?
When that user signed up for the email newsletter, she wasn't ready to buy — she simply wanted to stay informed with all the great information the coffee website provided. You can do the same by providing beneficial information in email newsletters that help build brand loyalty and trust.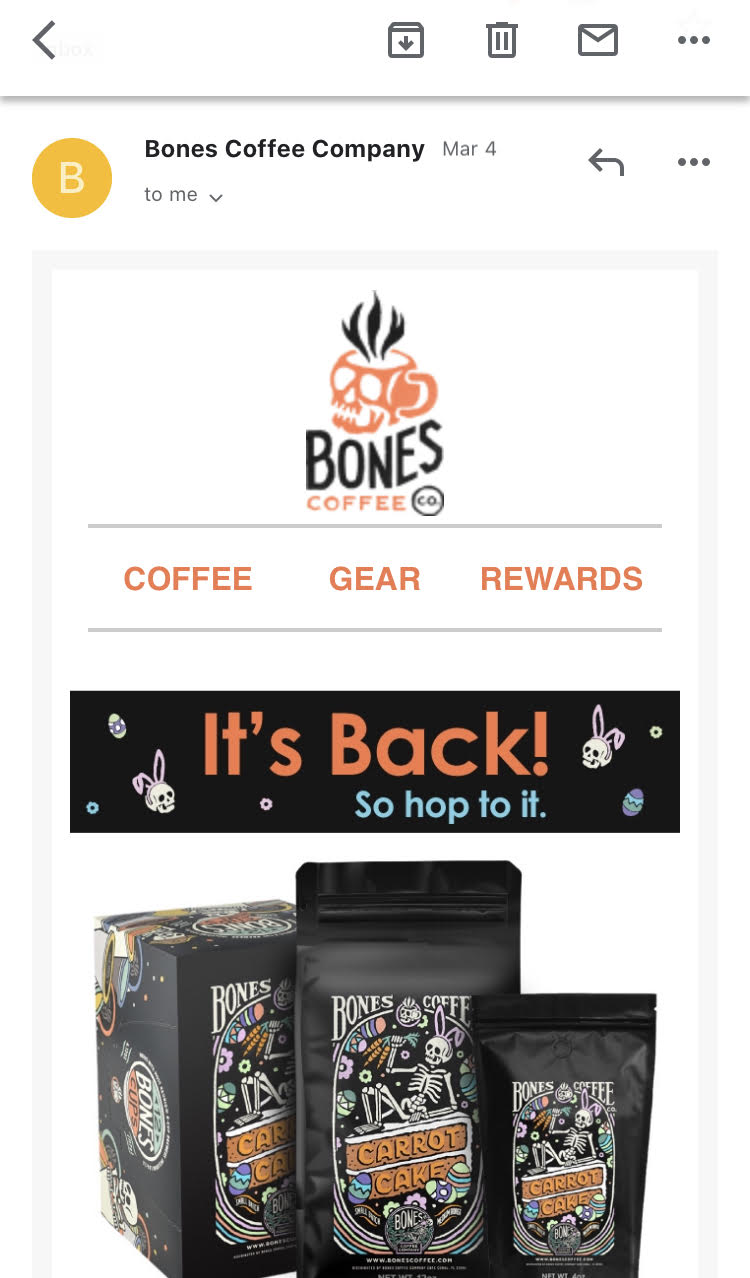 4. Create content for every stage of the buying funnel
Remember when we said B2B inbound marketing is all about engaging your target audience at the right time in their journey? What if we said that every step of the buyer journey is an important one?
With B2B inbound marketing, it's crucial you create content for every stage of the purchasing funnel.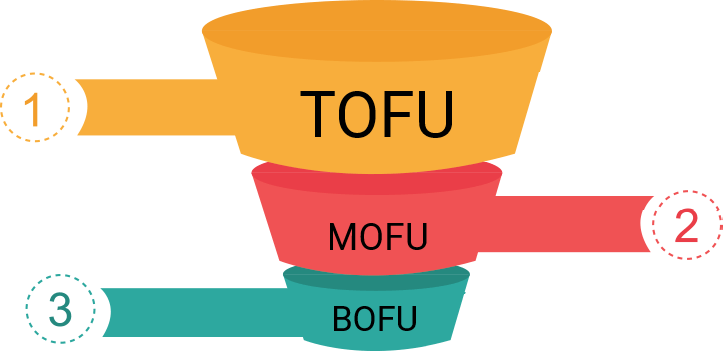 When a business is looking to buy services from another company, there's a funnel that they pass through. This funnel typically has three stages and is the same for every industry.
TOFU
The first portion of the funnel is known as top of the funnel, or TOFU. Creative, we know!
At this stage of the funnel, you're getting potential customers acquainted with your brand. You're not making any hard sells, and you might not even mention your products or services.
At the top of the funnel, you simply want to inform users and provide them with beneficial information about any topic relating to your industry, products, or services.
For example, check out this blog on the Bones Coffee blog. The content doesn't mention the business, or even that you can purchase this kind of coffee from them. It simply aims to inform.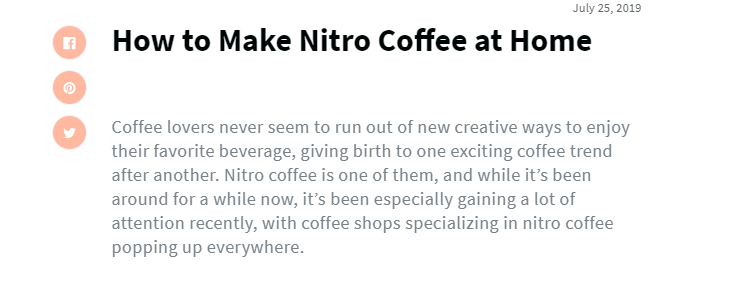 This is an excellent example of top-of-the-funnel content.
MOFU
Next comes middle of the funnel content.
This kind of content informs users about your business, your products, and your services. Whereas top of the funnel content avoided mentioning your products or services, MOFU content starts to incorporate mentions of specific products and services you offer.
At this point in the marketing funnel, your audience is getting to know your business for the products and services they offer, not just for the useful, informative content they create.
With this kind of content, whether MOFU blog posts or MOFU email newsletters, it's a good idea to incorporate some sort of call to action (CTA) to encourage users to move to the bottom of the funnel.
For example, Bones posted a recipe from a fan on their blog — a piece of content that mentions their product but doesn't make a hard sell for it.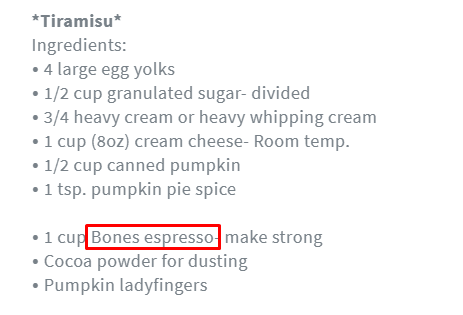 BOFU
Bottom of the funnel content is what gets users to convert. It's ideally the last bit of content that users will see before they convert and become a customer.
This kind of content includes things like pricing pages, service breakdowns, and more.
Just because this kind of content occurs at the end of the buyer journey doesn't mean that you can't borrow elements from TOFU and MOFU content.
For example, you'll still want to inform users with your BOFU content, and you'll still want to provide enticing calls to action.
The only difference is, the intent of your content and CTAs are different — instead of trying only to inform or only to engage, you're using both elements as a supplement to your BOFU content to make a sale.
When you create content for each of the stages in the marketing funnel, you'll be able to appeal to users at every stage of their journey.
There are many benefits you can reap from doing so, including:
You'll increase brand awareness
You'll become a leader in your industry by showing off your knowledge
You'll increase trust among your potential and current customers
You'll keep your business top of mind to businesses that need your services
You'll show up when your competition doesn't
You'll earn more long-term customers
You'll boost your year-over-year revenue
For example, Bones Valentine's Day gift guide blog post provides a list of their coffee products that would be an excellent fit for the perfect V-Day gift. It provides links to the products and makes a hard sell to readers about why it's a great gift.
5. Analyze your results
You can't succeed with B2B inbound marketing techniques if you don't analyze the success of your campaign.
You'll want to use tools like Ahrefs and Google Analytics to keep track of the success driven by each of your B2B inbound marketing techniques. We suggest that you analyze each channel separately so that you can get an accurate read of what strategies perform well and which you should tweak.
If you find that one of your channels isn't performing as it should, it's time to take a deep dive into that strategy to understand why it's not delivering.
If you need help analyzing your campaign's success, WebFX can help!
5 B2B inbound marketing tips
Want to make your B2B inbound marketing strategy even more successful? Try using our five tips!
1. Fix what's broken
Take a look at your existing content. Is there a blog post that needs updating? Could you update some header tags to include a new keyword?
How about that old informational article you wrote a while back — do you finally have the capacity to create an infographic for it?
Repurposing old content goes a long way in your inbound B2B strategy, which makes sense since content is such a big part of your campaign. Get the most out of every blog and article on your website by fixing outdated information and repurposing it in new formats like infographics and videos.
2. Go the extra mile on social media
If you've already incorporated social media into your B2B inbound marketing strategy, that's great! If you want to ramp up your B2B marketing efforts, though, go the extra mile on social media.
Instead of just posting your latest blog, take time to think about the buyer journey, and carefully select content to share based on every level of the funnel.
Don't just appeal to BOFU customers — appeal to buyers at the top, too.
3. Don't forget to retarget
Retargeting is a B2B inbound marketing technique that can take your campaign to the next level. When you retarget, you're remarketing a product or service that you already know your audience is interested in having.
For instance, a user could visit your website and leave something in their cart for several reasons. They might have just been looking, considering shipping costs, or just ran out of time. Someone who abandons a product in their cart could be at any point in the customer journey.
It's your job to make sure they don't forget about something they've left behind — and you can do so with retargeting.
Retargeted ads allow you to advertise products and services to users who have already shown interest — encouraging them to take the next step.
4. Make your landing pages something special
Landing pages can either encourage or deter users. Of course, you want to motivate users to make a purchase, so updating your landing pages is crucial.
If you want to push users through the funnel, you'll want to create a landing page that shows the exact product they clicked on, as well as other relevant information.
You should include:
Product dimensions
Product materials
Color options
Size options
Price
Shipping information
Customer reviews
Product description
High-quality product photos
If your current landing pages don't have all these features, you'll want to update them right away. If you need help, WebFX offers landing page design services to take your landing pages to the next level!
5. Get some videos out there
Videos are a fantastic B2B inbound marketing technique. Why?
You can make video content for every stage of the buyer journey. Users naturally connect with videos more than other kinds of content because videos are engaging, and help users feel a connection with your business.
Not only that, but 83% of video marketers say that video helps with lead generation.
You can create a video that helps users understand your products, create a video to accompany your TOFU blog post, or even create a video to go with product or service pricing.
The opportunities with video are endless, and they can help you force more leads through the funnel.
Do you need help marketing for B2B?
If you're interested in an inbound marketing strategy for your B2B business but aren't sure how to get started, WebFX can help.
We're a full-service B2B marketing agency, which means we've got you covered when it comes to all things marketing for B2B. Our B2B inbound marketing techniques will help your business create trust among potential customers and help keep current customers loyal.
With more than a decade of experience creating real results for customers just like you, we pride ourselves on our ability to craft custom campaigns for customers in a variety of industries in locations around the world.
We attribute our clients' results to the fact that we don't believe in cookie-cutter B2B inbound marketing strategies. When we create a campaign, it's hand-crafted just for your business.
We'll get to know your industry, your unique brand, and your goals so we can create the best possible B2B inbound marketing campaign.
We offer the following B2B inbound marketing strategies to help your business grow:
And more than 50 other services
If you're ready to get started with a B2B inbound marketing campaign that will help you win more customers and boost revenue, we can't wait to hear from you.
Contact us online for a free quote or give us a call at 888-601-5359 to speak with a specialist about the astronomical results you can see with our inbound marketing services!
Earn a 20% greater ROI with WebFX