Advertising your garage door company brings a range of options, as well as decisions.
What channels will you use? Which strategies offer the most value? How much will you spend? Answering these questions becomes easy with the help of an experienced online advertising agency like WebFX.
As your partner, we'll help your business earn leads, sales, and revenue from garage door advertising.
Get excited and learn how your garage door company can start growing with online advertising, below. Or, if you'd like to talk with a strategist about our digital advertising services, PPC management and how they can help you, contact us online or call us at 888-601-5359!
Earn leads with the best garage door advertising services
Online advertising can see your garage door company working with multiple ad agencies, which becomes hectic and frustrating fast.
With WebFX, you don't have that issue.
We provide a complete solution to garage door advertising, offering all the ad services your business wants (and needs) to grow.
For example, our services for advertising garage door companies include:
All these services include MarketingCloudFX, our client-exclusive marketing automation software. With MarketingCloudFX, you can monitor the performance of your ad campaigns, seeing the leads and revenue they generate in real-time.

Hear What It's Like to Work With WebFX!

"WebFX are consummate professionals. We have had few problems and when we did they were handled quickly and to our satisfaction. Additionally, WebFX regularly approaches us with new innovations for our SEO and web presence that allows us to stay current. They have simply made the most complicated aspect of our business simple."
Garage Door Repair Company
Why choose WebFX for your garage door advertising needs?
When it comes to garage door advertising, WebFX delivers. From our customized strategies to our dedicated account managers, we provide an unparalleled client experience and unmatched results. That's why our client retention rate is 91%!
For perspective, in the past five years alone, we've helped our clients ea
more than:
$3 billion in revenue
7.8 million in leads
5.2 million in phone calls
If you're looking for an online ad agency that supports you and invest itself in your success, then WebFX is the agency for you.
With our award-winning team, decades of experience, and innovative machine learning tech, we can help your garage door company earn more leads and grow its operations.
Contact us online or call us at 888-601-5359 to learn more about working together.
Which garage door advertising strategy is the best?
Garage door advertising comes with multiple choices, from your agency to your strategy. You can choose from dozens of strategies or techniques, like remarketing or social media advertising, to promote your company and attract those qualified leads.
Every operation is different, though, so while one tactic may work for one company, it may not deliver the same results for another. That's why you want a custom strategy, whether from your agency or in-house team.
A few go-to or reliable strategies for garage door advertising, however, include:
The most trusted strategy is PPC, which allows you to advertise across search engines (like Google or Bing) with hyper-targeted campaigns that reach your preferred lead. It's a powerful tool that you want to use when advertising.
What is PPC advertising for garage door companies?
PPC advertising is a paid advertising method that allows you to bid for placement in a search engine's sponsored links — above organic search results.
Many companies utilize this method, with 80% of all companies focusing on Google Ads for PPC.
So how exactly does PPC work?
Keyword selection
Keywords are what trigger PPC advertisements to appear in search results. There are two types of keywords that businesses utilize.
The first type of keyword is short tail. Short tail keywords utilize one to two words in them. As a garage door company, a short tail keyword would be "garage company."
It is best to steer clear of these keywords. They are very generic and do not specify the user's search intent. Users who type in short tail keywords are all seeking different information, and it is hard to know which leads are searching for a business like yours.
There are also many companies competing for these keywords, which raises the cost per click (CPC). When you run a PPC campaign, you only pay when people click on your advertisement. When you use short tail keywords, the amount you pay each time someone clicks will increase, and you won't be able to get as many clicks for your budget.
Long-tail keywords are better for your business. These keywords utilize three or more words. For a garage door company, a long-tail keyword would be "garage door company in Harrisburg, PA."
You want to focus on long-tail keywords because they will bring in more qualified traffic for your business. When users are conducting searches, they are using specific keywords in order to generate the best results that fit their needs. You want to use long-tail keywords to drive in these qualified leads.
Long-tail keywords keep the CPC lower. Since your keywords are specific, there are fewer companies competing for them.
Short tail keywords have a lot of competition because they are generic. Many larger companies will bid for these generic terms, which can drive up the CPC. This makes it difficult for you to earn new leads for your business.
The bidding system
Once you have your keywords selected, you'll bid for your placement. The amount you are willing to pay per click is your maximum bid. This bid is flexible and can be changed at any time.
Long-tail keywords will keep your bid lower. Since long-tail keywords are more specific, the cost is closer to a few dollars per click. If you end up using short tail keywords, your CPC will be in the double digits (sometimes as high as $50).
Once you set your bid, you'll get your placement. Your placement is determined by your maximum bid and quality score.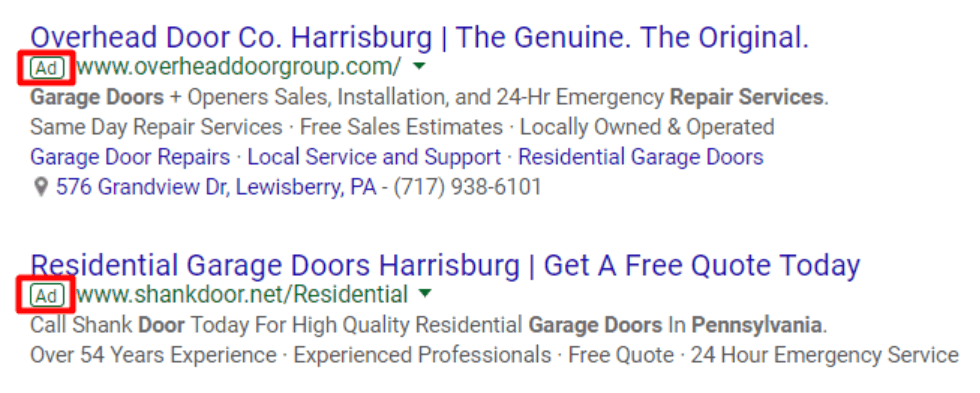 Why is PPC the best way to advertise a garage door business?
Now that you know how PPC works, you're probably wondering how PPC can benefit your garage door company. There are numerous benefits to utilizing PPC in your digital marketing plan.
1. You control the campaigns
PPC enables you to have full control over your campaigns.
With PPC, you have the freedom to decide what information to include in your ads, as well as what they look like. This enables you to tailor your advertisements to attract more qualified leads.
In addition, you can control the duration of your ads. If you want to run your advertisements during a certain time, you can set them to display at times when people from your target market are most likely to see them.
PPC is a great option for your garage door company because you can control how your campaigns are structured. When you have control over your campaigns, you can tailor them to reach your target market in a way that resonates with them.
2. You can set the budget
One of the biggest appealing factors of PPC is the ability to set your budget. PPC is a flexible option that enables you to choose how much you want to spend.
It doesn't matter if you have a small budget or a bigger budget. You choose how much you want to spend. Your PPC campaign will operate on your budget.
One of the best features of PPC is that you know the cost up front. You know your CPC and your budget. You will never incur additional costs that you were not expecting.
If you only have $2,000 to spend on a PPC campaign, your campaigns are tailored to that budget. Once you hit that limit of $2,000, your campaign is complete. It won't keep running unless you create a new campaign.
One great thing about PPC is that you can stretch your budget. If your ad is successful and driving in a great amount of traffic, Google will lower your CPC. This enables you to get more clicks for your campaign.
PPC is a very cost-effective method. Since these advertisements draw in qualified leads, you are investing in leads that are more likely to convert.
It is also cost-effective because you have control over your budget. When you can control your budget, you can control the cost.
On average, for every $1.60 spent on Ads, businesses earn $3 in return.
3. You'll get more qualified leads
PPC is a great way to draw in more qualified leads for your garage door company.
When people are conducting searches, 65% of high-intent searches result in clicking on an ad. People who are closer to conversion are looking for the right company to fit their needs. If someone is looking for a new garage door or looking for someone to repair their door, they are more likely to click on an ad because they know what they need.
This is why PPC visitors are 50% more likely to buy than organic visitors. These visitors are ready to decide on a company, so they are more likely to buy. These are more qualified leads that you can nurture into converting.
37% of marketers say that generating high-quality leads was one of their biggest challenges.
We want to decrease that percentage.
WebFX can help you generate high-quality leads with a customized marketing strategy.
Learn More About Lead Generation Services
Earn more leads with garage door advertising from WebFX
If you're ready to start earning more leads and conversions with garage door advertising, look no further than WebFX. We're an experienced online ad agency that specializes in creating custom advertising campaigns that bring your business new leads.
If you want to know what it's like to work with WebFX, just ask our clients! We have over 1020 testimonials from a variety of industries, including the garage door sector. Check them out for yourself to see what it's like to work with a top paid advertising company like WebFX!
Contact us online or call us at 888-601-5359 to learn more about our digital advertising services!
Earn a 20% greater ROI with WebFX