On this page, we'll discuss why search intent matters and provide you with three ways to optimize your site to better match user search intent. If you need help optimizing your SEO campaign for user search intent, call us today at 888-601-5359 to speak with a strategist.
Let's get started!
Why search intent matters for SEO
Search intent is the reason why users conduct searches. Every person who enters a search engine has a question or topic in mind. The goal is to find answers to their questions or information on a topic.
Previously, optimizing for the keyword was the main focus. Companies focused on integrating the keywords into their campaign without regards for the quality of information on the page. It was about integrating keywords, rather than focusing on the information attached to those keywords.
Now, Google has gotten smarter, shifting its focus onto the user's experience and providing search results that give searchers the best possible results.
It's not enough to just integrate keywords into your campaign. You must now have valuable information that matches and expands on those keywords. Your content and landing pages must be geared towards your audience and their search intent.
Matching user search intent is important. Here are four reasons why user search intent matters for your SEO campaign.
1. You fulfill their needs better
When you match search intent, you fulfill their needs better. You help them get access to information that they need.
Let's say someone is conducting a search for "how to take care of succulents." If you owned a plant store that sold succulents, this would be a great opportunity for you to create content answering that question.
However, if your content focused on the different types of succulents someone can buy, that doesn't match their search query. The intent of the query is focused on caring for the succulents, not finding the right type of succulents.

Let's say your content focused on tips for maintaining healthy succulents. If someone searched "how to take care of succulents" and found your content, it would match the user search intent very well. Your content will likely rank higher — and people who see it will be more likely to click and engage with your content because it matches their search intent.
You are fulfilling their needs better by providing information that matches their query. In this example, someone would get all the information they needed about how to care for their succulents. It may even lead to someone buying succulents from your business!
When you fulfill your audience's needs, you drive more traffic to your page. You'll obtain more relevant leads, which will help improve your SEO ranking.
2. Leads only need to go to one source
Search intent is crucial to keeping leads on your page. If you provide them with thorough information that answers their query, they don't need to go to multiple websites to get information. They remain on your page and engage with your content.
This means they increase their time spent on your page, which is a positive signal to Google. If people find your information to be relevant and remain on your page, Google will boost your website higher in the rankings to help more people find your relevant content.
Not only does it improve your SEO ranking, but it also helps you obtain more relevant leads. You'll earn more leads that convert for your business. It's a great way to help your business earn leads and continue to grow.
3. Position yourself as an authority
Matching user search intent helps you build your business as an authority in your field. Providing relevant information that fits a user's search query tells your audience that you know your information and know how to answer questions they have about your business, products, and industry.
Building yourself as an authority means that more people are likely to visit your website. They trust that you are knowledgeable about your industry. Building this trust leads to more traffic on your site, which improves your SEO ranking.
4. Boost brand awareness
Your content helps your site rank in search results, and it drives relevant leads to your site. If you want your site to rank at the top of search results, you need to create relevant content that matches search intent for the keywords you target.

In addition, when your content matches their search intent, visitors will spend more time on your pages. This means that they spend more time getting to know your business.
When your audience spends more time on your page, they get to know your brand. They become familiar with your brand and learn more about your business. This will help you earn more conversions down the line because they will be more familiar with your brand and choose your brand over the competition.
4 types of search intent
Now that you know why search intent matters for SEO, it's time to start optimizing for it.
The first step is to understand the different types of search intent. There are four types of search intents you must take into consideration.
1. Informational
Informational searches are the most common type of searches that users conduct. The basis of these search queries is to learn about a certain subject or topic. These search queries have the largest search volume because people constantly look for information.
These searches occur in the discovery phase of searching. People are looking for content-rich pages that provide them with answers to their questions. These pages are expected to be easy to skim so users can get the important information quickly.
2. Navigational
When users conduct navigational searches, they are looking for a desired page or website. These users know which company or brand they seek, but need help getting to a specific product or service page.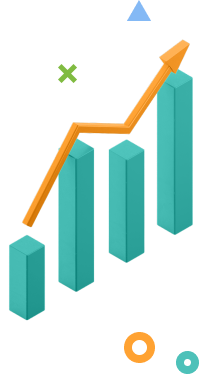 Time To Level Up Your Sales
Our long list of services helps you make waves in your industry and increase metrics that matter most - like sales.
IN THE PAST
5 YEARS

, WE'VE MANAGED MORE THAN 11.5 MILLION TRANSACTIONS ACROSS OUR CLIENT BASE. Get a Proposal!
Users typically search with the brand name in their query, along with the product. For instance, someone may search "Keurig coffee makers at Target." They know they want a Keurig coffee maker, and they know they want it from Target, they just want to navigate to a page with Keurig coffee makers to find the right one.
When you look at the search results for navigational searches, the search engine results pages (SERPs) focus on home pages and product pages for specific websites.
3. Transactional
Transactional searches have the most commercial intent. People use phrases like "price" or "sale" because they're ready to buy. People will specifically search for products and attach these keywords to find the product that fits their query best.
The SERPs are typically commercial pages, which include product and subscription pages. You'll rarely ever see informational pages, as these users are beyond the research stage and ready to convert.
4. Commercial
Commercial searches are a mix of informational and transactional searches. These are informational searches that have a transactional intent. People want to make a purchase, but they are looking for information to help guide them to the right product.

When you look at the SERPs for these queries, you'll see a mix of informational and product pages.
How to optimize for user search intent
If you're ready to start optimizing for user search intent to improve your SEO campaign, check out these three tips.
1. Map search intent
To start optimizing for user search intent, start by mapping it. Mapping a list of keywords will help you build a more strategic list. You'll have a better understanding of how to target keywords and where those keywords fit into your marketing strategy.
To prep for mapping search intent, you'll want to create a chart. Create categories for your keyword, the search volume, intent type (one of the four listed above), and the keyword value. Charting with help you understand your keywords and their intent better.
Once you have your chart set up, you can start conducting keyword research. As you find each probable keyword, fill out the information in your chart. This will help you focus on the search intent for that keyword and better match the user's search query.
2. Extract data from the SERPs
If you want to better match search intent, look at the SERPs for your keyword. When you run your keywords through Google's search engine, you can see the type of results Google drums up. Make sure you do it in incognito mode and clear your cache to get unbiased search results.
By looking in the SERPs, you can analyze keywords and understand why some pages rank better than others. You'll see which pages appear at the top of the search results and can learn the type of information they include in their content.
This helps you focus on the type of information you should include in your content. The best thing you can do is take notes on the information they place in their content and think about how you can make yours even better.

Let's go back to the succulent example. If someone searches "how to care for succulents," the top search results will provide a few paragraphs of information on maintenance. So, you clearly want your content to appear in those results.
How can you take your content to the next level?
It may be something as simple as creating a numbered list. Instead of doing paragraphs, you can create a numbered list with tips on how to care for succulents. It something small, but a numbered list can make your content more appealing because it's easier to read than paragraphs of information.
Analyzing the SERPs will help you get a better grasp on how you can make your content relevant to the query and make it better than the competition.
3.Evaluate existing content
If you've already created content, you'll want to review it. It's important that your existing content matches the user search intent, too. Take time to analyze your content to see how well the information matches with the search intent.
First, look at the keywords for your content. You'll want to extract those keywords from your page and search them on Google. Just like the tip above, you'll want to look at the search results and see what type of content ranks in them.
Based on the top-ranking articles, you can see how well your content matches up with the top- ranking spots. If your content doesn't align with the chosen keywords, you'll want to reevaluate your keywords and choose new ones to appear in more relevant search results.
You also have the option to revamp your content, too. You can rewrite and update content to better match the keywords in the article.
WebFX will help you optimize your SEO campaign to match user search intent
When you understand search intent, you help your business discover the best way to optimize your SEO campaign. Matching user search intent helps you drive more valuable leads to your business's website. At WebFX, we know how to optimize SEO campaigns to match user search intent.
We're a full-service digital marketing company that specializes in optimizing for user search intent. Our team of over 200 experts will bring their knowledge and expertise to your campaign. We'll help you create a customized campaign that fits your business's needs.
If you're looking for a company that drives results, look no further than WebFX. In the past five years alone, we've driven over $1.5 billion in sales and over 4.6 million leads for our clients. When you partner with us, you'll get a team that is dedicated to helping drive success for your business.
Don't believe us? Just ask our clients! Check out our 550+ client testimonials that attest to the great work we do for them!
Start optimizing for user search intent today
If you're ready to start reaching more qualified leads with your SEO campaign, contact us online or call us today at 888-601-5359 to speak with a strategist.
We look forward to helping your business reach new heights!