Guiding people through history is your specialty, but in an Internet-obsessed culture, how do you encourage others to reflect on centuries-old objects and ancient events?
Tying together the best of the past and the present is essential, and museums can benefit from a specific kind of digital marketing — search engine optimization (SEO). Your museum's website is the key to stimulating interest, promoting education and benefiting your bottom line.
We'll cover what SEO is and why it's specifically important for museums in this museum SEO guide. To speak to an expert about SEO for museums, contact us online or call us at 888-601-5359.
What is SEO and how do museums use it?
When you're considering marketing methods for your museum, you'll likely run into the term "SEO." SEO or search engine optimization means improving your website pages to show up higher in Google's search results.
If someone plugs "museums in [your city]" into Google, your museum's name could show up in the first few spots if you have an effective SEO strategy. However, if you don't have an SEO strategy at all, your website is likely hidden away on the second or third page of search results.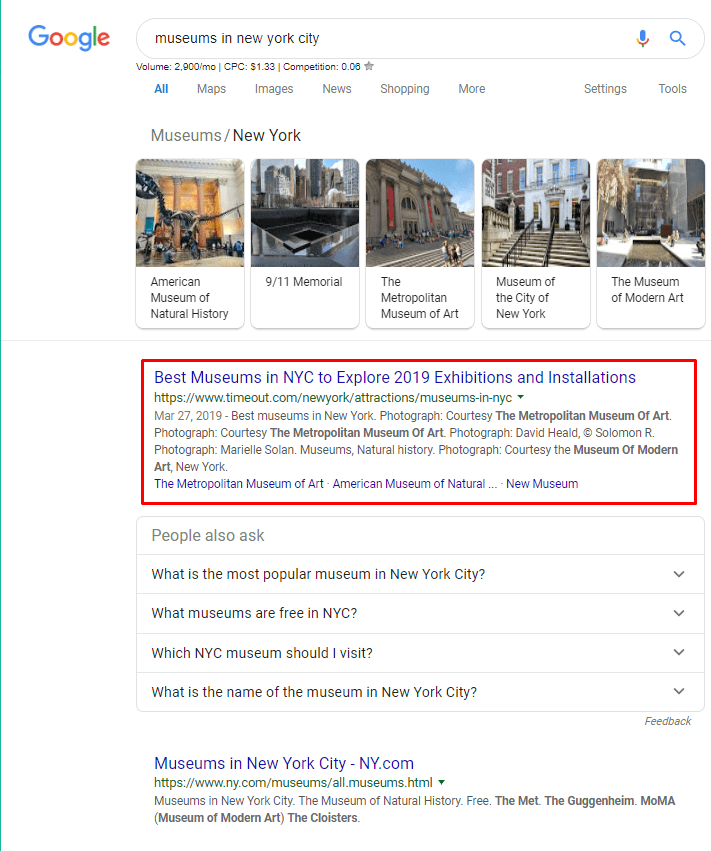 SEO helps businesses, including museums, connect with interested customers, sponsors, and visitors.
Keywords
People find you online by typing in and searching keywords related to your museum. Google and other search engines identify the website pages that best match a person's query and rank them in order of relevance.
For instance, if your museum has a specialty area like folk art or American history, you can create content on your website to highlight your expertise. If you want to rank for "American history museum tours," including that phrase in key places like your title tags, meta descriptions, and site content can catapult your rankings.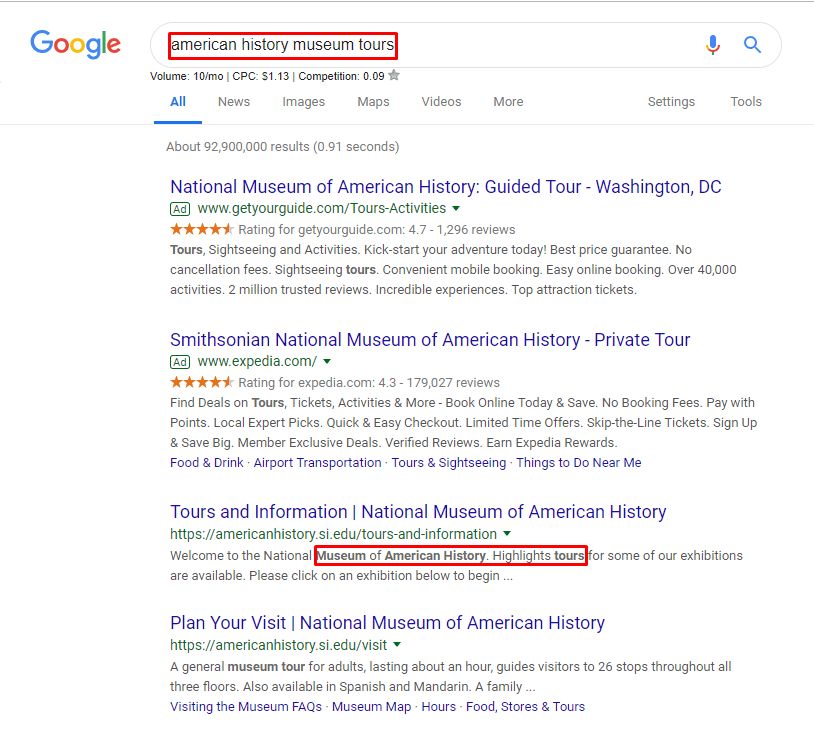 There are two main types of keywords:
Long-tail keywords: Keywords with three to five words that pinpoint people with specific needs. These keywords have fewer businesses targeting them because they're so detailed.
Short-tail keywords are more general and are usually one to two words, like "museum." Hundreds of people target these keywords online.
As you compete with other museums for rankings, targeting the right keywords can connect you to potential patrons first.
Content
The pages you make on your website can feature information in numerous forms like blogs and videos. This content is what can answer the questions and searches of possible visitors.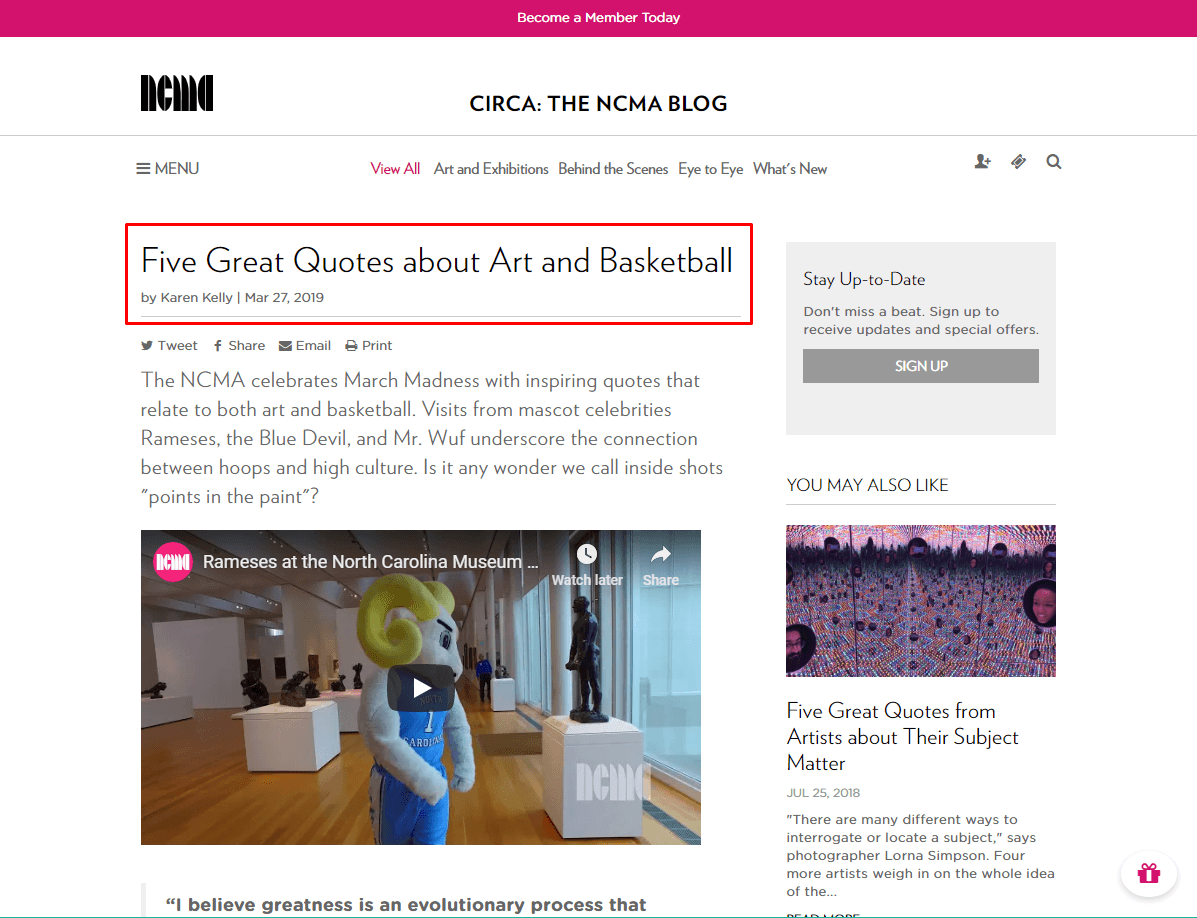 Your content and your keywords go hand-in-hand — blogs, informational pages, and more need titles and topics that utilize keywords.
Research on Google searches about museums can narrow down the best keywords for your SEO strategy. You can produce SEO-optimized pages about things to do at your museum, special exhibits, and upcoming events.
Your museum has a unique opportunity when it comes to publishing and promoting content because you have such a robust storehouse of knowledge to share.
Time to Level Up Your Sales
Our long list of services helps you grow every aspect of your business with marketing strategies that are proven to increase bottom-line metrics like revenue and conversions.
In the past 5 years, we've managed more than 12.9 MILLION transactions across our client base.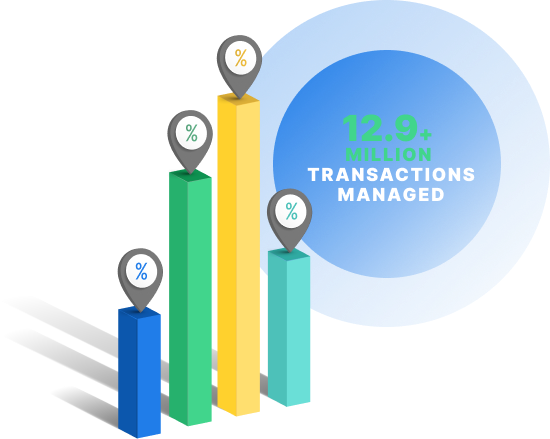 Hear What It's Like to Work With WebFX!

"All of my interaction with our account manager has been so positive. I worried about the amount of money I was spending and she has made it worth my while. I understand there is a team behind her as well but I have been so impressed. Her responsiveness is outstanding."
Real Estate Rental
5 reasons why your museum needs SEO?
With the SEO fundamentals under your belt, are you still wondering how it can benefit your museum? SEO is a highly profitable tactic to increase traffic to your website — but it extends into your museum's goals for revenue, too.
In the fight to attract visitors and stay relevant, an online presence is valuable for museums. From visibility and brand awareness to simple foot traffic, here are five ways SEO can strengthen your museum.
1. Boost visibility for your museum
In the past, people knew and thought about museums when they saw printed pamphlets, flipped open a directory or drove by the building. Now, the majority of people find places to spend their time by pulling out their phone and letting Google show them options.
When you tailor your website to a search engine's standards, you have an influx of eyes on your pages and services. Just like the importance of location in real estate, search engine rankings give museums a prime position in front of patrons.
2. Increase SEO-driven foot traffic
While many museums are offering more digitized resources, the industry as a whole is interested in physical visitors walking through exhibits. A category of SEO, local SEO, is exceptional at driving in-person traffic to your museum.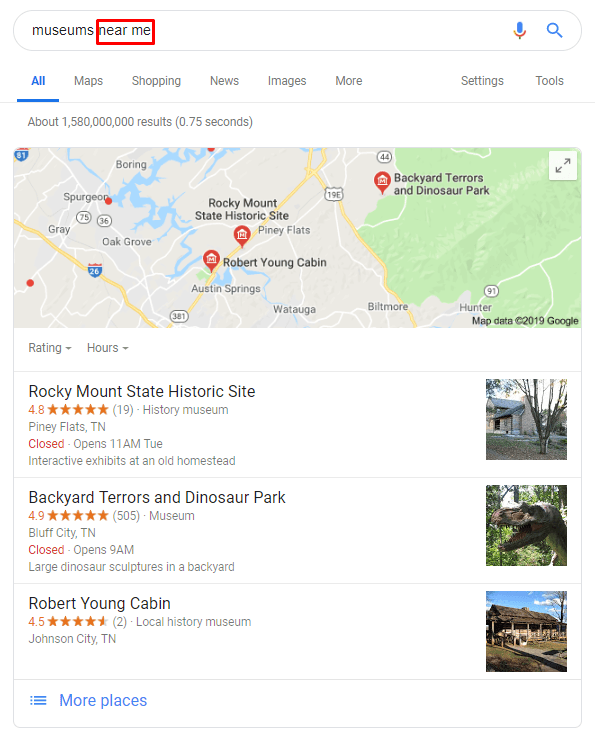 Targeting region-specific keywords can lead people from their devices to your physical location. If your keywords relate to a certain part of Washington D.C. like Georgetown, then you have a greater likelihood of reeling in Georgetown-residents.
SEO's effect on foot traffic shows real results that can increase a museum's popularity and ticket sales.
3. Improve brand awareness
What makes someone pick your museum over another one? A person's familiarity with your brand is a significant element in the decision process, and SEO is a profitable way to seal your museum's name and services in their memory.
Marketing for museums can refine your brand and make it more recognizable.
If your museum's name and recognizable phrases show up each time they search for "best museums in Miami, FL," you can leave a mark on people. They can think of you as a desirable place to visit on a weekend or a day off from work.
4. Earn more revenue
Money keeps your doors open, and SEO is able to turn website visitors into revenue. Conversion rates can soar when your website is faster, easier to use, and sitting at the top of search engines.
Depending on the type of search, you can engage potential customers at an ideal stage of the sales funnel. When people are searching for tickets or memberships to your museum, you can curate content and perform SEO finesse to push sales. You can also grow your leads and future revenue while you attract people to your website.
At WebFX, our digital marketing approach is dedicated to clear results and a surge in sales. In the last 5 years, WebFX has driven 1000+ in sales and over 7.8 million leads for clients.
5. Increase patron loyalty
Returning visitors are a treasure trove for your museum, and SEO can spur on repeat business. SEO involves a satisfying customer experience online, and an Internet-based impression can make or break loyalty between you and your patrons.
You can develop better relationships with customers when you offer them a streamlined website from the moment they click on your page in Google. Maintain the loyalty started during exceptional SEO practices by staying up to date on changes to popular search engines.
How can a digital marketing company help?
Traversing SEO for your museum can seem overwhelming — luckily, you're not alone. Digital marketing companies like WebFX have the experience, know-how, and tools to launch your SEO campaign.
We work with you to customize an approach that fits your museum's characteristics and goals. Essentially, we do the heavy lifting for you.
WebFX formulates an effective plan, manages your SEO, and analyzes the results. Whether someone picks up a mobile device or sends out a search from their desktop, we fine tune your website to climb the ranks of search engines and show up for potential customers.
Boost your museum with SEO today
Are you ready to put SEO into practice and trigger a flood of customers to your museum? Our team of 500+ experts is prepared to start your campaign.
WebFX leads the charge in SEO expertise, and our client testimonials demonstrate how we follow through and deliver results.
Learn more about our SEO services by calling us at 888-601-5359 today or contacting us online.
Earn a 20% greater ROI with WebFX