Search Engine Marketing Services
Are you looking for a professional search engine marketing company that will help your business gain exposure in search engine results? Need search engine marketing specialists who know how to properly set up, manage, and adjust your pay-per-click advertising to reach the right people at the right times? If so, you're in luck.
WebFX's managed search engine marketing service is the right choice for anyone looking to increase their exposure and reach more customers via search engine advertising. With managed search engine marketing, you can increase brand awareness, traffic to your website, conversions, and more with one comprehensive package. Read on to learn more about our services and how we can help you appeal to a wider audience online.
What is "Search Engine Marketing"?
Search engine marketing, also sometimes called "search marketing," "managed search engine marketing services," and "SEM," refers to the methods by which a business uses search engines like Google to advertise to users. This can be done through organic methods, like SEO, or paid ones, like pay-per-click ads.
As a leading search engine marketing firm, WebFX utilizes a combination of both SEO and pay-per-click (or PPC) to appeal to those already searching for your products or services. SEO is done through a combination of on-site changes and off-site tactics like link building, while PPC management is done via the services offered by Google and Microsoft.
Why Do I Need Managed Search Engine Marketing Services?
SEM can be very difficult, time-consuming, and costly to do yourself. Additionally, the world of SEO and PPC changes often. If you aren't keeping up with it, and changing your site to meet the newest standards, you could be at risk of losing your rankings... or worse.
Our search engine marketing agency can handle everything for you, allowing you to spend your time doing what you do best: running your business. We'll research, set up, optimize, and deploy your PPC ads, then monitor and report on them to you regularly, ensuring that you get the most for your money.
Also, our search engine marketing services are affordable, keeping your ROI as high as possible to ensure you get the most value out of our managed search engine marketing services. To view our PPC management packages, simply click the button below.
What Are the Benefits of Pay-Per-Click Ads?
PPC ads can be very inexpensive to run. Every search engine marketing firm will tell you that. However, what they may not tell you is that even if you have a higher cost per click, the return on investment is still rather high when your ads are properly managed.
For companies in industries where there is a high amount of competition, the ROI can be very high on even expensive PPC ads. An experienced company full of knowledgeable search engine marketing consultants will be able to identify the keywords and phrases where you can feel the most comfortable spending a little more money, because the return will be much more likely. With our firm, you won't be throwing money at the wall just to see what sticks—you'll be utilizing proven strategies.
PPC ads also increase your overall exposure online. Even if no one clicks your ads, they still see your brand name. This branch of managed search engine marketing can help drive home the fact that you are a player in the market in which they're searching.
Finally, PPC ads, when managed by a professional search engine marketing professional, like our team of expert Google AdWords certified professionals, are very easy to change on the fly. They can be adjusted, removed, paused, and restarted whenever you like. So if an ad is not performing—or is performing very well—you can immediately adjust the ad spend to meet its needs.
Where Will My Ads Show Up?
When you invest in PPC, your ads will display on either or both Google or Bing searches, depending on what you choose. Ads will be displayed around organic search results, as the image below shows: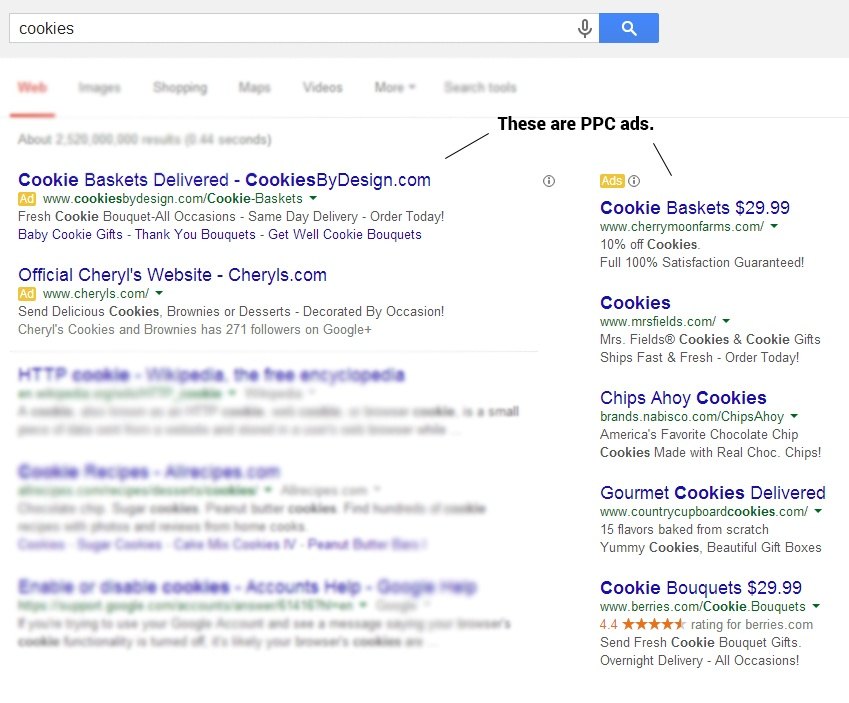 Our SEM consultants achieve both Google AdWords and Microsoft AdCenter certifications, so they will be able to help you determine where the best place to list your PPC ads is. They will also be able to determine how many ads to start with, and which keywords you should select to start with.
How Are My Ads Managed?
With WebFX as your search engine marketing company, your ads will be managed in-house by our team of certified, experienced SEM professionals.
Our team reviews your ad performance regularly, making changes as needed or consulting you to determine the best course of action. We'll provide reports on the monthly performance of your ads, and make recommendations for future budget changes. We'll also discuss additional keyword recommendations with you, or make recommendations for changes to your website or landing pages that may help your ads perform even better.
Some of our client Successes
What About SEO?
The second component of search engine marketing, SEO refers to the act of optimizing your website so that it organically—or without a financial investment—ranks at the top of search engines for the keywords most relevant to your website.
WebFX offers four levels of SEO plans that are designed to propel your site to the top of the search results. These plans involve on-page optimization, addition of important keywords to the text already on your site, an analysis of the links pointing at your site, addition of alternate text to your images, and more.
You can use both SEO and PPC ads to ensure that your site is present at the top of Google and Bing search results no matter where a user looks. That way, whether they plan to click on an ad or an organic search link, they'll be visiting YOUR website.
Click on the button below to get more information about our managed search engine marketing plans for SEO.
Turn to WebFX for the Best Search Engine Marketing Specialists
Ready to work with a leading search engine marketing firm? Contact WebFX today to find out how our SEM services can boost your sales by taking your site to the top of the search engine with PPC advertising and SEO.
Don't settle for the second or third page. WebFX's managed SEM services can get you to the top of the search engine results! Call 888.449.3239 or contact us online today to get started.