Understanding the four Ps of marketing is essential to create successful marketing campaigns that help you remain competitive in a crowded market.
Whether you've never heard of the marketing four Ps before or if you're looking for a quick refresher, we've got you covered. On this page, we'll discuss what the four Ps of marketing are and dive into each one with examples.
Just keep reading to learn more!
If you want the scoop on the latest digital marketing trends and effective strategies, we can help! Sign up for our newsletter, Revenue Weekly, to get the latest digital marketing tips and expert advice sent straight to your inbox!
What are the 4 Ps of marketing?
So, what are the 4 Ps of marketing? The marketing four Ps are product, price, place, and promotion. They are the key factors involved in marketing a product or service. In other words, the four Ps of marketing are the foundations of your marketing strategy.
The 4 Ps of Marketing
We'll dive into the ins and outs of each P of marketing below:
The first P of marketing: Product
Now that you know the answer to "What are the 4 Ps of marketing?" let's discuss the first P: Product.
Product refers to the product or service you want to sell to consumers. Your product can be anything, from clothing to household appliances to digital apps. Or you might offer a service such as therapy sessions or hairstyling.
When developing your marketing strategy, here are a few things to consider your product:
What makes your product unique?
How does your product benefit consumers?
What problem does your product solve?
How is your product different from other competing products?
By considering these factors, you can identify what makes your product stand out and market your unique features effectively to win over customers.
4 Ps of marketing example: Product
In this example, we'll take a look at Microsoft. Microsoft offers several products ranging from Microsoft Office, laptops, gaming consoles, and more.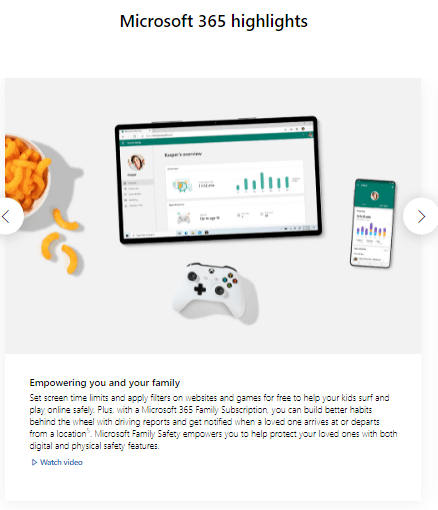 Microsoft does an excellent job of promoting the benefits and unique features of its products. They expertly describe how their products can help users, from increasing productivity to enabling their families to play games and browse online safely.
The second P of Marketing: Price
The second P of marketing is price. Price is how much you will charge consumers for your product or service.
When choosing your price, you'll want to consider what will drive the most sales for your business and the most profit.
Here are some factors to consider when deciding how much your product or service will cost:
What are competitors charging for similar products?
Do you want to offer any discounts or offers in your marketing strategy?
Do you want to be perceived as a cost-effective option or a luxury brand?
Your product or service price will also determine the language and method you used to market your products to your target audience.
4 Ps of marketing example: Price
Microsoft shows the prices for all their products on their website for users to view and browse. Microsoft is also well-known for offering regular deals and offers on its products.
The company also provides plenty of discounts while still pricing its products and services higher than other budget-saving options.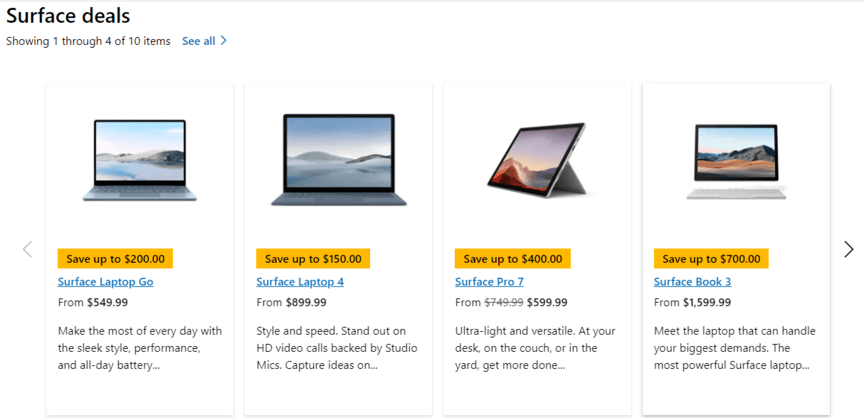 That means Microsoft can effectively entice more consumers to purchase their products with attractive deals while still maintaining their reputation as a brand that offers the latest high-quality technology.
The third P of Marketing: Place
The third P of marketing is place. Place refers to the location where you will sell your product. In this case, place could refer to the physical location of your business or where your product is sold, like your online store.
Here are a few more factors to consider when choosing your place:
To choose the perfect place to sell your products, you'll want to consider your target audience first.
Once you've identified your ideal customer and which platforms and locations they use to purchase products like yours, you can choose the perfect place to sell your products and services and earn more sales for your business.
4 Ps of marketing example: Place
In this example, Microsoft enables users to purchase their products directly from their website and have their products immediately available on their device or have their purchase delivered to their address in the next few days.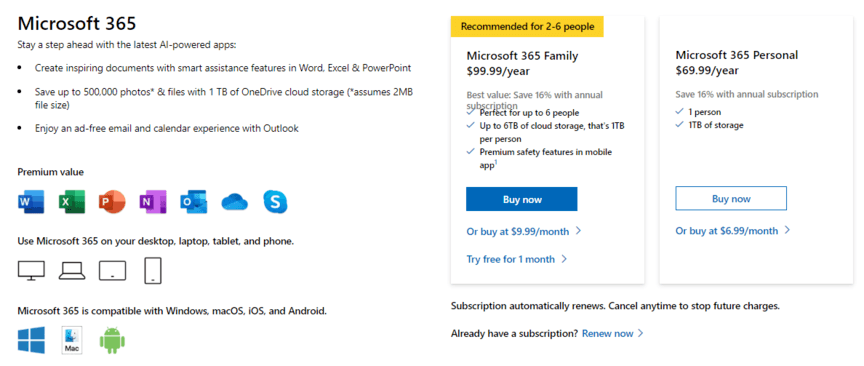 Microsoft also enables users to purchase their products in several local computer and laptop stores, as well as gaming shops and providers.
By offering several places for consumers to purchase their products, Microsoft can ensure their products are available in several local locations, including the Internet and local shops near their target audience.
The fourth P of marketing: Promotion
The fourth P of marketing, or the last element of the marketing mix, is promotion. Promotion refers to the marketing and advertising of your products and services. If you want to grow your business and boost your revenue, successfully promoting your products is essential.
There are several ways you can get your brand, products, and services in front of your target audience, including these digital marketing strategies:
By using digital marketing strategies to promote your products, you can effectively expand your reach and create targeted and personalized advertisements that will resonate with consumers and encourage them to purchase your products
That means you can reach more members of your target audience online and help them find your products and services, increasing your brand awareness and sales in the process.
4 Ps of marketing example: Promotion
Microsoft does an excellent job of promoting its products and services using digital marketing strategies and campaigns. In this example, Microsoft promotes its products on the social media platform Twitter.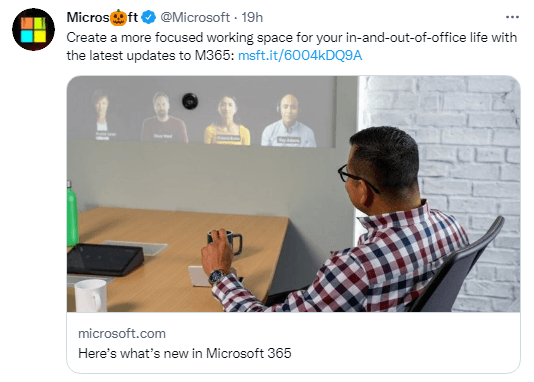 By using a social media marketing strategy, Microsoft can connect with both current and potential customers and inform them about their new products.
They can also invest in targeted social media ads, which enable them to advertise their products to over five billion active users on social media.
Our digital marketing campaigns impact the metrics that improve your bottom line.
See More Results

WebFX has driven the following results for clients:

$3 billion
In client revenue

7.8 million
Leads for our clients

5.2 million
Client phone calls
Implement the 4 Ps of marketing with WebFX
Are you not sure where to start with implementing the four Ps into your digital marketing strategy? Leading digital marketing services from WebFX can help!
When you partner with WebFX, we'll take the time to get to know you and your business, so we can create strategies that suit your needs and help you achieve your business goals.
Plus, we'll conduct in-depth competitor and market analysis, so your marketing strategies can enable you to stand out from the crowd and earn more customers.
What are you waiting for? Speak with one of our strategists today by calling 888-601-5359 or contact us online to learn more about how we can boost revenue and sales for your business.
WebFX Careers
Join our mission to provide industry-leading digital marketing services to businesses around the globe - all while building your personal knowledge and growing as an individual.