November 25th and 28th are the hottest shopping days of the year this year. For retailers especially, Black Friday and Cyber Monday mean a huge boost in revenue to finish out the year. Last year, consumers spent more than ever on both major shopping days, and online spending during Thanksgiving crossed the $1 billion threshold for the first time.
In fact, online spending is accelerating for Thanksgiving, Black Friday, and Cyber Monday at the same time. But offline spending is a different story. Let's take a look at how people have spent their money on these major shopping days and how they might spend in 2016.
1. Black Friday total spending 2011-2015
First, let's take a look at the biggest retail day of the year — Black Friday.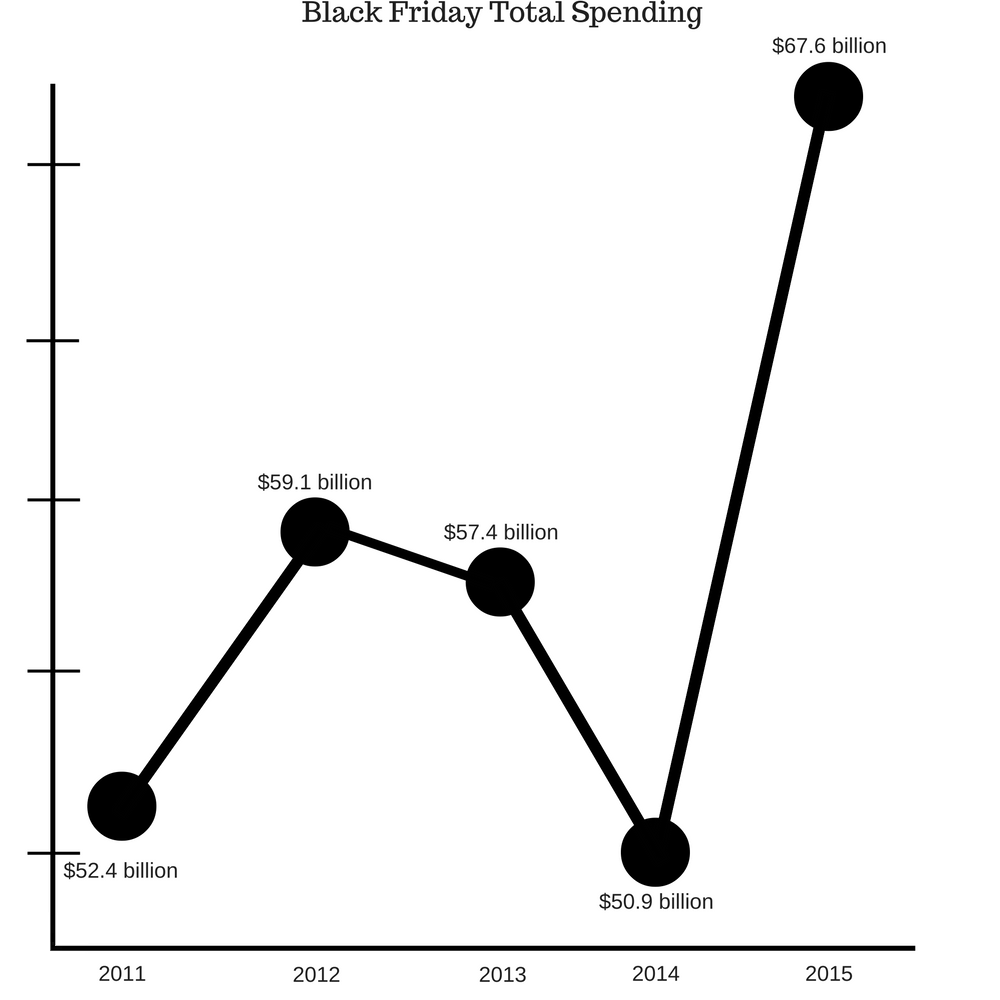 From 2011 to 2015, Black Friday experienced some strange fluctuations in spending. Prior to 2011, Black Friday almost always saw a steady climb in commerce.
Stores opened earlier and earlier every year until some made the controversial decision to open on Thanksgiving. Perhaps for that reason — or a range of others — Black Friday has jumped back and forth by about $10 billion in spending over the last five years. With a solid $52.4 billion in 2011, Black Friday generated $59.1 billion in sales in 2012. That's a great leap, but the total spending fell back to $57.4 billion in 2013. Then, in 2014, it plummeted to a relatively bad $50.9 billion. But 2015 was different. 2015 saw the first increase in total Black Friday spending since 2012. But it increased by more than 100% to $67.6 billion. That's the most money that's been spent on a Black Friday ever, and it came the year after one of the biggest drops in recent history. And economically speaking, the average American is earning more in 2016 than they did in 2015. That means we could see another hefty jump in Black Friday total spending — especially online.
2. Black Friday vs. Cyber Monday online spending, 2011-2015
Cyber Monday is the biggest online shopping "holiday" in the United States (and probably the world).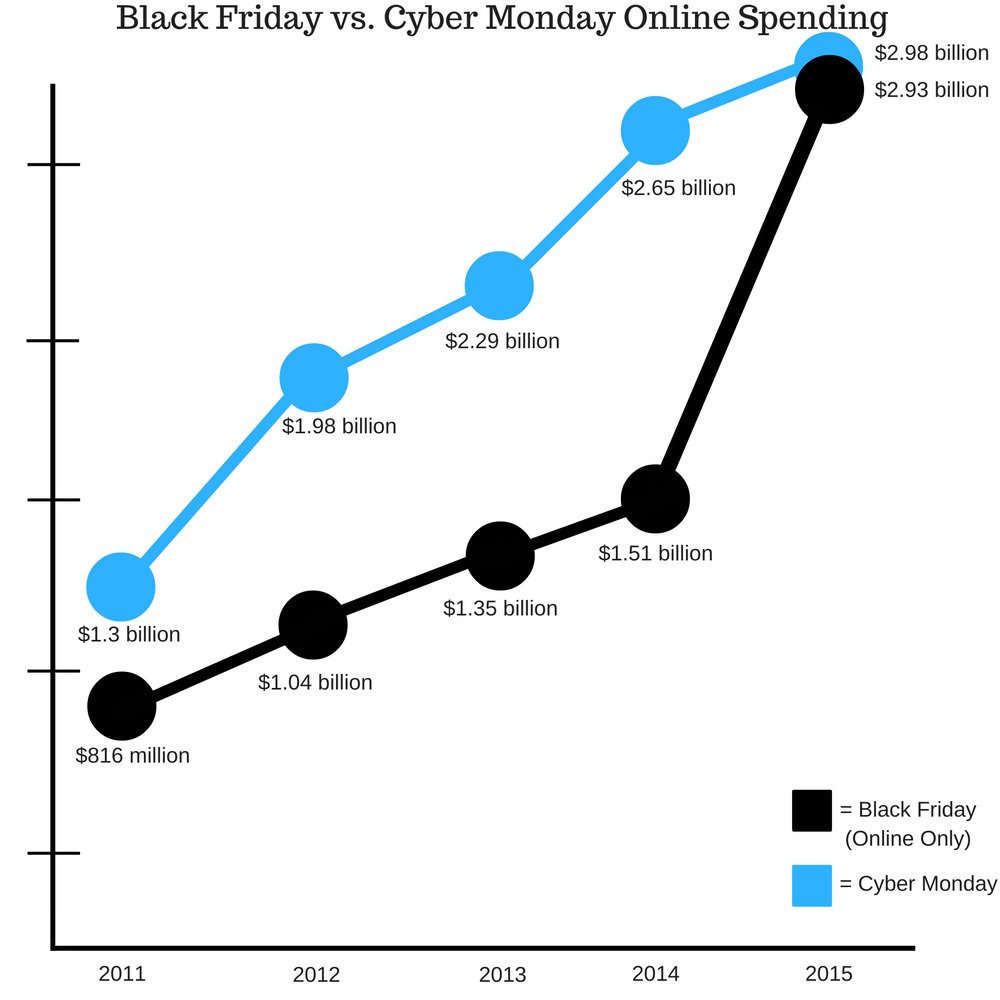 But in 2016, that could change. Black Friday online spending has all but caught up to Cyber Monday, and that could mean a big shift in consumer holiday buying habits.
Overall, that means Black Friday would gain control of the online market, which would make Cyber Monday more of an afterthought than an addition to Black Friday shopping. In 2011, that wasn't the case. Cyber Monday maintained a $500 million buffer between itself and Black Friday.
In 2012, that buffer grew to nearly $1 billion, then shrank slightly in 2013. But it jumped much higher in 2014 to 1 $1.14 billion difference. Then, Black Friday caught up. In 2015, Black Friday and Cyber Monday were neck-and-neck in terms of online spending.
Cyber Monday's lead dropped to $50 million. That's a huge amount of money, but it feels like a lot less when you're comparing $2.98 billion to $2.93 billion. But that's just online spending.
Despite the fact that Black Friday hasn't quite caught up to Cyber Monday online, Black Friday is still the dominant shopping holiday.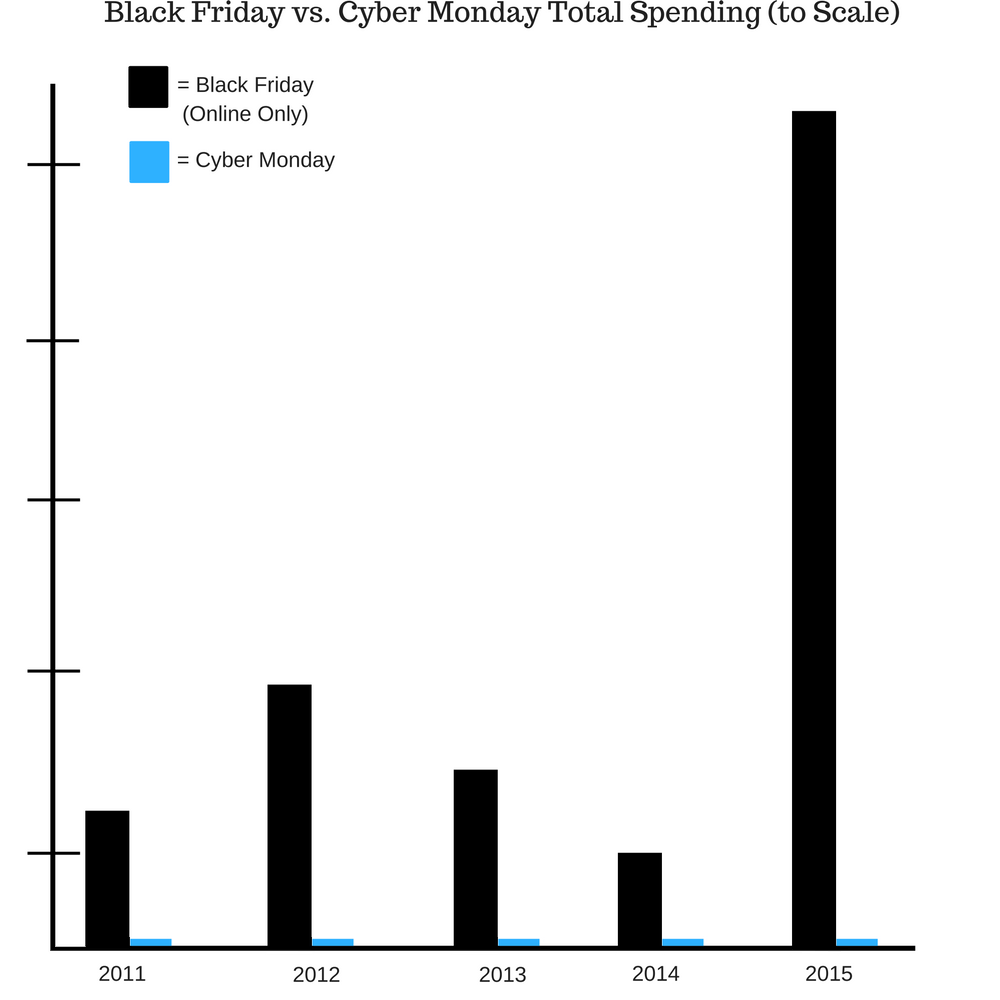 The above graph compares total Black Friday and Cyber Monday spending. At this level, Cyber Monday is a barely-recognizable blip on the radar of consumer spending habits.
Black Friday, on the other hand, controls more spending than some countries. In fact, if Black Friday were a country, it'd be the 99th wealthiest country in the world right after Nepal. So Black Friday is far more important to sales than Cyber Monday.
But interestingly, it's starting to share spending with another important holiday.
3. Black Friday vs. Cyber Monday vs. Thanksgiving online spend, 2011-2015
For several reasons — like retailers opening a day early for Black Friday sales — Thanksgiving is becoming a major shopping holiday as well.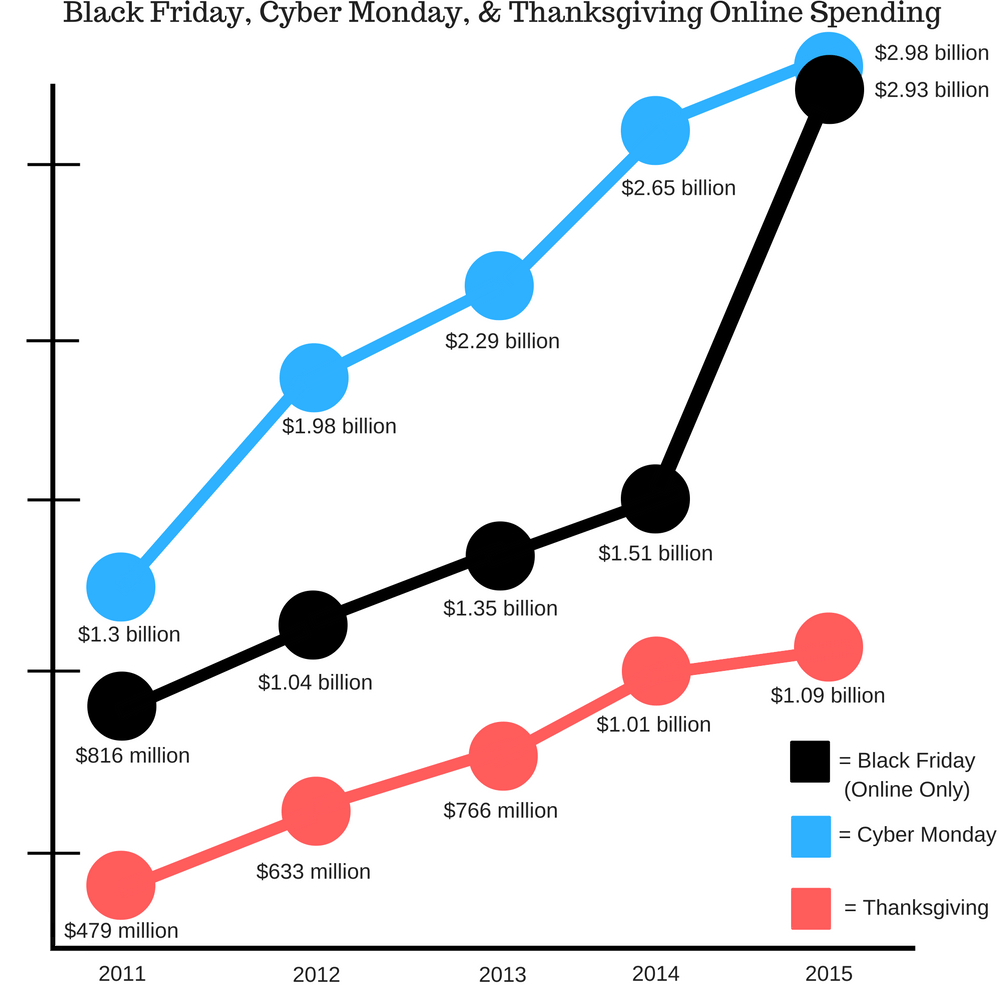 It only has about 33% of the spending power of Black Friday and Cyber Monday in terms of online sales. But the fact that Thanksgiving spending has grown by more than 100% in five years is impressive.
In general, that means one of two things:
Consumers are choosing Thanksgiving and Cyber Monday more often for online shopping
Consumers are spending more on Thanksgiving than previous years
Either way, it's a win for retailers. Either you get more customers who all spend about the same, or you get the same number of customers who all spend a lot more. The clear winner here is online retail (and credit card companies), as consumer enthusiasm bleeds out from Black Friday and into the surrounding days.
Who knows — soon we may even see a Thanksgiving-Black-Cyber weekend that combines every spending holiday into one big extravaganza. If that happens — and our data shows that it probably will — you can most likely expect it to happen in the next five to 10 years.
4. The takeaways
We have a few things to take away from this data. First, physical and online retailers have almost limitless potential for profit from Thanksgiving to Cyber Monday. Each day shows that it should increase in terms of consumer spending, which means your retail company has a great opportunity to grow.
Second, B2B companies may see stagnate or even decreasing sales. As more cash and focus goes toward consumer goods for winter holidays, there will probably be less attention on B2B companies or lead-based companies in general. (This is a defining part of the attention economy.) Third, Cyber Monday isn't the only time that online retailers should offer sales.
Black Friday may finally surpass Cyber Monday in online sales this year, and retailers should prepare — otherwise, you can lose to your competitors.
Want some extra advice to help you prepare? Check out our blog post for three helpful tips to ready your Black Friday ecommerce strategy!
What's your take on the winter sales season?
Does your business profit more between Thanksgiving and Cyber Monday? What's your sales strategy?
Let me know in the comments!
Sources
Cyber Monday Spending (Fundivo) Black Friday Online Spending (Statista) Black Friday Total Spending (Statistic Brain)
WebFX Careers
Join our mission to provide industry-leading digital marketing services to businesses around the globe - all while building your personal knowledge and growing as an individual.