Google holds over 70% of paid search market share, and nearly 30% of the global digital ad spend. Google's tight grip on the digital advertising industry makes its Google Ads certifications incredibly valuable for marketers.
Having a Google certification is a great way to show off your digital advertising prowess, helping you stand out as an expert to your clients, bosses, or potential employers. Keep reading to learn:
What are Google Ads certifications?
A Google Ads certification is an award offered by Google to people who pass any of its advertising exams. It's a program that recognizes the time you've taken to learn Google Ads.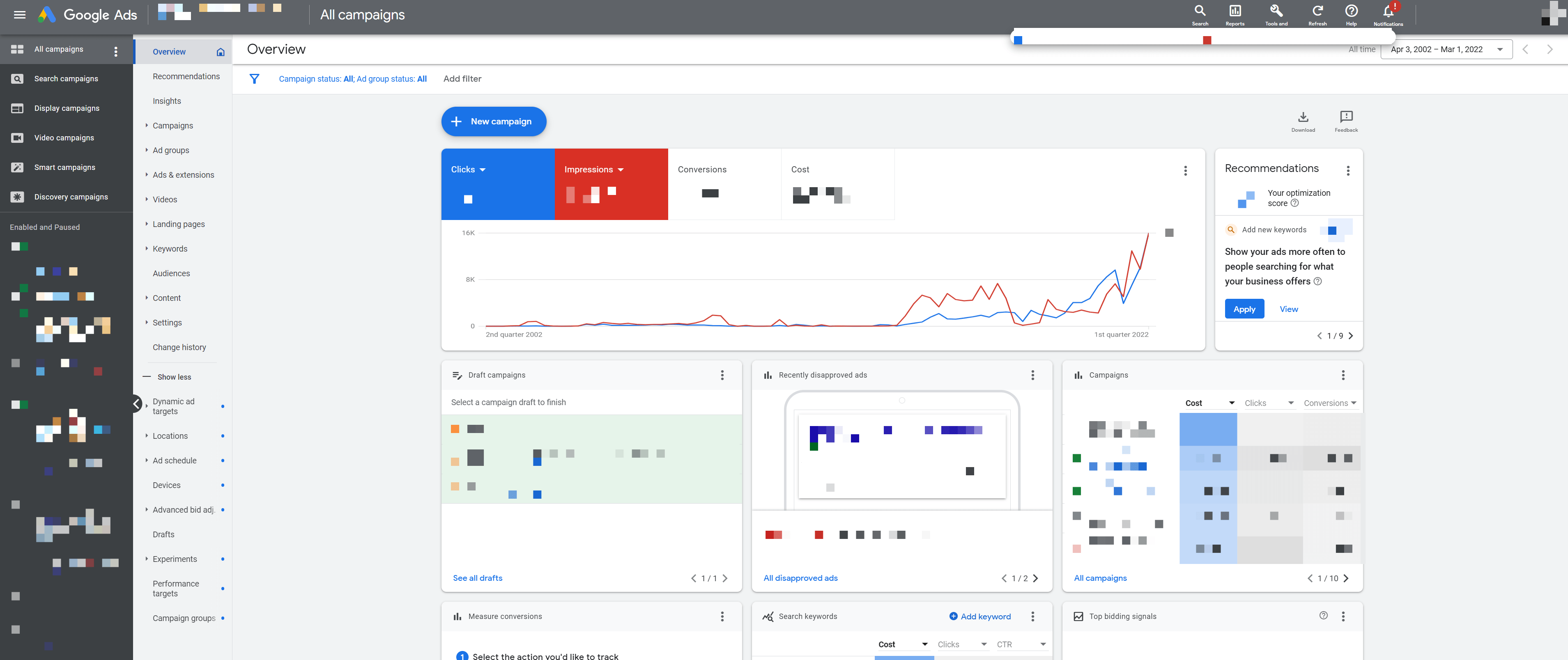 The certification program consists of training modules and resources that help prepare you for the final exam.
Google offers certifications in several subject areas. The company breaks down its certificates by the different types of ads marketers can run on Google Ads, its suite of digital advertising tools.
Currently, you can earn the following certifications for Google Ads:
While a certification does mean that you've acquired some level of Google Ads proficiency, it may not necessarily mean you're a master of the platform. You have to put your new knowledge to work by exploring the platform and testing out different strategies to figure out what tactics actually drive results.
You should also continue to seek out resources that keep you in the loop on any advertising updates.
Not to be too self-promotional, but we have plenty of videos covering Google marketing tactics on our YouTube channel, including the one on Google Ads remarketing we've linked to below.
Now back to your regularly scheduled Google Ads programming.
You'll take your certification exam through Google Ads Skillshop. You'll learn more about Skillshop in the next section.
What is Google Ads Skillshop?
Google's Skillshop is the platform on which you'll complete the Google training courses and take the certification exams.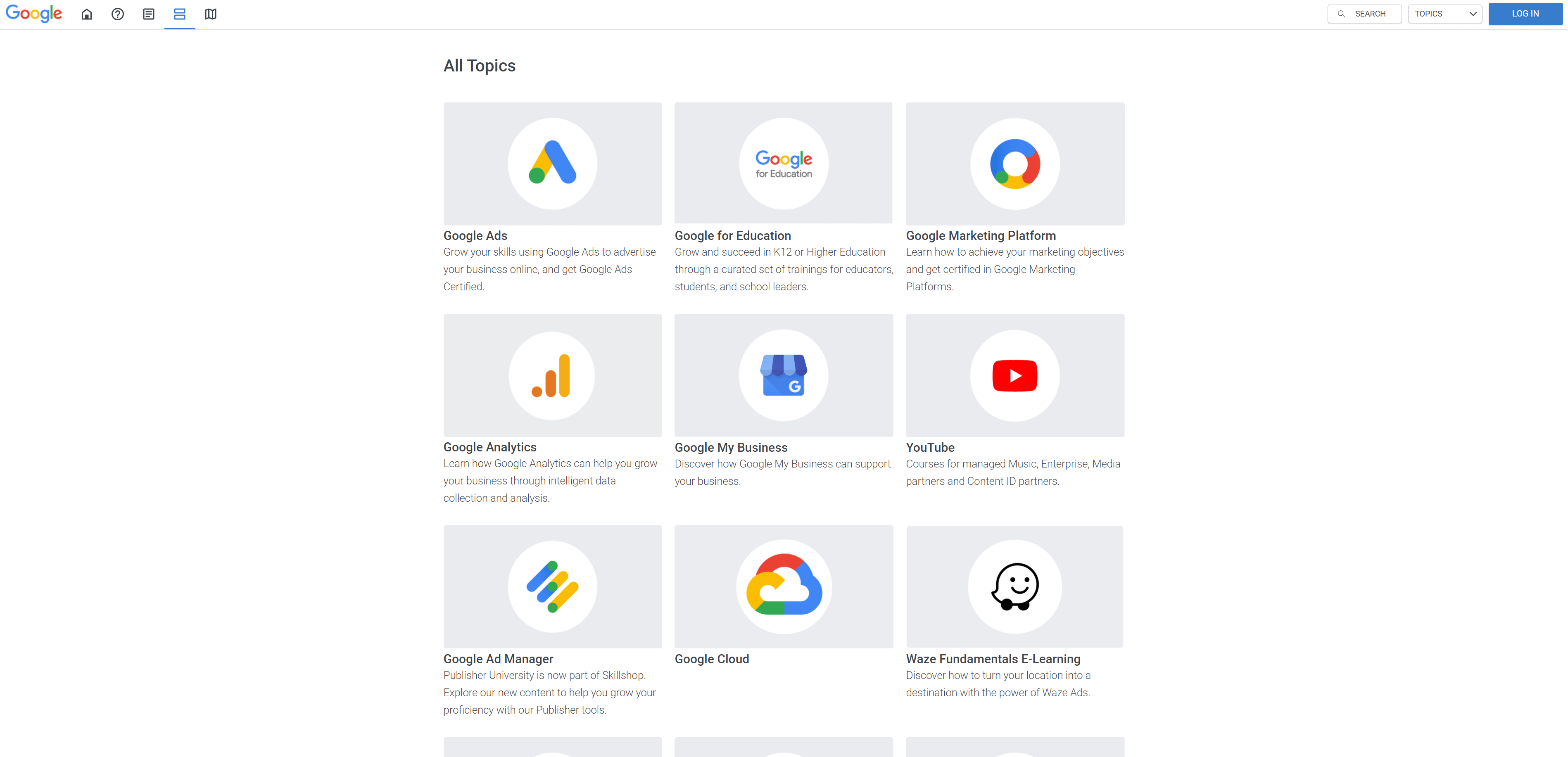 Google also offers courses for its other products through Skillshop, such as Google Analytics and Waze, if you're looking to learn more than just Google Ads.
How to earn your certification through Google Ads Skillshop
You need a Google account to use Skillshop. If you don't have one, now is the time to create it.
If you do, in fact, have an existing Google account, follow these steps to learn Google Ads and earn your certifications!
Log in to the Skillshop website with your Google credentials. Google will save your course progress and certifications to your account.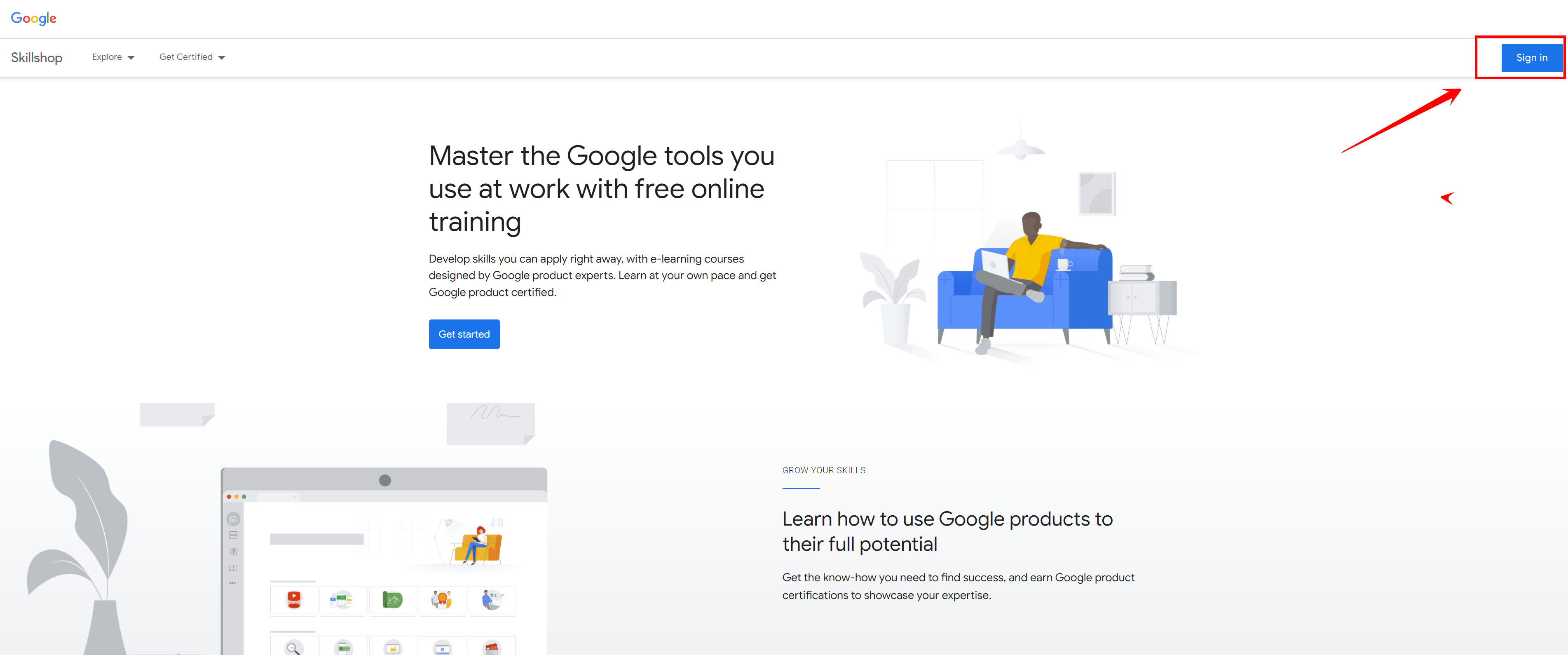 Just a note here: If you work for an organization that has earned Google Partner status, you'll want to use an account that's connected to your organization. In doing so, your certification may help your organization maintain its Partner status, depending on which topic you choose.
Navigate to the Google Ads certifications page and choose the one that you wish to earn.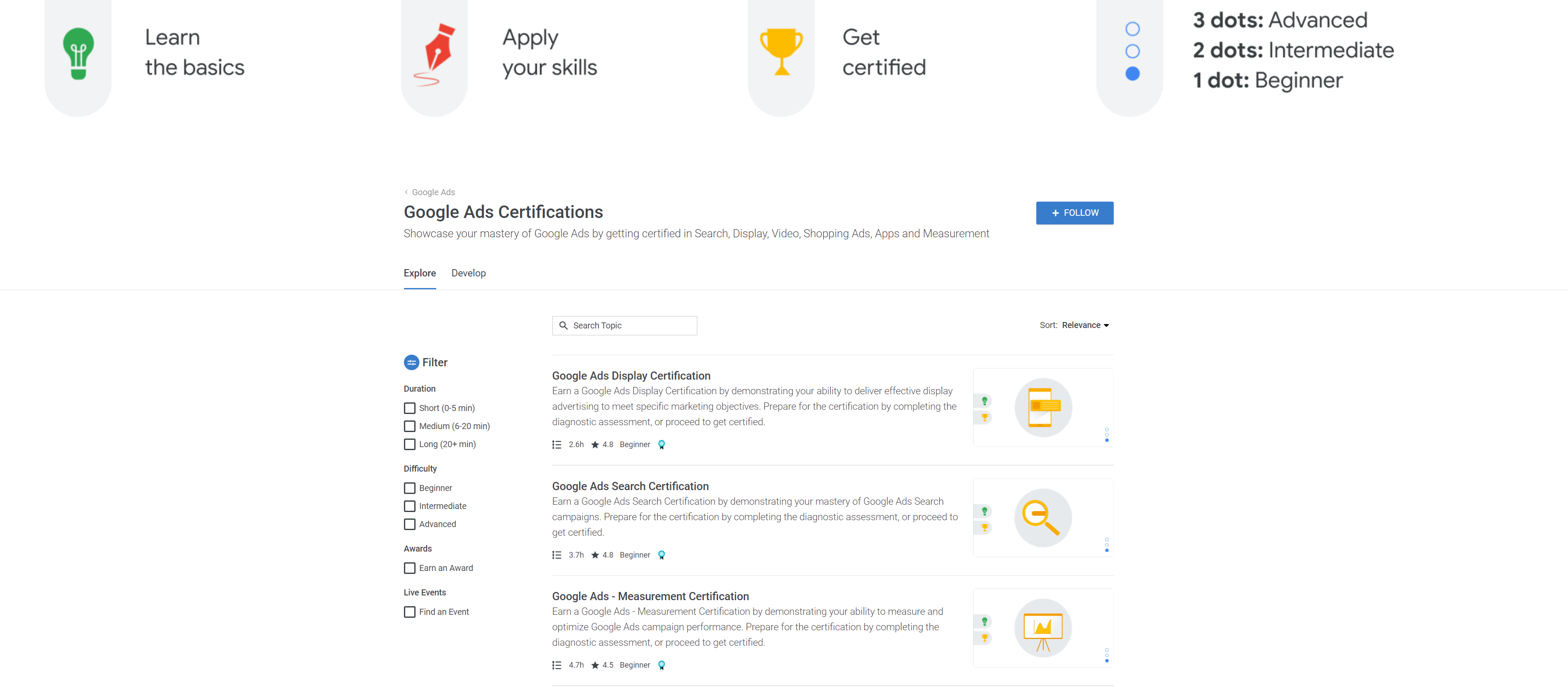 Once you choose a subject, you'll be taken to a page with learning resources, a pre-test, and the final exam. The study resources have plenty of great information to help you learn Google Ads, some of which may appear on your exam, so start by working through each module.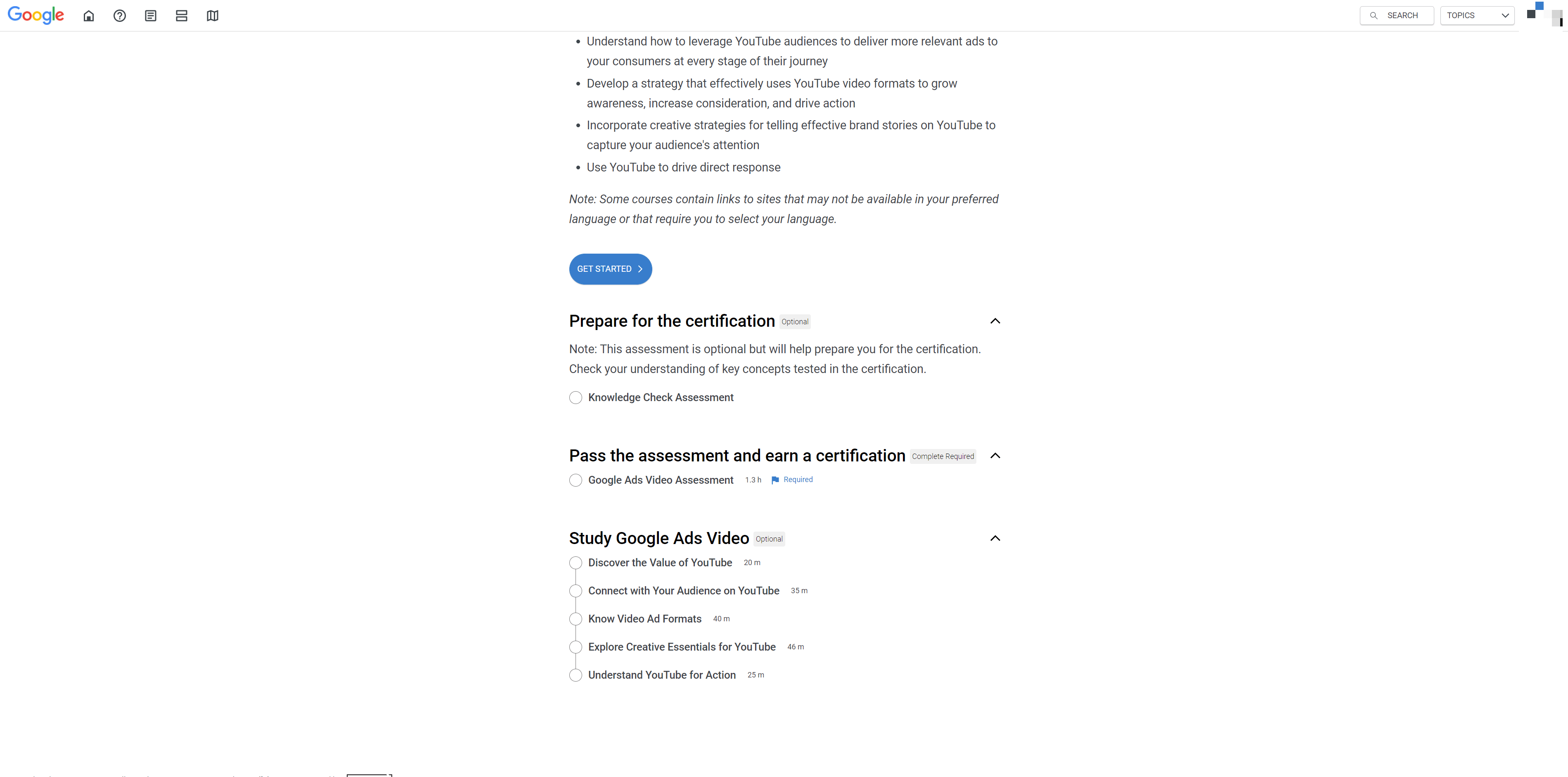 When you've completed the learning resources, try your hand at the pre-test.
Once you're confident in your Google Ads skills, take the final exam to earn your certification!
What does a Google Ads certification cost?
You can take the advertising courses and exams for free. That includes all the modules, the practice test, and the actual certification.
The only "costs" you'll have to consider are the value of your time and any additional resources you decide to buy (although everything you really need to pass the exam is free).
If you do see a certification exam online that costs anything more than zero dollars, think twice before whipping out your credit card.
4 important Google Ads certification exam details
Here are the nitty-gritty details about getting your Google Ads certifications.
1. The courses and exams are long
Block out a significant period of time to prepare for and take the exams.
The study materials may require a few hours of your time. Each exam contains about 40 to 50 questions, and Google gives you 75 minutes to answer all of them.
While you may complete everything quickly, give yourself enough time to adequately prepare and go through all the exam questions.
2. You have more than one shot to pass
If you fail a certification exam, you only have to wait a day before trying again.
While you won't know which questions you got right and wrong, this waiting period gives you a chance to review the provided resources and read through your notes to figure out where things may have gone south. No pressure to be perfect on your first try.
Also, you can't stop the exam and come back later. Doing so will result in a failure and will require you to retake it at least one day later.
3. The grading system is different from the one you had in school
Remember when a 70% or greater meant you passed a test or a class? Google holds you to a higher standard (for most of its exams).
You need to score at least 80% to pass the bulk of the ad exams. The exception is the Apps exam, which requires at least 70% to pass.
4. Your certification doesn't last forever
The field of digital advertising changes frequently. New technology comes into play. More businesses enter the competition. Google updates its ad platform to align with the shifting digital landscape.
With that said, your certification only lasts for one year. You must retake the exams each year to maintain your certification status.
Yes, that may seem annoying, but it forces you to keep learning Google Ads so you know your knowledge of the platform is up-to-date. The resources Google provides to prepare for the exams may change, too, so you may want to review them when you go for your recertification.
How to get Google Ads certified: 3 key tips
1. Take your time with the training modules
While the certification exams are timed, the training resources provided by Google are not.
Don't go through the resources just to say you went through them. Take in all of the information you can, and remember to keep detailed notes for review.
Even if something isn't on the exam, it may help you improve your Google Ads skills. Isn't that what a marketing certification is all about?
2. Read Google's help docs
If you find that Google's study resources aren't enough, take some time to go through Google's help documentation.
In these documents, you'll find details about different types of ads, ways to bid on your ads, new technologies you can use, tips for launching successful campaigns, and much more.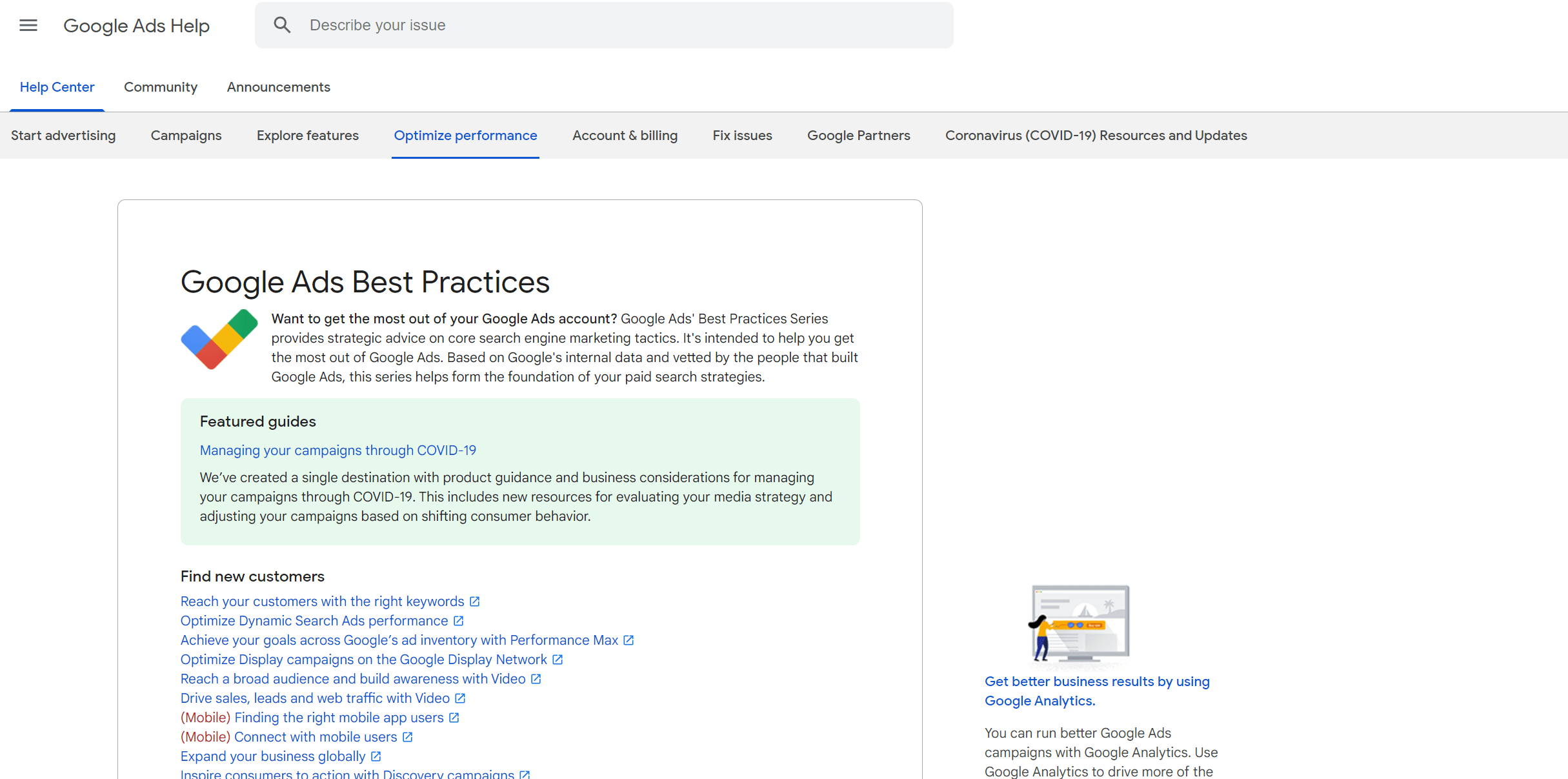 You'll also benefit from reading or watching content created by digital advertising professionals.
3. Don't look up or share the answers online
This is less of a tip and more of a warning. Cheating (or helping others cheat) is wrong, and it can get you in big trouble.
When you go to take an exam, you'll be prompted with a statement about cheating.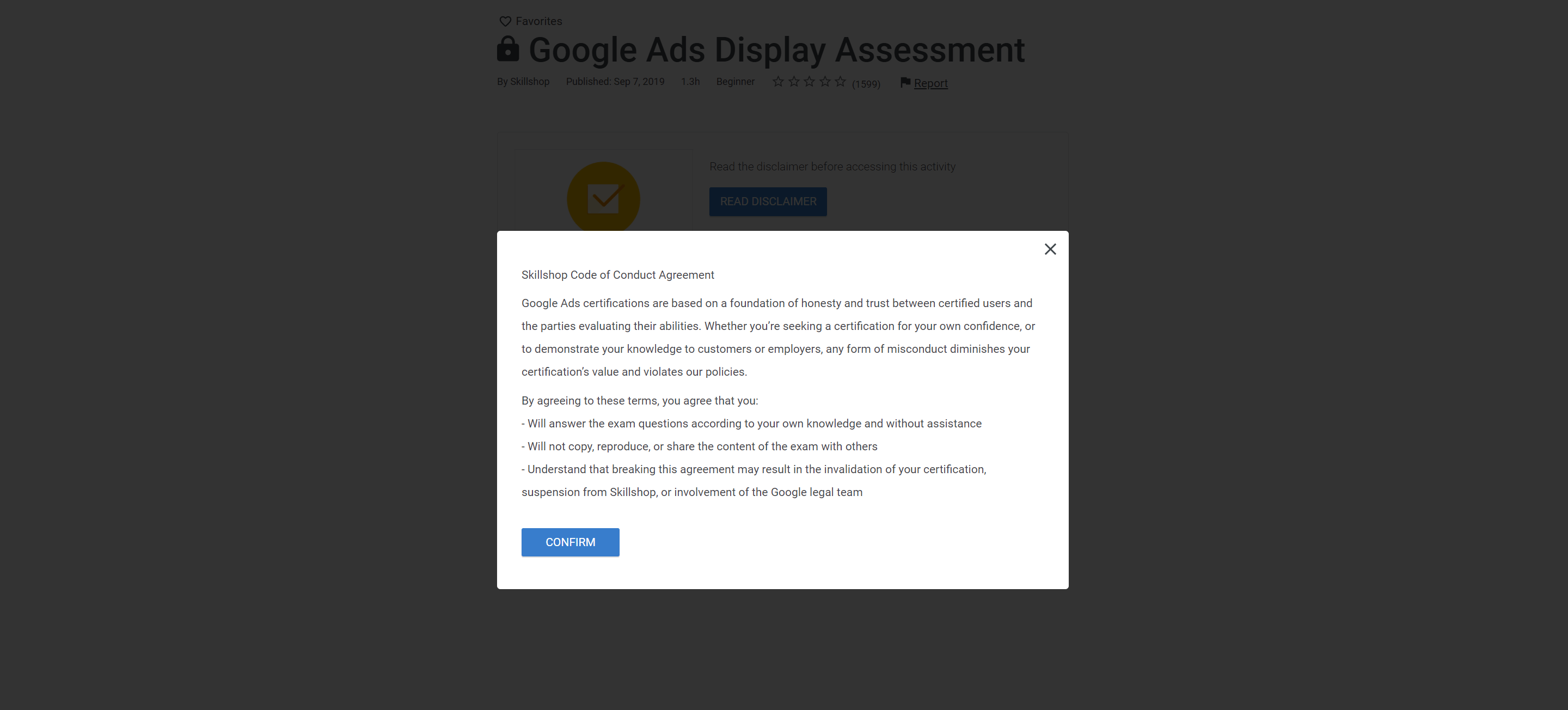 If caught, you may lose your certification, be banned from getting other Google certifications with Skillshop, or face legal action. All of those consequences sound awful and not worth the risk of cheating.
Plus, if you look up answers, there's a good chance you won't find the right ones. They may be outdated or just plain incorrect. Remember, not everything you read online is true.
Don't rob yourself of a valid learning experience just to pass the exam.
Bonus Read: Marketing Manager Skills
Are you ready to earn your first of many Google Ads certifications?
We're excited for you to grow your skills! Again, if you want to keep learning, we have plenty of content related to digital advertising and many other aspects of digital marketing on our website.
Whether you want to learn SEO, social media marketing, PPC advertising, or other forms of digital marketing, our team has you covered.
Best of luck with your exams!
WebFX Careers
Join our mission to provide industry-leading digital marketing services to businesses around the globe - all while building your personal knowledge and growing as an individual.