In the online advertising marketplace, Google dominates. It claims more than 75 percent of the U.S. search market share and drives more than 90 percent of paid search clicks on mobile devices.
That's why companies in numerous industries use its ad management platform, Google Ads, to advertise online.
Google Ads management (previously known as Google AdWords management) is challenging for businesses new to pay-per-click (PPC) advertising, though. It requires time, dedication, and skill, which is why this post provides an insider's look into succeeding at Google Ads management.
Keep reading to get started managing your Google Ads account! Or, if you're looking for Google Ads management services, contact us online or call us at 888-601-5359 to learn more about our services for Google Ads.
Can your company benefit from Google Ads management?
If you're on the fence about whether your company could benefit from Google Ads management, here are a few ways to determine if it's right for you. The Google Ads platform is right for your company if:
You need a single place to monetize your website, mobile apps, etc. all in one place
You need to manage ad revenue
You want more complex reporting on ads
A reputable Google Ads agency like WebFX can help you get the most out of your ad spend. A Google Ads management company will plan your PPC strategy, use the Google Ads platform to run your campaigns, track your results, and more.
1. Follow best practices for your Google Ads account structure
Before your company launches its first campaign in Google Ads, you need to review account structure. If you're familiar with account structure in Google Ads, then you know it describes the organization of your campaigns, ad groups, and keywords.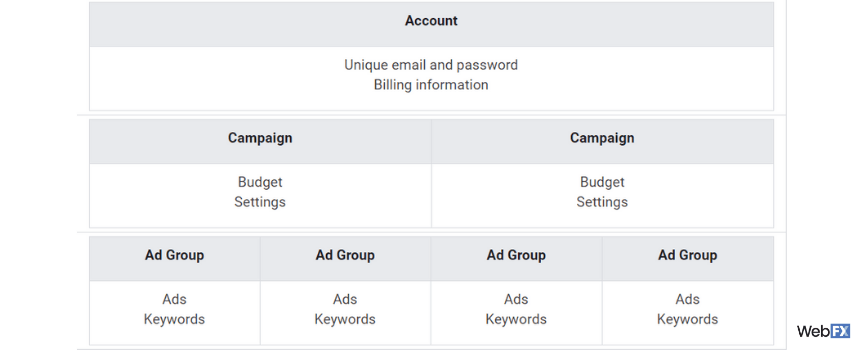 In Google Ads, you use the following account hierarchy:
Account
Campaigns
Ad Groups
Keywords
When you create a campaign, it's essential for your team to build a set of ad groups that coordinate with its topic or focus. If you're launching a campaign for sneakers, for example, your ad groups may include red sneakers, brown sneakers, and green sneakers.
These ad groups feature different keywords.
Your ad group for red sneakers, for instance, may include keywords like, "red sneakers," "red lace-up sneakers," and "casual red sneakers." All these keywords describe your product, plus target high-value searches.
If your team creates mismatched ad groups and keywords, it can lower the performance (and increase the costs) of your ad campaign. That's because your ads receive a quality score, which rates the relevance and quality of your ads, keywords, and landing pages.
Get the best possible score for your ads by following the best practices for account structure.
Create coordinated ad groups with related and specific keywords. Then, move on to building a relevant landing page and engaging ad.
2. Research competitors' PPC strategies
The next step of Google Ads management takes your company outside of the Google Ads platform.
While your business can create and launch an advertising campaign without researching competitors, PPC specialists don't recommend it. Skipping competitor research doesn't help your strategy succeed. It hurts your performance instead, which results in lost leads, revenue, and ad spend.
You can research your competitors (and their ads) a few ways, including:
Enter your search terms on Google, and see what ads appear
Invest in a paid third-party tool, like SEMRush to get a complete look at a competitor's strategy
Access a free third-party tool, like iSpionage to view competitor ads, keywords, and more
If you're collaborating with a PPC consultant or PPC agency, they should conduct a competitor analysis. For the best results, only partner with an agency or consultant, like WebFX, that provides this service. It'll strengthen your campaign and help your business get the most from your advertising budget.
3. Match your targeting to your audience and goals
As you outline your account structure, it's essential to think about your audience and goals.
For example, are you focusing on users researching red sneakers or looking to buy red sneakers? If you're targeting someone researching sneakers, then the keyword "casual red sneakers" works well. A ready-to-buy user, however, needs something more specific, like "Nike air max motion 2 red."
This step is a critical part of Google Ads management.
Misalignment between your goals (like driving sales) and your targeting (like users researching shoes) can cause your campaign to fail. Take the time to assess your goals and your audience, and then use that information to shape your campaign targeting.
If you're looking to boost purchases from your ad campaign, for example, then target keywords with a transactional or buy-now intent, like "Nike air max motion 2 red," "emergency dog hospital," or "portable heater for sale."
In comparison, target more top-of-the-funnel keywords to reach users in the early stages of shopping.
4. Align your ads and your landing pages
In online advertising, landing pages play a significant role in driving conversions. When a user clicks on your ad, they get taken to your landing page, which is where they can explore your products or services, learn about your business, and make a purchase.
Companies, however, make a common mistake with this part of Google Ads management.
They don't create dedicated landing pages for their ad groups. It's easy to understand why.
It's a time-consuming and resource-intensive process to develop, design, and launch custom landing pages. Not to mention, it can require outside expertise.
A landing page that doesn't fully coordinate with your ads, however, can damage your ad campaign in multiple ways. It can decrease your impressions, increase your costs, and decimate your conversions because it doesn't deliver on your ad copy.
Users arrive, get confused, and then leave.
As an example, look at this search result for, "emergency plumbing services Harrisburg pa."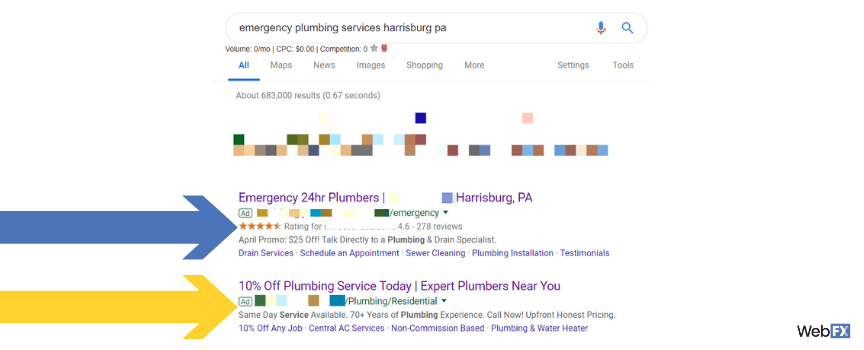 Now, look at the landing pages for the two ads.
Here is the first landing page for "Emergency 24hr Plumbers":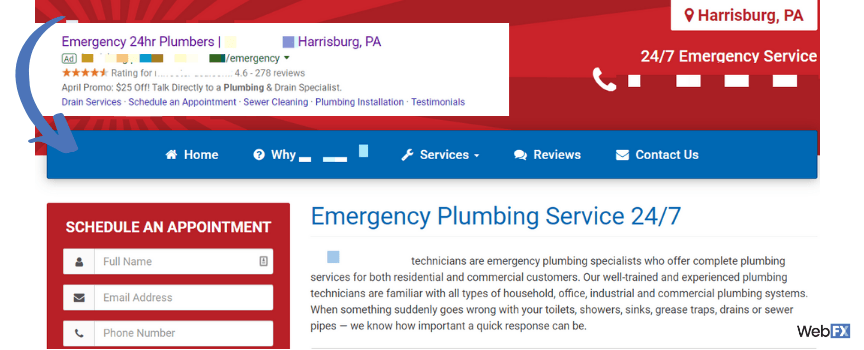 And here is the second landing page for "10% Off Plumbing Service Today":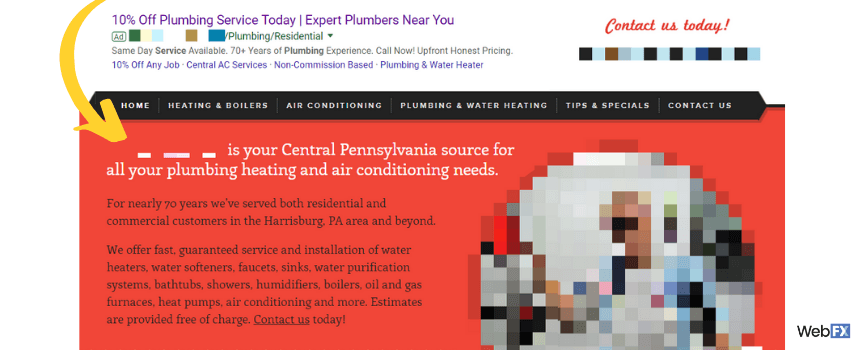 The first landing page delivers on the user's search and expectations. The page highlights the company's emergency plumbing services. It also includes a well-placed contact form at the top of the page, making it easy for users to contact the company.
In comparison, the second landing page only mentions emergency plumbing services in the footer.
For a user looking for emergency plumbing services, this landing page isn't helpful. It doesn't make the information that the user needs accessible.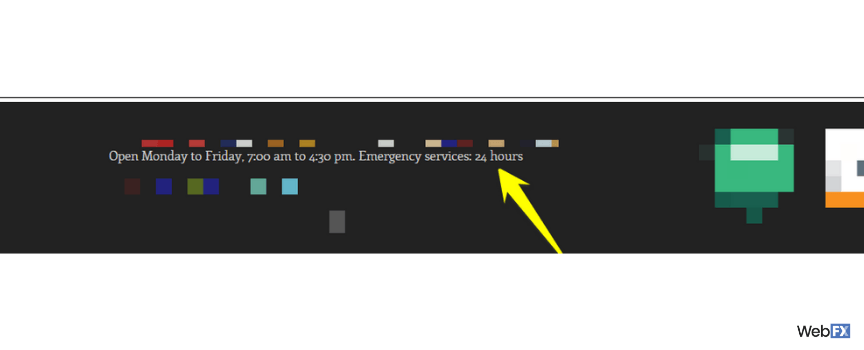 If your planned landing page doesn't support your ad's offer or audience's expectations, like in the example above, then you need to rethink your strategy.
While you can update your ad copy, it often moves your ad campaign away from your company's goals.
That's why it's worth considering a custom landing page design. Don't let the time and money you've invested into your ad campaign go to waste because of a landing page. Work with your internal team to update or modify an existing page for your campaign.
Or, skip the extended turnaround time for an in-house design by working with an agency like WebFX.
5. Refine your audience and keyword targeting
Once you've built your ad structure, completed your competitor research, and launched your dedicated landing page, you can move into the ongoing process of managing your Google Ads account. Expect to dedicate time each week to manage your campaign.
As a part of your ongoing Google Ads management, you want to work on refining your target audience and keywords. Following your campaign's launch, your team can start collecting data on your keyword performance and audience targeting.
For example, you can learn which keywords drive the most clicks, come with the highest cost, and more.
You can also see which audience demographics, behaviors, and interests generate the most clicks and conversions.
Even better, you can see which days of the week and timeframes offer the best results.
With this data, your team can narrow your audience and targeting, focusing on the most profitable audience members, keywords, and times. You want to take this proactive step because it maximizes the results of your campaign, plus helps your business get the most from its ad spend.
6. Optimize your bids with strategic management
While you can rely on Google Ads to manage your ad bids, taking a hands-on approach to bid management provides your team with valuable advertising knowledge and the chance to optimize your ad spend.
It's a time-consuming part of Google Ads management, but it's a task that experts in the industry use and recommend. That's why our Google Ads management services, for example, include strategic bid management. Depending on your strategy and ad campaigns, your team may need to invest a significant amount of time in strategic bid management.
For instance, setting different bids for individual keywords requires more time than creating a single bid for an entire ad group. Strategic bid management is worth it, however, because it allows your team to proactively supervise your ad budget.
Not to mention, your bid influences your Ad Rank, which determines your position (and chances of appearing) in search results.
7. Use A/B testing to maximize campaign performance
A/B testing is another critical part of Google Ads management. Like every other component of ad management, it requires time and dedication. It can also, however, provide a massive payoff for you, your team, and your company.
If you decide to A/B test your campaigns, Google makes it easy to test multiple features, including:
Ad copy
Landing pages
Ad targeting
Ad bid
And more
In Google Ads, you can create and launch experiments fast. Beforehand though, you need to invest the time reviewing your data and compiling your tests. In some cases, you may even need to coordinate with team members, like developers for a landing page design or copywriters for an ad copy rewrite.
For the best results, your company should always have an A/B test running.
This approach allows your team to continually gather data and insights about your campaign, as well as improve its performance and return on investment (ROI).
93% of WebFX customers are extremely satisfied with their digital marketing results.
"Working with WebFX, everything is very organized and strategic. We're only a year into our partnership, and our expectations have definitely been met."
View More Client Testimonials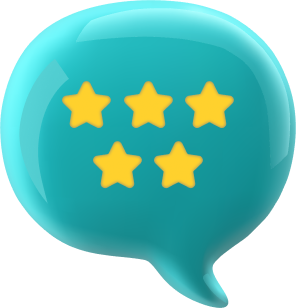 Expedite your Google Ads management with WebFX
Managing your Google Ads account isn't easy. It's a challenge because it requires constant attention from your team. That attention and consistent management, however, can result in tremendous rewards (like sales, leads, and revenue) for your business.
If your company recognizes the value of Google Ads management, but also the strain it would cause on your team, professional Google Ads management services from WebFX can help.
We'll take care of the entire management process, from setup to optimization to drive the best possible results.
Discover how our Google Ads management services can help your company's ad campaigns succeed (and make your life easier) by browsing our PPC management services or contacting us online for more information!
How is your website's SEO?
Use our free tool to get your score calculated in under 60 seconds.
Get posts by email
Join 200,000 marketing managers and subscribe to Revenue Weekly!
"*" indicates required fields
WebFX Careers
Join our mission to provide industry-leading digital marketing services to businesses around the globe - all while building your personal knowledge and growing as an individual.