What do Amazon, Verizon, and Google have in common? They all do dynamic remarketing. Dynamic remarketing works, which is why the biggest companies in the world use it.
This online advertising strategy isn't exclusive to big businesses, though. Small companies can — and do — use dynamic remarketing ads to bring people back to their site, resulting in more leads and more sales. Keep reading to learn how to use dynamic remarketing on Google to generate leads and revenue for your business!
For even more tips about how to increase revenue with pay-per-click (PPC) advertising, sign up for Revenue Weekly and join more than 200,000 other successful marketers!
What is dynamic remarketing?
Dynamic remarketing, also called dynamic retargeting, is a more personalized version of remarketing.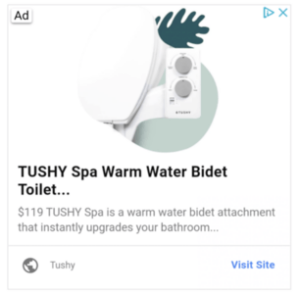 With dynamic remarketing, you create ads that show website visitors the products or services they viewed on your site, along with information about that product or service, like its price, image, and rating.
Who can use dynamic remarketing?
According to Google, the following business types can use dynamic remarketing on Google:
Education
Flights
Hotels and rentals
Jobs
Local deals
Real estate
Retail
Travel
Custom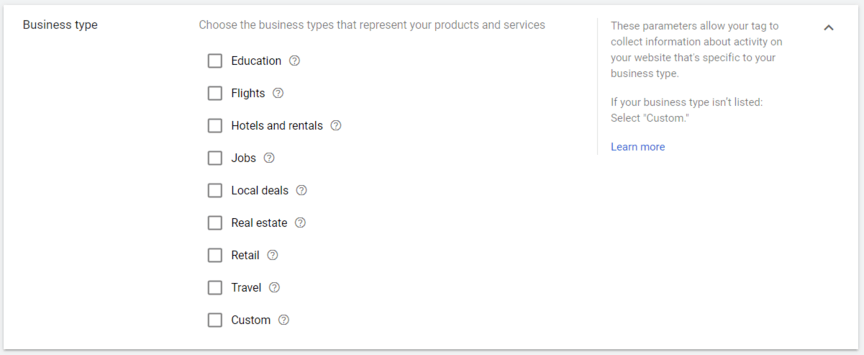 For example, if you represent a university, you could create dynamic remarketing ads that showcase different programs. In comparison, a local coffee shop may advertise their weekly specials, brand merch, or ready-to-order coffee blends.
How does dynamic retargeting on Google work?
From a shopper's or business buyer's perspective, dynamic remarketing on Google works as follows:
Views a product on an ecommerce store
Visits a favorite blog
Sees an ad on their favorite blog for that product
In the background, here is what happened: The ecommerce store started a dynamic remarketing campaign. By updating their Google Analytics account for remarketing, it was able to track specific user behavior, like product pages viewed, they could funnel users exhibiting a certain behavior, like viewing a product page, into a dynamic remarketing campaign via Google Ads. Once that shopper or business buyer viewed that product page, they got added to a dynamic remarketing campaign, thanks to a cookie on their computer.
This campaign shows them what product they viewed and additional information about that product, like its ratings. This degree of personalization and relevance is why dynamic remarketing works so well.
Why use dynamic remarketing on Google?
Dynamic remarketing on Google offers several fantastic advantages, including:
Scalability
Your business can often scale your dynamic ad campaigns with your product line fast with dynamic retargeting ads. You can also scale based on demand since dynamic remarketing ads promote the products or services viewed.
Setup
Companies can create the foundation for a dynamic remarketing campaign fast with Google Ads.
With a .csv, .tsv, .xls, or .xlsx file, you can build your product feed, which Google will then use to power your dynamic remarketing ads.
Optimization
Your business will benefit from Google's machine learning algorithms with dynamic remarketing. Its algorithms will predict the best-performing versions of your dynamic ads when it comes to the platform, placement, and even person.
Cost
Since dynamic remarketing on Google Ads includes real-time bid optimization, which optimizes your ads for impressions, many advertisers view dynamic remarketing ads as cost-effective. In general, PPC ads deliver a return on investment (ROI) of $2 for every $1.
How to get started with dynamic remarketing in Google Ads
Are you ready to start promoting your business with dynamic retargeting ads?
Then get started with these initial steps:
1. Enable remarketing in Google Analytics
Since remarketing involves advertising to people who have already visited your site, you need access to your Google Analytics data to create a remarketing campaign, whether it's a traditional campaign or dynamic remarketing campaign. Go ahead and enable remarketing in Google Analytics by following these steps:
Log in to your Google Analytics account
Click "Admin"
Select "Tracking Info" from the "Property" column
Choose "Data Collection" from the dropdown menu
Click the "Off" button underneath "Remarketing" and "Advertising Reporting Features"
Once you click "Off," the buttons will switch to "On" and appear blue.
2. Link Google Analytics with Google Ads
After you enable remarketing in your Google Analytics account, move on to linking your Google Analytics account with your Google Ads account. If you've advertised with Google Ads already, you may have already completed this step. If you haven't, though, you can link Google Analytics and Google Ads by:
Log into Google Analytics
Click "Admin"
Choose "Google Ads Linking" from the "Property" column
Click "New link group"
Select your Google Ads account
Enter a link group title
Select to turn linking "On" and choose the relevant properties to link
Click "Link accounts"
With your two accounts linked, you can access your remarketing audiences in Google Ads!
3. [Optional] Link Google Ads with Google Merchant Center
Retail and ecommerce businesses will want to link Google Ads with Google Merchant Center. When you link these accounts, you make it easier to use dynamic remarketing in AdWords because you can access your product data from Google Merchant Center. Link your Google Merchant Center and Google Ads account by following these steps:
Log into Google Merchant Center
Click the tool or wrench icon
Select "Linked accounts" from the "Settings" menu
Click "Google Ads"
Look for your Google Ads customer ID
Click "Link" under "Actions" by your Google Ads customer ID
Once you complete this series of steps, go ahead and follow these steps in Google Ads:
Log into Google Ads
Click the tool or wrench icon
Select "Linked accounts" from the "Setup" menu
Find "Google Merchant Center" and click "Details"
Choose your Google Merchant Center account and click "View details" in the "Actions" column
Click "Approve"
Creating a dynamic retargeting campaign
Congrats — you're now ready to get started with dynamic remarketing on Google! Follow these steps to create your first dynamic retargeting campaign for Google Ads:
1. Build custom dimensions in Google Analytics
Every dynamic remarketing campaign needs a remarketing audience, so you need to create custom dimensions in Google Analytics. Custom dimensions offer descriptive data, like what page someone viewed. Google Analytics offers a handy outline of its required and optional dimensions based on business type.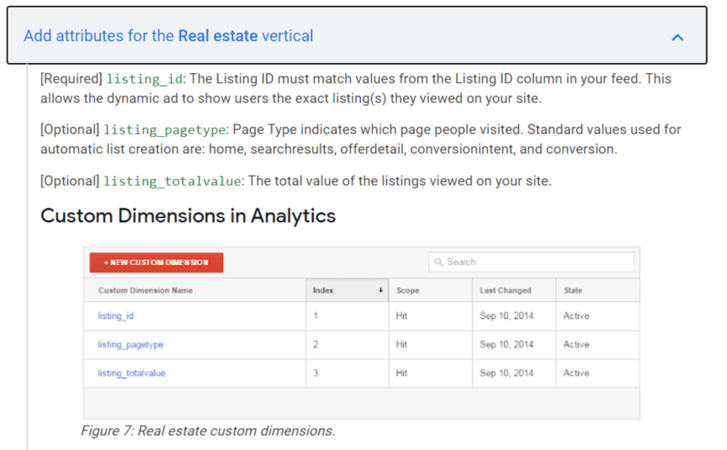 Add the custom dimensions your company needs by following these steps:
Log into your Google Analytics account
Click "Admin"
Select "Custom Dimensions"
Choose "Custom Dimensions" from the dropdown menu
Click "New Custom Dimension"
Enter the custom dimension name, like ecomm_prodid
Click "Create"
For the best results with dynamic remarketing on Google, add the required and optional dimensions. The more information you can gather, the more likely you will create a successful ad strategy and campaign. Once you finish creating your custom dimensions, upload your new Google Analytics tracking tag to your site.
If you use Google Tag Manager, this process is simpler and faster because you avoid editing your website manually.
2. Create a dynamic remarketing audience in Google Analytics
With your custom dimensions created, you can build your dynamic remarketing audience Your dynamic remarketing audience will contain the users eligible to receive your ads. Google Ads will reference this audience when delivering your ads, so it's critical to build a targeted dynamic remarketing audience. Google recommends creating a few types of remarketing audiences, like:
General website visitors
Product search result viewers
Product page viewers
Previous purchasers
You can create your dynamic remarketing audience by following these steps:
Log into Google Analytics
Click "Admin"
Select "Audience Definitions" from the "Property" column
Choose "Audiences"
Click "New Audience"
Add the appropriate parameters and filters
Enter an audience name
Click "Add destinations" and choose Google Ads
Besides manually creating a remarketing audience, you can also import business-specific dynamic remarketing audiences. These audiences use parameters and filters based on your market's required and optional custom dimensions.
3. Build dynamic attributes in Google Analytics
For Google Ads to deliver dynamic ads, it needs to understand your Google Analytics account's custom dimensions. That's why the next step in this how-to guide for using dynamic remarketing on Google involves building and linking dynamic attributes. Get started with this step by taking these actions:
Log into Google Analytics
Click "Admin"
Select "Audience Definitions" and then "Dynamic Attributes" from the "Property" column
Choose your business type from the dropdown "Business Type" menu
Select the Google Analytics view with your custom dimensions from the "View" dropdown menu
Choose your Google Ads account from the "Sharing" dropdown menu
Click "Next step"
Now, in the second step, go ahead and:
Pair the attribute with the matching custom dimension, like Product ID with ecomm_prodid
Click "Save"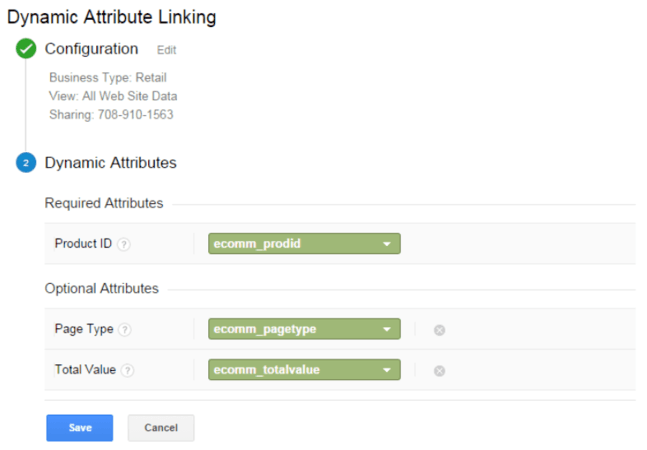 With your custom dimensions and attributes linked, you can start advertising!
4. Create a dynamic remarketing campaign in Google Ads
Log into Google Ads, and then follow these steps to create your dynamic remarketing campaign:
Select "Campaigns" from the dashboard
Click the plus button "+" and then "New campaign"
Choose "Sales" as your goal
Select "Display" as your campaign type
Pick "Standard display campaign"
Enter your website URL
Click "Continue"
On the next page, take care of these action items:
Enter your campaign name
Set your targeting, bidding, and budget settings
Choose your ad schedule and ad rotation
Now, you'll move onto enabling your dynamic retargeting ads with the following steps:
Check "Use dynamic ads feed for personalized ads" from the "Dynamic ads" menu
Choose your business type from the dropdown menu

Then, you'll create your dynamic remarketing ads by scrolling to the bottom of the page and:
Enter an ad group name
Upload ad creatives, like images and videos
Write ad copy, including headlines and descriptions
Click "Add to Ad Group"
Select "Create Campaign"
That's it! You've created a Google dynamic retargeting campaign.
Earn more sales from dynamic remarketing — starting today
With dynamic remarketing for Google Ads, your business can create new avenues for delivering personalized (and automated) ads that drive leads and revenue year-round. Even though dynamic remarketing offers great advantages, it's not always easy to implement and manage.
That's why businesses partner with a Google Ads agency like WebFX for remarketing services. With more than 650 ad campaigns managed, we're a trusted partner for companies looking to drive traffic, leads, and revenue from paid ads. Learn more about our clients' successes and how we can help your business with digital advertising by contacting us online or giving us a ring at 888-601-5359!
WebFX Careers
Join our mission to provide industry-leading digital marketing services to businesses around the globe - all while building your personal knowledge and growing as an individual.