Are you looking for a one-stop-shop for managing and advertising your products online? If so, Google Merchant Center is the unsung hero you've been searching for all this time. With Google Merchant Center, you can upload all your products and use that information to run ads and reach interested shoppers.
On this page, we'll cover topics like:
What is Google Merchant Center
How to set up Google Merchant Center
How to advertise with this platform
How to upload products
And more
Keep reading to learn more, and subscribe to Revenue Weekly to stay on top of the latest information about Google Merchant, as well as other paid advertising opportunities!
What is Google Merchant Center?
Google Merchant Center is a digital platform that allows you to upload and advertise products your business sells, so users can browse and shop your inventory on Google. You can upload products that you sell online or at your brick-and-mortar location.
How much does it cost to use Google Merchant Center?
Google Merchant Center is entirely free to use! You can upload your product inventory for free.
You only pay if you run Google Shopping ads. The cost depends on the payment model type. There are two main payment models:
Cost per click (CPC): With this payment model, you pay every time someone clicks on your ad.
Cost per engagement (CPE): The CPE model charges you when someone expands a collapsed ad and engages with it for more than ten seconds, as well as scrolls or taps on an ad.
How do I set up a Google Merchant Center account?
If you want to know how to set up a Google Merchant Center account for your business, follow these steps:
1. Create an account
To start using Google Merchant Center, you need to create an account. This account can either be a Gmail or Google Business Profile account. If you already have one, you can use that account to log into Google Merchant Center.
2. Visit the Google Merchant Center website
Once you have your account made, visit the Merchant Center website. Click "Get Started" to set up your Merchant Center profile.
3. Enter your business information
Next, enter your business's information. You'll enter information like your company's country, name, and website URL. Additionally, you'll add contact details like your name and email address.
4. Upload your products
To run Google Shopping ads and local inventory ads, you need to upload your products first. You want to create a catalog of products that you can choose from to promote on Google. To upload products, you need to create a Google Merchant Center feed.
This feed is the data source Google uses to create your ads. Follow these steps to add your products:
Log into your Google Merchant Center account
Go to the "Products" category and click on "Feeds"
Click the "+" sign
Upload your catalog information in a .TXT or .CSV file (or manually input the data)
Submit your feed
You can upload your entire inventory into your feed. Google enables you to upload your data from:
Google Sheets
Scheduled fetch
Uploaded file
When you upload products, you'll want to include important information like the product:
ID
Title
Description
Link
Image link
Availability
Price
Category
Brand name
5. Showcase your products
After you upload your products, you can start showcasing them. From Shopping Ads to local inventory ads, you can use the Google Merchant Center to help people discover your products.
Advertising with Google Merchant Center
Now that you know how to set up a Google Merchant Center account, you'll discover that you have some new advertising options. You have two main options for advertising through the Google Merchant Center:
1. Google Shopping ads
The most popular ad format through Google Merchandise Center is Google Shopping ads. These ads appear at the top of search results and showcase your products, along with other companies' products, in a carousel-like format.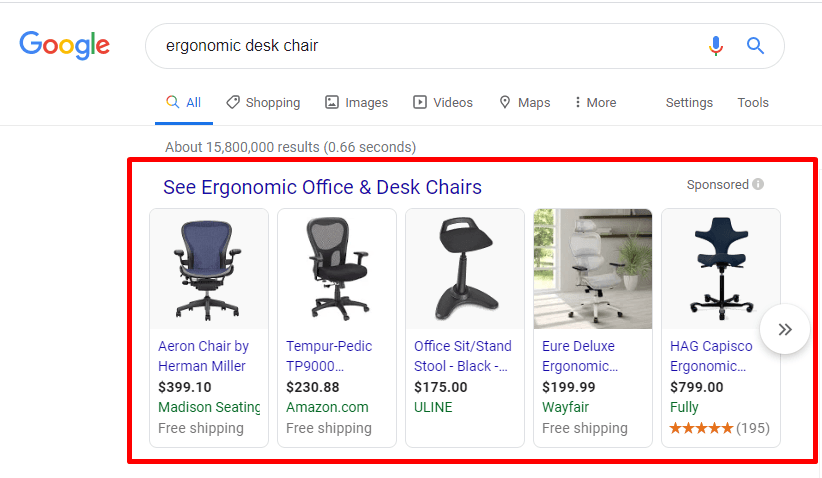 These ads typically showcase the following information:
Product name
Price
Seller's name
Unique attribute (free shipping, product reviews, etc.)
These ads are great to use if you're trying to reach people searching for a specific product you offer.
2. Local inventory ads
Local inventory ads allow you to showcase your products to nearby shoppers. When you run these ads, people will see a Google page for your store. The shoppers can then look at this storefront and see your inventory, store hours, directions, and more.
With this option, you can let shoppers know that you have what they're looking for and that they can visit your business to get the product.
So, what's the difference between local inventory ads and Google Shopping ads? The most significant difference is that local inventory ads require you to have a brick-and-mortar store. These ads attract local leads into your store, so if you don't have a physical store, you can't run these ads.
Google Shopping ads, on the other hand, can be run by ecommerce and brick-and-mortar businesses.
FAQs on Google Merchant Center
Now that we've discussed how to set up a Google Merchant Center account and upload your products, let's look at some common questions surrounding setting up and managing your Google Merchant Center account.
What is the Google Merchant Center feed?
The Google Merchant Center feed, also known as the Google shopping feed or product data feed, is the spreadsheet that organizes all your product information. This sheet makes it easier for Google to understand your products and what you have to offer.
Your feed is a critical component of your Google Merchant Center account. This feed is the primary source of information that Google uses to create Shopping ads for your business.
The product data feed is vital because Google uses it to create your ads.
When you run Google Shopping ads, Google creates the ads for you, so it needs all your product information to create a relevant ad and place it in the right search results.
What information do I need in my product listing?
As you learn how to set up a Google Merchant Center account, you're probably wondering what information you need for your product listings. Here are a few features you'll want to include in your product listings:
Product title: The product title is the first piece of information Google uses to determine your product's relevance to a search. Use the right keywords in your product title and target high volume keywords, so you can reach more people.

Your titles can be up to 150 characters, but Google will only display up to 70 characters.

Product image: Every listing needs a clear product image. If you have a blurry or pixelated image, you won't get people to engage with your ad. When you add photos to your listings, make sure there isn't any text or logos on the images.
Product category: Your product category is something only Google can see.

You will choose a product category on the backend of your listing to help it appear in relevant search results. Select as specific of a product category as possible to show up in the right search results.

Link to your website: If people take an interest in your product, you want to drive them to your site to buy it. Include a link to your product listing on your website to help drive those leads to conversion.
Price: People want to know how much your product costs, so they can comparison shop and find the best place to buy.

Include your price in your listing to make it easy for people to see if your product fits their budget.
By including this information, you'll create a stellar product listing in your Google Merchant Center feed.
How much do I charge for shipping?
Shipping is an integral part of advertising your products through Google. You must share your shipping cost, so users know how much to expect to pay if they purchase your product. If you're using standard shipping amounts, your shipping costs should reflect the same fees you charge on your website.
The advertised amount should also be the correct amount for shipping. You can't mislead users by offering a low shipping rate, only to up charge them when they go to check out. You must set the shipping rate based on the user's location, unless you use flat-rate shipping.
If you offer free shipping or free shipping for a certain amount spent, you can add that too.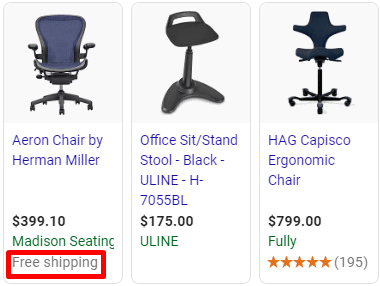 You can change your type of shipping based on your goals. If you're looking to push more conversions, free shipping is a great option to get more people to buy.
On the other hand, if you want higher order value, offering free shipping for a certain price point will prove more valuable.
What are Google Merchant Center promotions?
Google Merchant Center promotions are offers you can include in your ad. Some of these offers include:
Order discounts
Free shipping
Free gifts
And more
These promotions are great to add to your campaign if you want to generate more buzz around the listing.
Start using Google Merchant Center today
If you're looking to reach more people interested in your products, Google Merchant Center is a great place to start. Not only can you upload all your products in one place, but you can automatically produce ads that help you reach the right people with your products.
With a partner like WebFX, we'll make using Google Merchant Center a breeze. We'll help you run Google Shopping ad campaigns that drive more sales. We can even help you create other paid advertising campaigns, too!
If you're ready to get started, contact us online or call us today at 888-601-5359 to speak with a strategist about our ecommerce PPC services!
WebFX Careers
Join our mission to provide industry-leading digital marketing services to businesses around the globe - all while building your personal knowledge and growing as an individual.